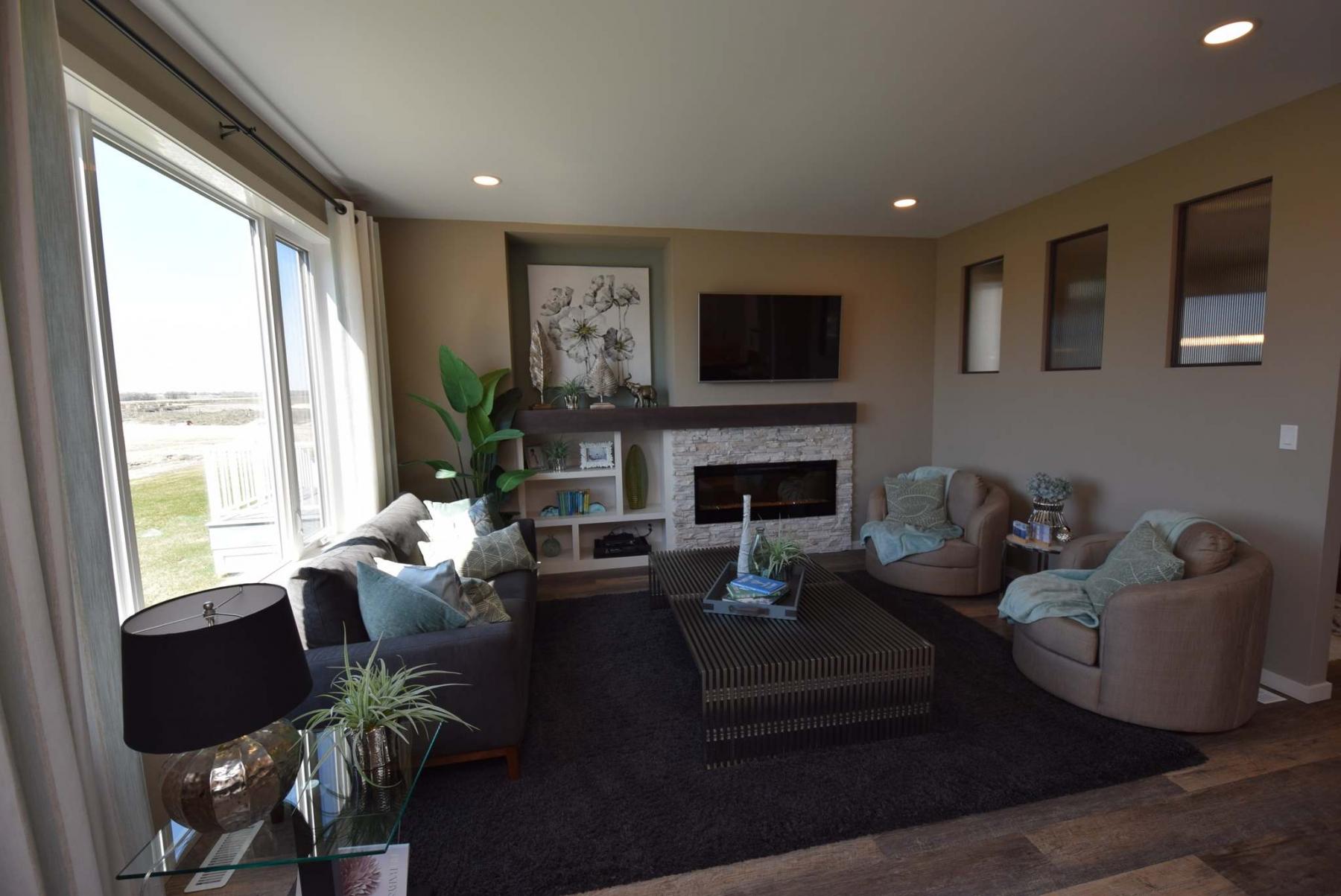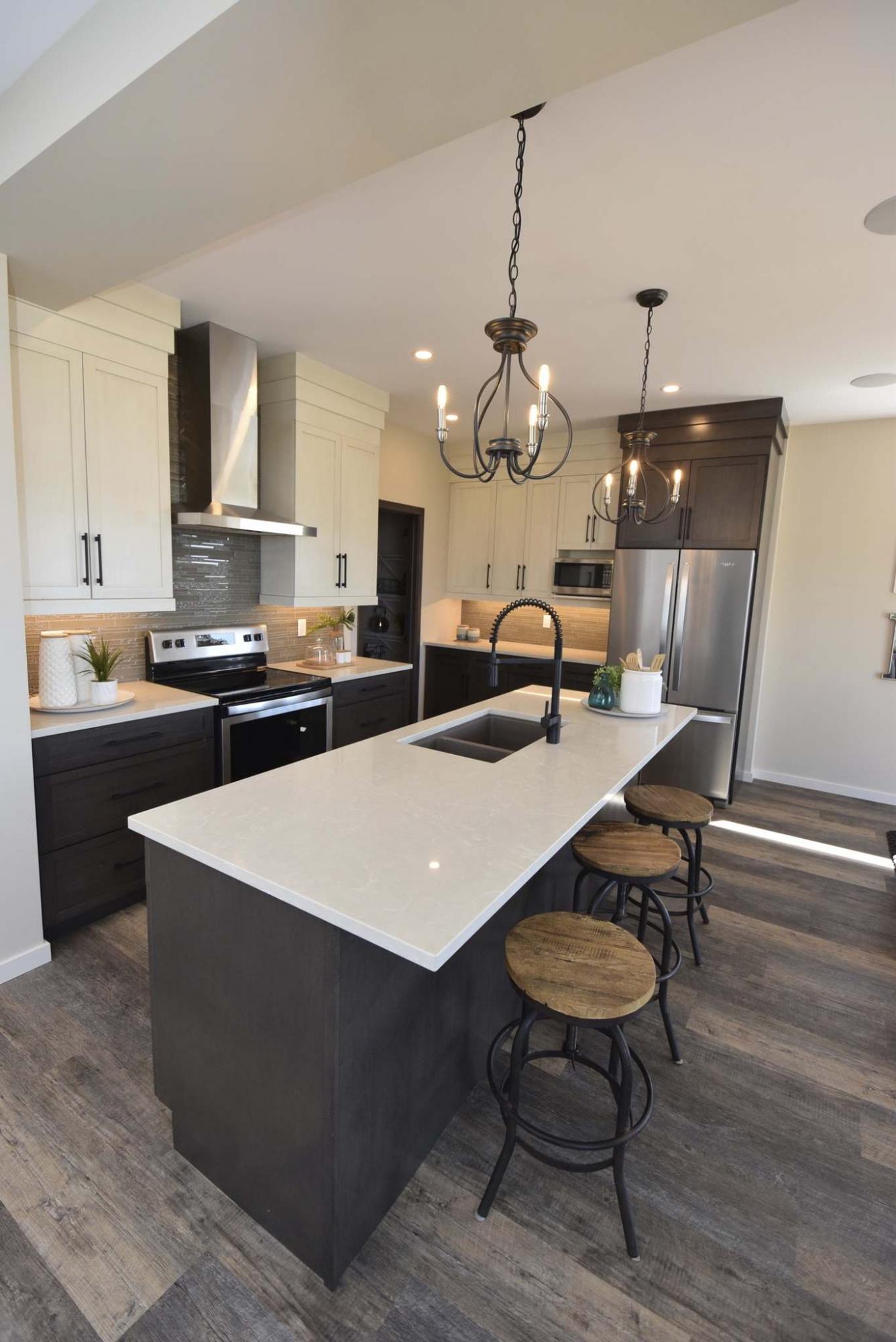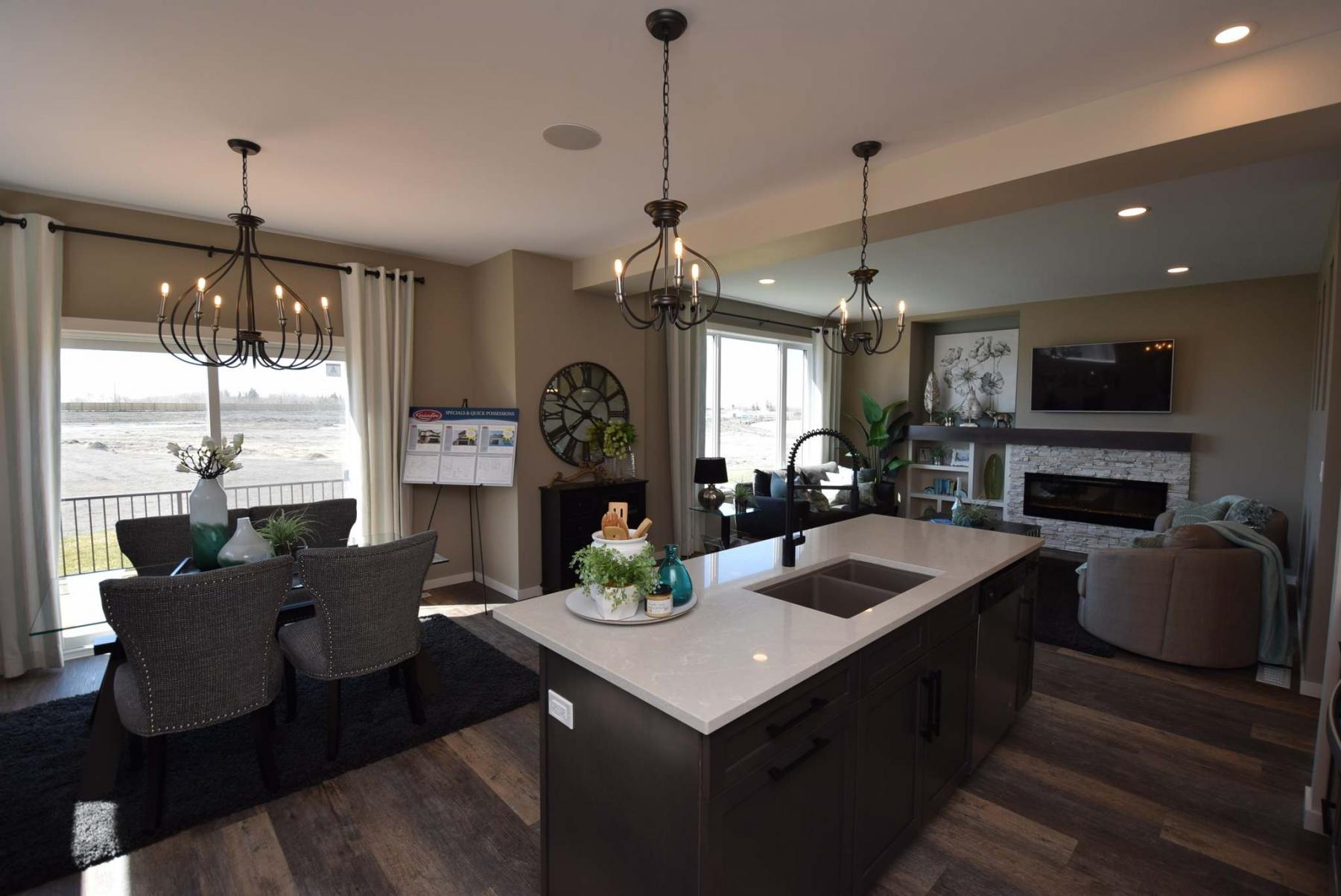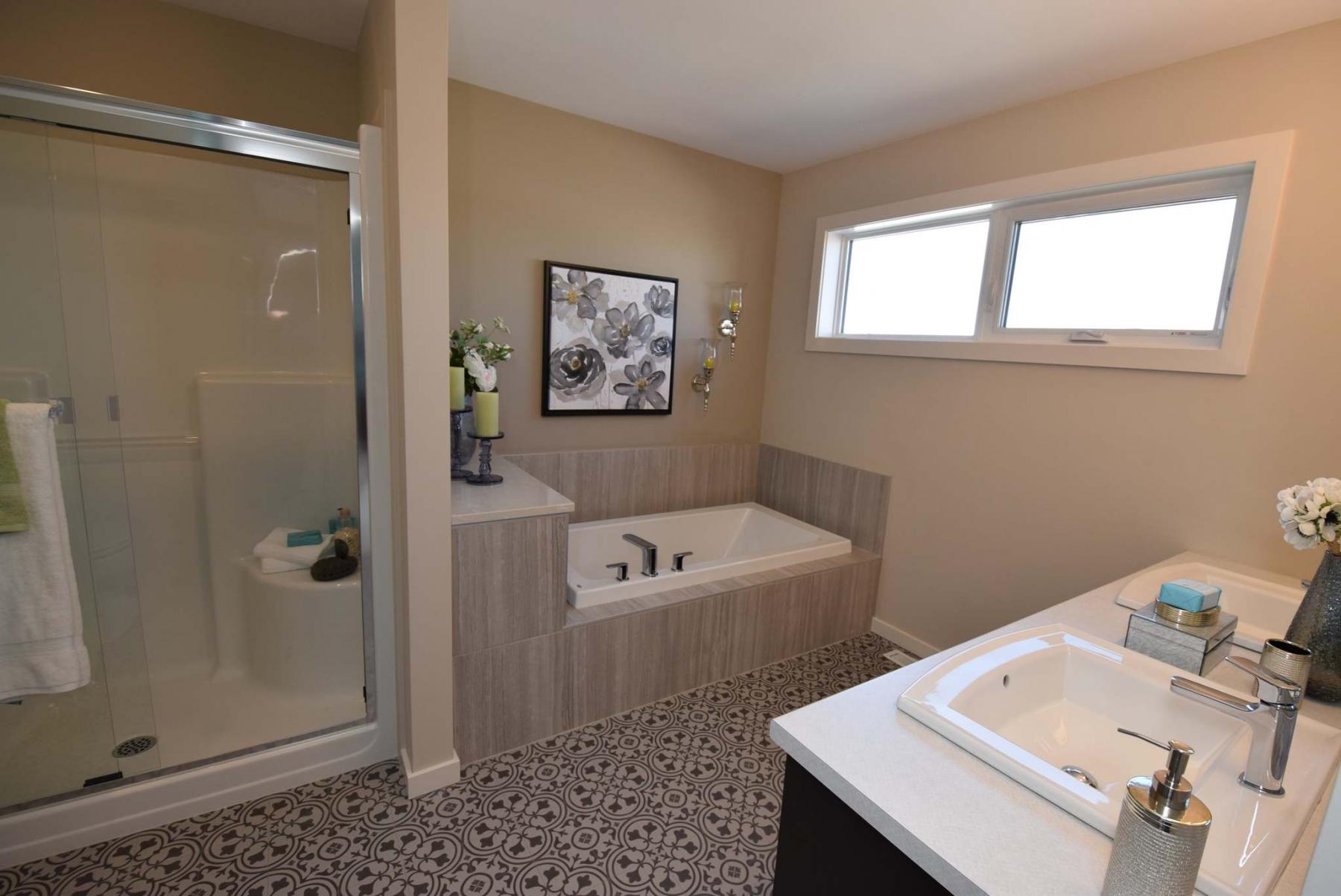 New home builders are well aware buyers often want to have it both ways.
Families often want a home with a floor plan that has some segmentation, yet at the same time they want the home to flow as if the layout were open.
The Westbrook — a novel Kensington Homes design found at 327 Tanager Trail in Sage Creek — addresses that desire and more, says new homes sales representative Shelly Rozon.
"Kensington's design team did a great job with the design of this home," she says of the 2,223 sq. ft., two-storey design. "It's largely an open-concept design, yet there's enough division so that you don't see everything from the front door."
That segmented yet open design starts in the foyer, which is partially closed off by a stub wall (with coat closet) that was placed to the right of the front door.
An angled hallway then leads leftward to a very creative yet functional area: a formal dining room to the right and a hallway to the left that holds a powder room and mudroom that connects to both the double-attached garage and a walk-through pantry.
"Everyone who's been through the home has just loved the mud room with its optional locker area and walk-through pantry, it's just so cool and functional," says Lilita Klavins, Rozon's sales partner for this listing. "And they also love the formal dining room."
The reason for that is simple— it provides an ultra-wide entrance into the great room and it can be accessed easily from the kitchen, which is only a few steps away to the left around the corner.
Klavins adds that people have liked another feature that was subtly woven into the dining room's design — a trio of maple-trimmed, obscured glass windows on its rear wall.
"They not only look great, but they also do a nice job of letting light in from the great room. They're a very nice touch," she says. "Most people use it as a dining room, but it could also be used as an office or bedroom."
It's then on to the great room, which is everything a great room should be: spacious, bright and, above all, inviting.
Due to a great synergy of placement and proportion, each space from the kitchen and dining room to the left and family room to the right is distinct and efficient.
Because the kitchen's cabinets are placed around its periphery, there's plenty of room to move around its eight-foot island.
Meanwhile, the dinette area to its rear, which is defined by oversized sliding patio doors on its rear wall, was boxed out slightly, creating a spacious area that could easily be used as a formal dining area if the formal dining room were to be used as either an office or in-law bedroom.
Finally, there's the family room, a gorgeous space that caps the great room off in practical style.
"Its entertainment unit, which features a ribbon fireplace with cultured stone trim and a thunder maple mantel, ties in nicely to the kitchen with its quartz countertops, taupe tile backsplash and combination of thunder maple and cream cabinets," Rozon says. "The vinyl plank flooring, which runs through the main level, is amazing. It's very warm and looks like the real thing."
Head upstairs via a wide staircase, and the first thing you see is a spacious landing area that merges into a roomy loft area.
"People love the loft and the upper level floor plan, pretty much everyone has told us not to change a thing. They like the open loft, and the fact that there isn't a wall right in front of you. There's tons of room to move around, all kinds of natural light, and all the spaces, three bedrooms, main bath and laundry room, were placed around the perimeter of the landing."
While the laundry room, main bath and two secondary bedrooms are all wonderful spaces in their own right, there's no question which space is the star of the second floor, says Rozon.
"Visitors have just loved all its privacy and space, it's all by itself to the left of the stairs across the landing from the other bedrooms. They also loved its gorgeous ensuite, which features a cool mosaic tile floor, five-foot shower, soaker tub with tile surround, thunder maple vanity and a huge walk-in closet that's the size of a small bedroom."
Klavins says the Westbrook is a real beauty.
"It's just a great family home. The two family areas upstairs and downstairs are nice to have, and both kids' bedrooms are a good size. The kitchen is beautiful and efficient, and the great room is a beautiful yet functional area," she says, adding that a similar design at 138 Red Sky Dr. is ready to go for under $490,000. "It's a wonderful design right across the board."
lewys@mymts.net
Details
Builder: Kensington Homes
Address: 327 Tanager Trail, Sage Creek
Style: two-storey
Model: Westbrook
Size: 2,223 sq. ft.
Bedrooms: three
Bathrooms: 2.5
Price: $565,000 (Includes lot, appliances, window coverings & GST)
Contact: Shelly Rozon, New Homes Sales Representative, 204-290-4033 or Lilita Klavins, New Homes Sales Representative, 204-298-4707