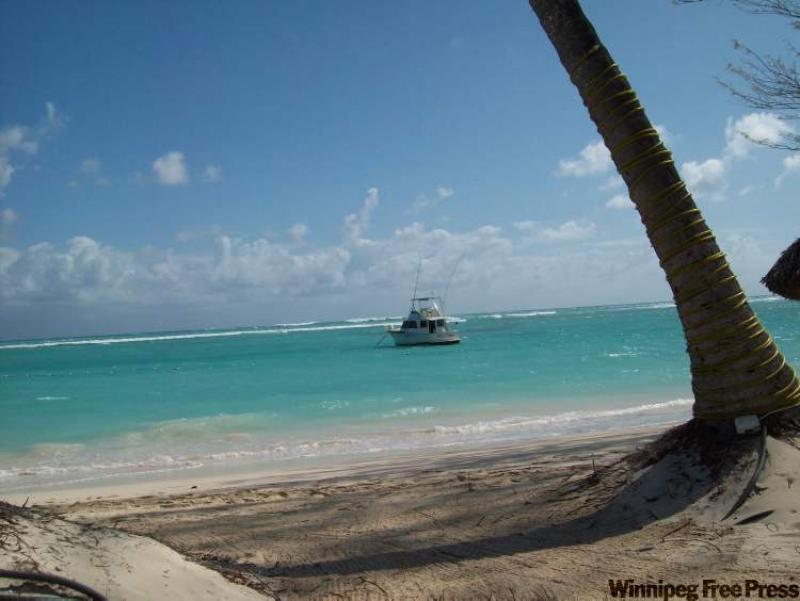 PUNTA CANA, Dominican Republic -- The Lonely Planet guide sums it up nicely when it informs readers about Dominican Republic's climate. Except in the central mountains, temperatures don't vary much in Dominican Republic, averaging a summery 28 C to 31 C in most places for much of the year.
And this, of course, is what draws cold Canadians to vacation there -- and to purchase second homes.
Add to that sand that's as fine as icing sugar, quivering palm fronds and translucent blue waters and it would seem a no-brainer to escape our winter cold for this milder, more inspiring setting.
But just what is involved in the upkeep of a second home? How quickly does the honeymoon end and the reality of housework and responsibility set in?
For Perry and Cheryl Meriot, it hasn't yet.
They purchased their condominium in December 2008 and have no regrets. In fact, they're about to make their second trip there this year. (They average about four annually.)
Their 1,100-square-foot, one-bedroom suite is at the Palm Suites, a gated community in Punta Cana -- the tourist hot spot of the Dominican.
One of the couple's concerns when purchasing their condo -- to which they ultimately hope to retire -- was how to take care of it in their absence. Luckily, they found Reliable Reality.
"(They) have a cleaner who comes in, runs the taps, checks the air conditioning and humidity; she makes sure everything is in good working order," Cheryl says. "Because of the tropical climate, the humidity alone can really do damage."
This comforts the Meriots. When they get off the seven-hour flight from Canada, they know there will be no unwelcome surprises.
These are important concerns. Canadians sometimes don't realize the challenges of a tropical climate -- mould, mildew, bugs -- and so it's critical to either become informed or take lessons or help from people in the know. The couple jokingly calls Punta Cana Punta Canada, because of the number of Canadians.
Cheryl and Perry had travelled many times to Dominican Republic before considering investing.
Perry went online and did some research and he found Sabine Gruss of Trust Realty. "She was invaluable -- she speaks Spanish and English. She helped us set up and purchase our power meter and even helped us with furniture-buying."
The condo is 500 metres from the ocean, and the Meriots enjoy spending the day at the Pulpo Cojo beach club.
"There is a restaurant, access to the beach -- it opens at 8:30 a.m. and we are usually there by 8:34 a.m. or so," she jokes.
"There is so much vegetation and it is very green. Truly tropical. The sand is bright white and like icing sugar. Because it's on the Atlantic side, there aren't a lot of shells or coral washed up on the beach. And the water is turquoise."
Cheryl notes that purchasing in a foreign country was really quite easy, though different than in Canada. It's important to have a licensed realtor who knows what your needs are.
Reliable Realty has many properties for sale, as well as rentals, and the best part is they can manage the properties they sell.
"We are told constantly by our vacation rental clients that their trip to Punta Cana was the best trip they've ever had," says Maria Williams.
"A few rental clients have actually cried and hugged us when we dropped them off at the airport. They are now repeat vacation clients. ... More recently, a couple of them have actually purchased their own condos. This is the ultimate compliment and we are thrilled to have more new friends and neighbours here."
"It's just such a different way of life there," says Cheryl. "Perry and I are more relaxed and there isn't the same hustle and bustle."
And when they arrive at their second home, they won't be broadsided by anything unexpected. Perhaps this is the complete picture of second-home paradise.
-- Postmedia News