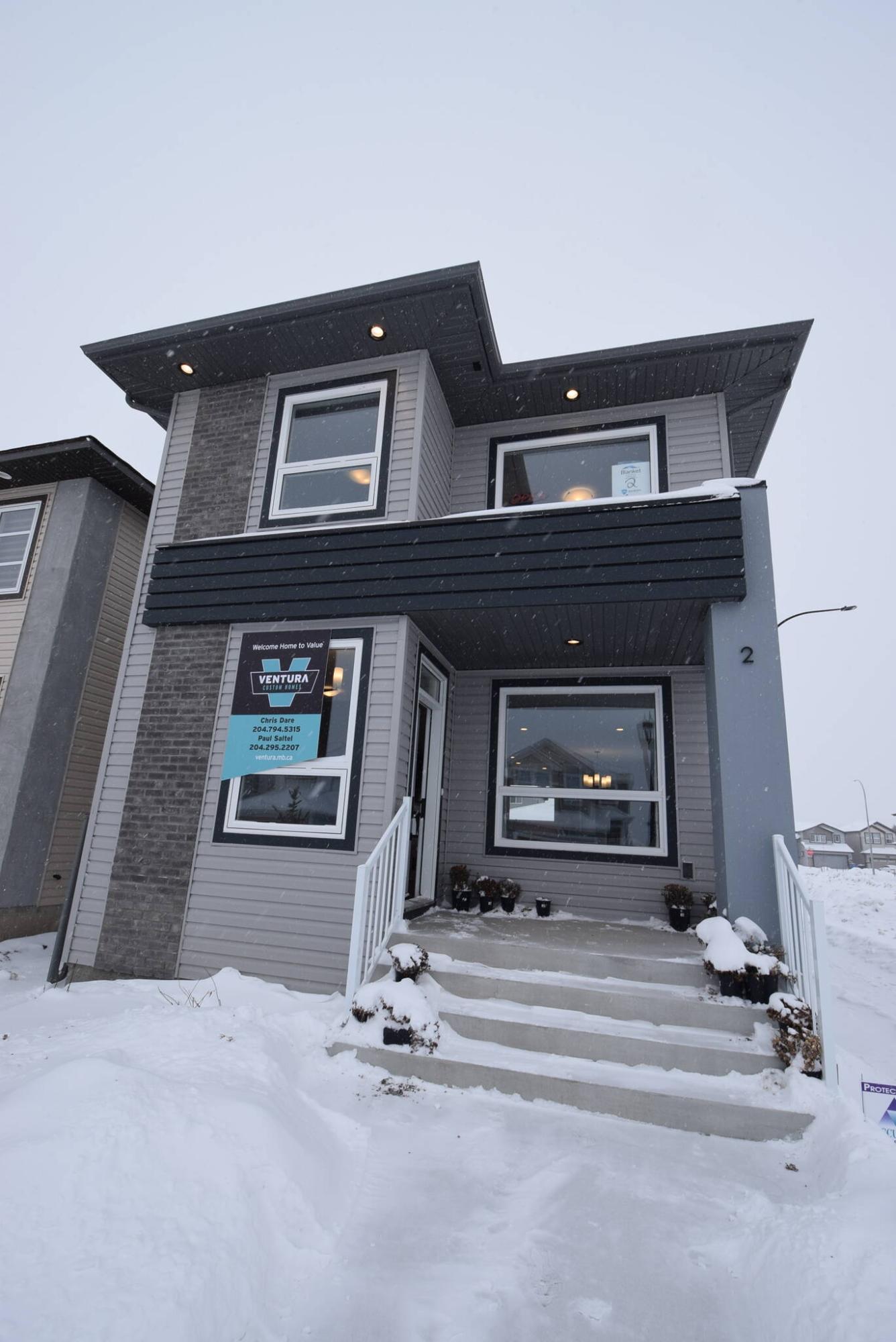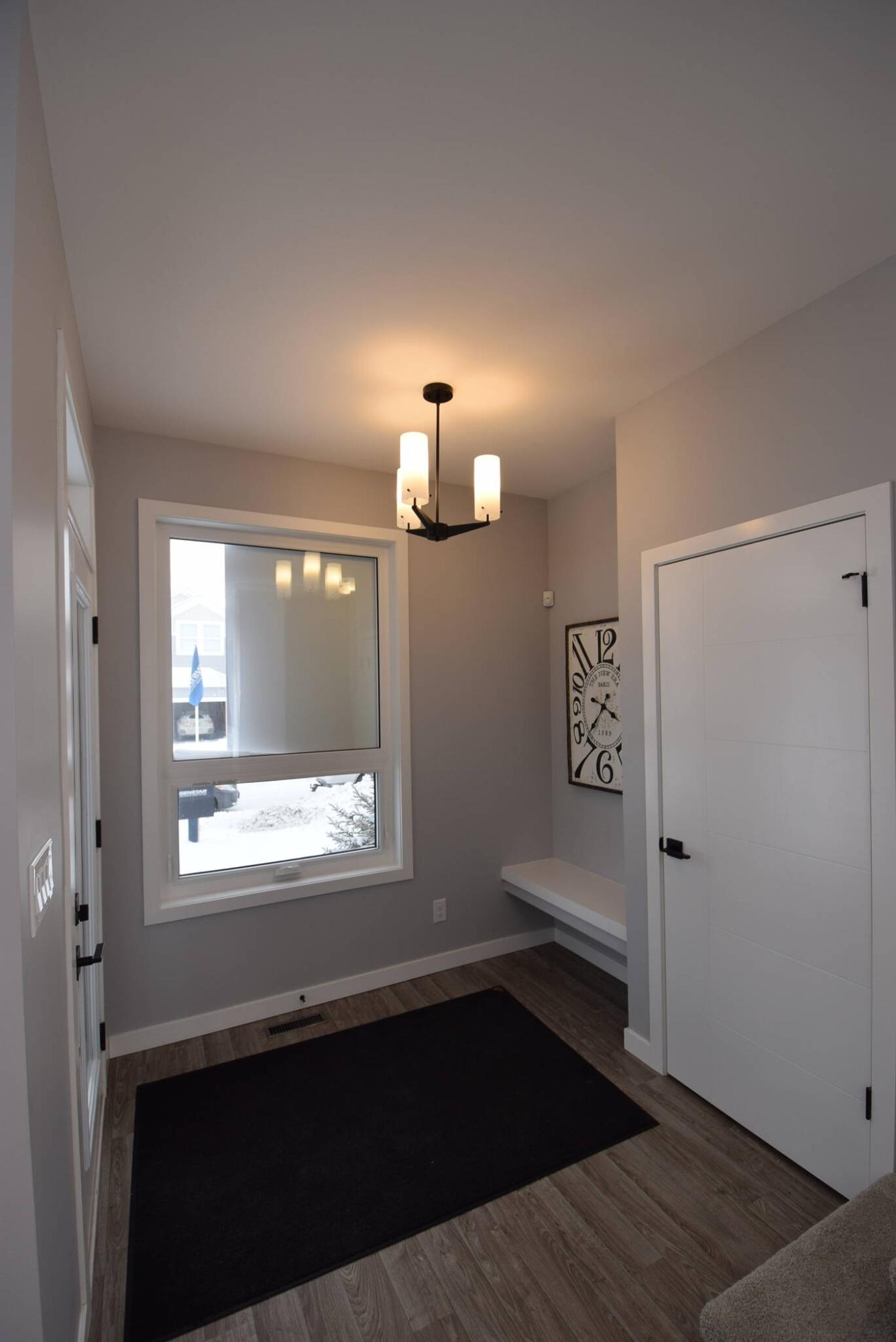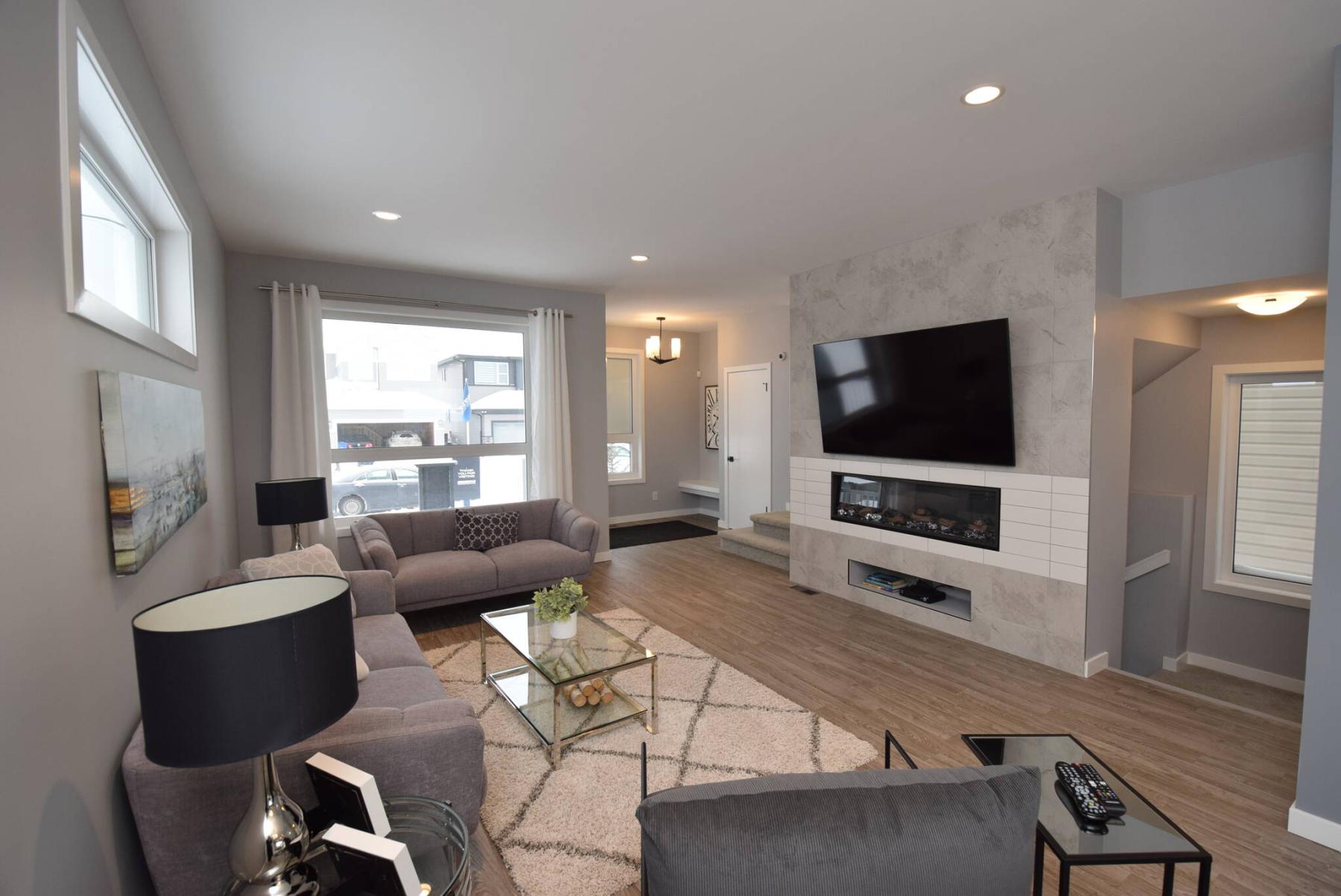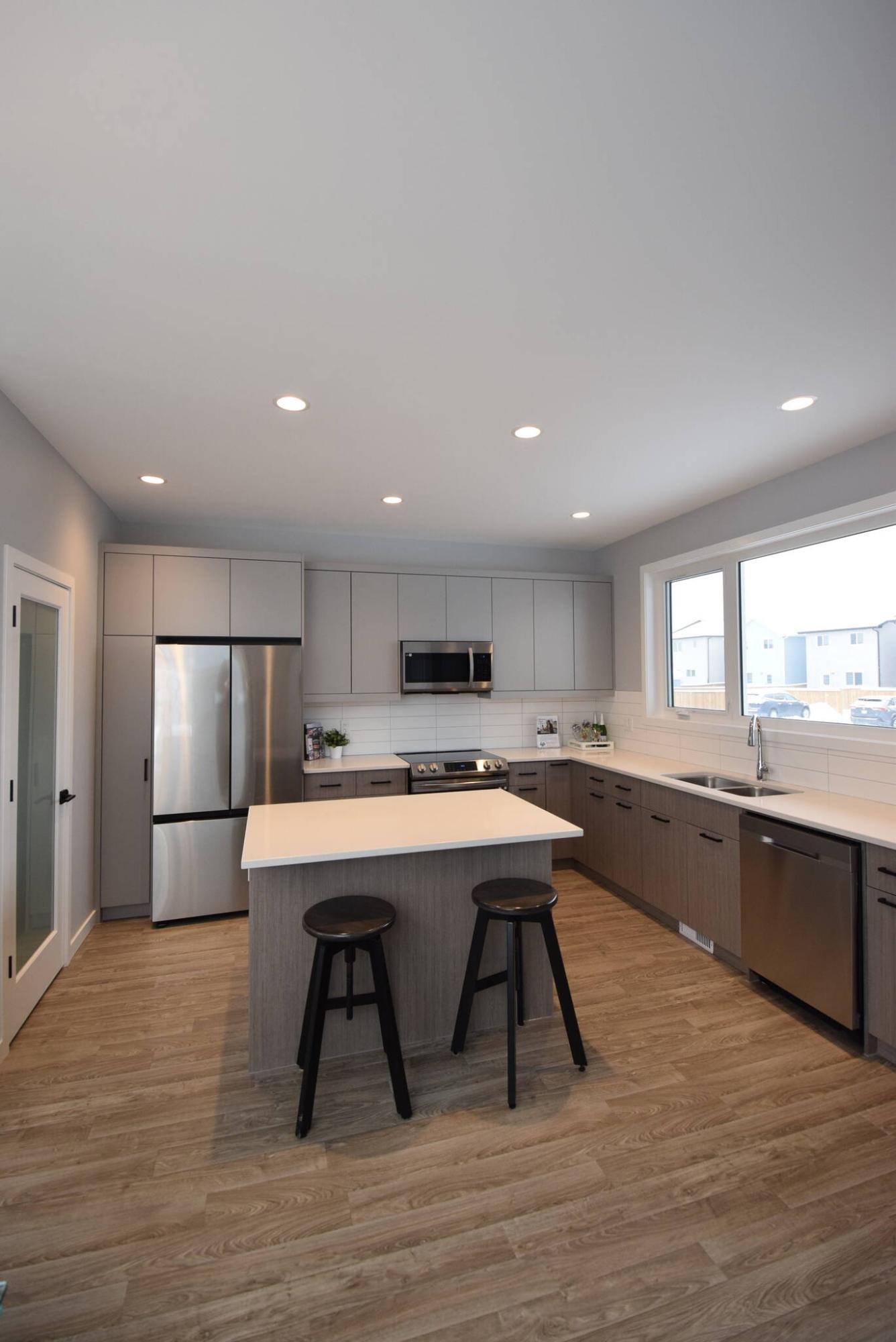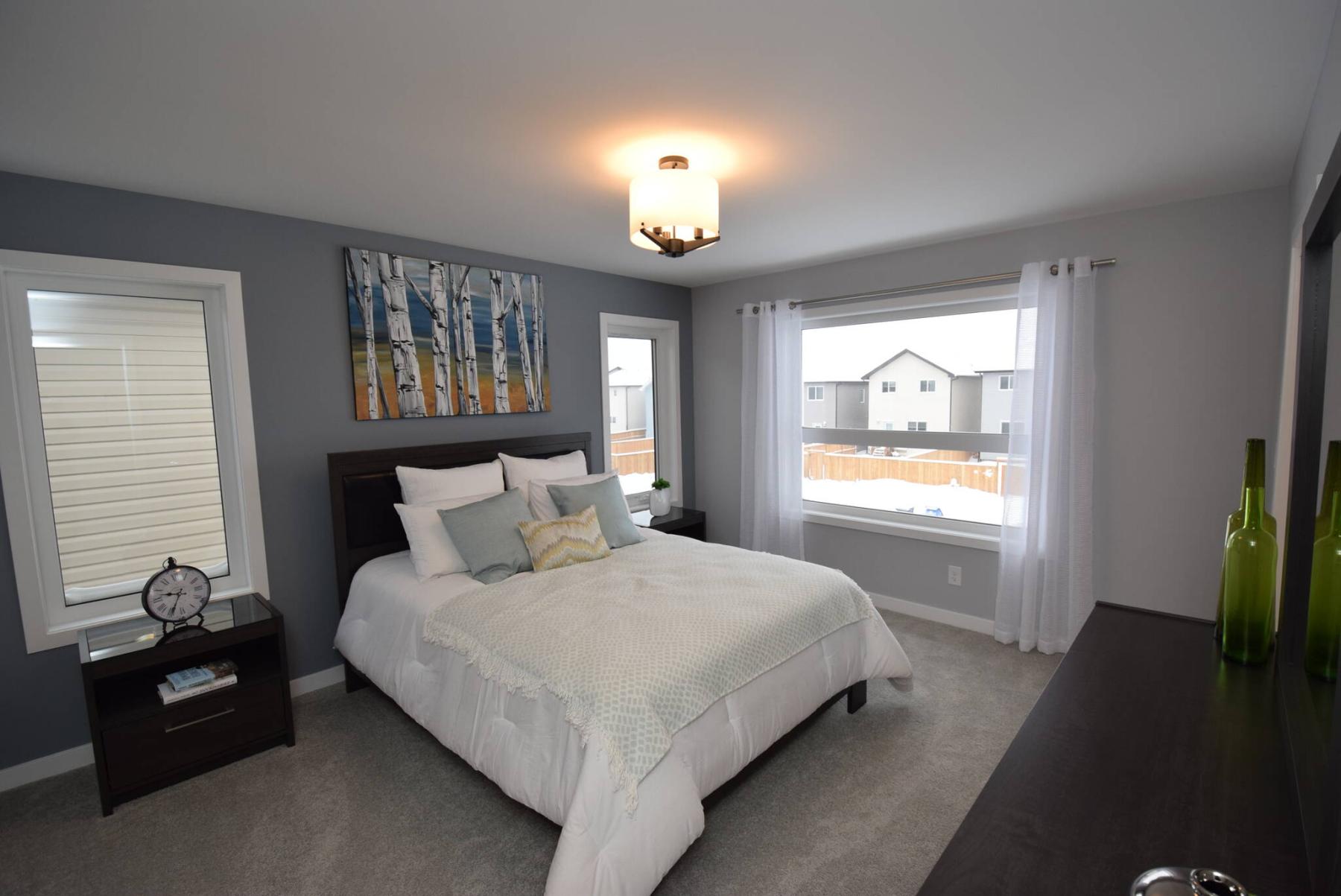 When prospective new home buyers see that the listed square footage of a two-storey home comes in at under 1,700 sq. ft., they visualize a home that feels cramped inside.
That's not the case with Ventura Custom Homes' new show home at 2 Twintree Bay in Bonavista, says Paul Saltel, the sales representative for the two-storey, 1,665 sq. ft. design.
"It actually feels a lot larger than its listed square footage," he says of the Drake. "This home provides a lot of space for a family's budget."
The Drake's spacious feel asserts itself the moment you set foot in its foyer.
Surprisingly generous, it comes with a cleverly cantilevered bench, coat closet and large window that lets in lots of natural light; there's lots of space to take off coats and shoes without feeling boxed in.
Turns out, the foyer is just the start of an ingenious floor plan.
To create a feeling of space, the great room's left-hand wall was pulled back about four feet from the dining area's left-hand wall.
That clever move accomplished two purposes. First, it added width to the great room, promoting free flow from the front to the back of the home.
At the same time, it widened the distance between the sofa on the right-hand and TV (and linear electric fireplace) on the opposite wall, ensuring that the TV was at a safe, watchable distance.
The dining area was then placed in its own area in the middle, just steps from both the great room and kitchen, positioning it ideally for entertaining.
Saltel says another subtle design feature endows the main living area with a pleasingly spacious feel.
"It's surrounded by windows," he notes, adding that ceiling height is nine feet. "Not only are there large windows in the foyer and on the great room's rear wall, but there are also optional, oversized transom windows on the side wall next to the great room and dining room. There's also a huge window over the kitchen sink and a window in the landing area off the kitchen."
Best of all, even though the floor plan is open concept, each space is well-defined — and deceptively spacious.
"Take the kitchen," says Saltel. "It's tucked away to the left of the dining room, yet it's a nice size at 12 feet by 13.3 feet. It comes with a perfectly sized island, quartz countertops, taupe cabinets, a corner pantry and six standard pot lights. There's even room left over for the enclosed back landing, which leads out to a backyard deck and rear double detached garage."
The judicious use of space continues on the second level, which somehow houses six spaces: three bedrooms, a four-piece bath, laundry nook — and a loft.
"Again, it's a nice size at about nine feet by 12 feet. It's a versatile space that can be used as a media area, play area or as a fourth bedroom. The percentage is split down the middle at about 50-50 in terms of how families use the area."
With the loft taking up extra space, it would be easy to anticipate that the size of the bathroom and bedrooms would be compromised.
That's not the case at all.
The main bath is plenty big, while the two secondary bedrooms check in at about 10 feet by 10.6 feet, providing plenty of space for toddlers to grow into teens without any space issues.
Then, there's the primary bedroom, which is 14 feet by 12 feet – not including its walk-in closet and ensuite.
"It was placed at the end of the hall to give it a nice, private feel," he says. "Natural light floods inside through a large window on its rear wall and two big windows on either side of the bed. The walk-in closet is quite spacious, and the ensuite comes with a five-foot walk-in shower, rift oak-style thermofoil vanity, warm vinyl tile-style floor and another large window."
Add in a good-sized lower level with 8.6-foot ceiling and space for another bedroom, rec room and bathroom, and you have a home that's well-suited to a young, growing family, says Saltel.
"This home sells for $590,000 with the deck, garage and upgrades," he adds. "Lots coming up in the final lot draw for Bonavista will allow for similar homes that will sell for about $530,000 with standard finishes, and without a garage or deck. If you're a family looking for a great family home like this, you'd better reserve it soon, as the remaining lots will sell out fast."
lewys@mymts.net