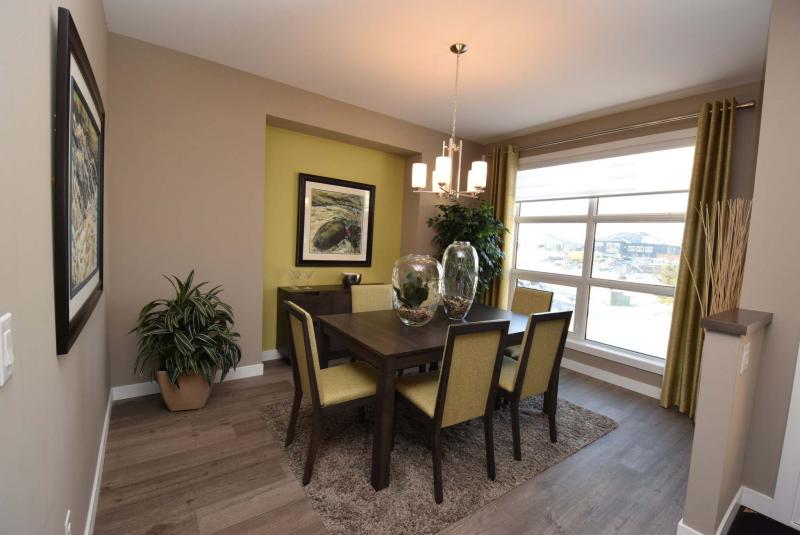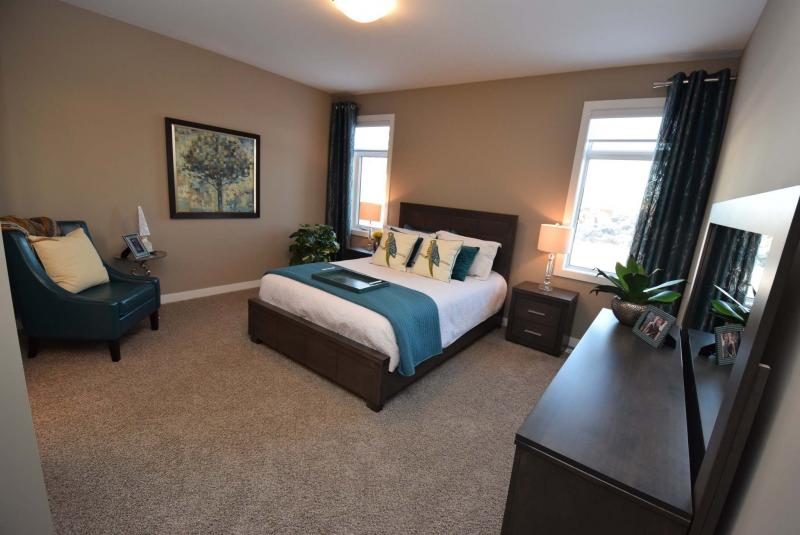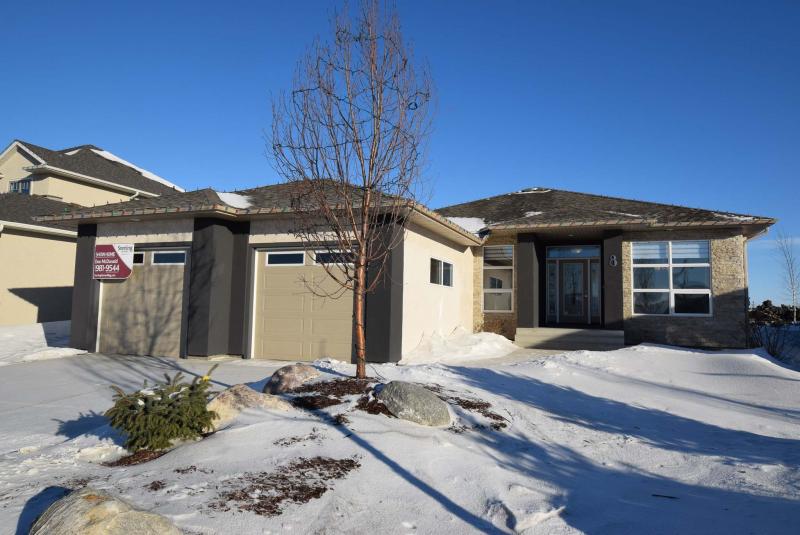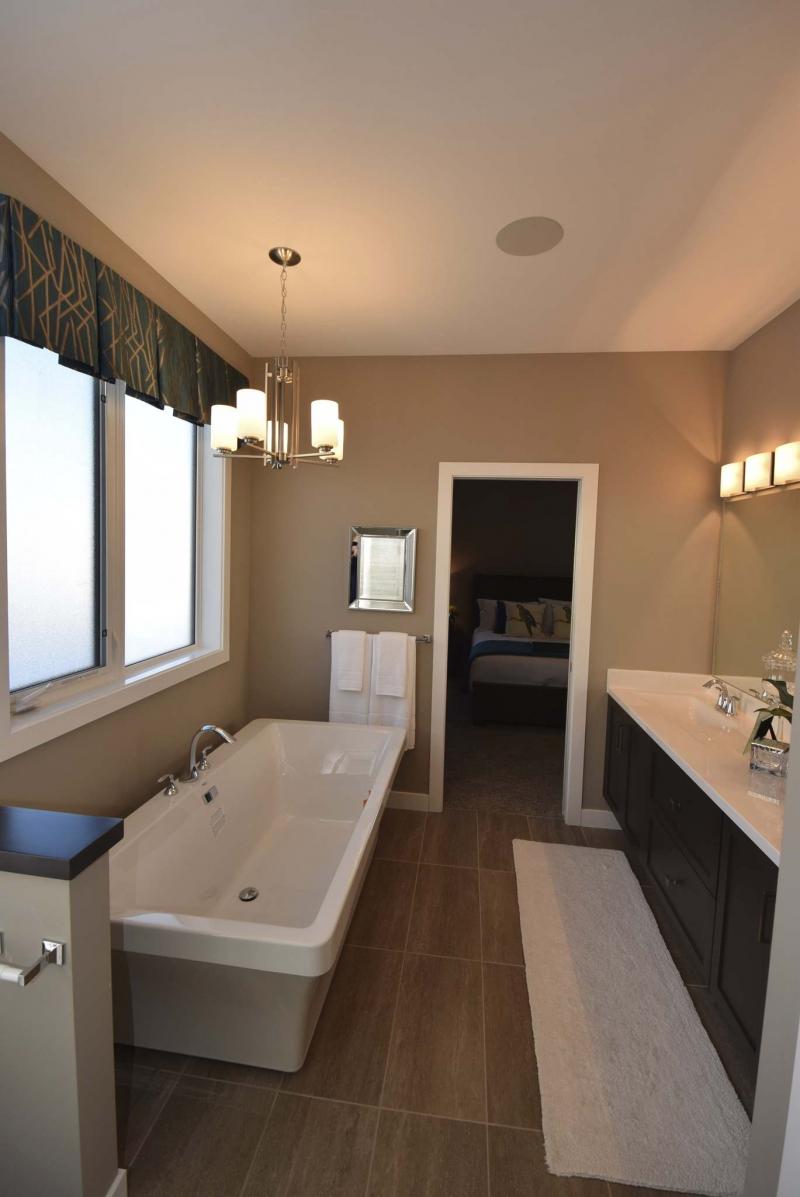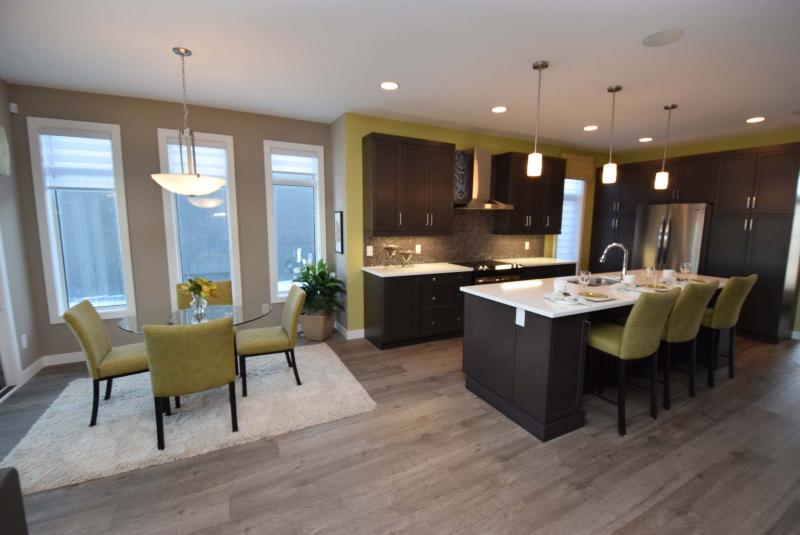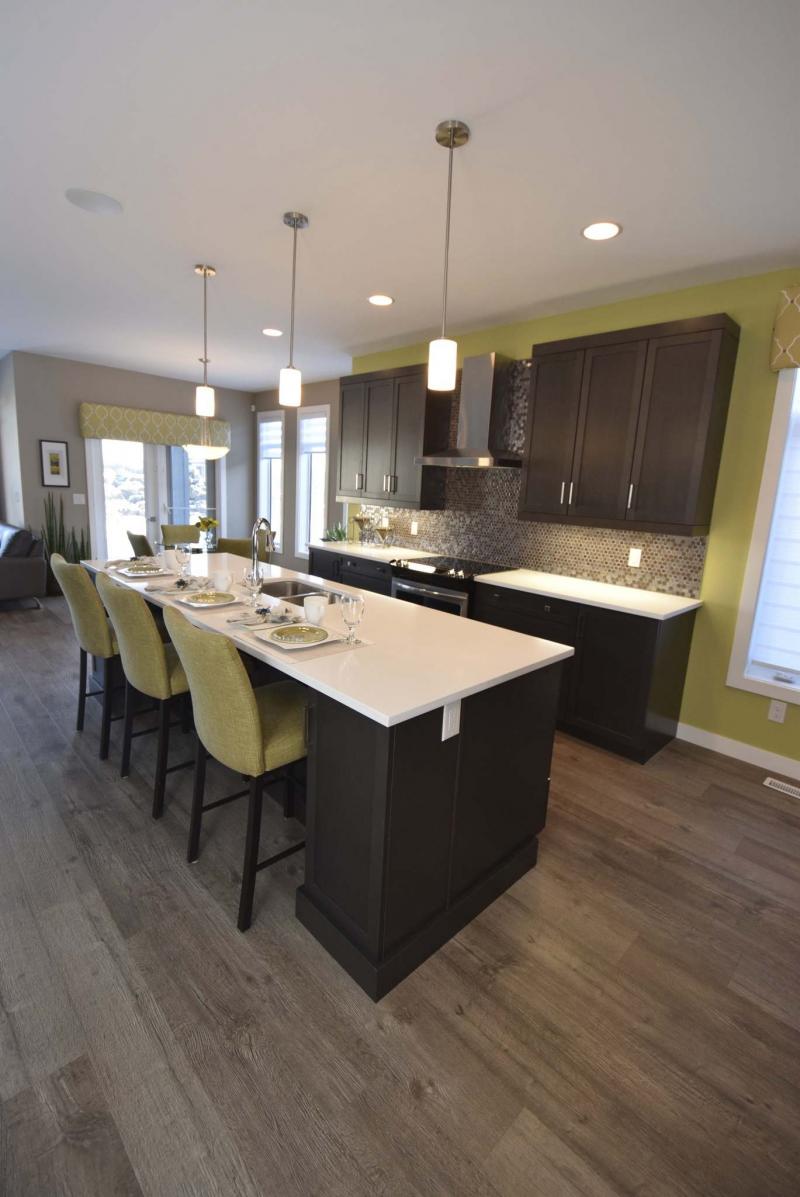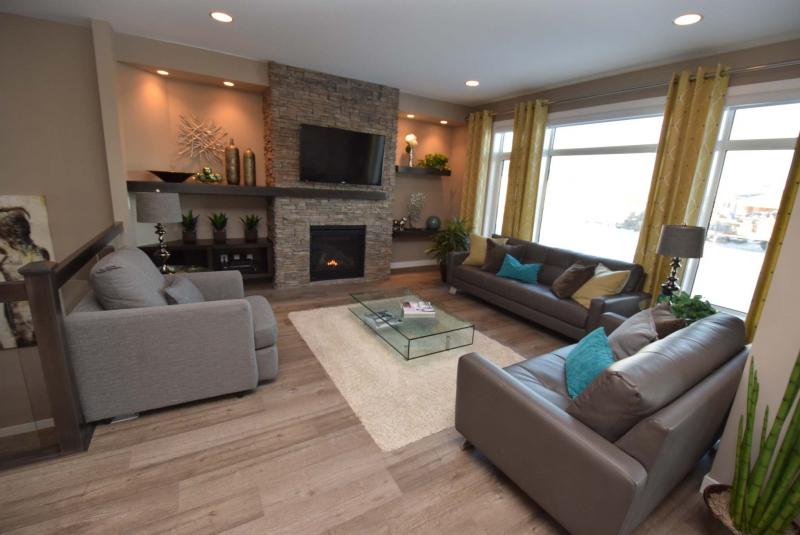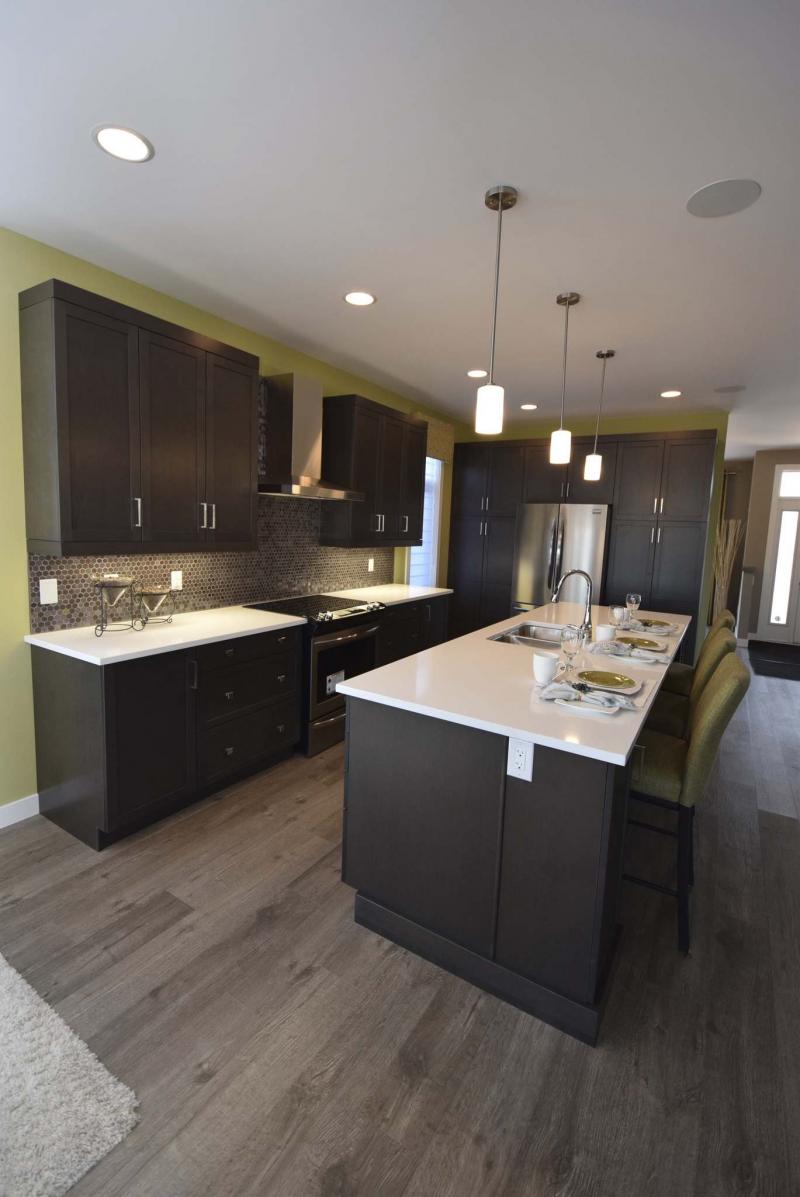 Though their overall needs might be different, empty nest couples and young families both seek one thing in a new home: a versatile floor plan.
Don McDonald, a Sterling Homes sales representative, says the Delano B — an 1,882 square foot, three-bedroom bungalow found at 8 Prairie Grass Lane in Oak Bluff West — is well-suited to the needs of either demographic.
"The feedback we've gotten from both empty nesters and young families is that it has a nice, comfortable layout that flows well and offers plenty of space in all areas," he says. "The floor plan is excellent from start to finish. No detail has been missed — it's very functional and versatile."
The Delano B's inherent functionality starts with its spacious foyer. A formal dining room to the right, with a huge window, adds additional width and light, while a double closet at the outset of the bedroom wing to the left provides a convenient spot to store coats and shoes
McDonald says the area gets the home off to a suitably flexible start. "Most people choose to keep the formal dining room — having one is still important to a high percentage of people. At the same time, if you're a young family just starting out, it could be used as flex space (office, or play area)."
Next comes the bedroom wing to the left of the foyer. It splits left and right from the main hallway that leads into it. To the left is a bedroom and laundry/mud room; to the right is a spacious four-piece bath, second bedroom and master suite.
"Everyone who's been through the home just loves the laundry/mud room," he says. "The feature they enjoy most is the big window on its rear wall that faces the street (southwest) — it lets in tons of daylight. They also like all the space, and the easy access to the attached (26-foot by 22-foot) double garage."
The master suite's placement has also prompted a ton of positive reviews, McDonald adds. "It was placed right at the end of the (right-hand) hallway which puts it off to the side in a very private spot. It's a beautiful space that both empty nest couples or young parents will really appreciate."
The master suite was made even more private by how its entrance was oriented. Instead of leading straight into the bedroom, it was angled to the left. As a result, light flows out the door through a window next to the bed, but you can see only a sliver of the bed, increasing the already private feel.
Then, there's the ensuite, which offers a nice combination of space, brightness and warmth, McDonald says. "It's a spa-like space," he says. "A pair of large obscured glass windows above the stand-alone soaker tub let in lots of natural light, while maintaining privacy. There's a floating (dual) smoke maple vanity, five-foot tempered glass/tile shower and taupe tile floor, and a large walk-in closet with built-in storage. The earth tones (paint), floor and cabinetry provide the warmth."
The bedroom wing's well-thought-out layout makes it very versatile. "If you're a young family, your kids can use the two bedrooms, which are a good size. Or, empty nesters can use the bedroom next to the laundry room as a guest room or office. Either way, the main bathroom is only steps away."
McDonald says the great room has also received rave reviews. "Everyone who's been through the home has commented on the fact that it's bright, yet so cosy. The reason for its brightness is that it's surrounded by windows — there's a huge (three-piece) picture window on the family room's rear wall, sliding patio doors behind the eating nook, and three big (vertical) windows on the wall beside the eating nook. Ceiling height is nine feet, too."
The great room's cosy atmosphere is derived from its well-balanced finishes, he adds. "The flooring (wide-plank laminate with a walnut look) and finish colours (taupe cultured stone fireplace surround, smoke maple cabinets, grey/taupe/chocolate tile backsplash, cream quartz countertops, taupe/white colour palette) all go together so beautifully. Everyone loves the functional (10-foot by four-foot) island, and the pantry wall that surrounds the fridge, too."
The great room will function equally well for a family or empty nest couple. "It flows very well, there's lots of eating space and each area is a good size," McDonald says. "It's a great spot for a family to spend time in, or to entertain in."
With its large, affordable lots and central location, Oak Bluff is a community that's rapidly gaining popularity among families and empty nesters.
"You're 10 minutes from the Kenaston strip and you can get to pretty much any place in the city in short order," he notes. "While this home is $599,900, we have a slightly smaller, 1,675 (sq.-ft.) version of this home (with three-car garage) coming available for $499,900. Both homes deliver excellent value with all the space, style and versatility that they offer."
lewys@mymts.net
Details
Builder: Sterling Homes
Address: 8 Prairie Grass Lane, Oak Bluff West
Style: Bungalow
Model: The Delano B
Size: 1,882 sq. ft.
Bedrooms: 3
Bathrooms: 2
Price: $599,900 (Includes land, GST)
Contact: Don McDonald, New Homes Sales Representative, 204-981-9544