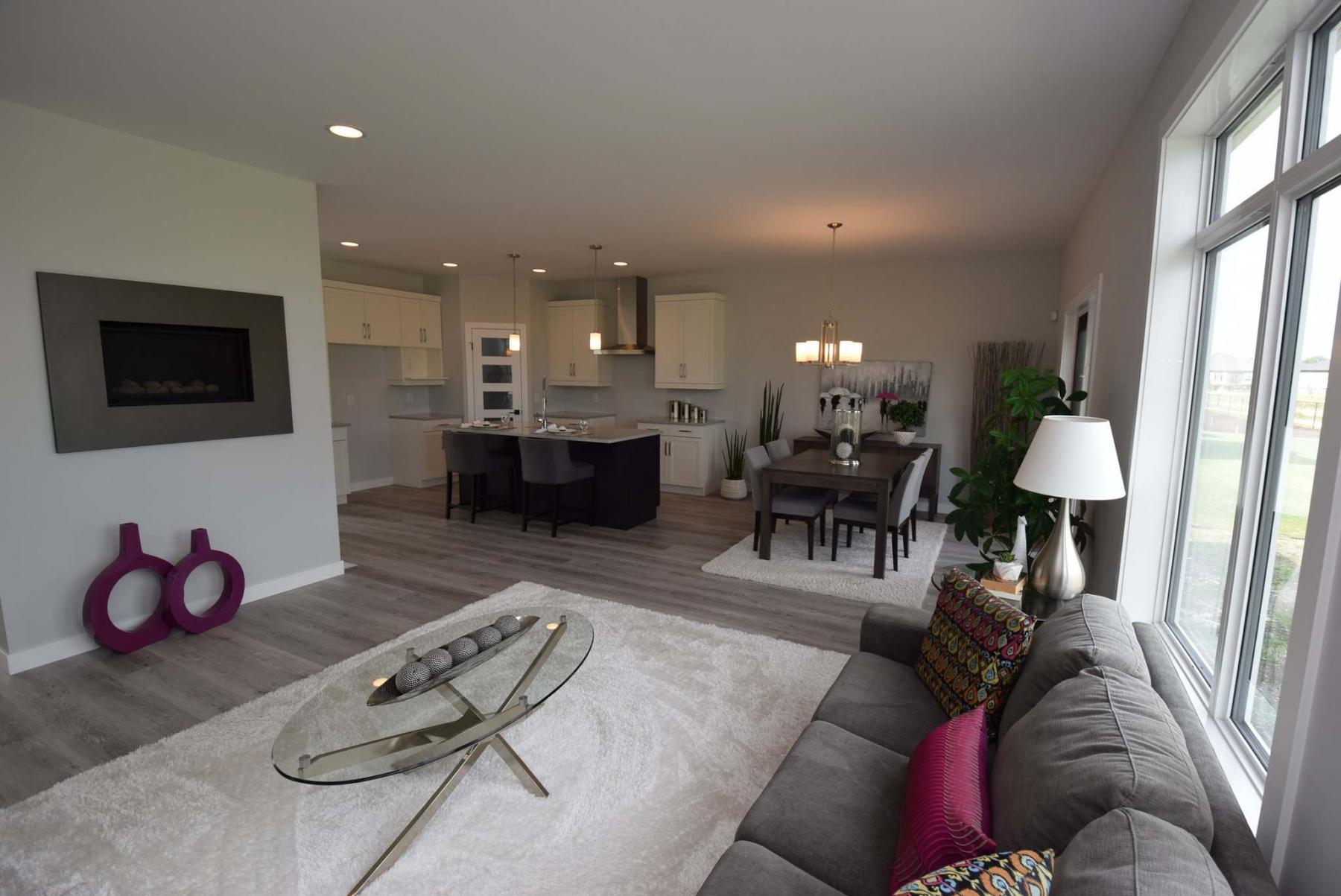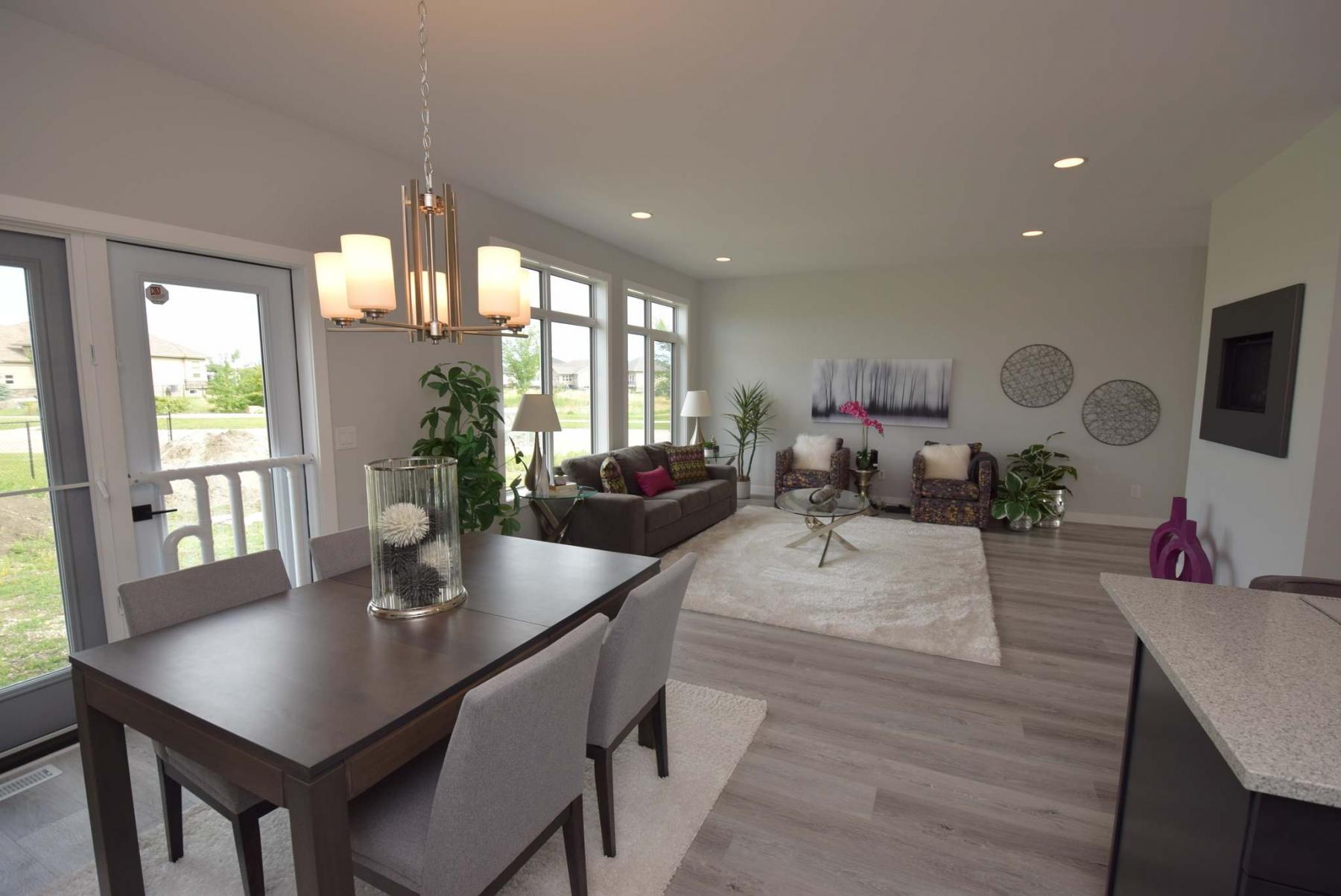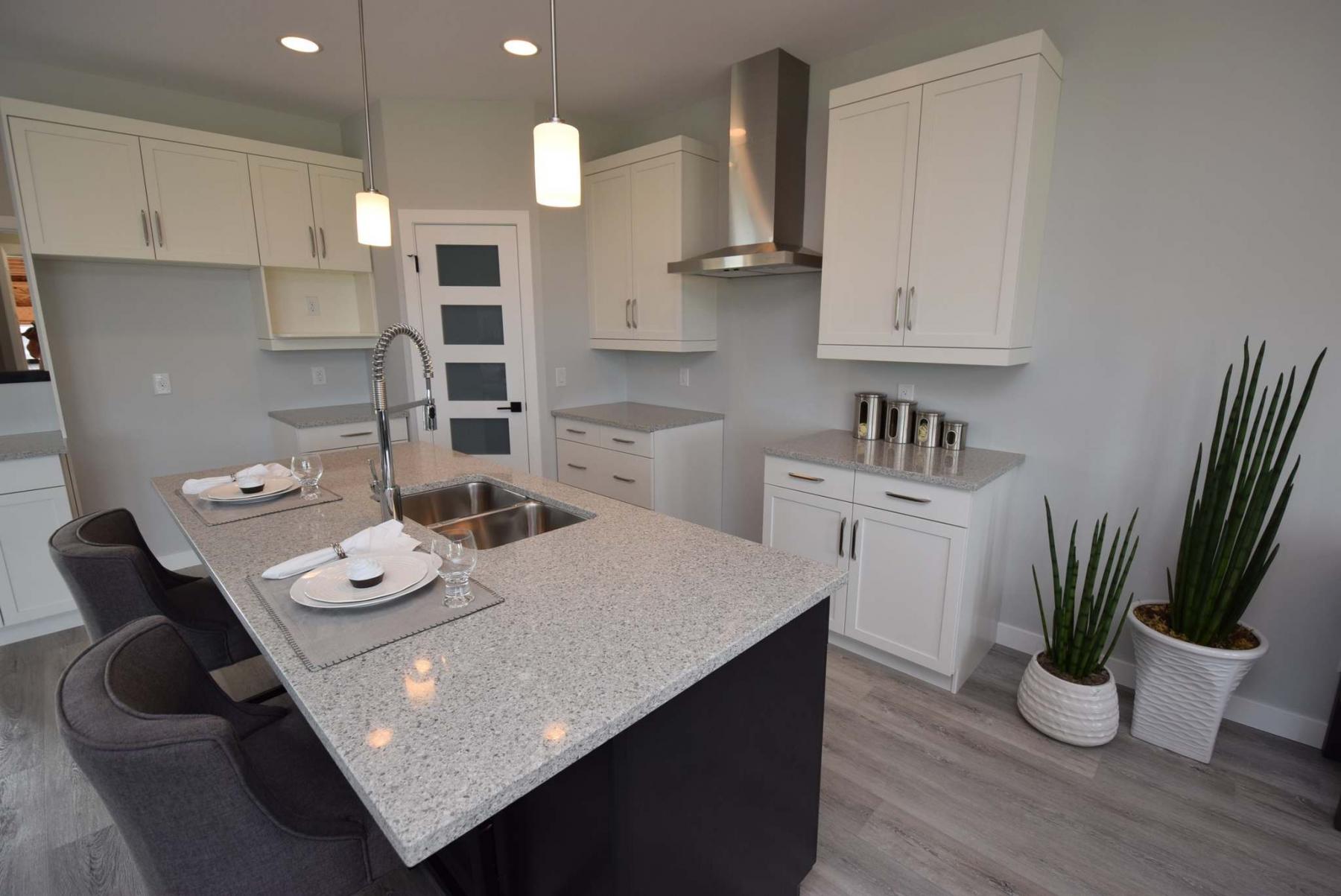 While many new home buyers ask a builder to build them a 1,400-square-foot bungalow, the builder will often suggest a 1,700 sq. ft. design for two reasons. First, the cost associated with adding on an extra 300 sq. ft. is minimal, and second, that extra 300 sq. ft. will translate into a much higher level of livability.
The difference that extra square footage makes is evident in the beautifully designed Ashton A, says Lisa Castro, new homes sales representative for the 1,706-sq.-ft. bungalow located at 4 Casselman Cres. in Oak Bluff West.
"I really like the design of the great room — it features a spacious, open-concept design that's well-suited to entertaining," she says. "All three spaces are a good size, and there's plenty of room for people to move around between each space."
Castro's sales partner, Don McDonald, says a pair of subtle yet significant design features combine to further enhance the great room's already high livability quotient.
"A nine-foot ceiling pairs up beautifully with a garden door and big windows on the back wall that let in lots of light, giving the area a bright, airy feel that appeals to people."
He adds that a five-foot-wide wall that was placed at the front of the great room was designed to serve three purposes.
"It was placed in the centre to divide the foyer from the great room and create entrances to the great room on either side. It holds a double closet on the foyer side, with the other side of the wall featuring a beautiful fireplace with textured copper trim," says McDonald. "Best of all, it provides a nice bit of privacy if you're sitting in the family room, as it's not totally open to the foyer."
Thanks to the Ashton A's generous square footage, all three spaces — kitchen, dining area and family room — are huge.
The island kitchen offers a 7x3-foot island with double sink that seats two to three plus plenty of room to create, while the dining area has the capacity for a table that can seat anywhere from four to 12.
Finishes reflect the home's countrified surroundings — cream-coloured maple cabinets, a white subway tile backsplash, earthy taupe quartz countertops and the laminate plank flooring, which possesses plenty of texture and an alluring interplay of soothing taupe and grey hues.
Then, there's the adjacent family room.
"It's perfect for visiting with friends or family after dinner," says Castro. "Even though it's a big space — there's lots of room for furniture and an entertainment unit — the fireplace and warm laminate plank flooring give it a warm, intimate feel."
And while the Ashton A is exceedingly spacious, all that space would be nothing without a well-conceived layout.
True to form, Sterling Homes' design team delivered on that front, as well.
A bedroom wing to the left of the foyer holds two oversized secondary bedrooms with a well-appointed main bath placed between them to maximize separation.
The master suite was then placed on the opposite side of the home (with the foyer and open lower-level staircase in between the two bedroom areas) to ensure that everyone in the family has their own private space to enjoy.
"Having a totally separate master suite is a real plus," says Castro. "Not only is it very private, but it's also a gorgeous space. The bedroom is huge and comes with three windows, there's a big walk-in closet in the centre and the ensuite features a five-foot shower with marble-style tile surround and thunder maple vanity with his/her sinks."
A massive lower level with loads of livable space caps the Ashton A off by offering all kinds of potential, adds McDonald.
"It comes with a nine-foot ceiling and over 1,400 sq. ft. of space that can be developed, which is a really good feature," he says. "Add in an oversized double garage with space for a workshop, and you have one of Sterling Homes' best designs. Even though this home was just built, there's already lots of interest in it because it provides such a great blend of style and livability."
lewys@mymts.net
Details
Builder: Sterling Homes
Address: 4 Casselman Cres., Oak Bluff West
Style: bungalow
Model: the Ashton A
Size: 1,706 sq. ft.
Bedrooms: three
Bathrooms: two
Price: $528,974 (Includes lot & GST)
Contact: Don McDonald, Coldwell Banker, 204-981-9544 or Lisa Castro, Coldwell Banker, 204-952-2675