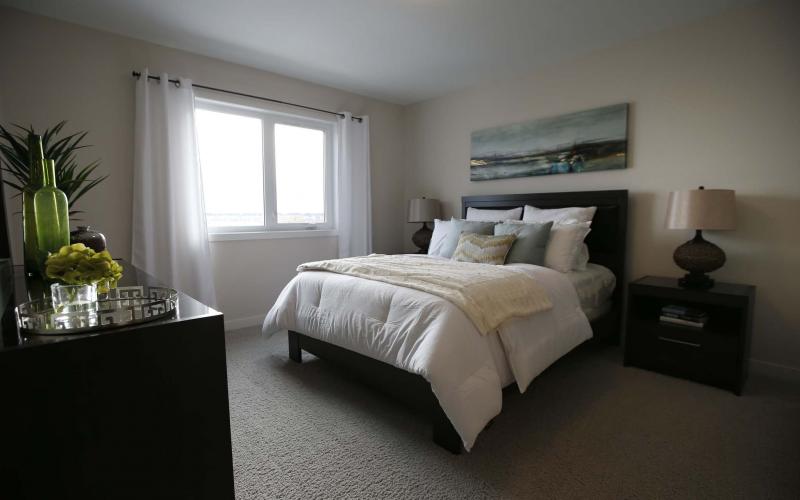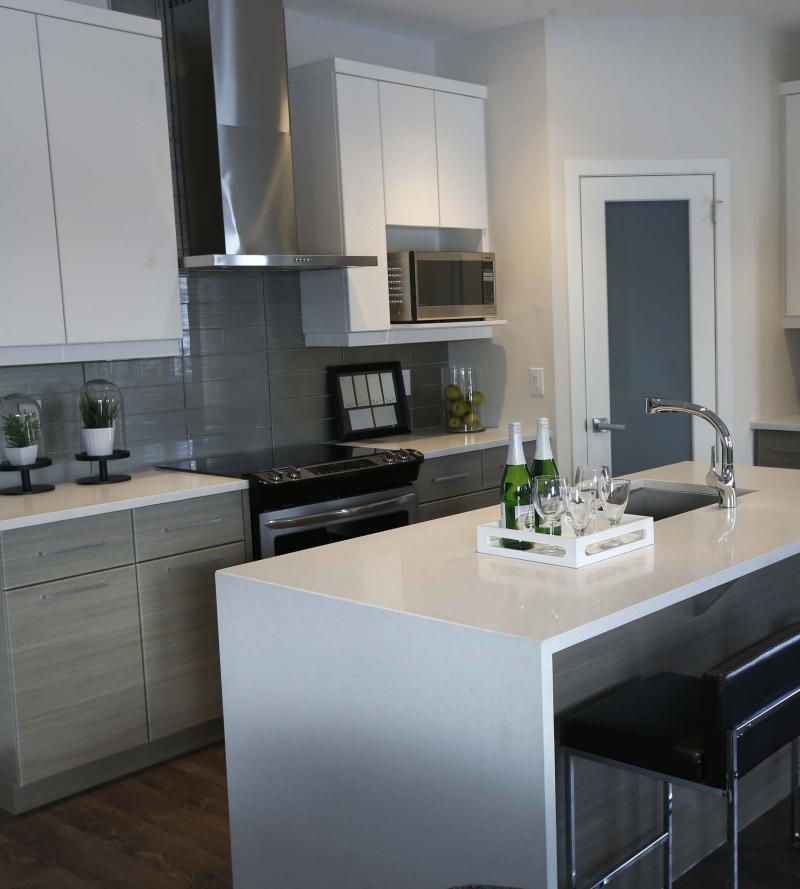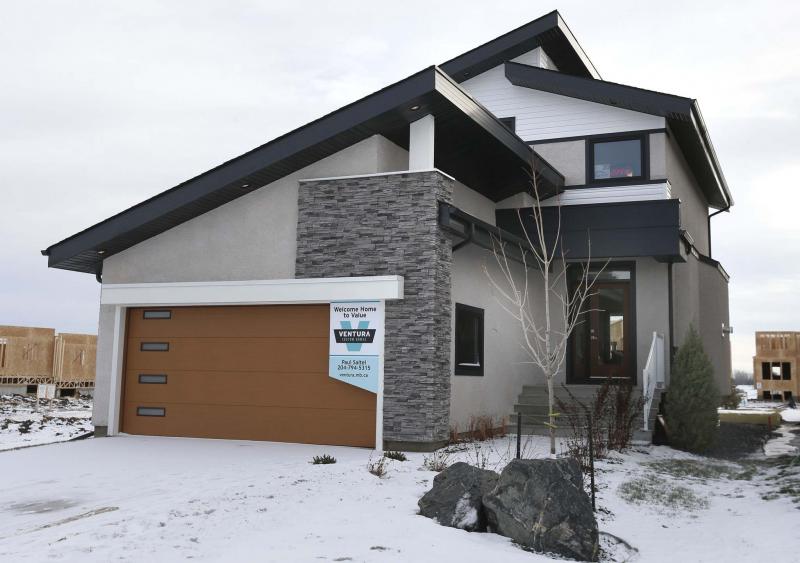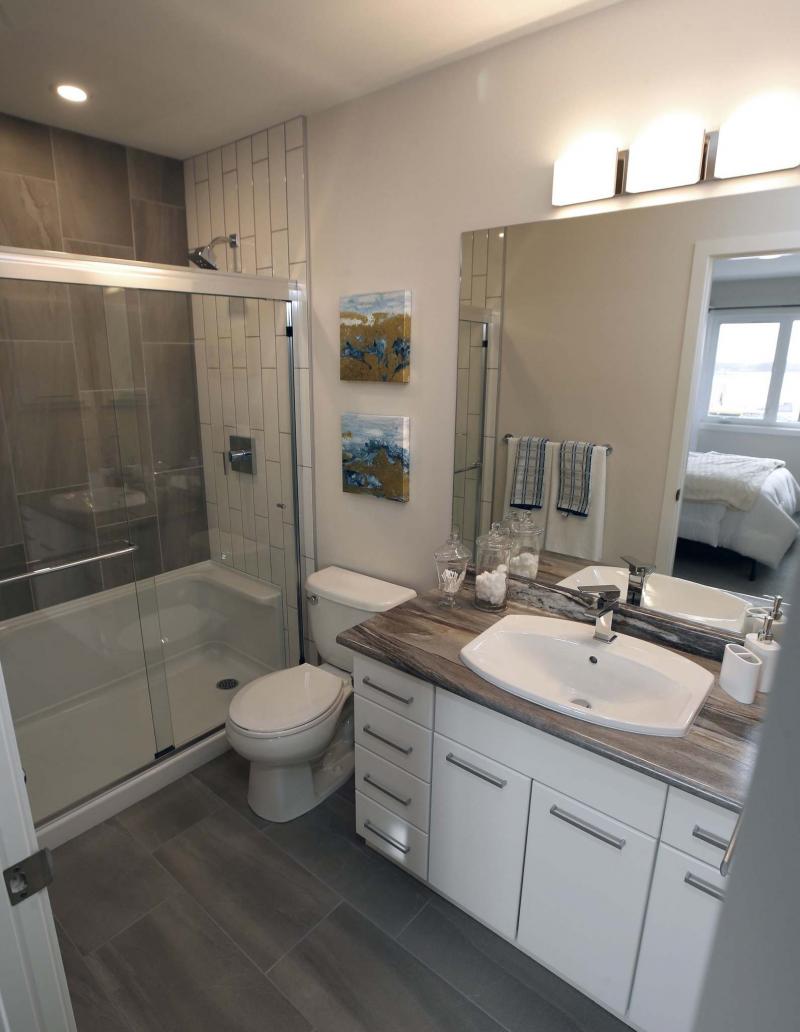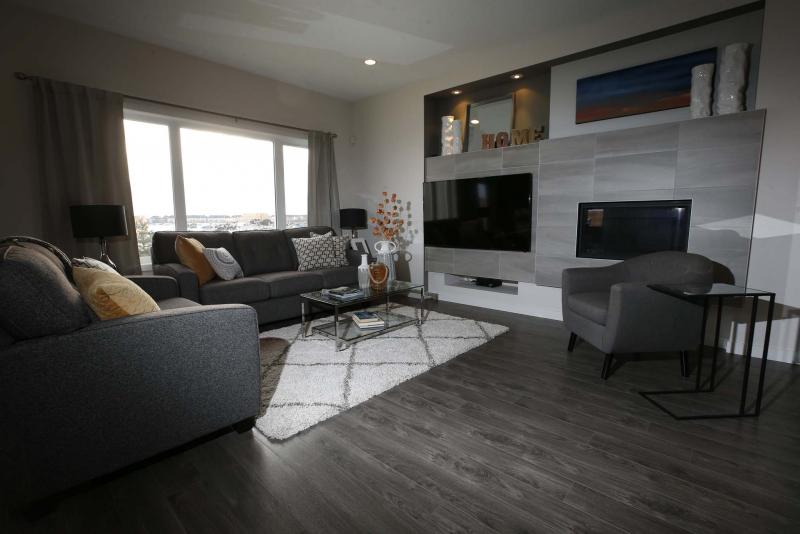 When a home looks good on the outside, it follows that you'd want to see what it looks like inside.
With its three angled rooflines, smashing bronze garage door (with its vertical stack of four rectangular windows) and well-placed stone trim, 20 Bow Water Dr. is certainly an eye-catcher.
Intrigued, you ask yourself two questions.
First, will its interior match the panache exhibited by its exterior? Second, will that panache be infused with enough practicality to make for a home that's as functional as it is fashionable?
The answer is yes, says Paul Saltel, Ventura Custom Homes' sales representative for the 1,787-square-foot two-storey home.
"Without question, the home (the St. Thomas C-17, to be exact) features a stunning modern exterior that really grabs your attention," he says. "The interior is just as good, featuring a really nice balance between fashion and function."
That livability starts in the foyer, which is features an efficient, stylish design.
Instead of having the upper-level stairwell set out in front of the foyer to define it, Ventura's designers chose to tuck it off to the side.
"Doing that placed the upper-level staircase out of the way," Saltel notes. "That allowed the foyer to open up beautifully into the (open-concept) great room. It also allows light from the front door to filter into the great room, as well. Tempered glass cutouts in the (one-third height) walls that define the staircase add style, and also promote light flow."
He adds that another practical feature can be found two steps down in a wing to the right of the upper-level stairwell.
"It holds the basement stairs, a ­powder room and door that provides access to the double attached garage. It's a very functional area that visitors have really appreciated."
Much like the home's striking exterior, the extra-wide upper-level staircase beckons you to take a look upstairs.
If you were idly wondering where the laundry room is, you get an immediate answer: it's set unobtrusively to the side of a compact landing set midway between the main and second floors.
"It's in a perfect spot — accessible, yet in an area that's out of the way, so laundry messes can be kept out of sight. It's spacious, and even has a big window to let natural light filter in when you're doing laundry."
A second set of steps then takes you to the St. Thomas's top floor, which holds five spaces: three bedrooms, a four-piece bath — and a loft.
"The loft is a wonderful space that features a high, vaulted ceiling and a pair of large windows (one in the loft itself, the other over the stairs) that flood the area with light," Saltel says. "About 50 per cent of those who buy the home keep it as a loft, while the other 50 per cent make it into a fourth bedroom."
Meanwhile, the two secondary bedrooms are big, bright (thanks to massive windows on their rear walls) and offer plenty of closet space; toddlers can grow into teens in them without any space issues cropping up.
Finally, there's the master suite.
"It's a naturally bright space that's just the right size, not too big or small," he says.
"It's nicely separated from the second and third bedrooms, which maximizes privacy. The ensuite is luxurious with its grey tile floor, five-foot tempered glass/tile shower with (taupe/off-white) tile surround and white vanity with a Kohler sink. The walk-in closet is a good size, and offers lots of built-in storage."
As functional as the St. Thomas top floor is, its great room is its pièce de résistance.
The key to its allure lies in a design that deftly balances panache and practicality, Saltel says.
"I would say it's everything a great room should be — it's bright, flows well, and each space is a good size. It features an ideal blend of style and function."
Of particular note is the area's natural brightness, which is derived from the well-placed windows that surround it: a huge picture window on the family room's rear wall, an oversized window on the dining area's left-hand wall, and a wide set of sliding doors directly behind the spacious dining area.
And while the area is wide open, there's enough definition to ensure it isn't simply a huge area filled with a series of disjointed spaces. The kitchen is neatly defined by a seven-foot by four-foot island with eating nook for three, while the dining area and family room are subtly separated by the aforementioned patio doors.
Well-spotted finishes — the home is loaded with more than $100,000 of upgrades to bring the show home price to just over $507,000 — then complete the area in tasteful fashion.
"In the kitchen, Ventura's designers put white cabinets up high and taupe thermofoil cabinets down low — the combination looks great, and complements the taupe tile backsplash. There's a gorgeous (taupe) tile entertainment unit with art niche above in the family room, and the (medium brown) wide-plank laminate flooring adds a nice warmth and texture to the area," Saltel says.
Build the home with basic finishes (plus a few options), and the St. Thomas could be acquired for around $420,000, making it a viable option for a young family looking for a move-up home that's affordable, functional — and sufficiently stylish.
lewys@mymts.net
Details
Builder: Ventura Custom Homes
Address: 20 Bow Water Dr., Bonavista
Model: The St. Thomas C-17
Style: Two-storey
Size: 1,787 sq. ft.
Bedrooms: 3 plus loft
Bathrooms: 2.5
Price: $507,163 (Includes lot, upgrades, GST)
Contact: Paul Saltel, Quest Residential Real Estate, 204-794-5315