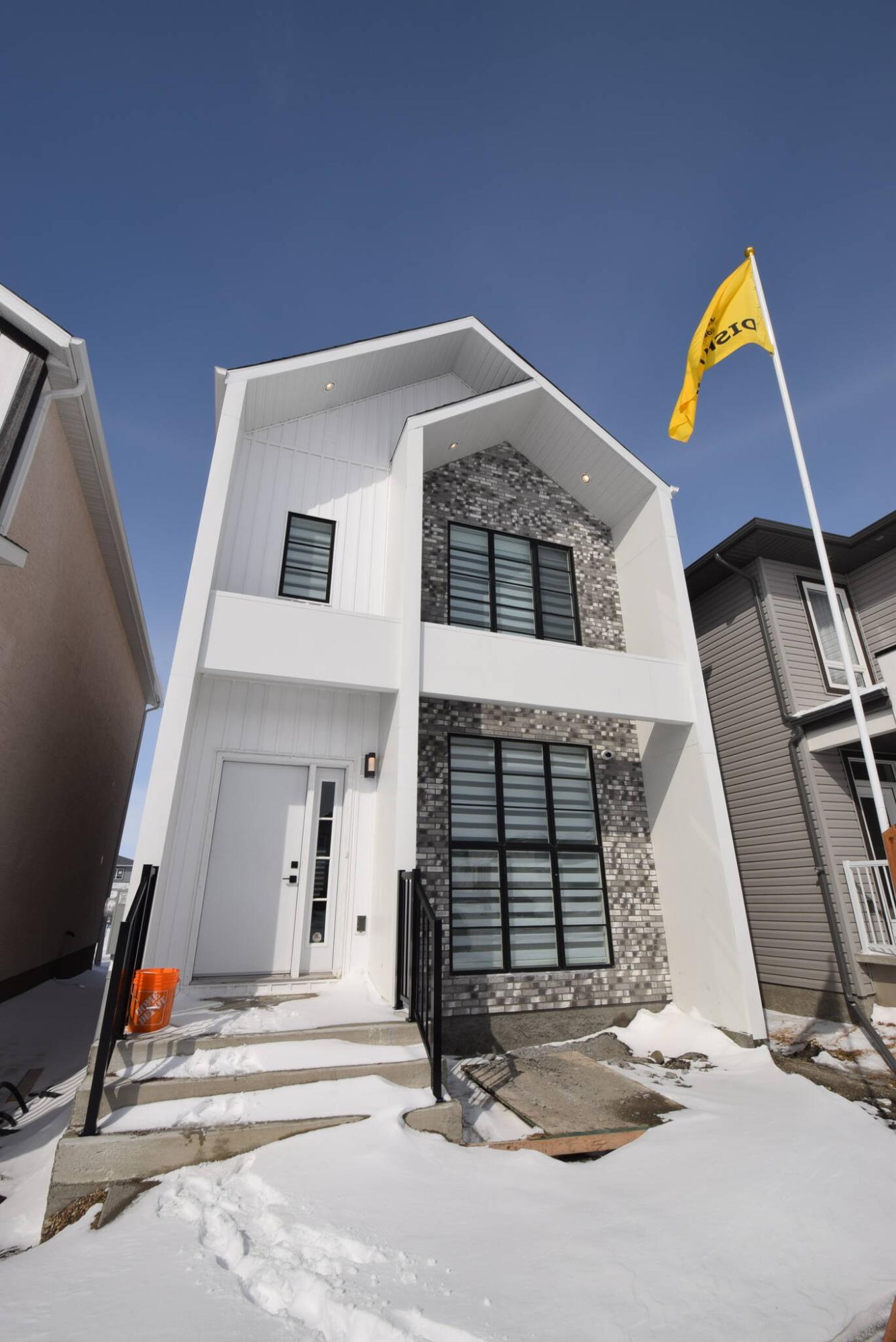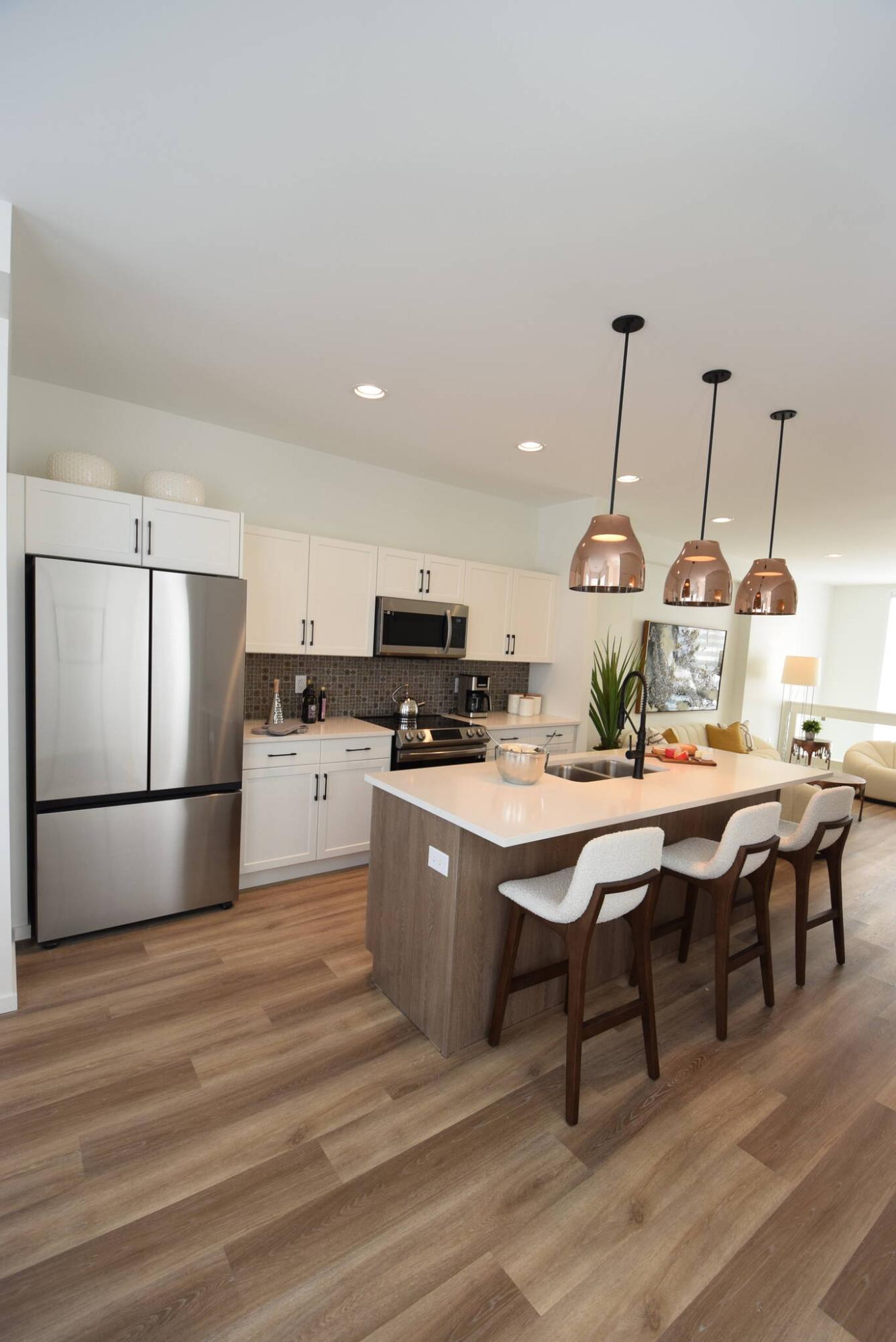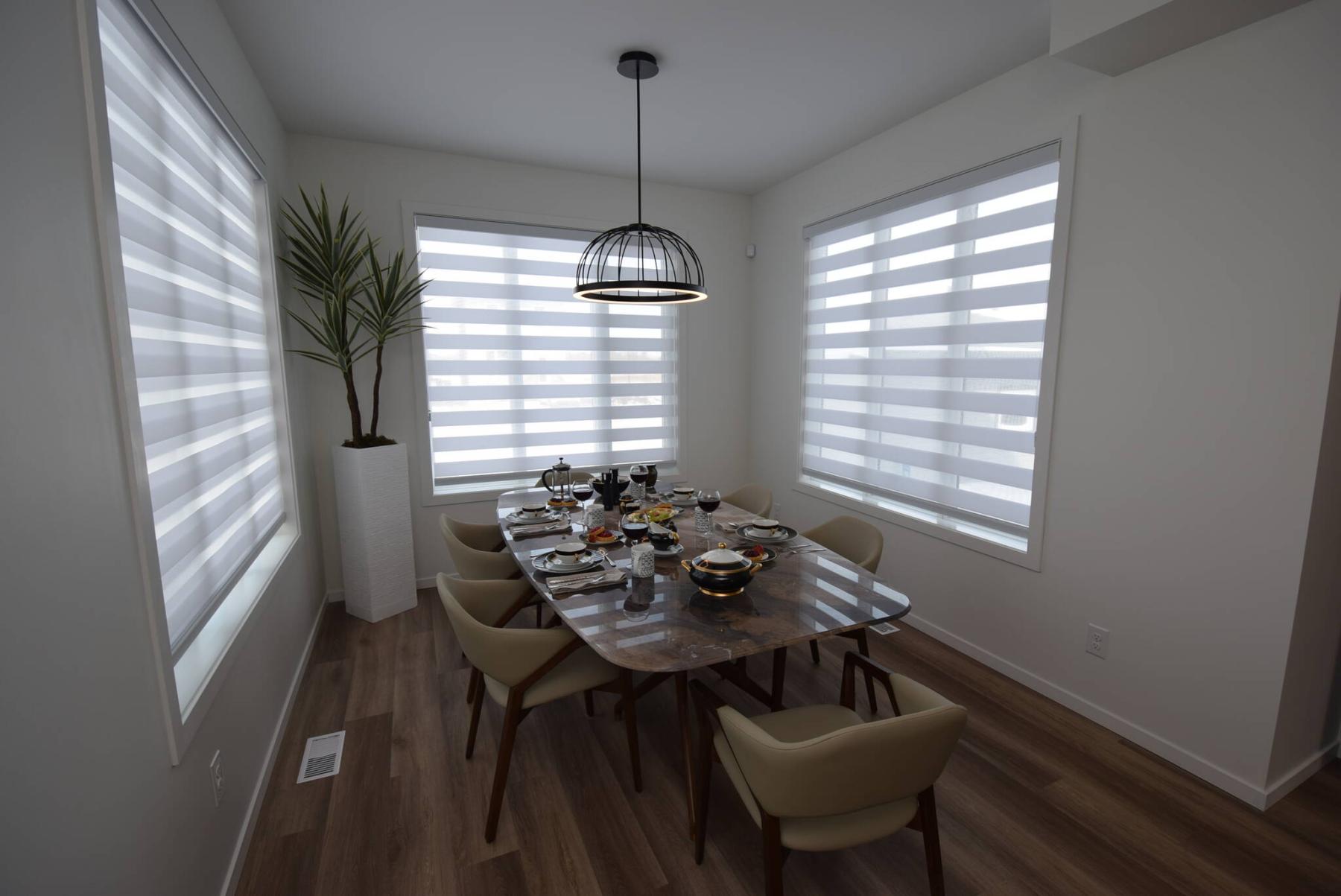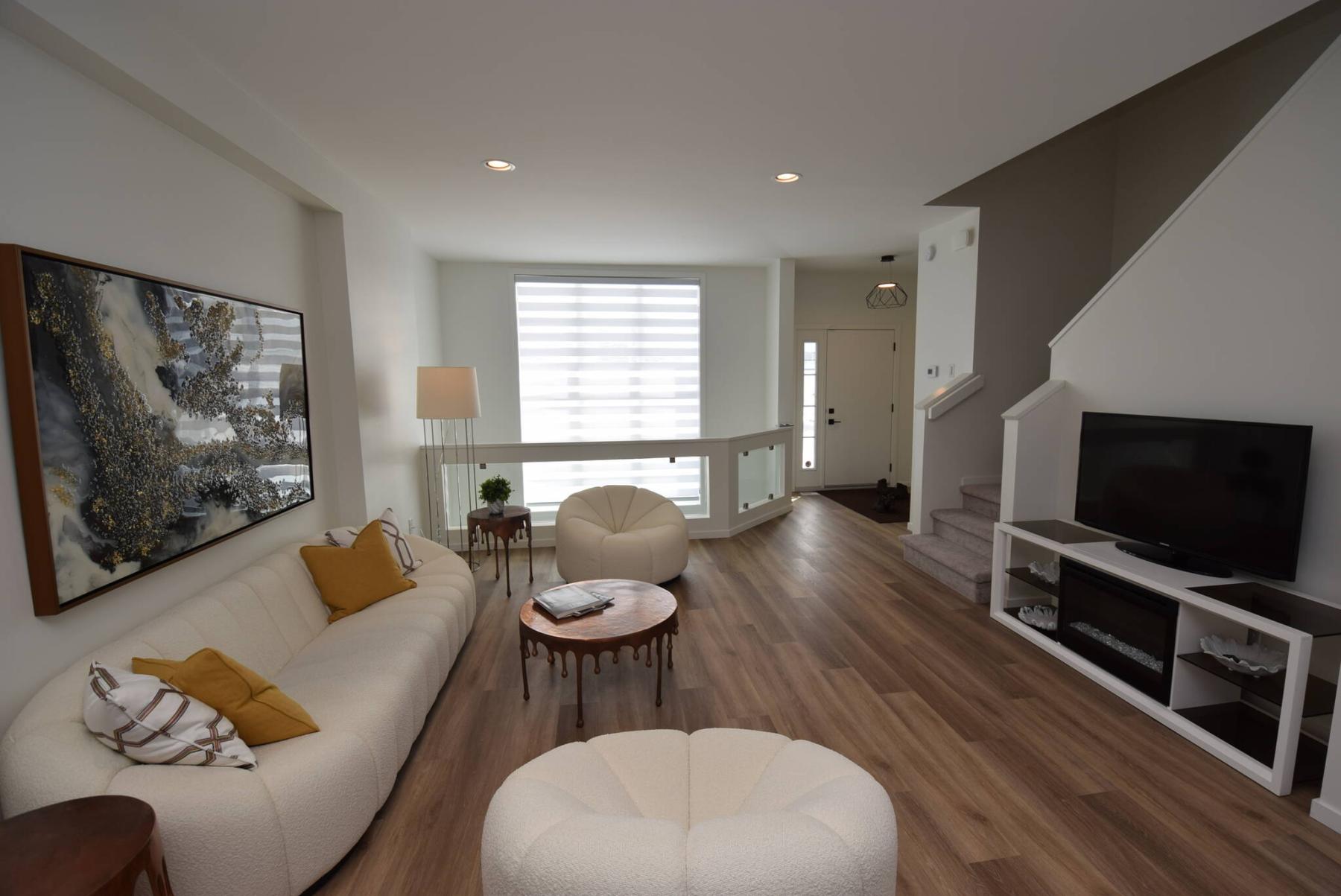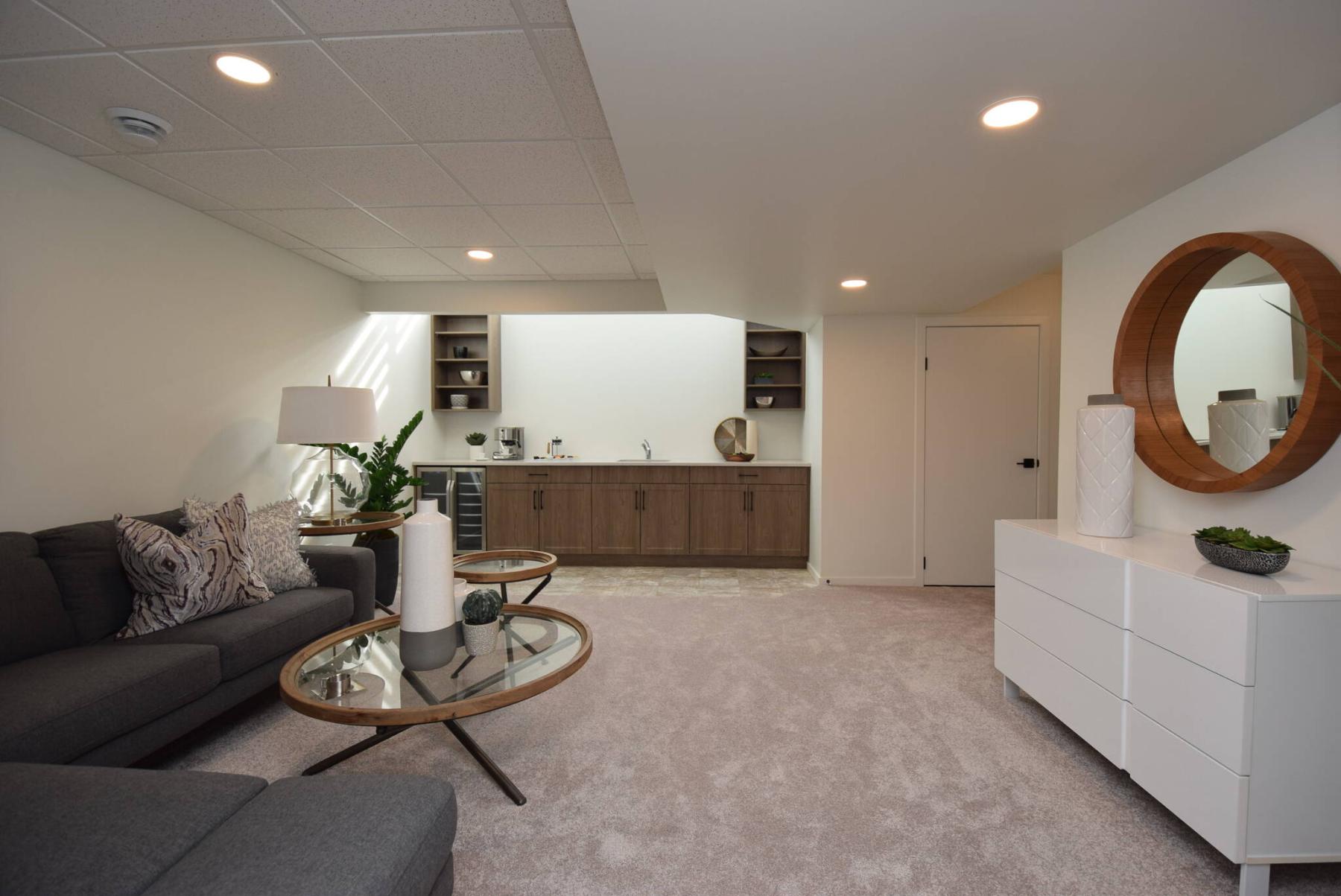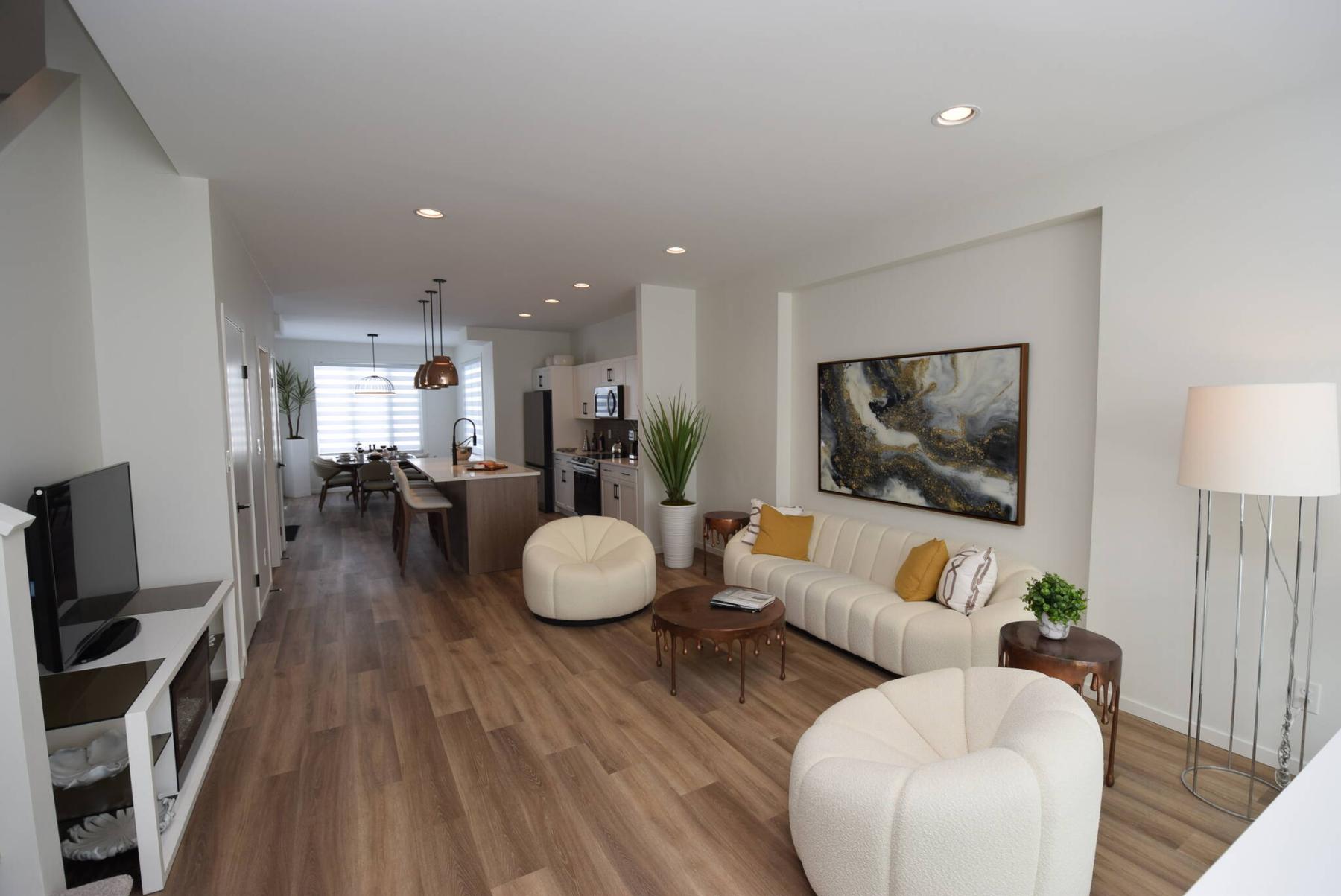 As building lots get narrower to reduce prices and increase housing density, builders are having to get more creative to deliver style and livability to budget-minded home buyers.
Spencer Curtis of Hilton Homes says the Naomi — a brand new plan for 2023 — delivers on both fronts.
"This is a little powerhouse of a plan," he says of the 1,483 square-foot, two-storey show home, which is located at 44 Goodman Dr. in Highland Pointe. "This house was a lot about architecture. The idea was to take a smaller plan and make something unique, and special."
Because the home was built on a 26-foot-wide lot, much thought had to be put into its design, both outside and inside.
Curtis says the compact home's unique, yet functional design starts with its exterior.
"We went with a stone clad façade to give it a dramatic look," he explains. "It's unique, and, I think, quite stunning. It's generated a lot of positive comments."
He adds that the two black-trimmed windows set in the stone also play prominent roles in the home's design, particularly the extra-long one on the main floor.
"It goes with the theme of this home, which is there's much more to it than you might expect. For example, the huge window at the front serves two purposes."
Once inside, you quickly deduce what those purposes are.
First, the massive window — which is stylishly defined by a one-third wall with mod tempered glass inserts — allows all kinds of natural light to flood into the adjacent family room.
Next, the window extends down into the fully finished lower level.
"It brings even more natural light inside, this time down into the lower level," notes Curtis. "We placed a well-appointed wet bar area beneath it to add a nice bit of style."
From there, the lower-level turns into a light-filled living room/media area, which then gives way to a hallway to its rear.
"It holds a large bedroom with a walk-in closet, four-piece bath and a laundry room," he says. "You could use the media area for entertaining, or it could be used by a teenager, or older family member who would use the lower level as an in-law suite."
Meanwhile, the main floor is an ergonomic masterpiece.
Thanks to a well-proportioned floor plan, each space — family room, kitchen, and dining area — is well-defined and plenty spacious.
A cantilevered niche carved into the upper-level staircase provides space for an entertainment unit and big screen TV, while the enormous window on its front wall fills it with natural light; there's also a subtly cantilevered area on the opposite wall in which to place a long sofa.
Most importantly, the family room flows smoothly into the centrally located island kitchen.
"Even though the area is a bit narrower than usual, we made sure there was lots of room to move," Curtis says. "The kitchen also offers plenty of style with an eight-foot island, quartz countertops, mosaic tile backsplash and loads of white thermofoil cabinets."
Then, there's the solarium-like dining area, which is just steps from the kitchen.
"It's surrounded by three huge windows that let in even more natural light. Between the dining area and island, you can easily seat 10 people when you're entertaining."
Finally, there's the Naomi's upper level, which builds further on the main level's exceptionally efficient layout.
"We put a well-appointed four-piece bath in the centre to provide natural separation between the secondary bedrooms and primary bedroom," he says. "Both secondary bedrooms — which are a real nice size — are perfect for kids and are mere steps from the bathroom."
Hilton's design team then saved the best for last with a quietly stunning primary bedroom.
"A four-foot hallway leads into the bedroom, which comes with a massive window and a feature that most people don't expect, a soaring Cathedral ceiling," Curtis says. "There's also a big walk-in closet with a large window and a three-piece ensuite with a five-foot walk-in shower."
He adds that while the show home costs $564,000, the Naomi can be built for about $450,000.
"That would be with basic finishes and an unfinished lower level. Overall, we accomplished what we wanted to with the Naomi — even though it has a smaller footprint, it's affordable, and doesn't lack style or function. We're really pleased with how it turned out."
lewys@mymts.net
Details
Builder: Hilton Homes
Address: 44 Goodman Dr., Highland Pointe
Style: two-storey
Model: the Naomi
Size: 1,483 sq. ft. including fully-finished lower level
Bedrooms: three
Bathrooms: 2.5
Price: $564,000 (includes lot, landscaping, blinds, appliances, finished lower level & GST)
Contact: Jaquelyn LaCroix Mahti, Quest Residential Real Estate, 204-292-9118