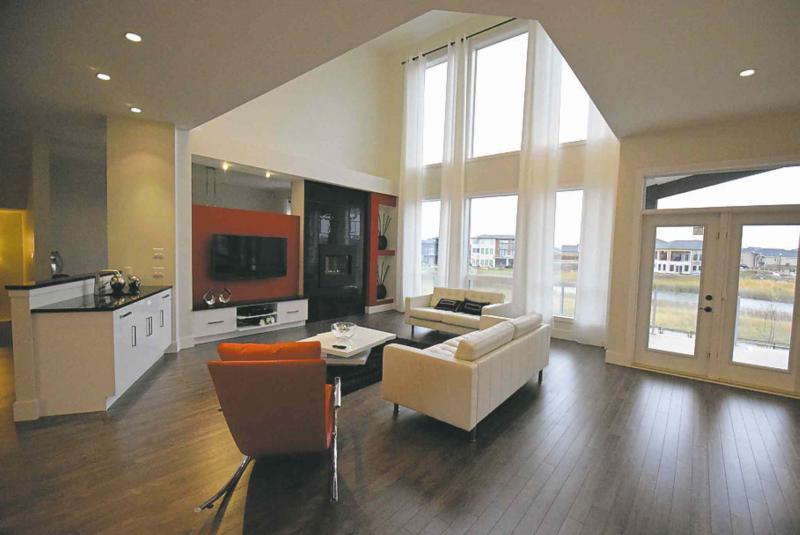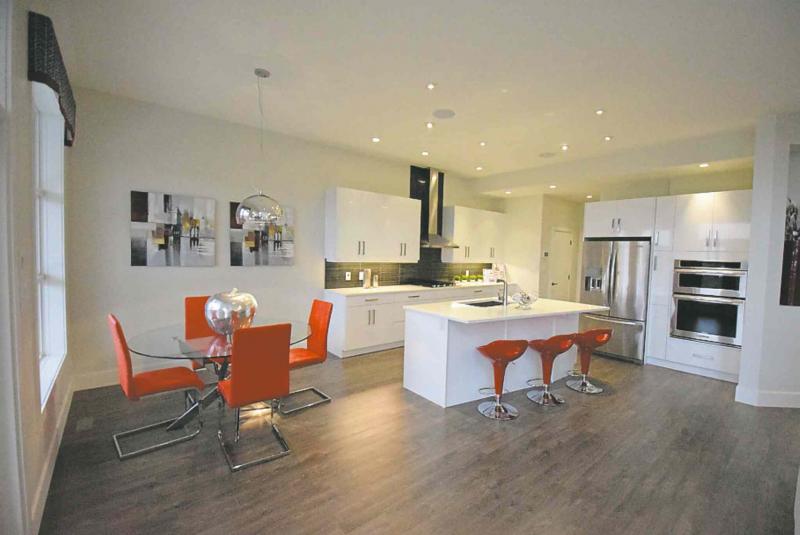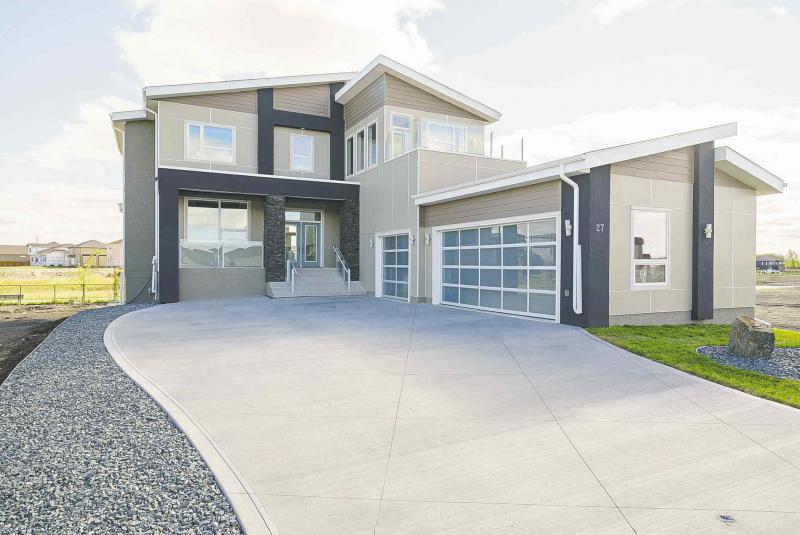 With its multi-angled rooflines and striking two-tone exterior, 27 Trailside Cres. stands out from the crowd.
Step inside and its interior evokes the same feel, said Sean Kirady, sales representative for KDR Homes.
"It's a thoughtfully designed home that does a great job of balancing classic design elements with fresh new trends," he said of the 3,134 square-foot two-storey design. "The goal of KDR's design team was to create a home that was beautiful, bright, timeless and luxurious."
Best of all, that goal was accomplished by employing a different -- yet highly functional -- great room design. Instead of going with an open-concept design that incorporates the dining area, family room and kitchen/dinette area into one large, free-flowing space, KDR's design team opted to divide the dining room from the family room and kitchen. Consequently, after coming up one step from a wide, subtly sunken (white/grey) ceramic tile foyer, the great room spreads out in front of you with the dining room to the left, family room in the centre, and island kitchen/dinette area to the right.
Each area was designed to offer a perfect balance between style and function, said Kirady. "Take the dining room," he said, "even though it's a separate space, it still flows beautifully into the family room, which then opens nicely onto the kitchen. It has lots of room for a table for six to 10, patio doors that would lead to its own balcony and it also gets one side of the two-sided fireplace it shares with the family room's side wall. There's also a cutout in its right-hand wall (part of the entertainment unit design) that lets in more light."
Next door is the family room, a bright, voluminous space outfitted with a pair of novel design features. "With its floor-to-ceiling picture window, 20-foot ceiling and wetland view, it's an absolutely spectacular space," Kirady said. "Two other aspects of its design also stand out. To the left of its entrance is a gorgeous wet bar with white thermofoil cabinetry and black quartz countertop that you can put snacks on and use as a serving area."
The second design feature is a rather unique and striking entertainment unit. "This home features a modern design with a hint of Asian influence -- you can see that with the entertainment unit, which features a (huge) red TV niche combined with white drawers and a black shelf. The two-sided gas fireplace is next to it set in black tile, and then there's a display unit next to it, also painted in red. It's different, yet looks great because the colours are spotted just perfectly."
Speaking of colours, white -- because of the home's modern design influence, is predominant. Thankfully, said Kirady's Royal LePage Dynamic sales associate, Jeff DeBrincat -- the choice of flooring offsets the home's inherent brightness (colour palette, abundance of natural light). "I think it (medium-brown, high-end laminate plank) was a great choice -- it not only adds warmth to the dining room, family room and kitchen, but it also contrasts perfectly with the white and red colours. It's also an extremely durable product that stands up well to wear and moisture."
Meanwhile, the transition from the family room into the kitchen is seamless thanks to a wealth of buffer space found between the two areas.
Kirady said the nine-foot island's design contributes to that space in a significant way. "It's angled, so it really opens up a wide aisle between the kitchen and family room. It also creates a modern look, too. At the same time, it's functional, with seating for three and double sink. The dinette area at the back of the kitchen holds a table for four, and is next to a huge window and balcony doors that let in all kinds of light and provide you with a beautiful view of the wetlands out back."
Head upstairs and you find an area essentially divided into two sectors. To the left of a central wall is a secondary bedroom and the master suite; to the right, a wing that contains two bedrooms, a four-piece bath -- and another neat design feature, said DeBrincat. "I really like its positioning," he said of a flex space -- with it's own balcony, no less -- that's tucked away in behind the two bedrooms. "It's a great space of their own where kids can go to play or watch TV without bothering their parents."
Likewise, parents literally have a space of their own on the other side of the wall, said Kirady. "You get there by taking a 12-foot catwalk that overlooks the family room and that gives you an amazing wetland view through the family room's picture window," he said. "The master suite has everything you want-- space, natural light, a gorgeous view, and spa-like ensuite with stand-alone soaker tub, tempered glass/tile shower with red glass tile highlights, dual white quartz/thermofoil vanities and huge walk-in closet."
A bright, open-concept 1,000 sq. ft. walk-out lower level adds yet another area of well-appointed living space in the form of a media room, games area (on red vinyl tile) with wet bar, fourth bedroom and exercise room."
"This is a beautiful, well-designed home from top to bottom," said Kirady. "It's full of little details that provide the style and function that make it great for entertaining, family life, and simply enjoying everyday life."
lewys@mts.net