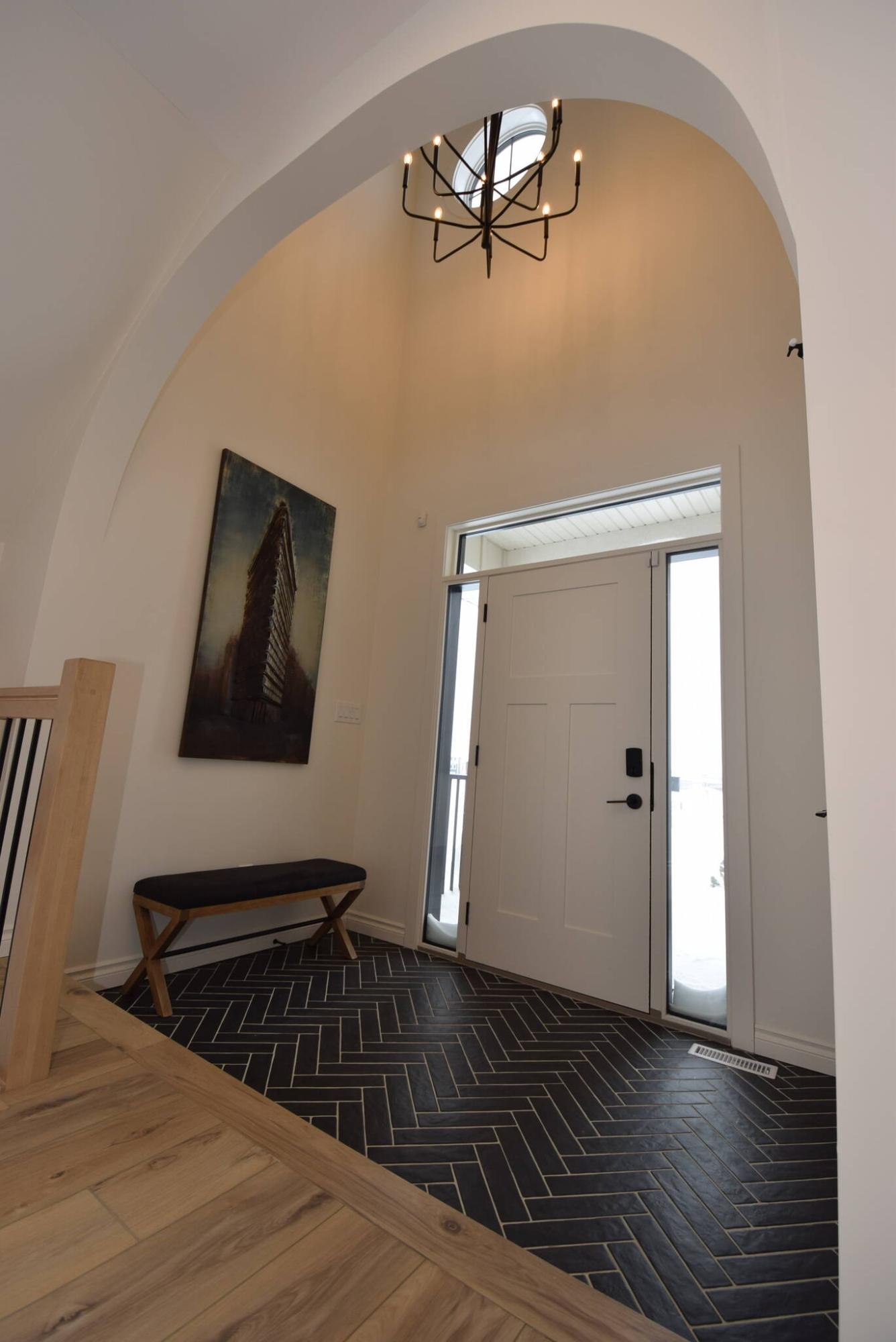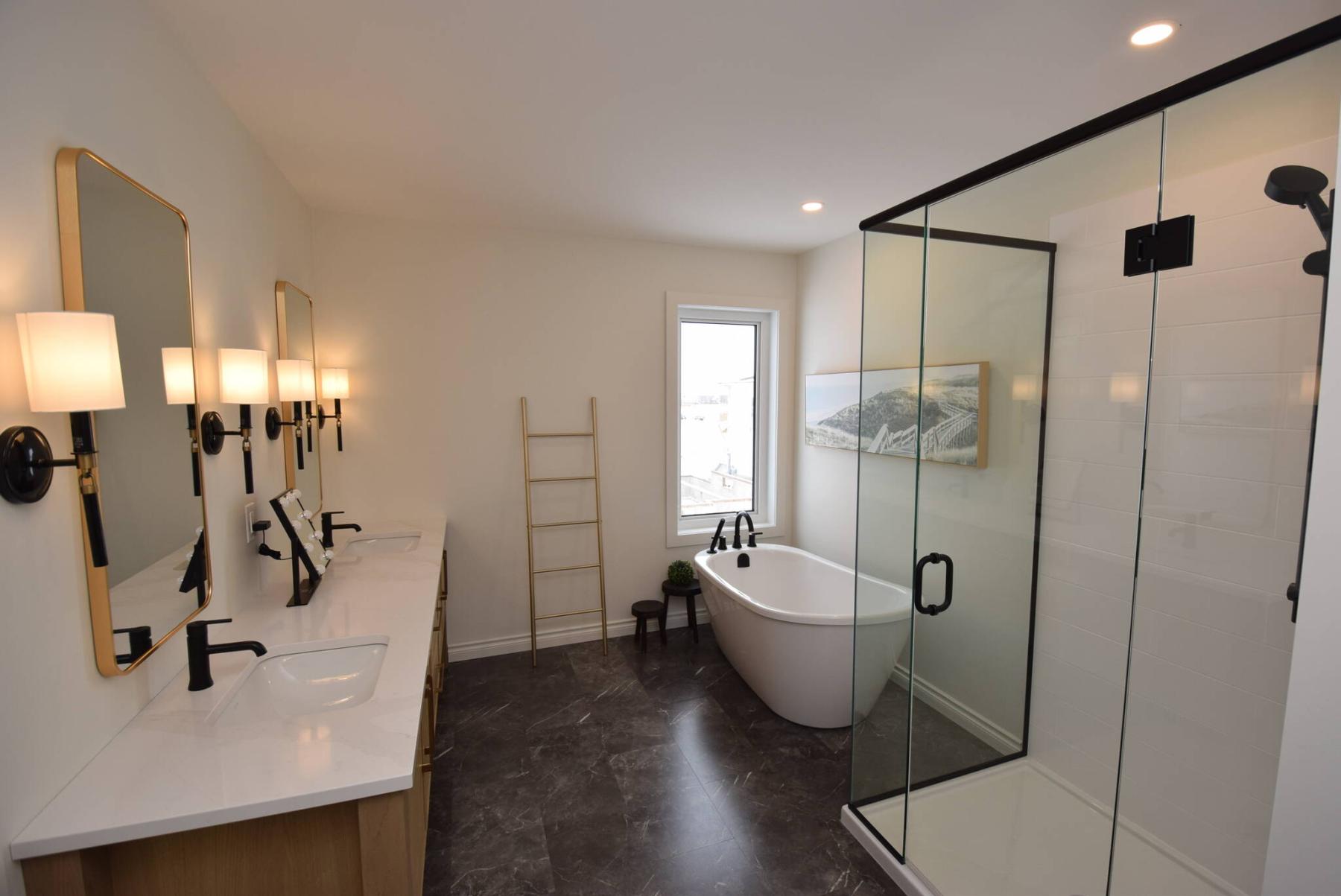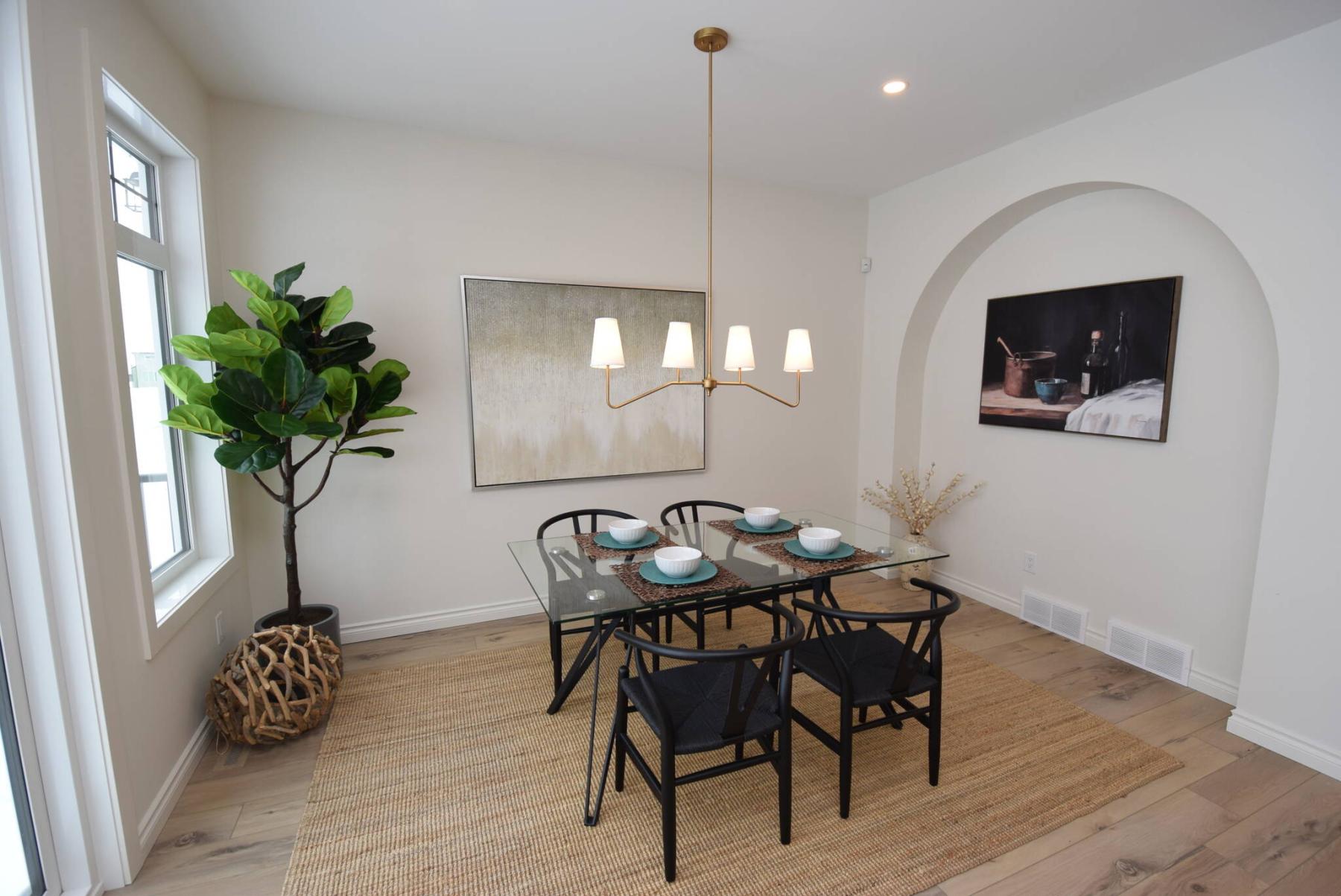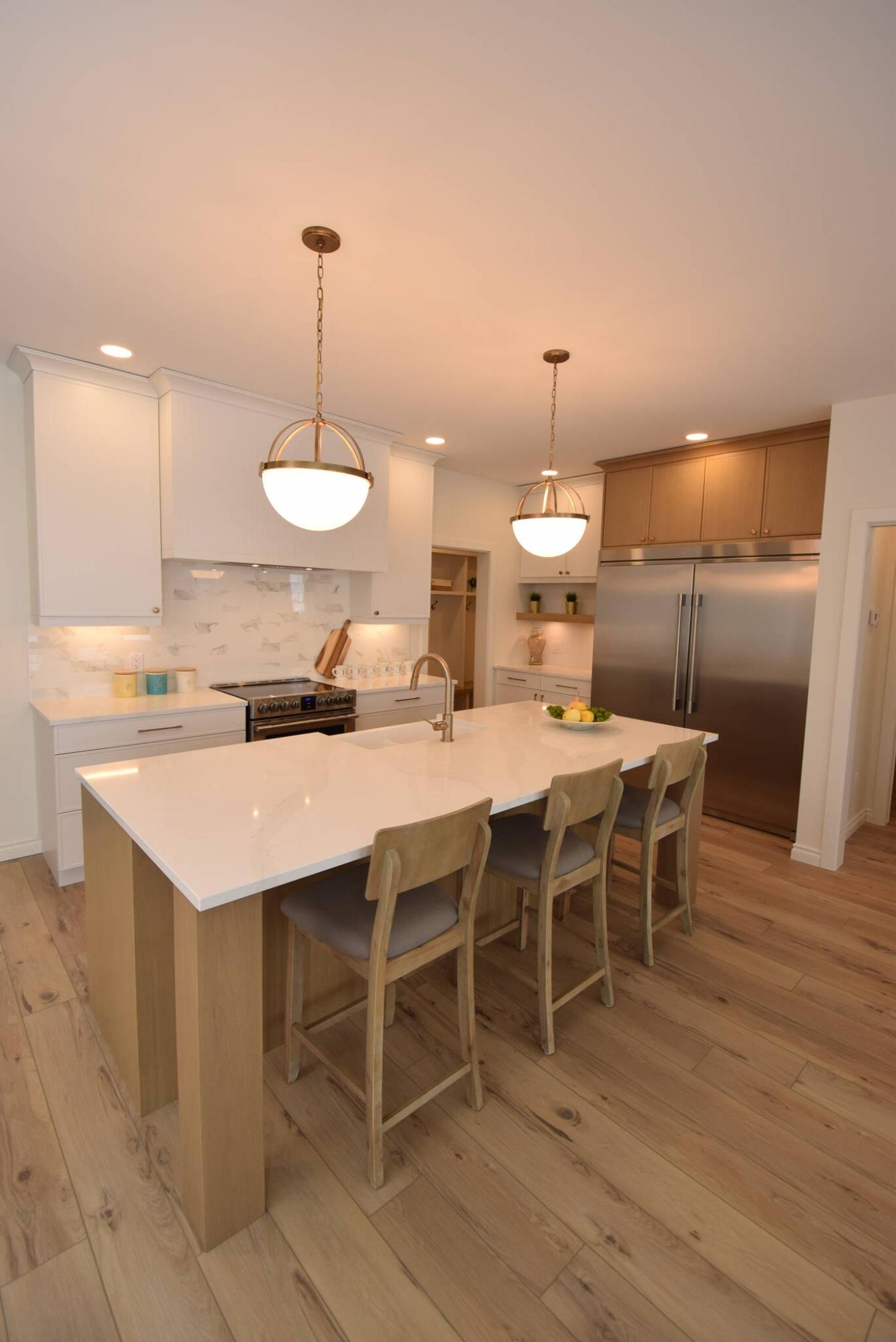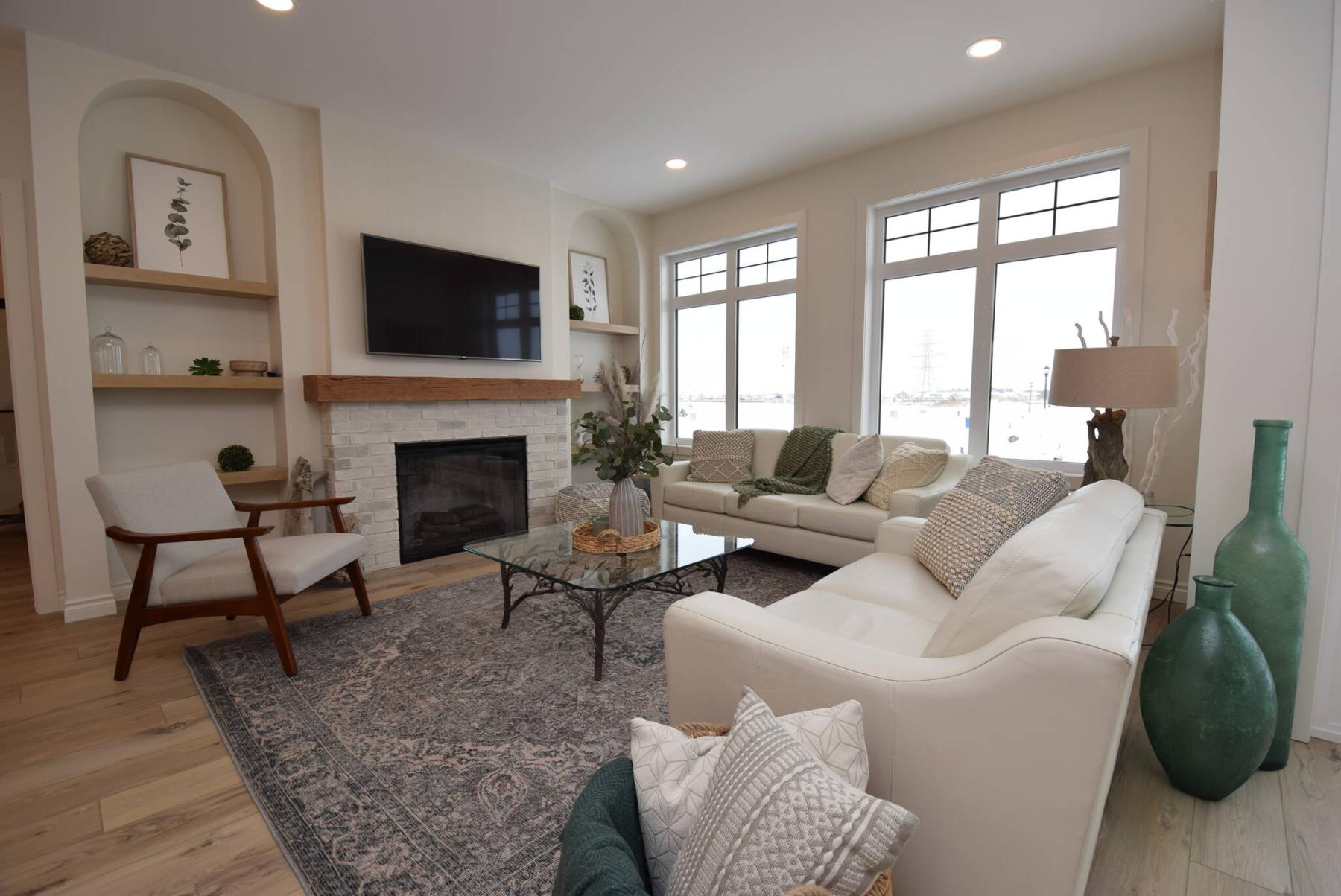 No matter what street in the city you walk or drive down, there's always one home that stands out from the rest.
That's the case with Yellow Moon Crescent in Sage Creek.
There it is, amid countless modern-looking homes: a stately two-storey home with a unique, curved gable extending gracefully over an arched entryway.
Hearth Homes' project coordinator Ryan Miller says the Astoria was inspired by the much-loved Tudor-style homes that dot the landscape in River Heights.
"This is our modern take on the Tudor style," he says. "It's different from anything around here. It really is a breath of fresh air."
The Tudor styling starts in the Astoria's dropped foyer, which is defined by a graceful, arched entryway. A herringbone-style tile floor and elegant chandelier add to the yesteryear feel.
Take one step up and a few steps forward, and you find yourself in a bright, open-concept main living area that features creamy whites and warm wood details and a whimsical yet practical design that deftly combines classic and modern design themes.
Miller says both the dining area and family room feature a wonderful synergy of the two styles.
"The dining room comes with a gorgeous arched alcove and classic four-light chandelier with champagne bronze finish," he notes. "At the same time, you get modern function with an eight-foot patio door on its rear wall that leads out to a large backyard deck."
Then, there's the family room, which is everything it should be: spacious, yet inviting and cozy.
"It's a very inviting space, with a grey brick fireplace that's complemented beautifully by an oak mantel and arched display niches on either side with oak shelving. The earthy colours and texture really give it a warm, welcoming feel. We also incorporated traditional grills into the windows in both the family room and dining room, as well."
Next comes the area in and around the kitchen, which is teeming with modern function, starting with a doorway to the left of the family room.
"It leads to a separate main floor suite next to a three-piece bath that can work as an accessible living area or a dedicated office space that can be used to work from home," says Miller. "A pocket door can be pulled across the doorway to easily close it off for privacy."
He adds that the eye-catching island kitchen is as efficient as it is elegant.
"Not only does it offer an eight-and-a-half-foot long island that seats three, but it also comes with quartz countertops, two-tone cabinets, a marble tile backsplash, and classic champagne bronze pendant lights, taps and handles. The pantry to its rear – it connects perfectly to a huge mudroom and laundry room – could also easily be turned into a spice kitchen."
The Astoria's upper level is just as functional and fetching as its thoughtfully-designed main floor.
For starters, a huge loft was placed to the immediate right of the wide upper-level staircase.
"People just love it. It's a really good size and comes with a huge window that lets in lots of natural light. There's also a window seat and built-in storage on either side with arched detailing. Old-style reading lamps with champagne bronze covers are a perfect finishing touch."
Meanwhile, the bedroom wing holds four spaces: a spacious four-piece bath, two oversized secondary bedrooms — and an inviting primary bedroom that draws you inside with its wonderful blend of texture, warmth, and function.
"Instead of carpeting, our design team went with the same gorgeous luxury vinyl plank flooring that runs through the entire main living area," he says. "A huge window on the rear wall lets in lots of natural light, while a metallic black barn-style door with frosted glass panels — it closes off the walk-in closet — adds contrast and texture."
A roomy, spa-like ensuite that effortlessly blends classic and modern design themes then completes the primary bedroom with its elegant, timeless styling.
"A grey vinyl tile floor gives it texture and warmth, while a rift-oak-style vanity with quartz countertop goes perfectly with four classic light sconces with black and mirrors with champagne bronze trim and black faucets. A five-foot walk-in shower with black trim and tile surround and a deep soaker tub next to a large window finish the space off perfectly."
Miller says the Astoria is everything Hearth's design team imagined it to be.
"It delivers character, sophistication with a functional, modern take on the Tudor style. It delivers stunning curb appeal, and an interior to match, and comes with the quality that's synonymous with the Hearth Homes name."
lewys@mymts.net