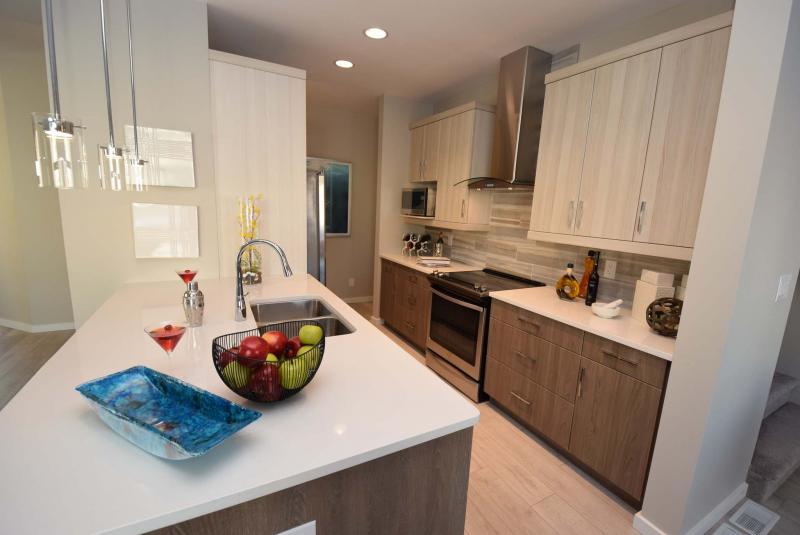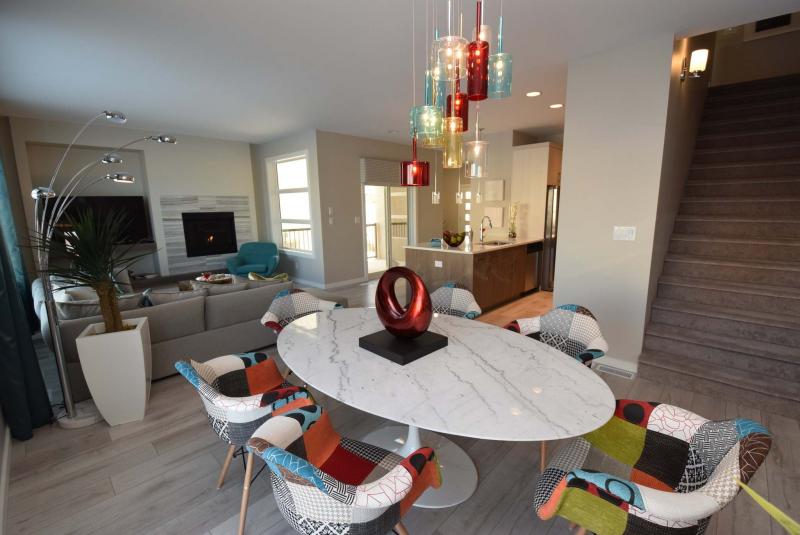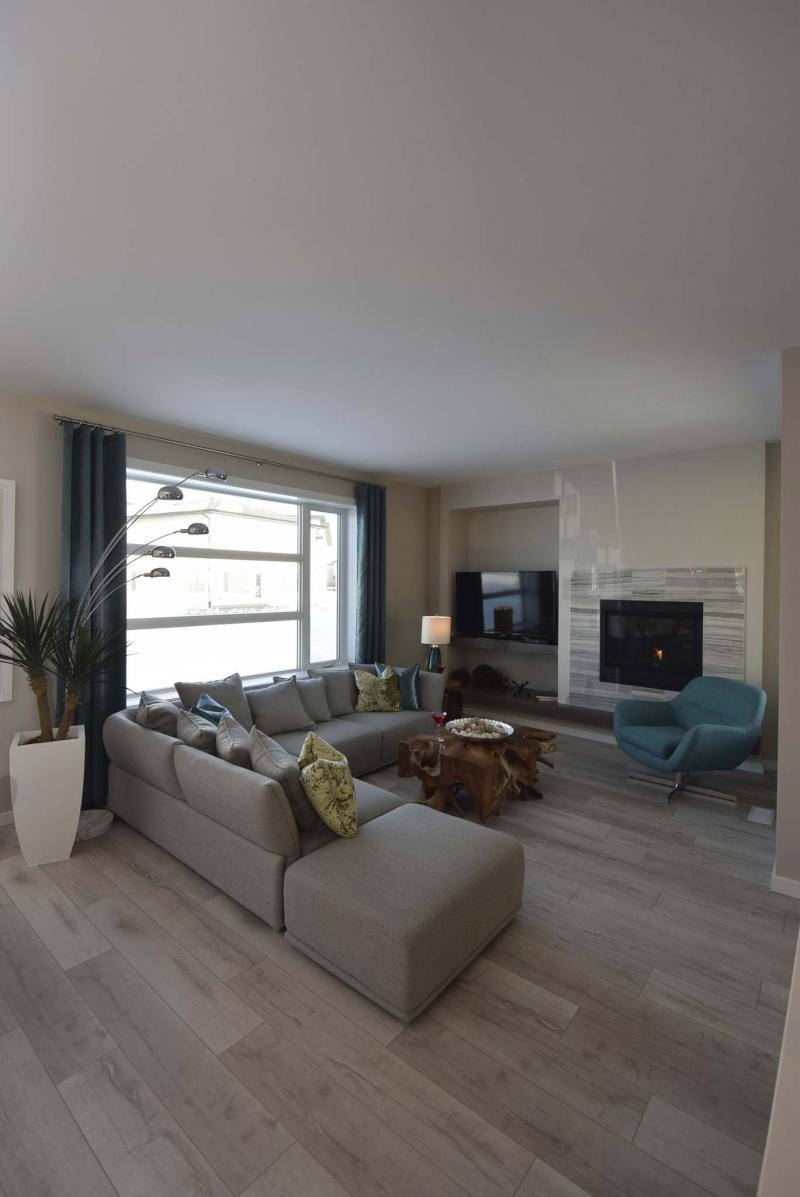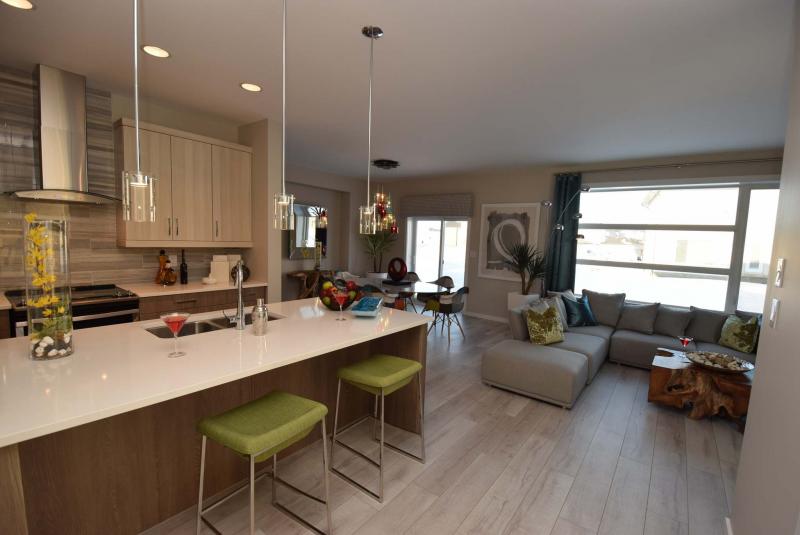 For one reason or another, some homes possess a style and utility that puts them in a class above other designs.
Hilton Homes' latest show home in Prairie Pointe at 31 Skyline Dr. — a.k.a. the Zoe — is one of those homes, says Spencer Curtis of Hilton Homes.
"I think we managed to pack a lot into 2,000 square feet, it's a home that has a lot of interesting design features," he says. "At the same time, it's still very functional."
The Zoe's well-balanced design starts in its foyer, a visually appealing space that features an imaginative yet practical layout.
"We wanted to do something different with both the foyer and kitchen, so we ended up putting a compact, covered deck in on the wall opposite the kitchen," Curtis explains. "When you walk inside, you're greeted by a large window that gives you a view of the deck and outside. Having the window there brings the outdoors in, and lets in more natural light."
That initial wow factor is then complemented by a deft design feature that imbues the foyer area with added utility.
"The wall to the left of the foyer was angled to open up space and provide easy access into a hallway that contains a powder room, mud room with walk-in closet, doorway to the basement and door to the attached garage. There's also a doorway that brings you directly into a galley kitchen."
Hilton's design team opted to go with a galley kitchen rather than an open-concept island kitchen for two reasons, Curtis adds.
"First, it gives the heart of the home a style that's a bit different than the norm. Second, tucking the kitchen off to the side allowed for both a bigger dining area and family room. Still, there's lots of space to create in the kitchen, and it connects beautifully with both the dining area and family room."
In short, the Zoe's great room is an ergonomic and esthetic marvel.
A mid-sized island at the kitchen's front offers a prep/serving area and seating for three to four. At the same time, it adds subtle style to the great room with its off-white quartz countertops and two-tone thermofoil cabinetry.
Meanwhile, the sliding patio doors opposite the kitchen not only let in additional light, but lead out to a very useful space, Curtis notes.
"The covered deck is a handy space that's perfect for enjoying the outdoors — there's space for a barbecue and a table and chairs. You can sneak in a few extra grilling sessions during the winter, and enjoy sitting out there with a drink in the summer."
Then there's the main living area, which is split neatly into two large, light-filled spaces: a spacious dining area to the left, and inviting family room to the right.
"Because the home has just one dining area, we wanted to make sure it was a versatile space. It has a built-in nook for a sideboard, and the space needed to hold a table that can seat up to 12 guests with ease," he says. "Sliding patio doors on its rear wall provide access to a future deck and good-sized backyard."
The great room is then capped off by the solarium-like family room.
"It's basically surrounded by glass — a massive picture window on its rear wall plus a large window on the opposite wall," Curtis says. "Its natural brightness is dialed down nicely by rich finishes — warm distressed vinyl plank flooring that runs through the entire great room, a gas fireplace with taupe tile surround and entertainment unit with warm maple shelving and trim."
Turns out, the Zoe's upper level is just as livable and stylish as its ground floor.
An enclosed, ultra-wide stairway (it's all of 4½ feet wide) leads up to a beautifully laid-out second floor that holds six spaces: a loft, three bedrooms, main bath and laundry room.
"The first thing you notice is a loft to the left of the stairs," he says. "It's a perfect spot to chill out or read a book. It also has sliding doors that lead out to an upper-level deck. It's a perfect spot to enjoy a cup of coffee in the morning."
A doorway to the left of the loft then provides seamless access to a sumptuous master suite.
"I love how the master suite is tucked away in its own private spot — the loft neatly separates it from the bedroom wing. It has everything you need: plenty of space, a nice, big walk-in closet and a luxurious ensuite with four-foot shower, five-foot jetted soaker tub with tile surround and rich taupe tile floor."
Kids will also appreciate having their own private piece of the world, Curtis adds.
"Both secondary bedrooms are huge with large windows, there's a spacious, well-appointed four-piece bath with soaker tub and a massive laundry room with two windows and gorgeous vinyl plank floor."
With another 600 square feet of space available downstaris to develop into a rec room, fourth bedroom and full bath, the home offers a total of 2,600 square feet of stylish, yet livable space.
"As I said earlier, I think we've packed quite a lot into the Zoe. It gives growing families everything they need in a home," Curtis concludes.
lewys@mymts.net
The details
Builder: Hilton Homes
Address: 31 Skyline Dr., Prairie Pointe
Model: The Zoe
Style: Two-storey
Size: 2,001 sq. ft.
Bedrooms: 3 plus loft
Bathrooms: 2½
Price: $554,303 (includes lot, piled foundation, GST)
Contact: Roland Lacroix, Quest Residential Real Estate, 204-792-9805