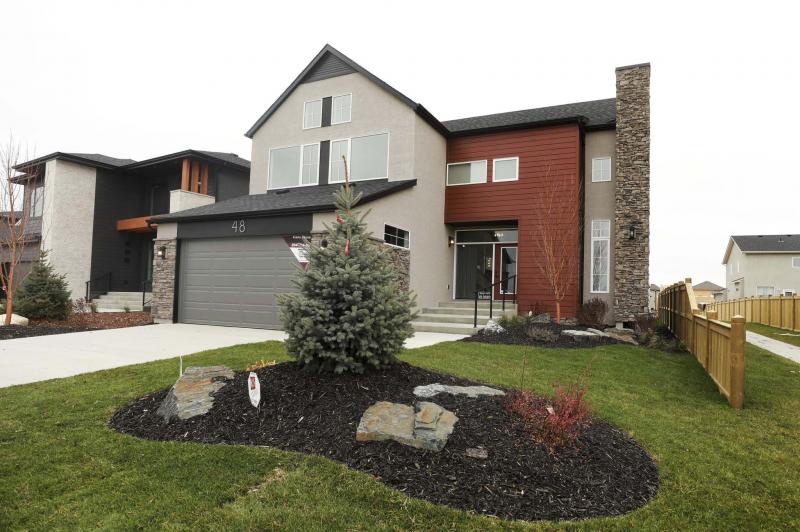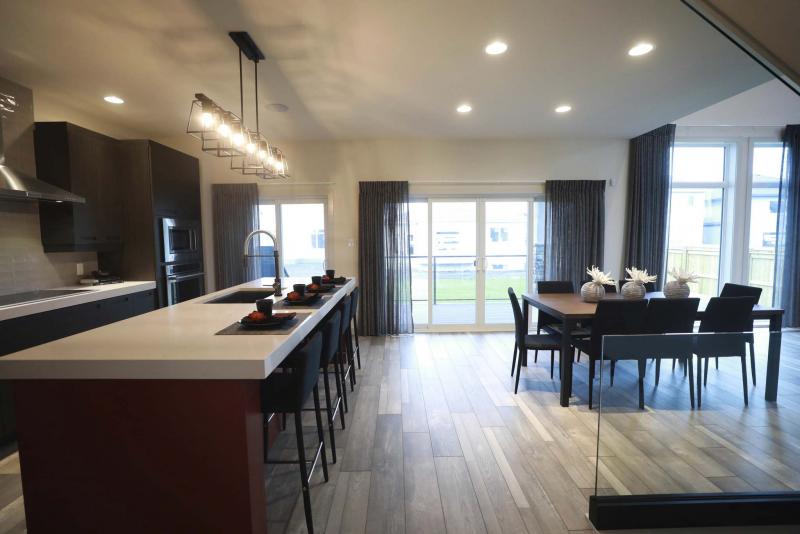 When it comes to conceiving a brand new home, it's all too easy to stay fairly close to traditional designs.
Gino's Homes' design team was determined not to fall into that trap when they designed 48 West Plains Dr., says their sales representative for the two-storey, 2,152-sq.-ft. abode, Cam Ftoma of Re/Max Performance Realty.
"They weren't afraid to try something different," he says. "The result is a brand new design that's not only loaded with a host of really cool design features, but that's functional. This home gives you the best of both worlds — it's stylish, yet very livable."
That style is evident the moment you step inside, Ftoma says.
"A nice, wide foyer features wings on either side. To the left is a wing that houses a big mudroom that offers easy access to the kitchen from the attached double garage. The right-hand wing holds a couple of cool spaces."
Cool, indeed. Not only is there a stylish powder room, but there's also a neat little space tucked away at the end of the hallway.
"It's a great little spot," he says. "It's perfect for a comfortable chair that you can enjoy your coffee in, or read in. Or, you could put in a computer desk to turn it into an office. A cedar beam partition defines it, yet also allows it to open nicely on to the family room."
The creativity displayed in creating such a novel yet functional space then carries over into the adjacent family room, which comes with a unique accessory that people tend to notice the moment they walk into the great room, Ftoma adds.
"Gino's designers found a cool unit that looks like a fireplace, but isn't. It actually replicates the look of fire by using amber light to illuminate water vapour. As great as it looks in daytime, it's even more spectacular at night; the amber light creates a warm glow that climbs up the wall, all the way up to the top of the vaulted ceiling."
With its 22-foot-high ceiling and wealth of glass — myriad windows dot the side walls, while a huge picture window set between the family room and dining/kitchen area lets in gobs of natural light — the family room is a quietly spectacular space.
Ftoma says the nearby dining area/kitchen is no less spectacular thanks to its innovative design.
"It features two sets of patio doors on the rear wall. The first oversized set of patio doors lead out to a 22-foot-by-eight-foot covered composite deck, while a second set of patio doors were put at the end to give you easy access to your barbecue."
Meanwhile, the bright, expansive dining area has plenty of room and an island kitchen completes the great room in practical style.
"The nine-foot-by-four-foot island seats four and defines the kitchen beautifully," Ftoma says. "And I just love the colour scheme — the walnut therma-last cabinets contrast nicely with light taupe quartz countertops and warm, distressed aspen-style plank flooring that features four different plank widths. There's even a corner pantry fronted by a burnt red barn-style door."
Head upstairs via an ultra-wide staircase bordered by tempered glass panels, and you find a bright second level that features an exceptional layout.
A loft set off to the left of the stairs (it can also be turned into a fourth bedroom) overlooks the great room, while a pair of bedrooms were set side by side on the adjacent wall, bedrooms that are notable not only for their glass rear walls, but for another feature.
"Their high, vaulted ceilings allowed for another cool feature, a loft above the doorway," he says. "Kids can take a ladder up to their own private play space."
Likewise, parents can repair to their own private space — a palatial master suite placed at the end of a second hallway past the second-floor laundry room.
"It's amazing space that features a vaulted ceiling with gorgeous pendant lights, a huge picture window — and your own private coffee bar with sink and fridge. The ensuite is absolutely gorgeous with a soaker tub, niche, taupe tile floor, walnut vanity with dual sinks — and a low-step-over shower with barn-style tempered glass doors, tile side walls and glass block rear wall."
Ftoma says everyone who's gone through the home has loved its creative yet functional design.
"It's getting rave reviews because it's so different," he says. "People love the open floor plan, the cool fireplace unit, all the natural light and the little office/sitting alcove. The master suite has been a hit with its wet bar and gorgeous ensuite, and everyone has loved the kids' bedrooms with the lofts and huge windows. Thinking outside the box paid off in a big way. This is truly a special, one-of-a-kind home."
lewys@mymts.net
Details
Builder: Gino's Homes
Address: 48 West Plains Dr., Sage Creek
Style: Two-storey
Size: 2,150 sq. ft.
Bedrooms: 3 plus loft
Bathrooms: 2.5
Price: $699,900
Contact: Cam Ftoma, Re/Max Performance Realty, 204-794-5066