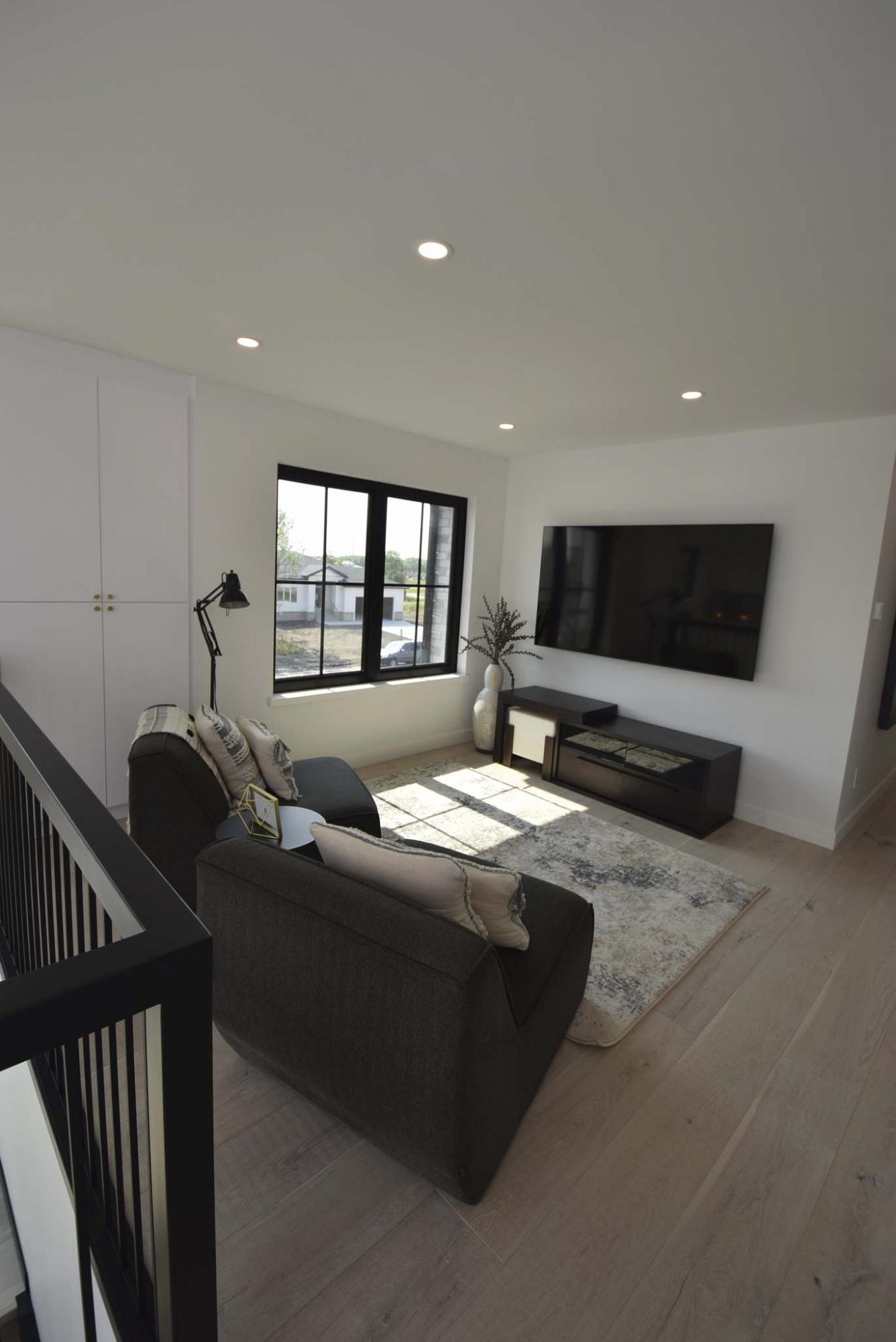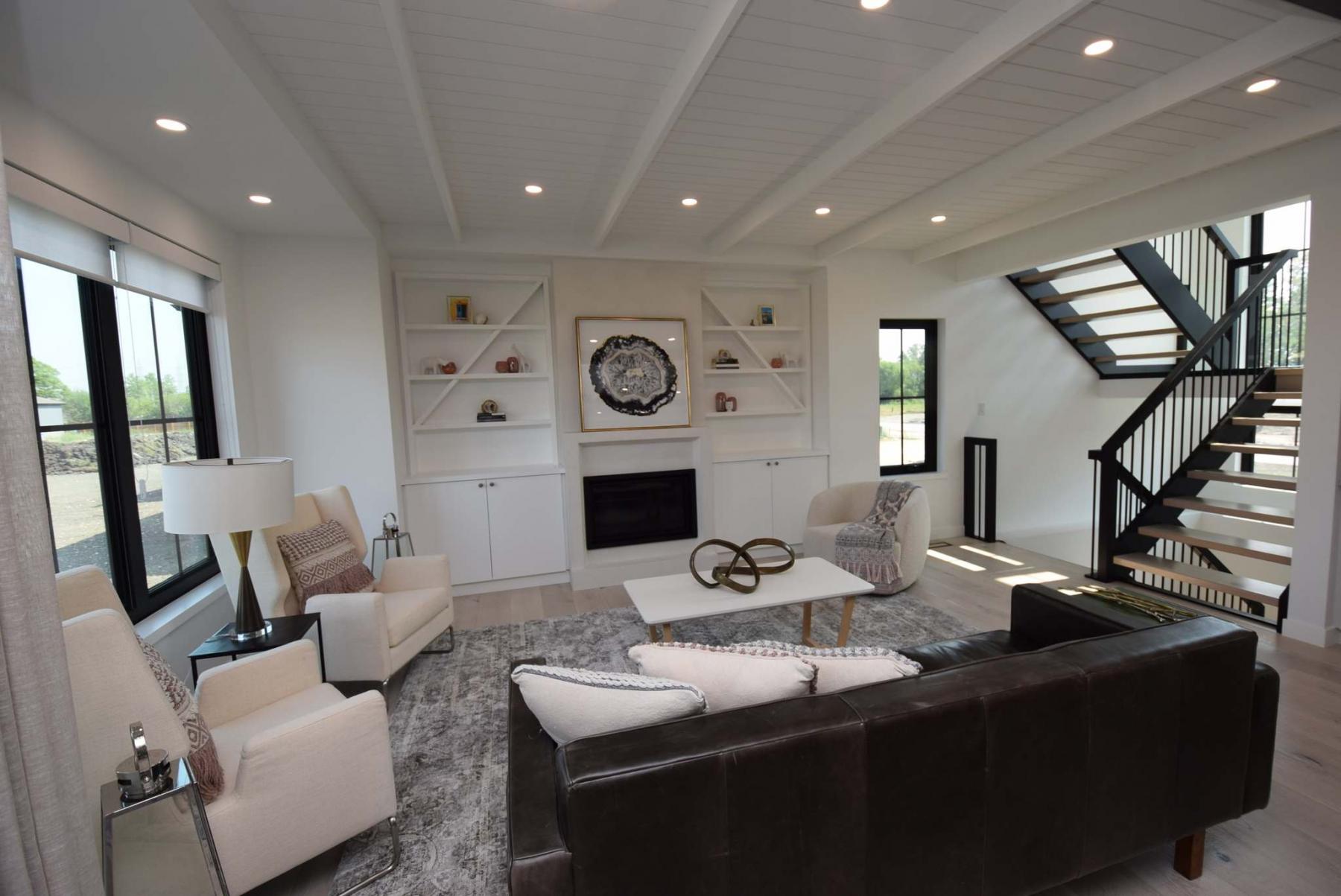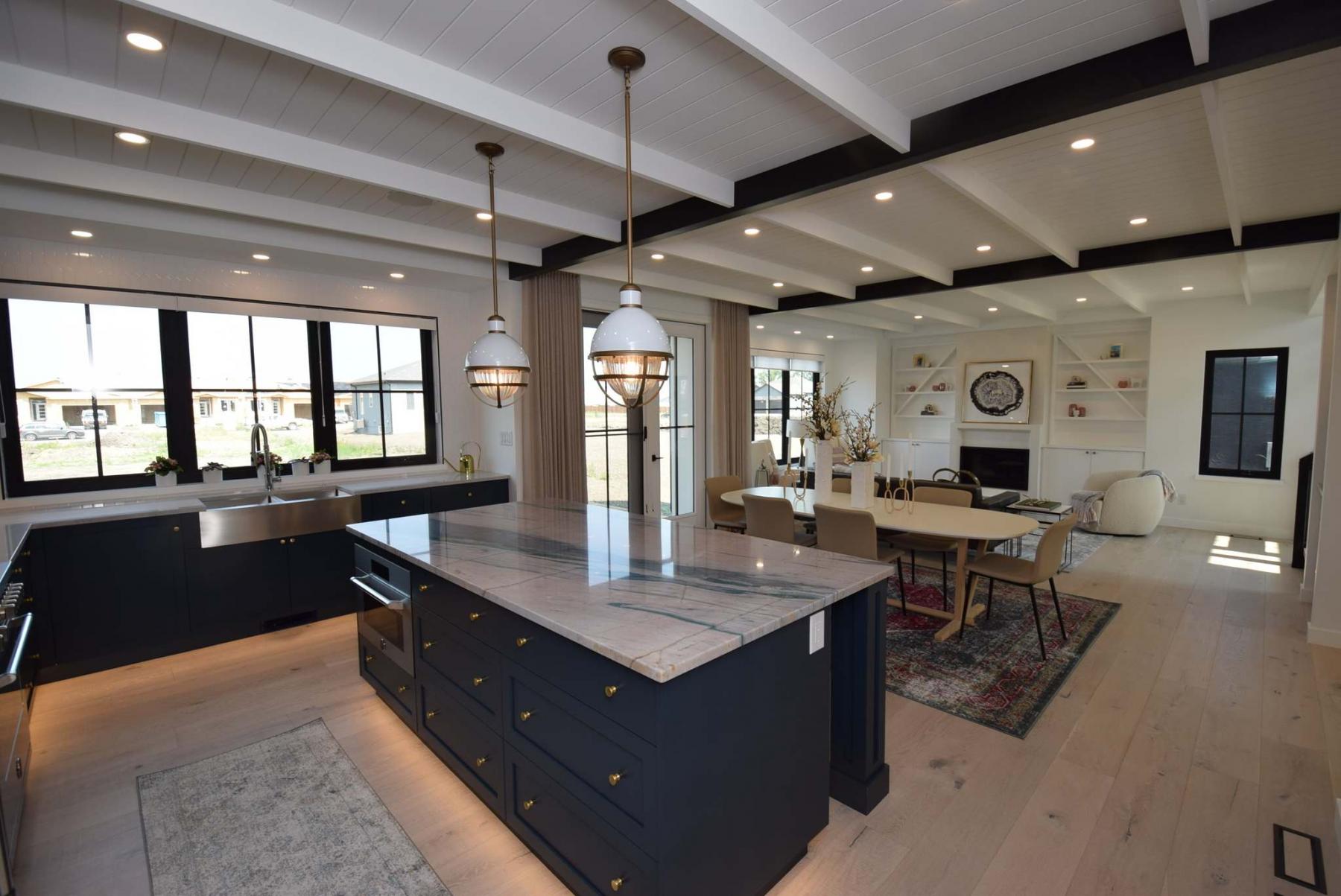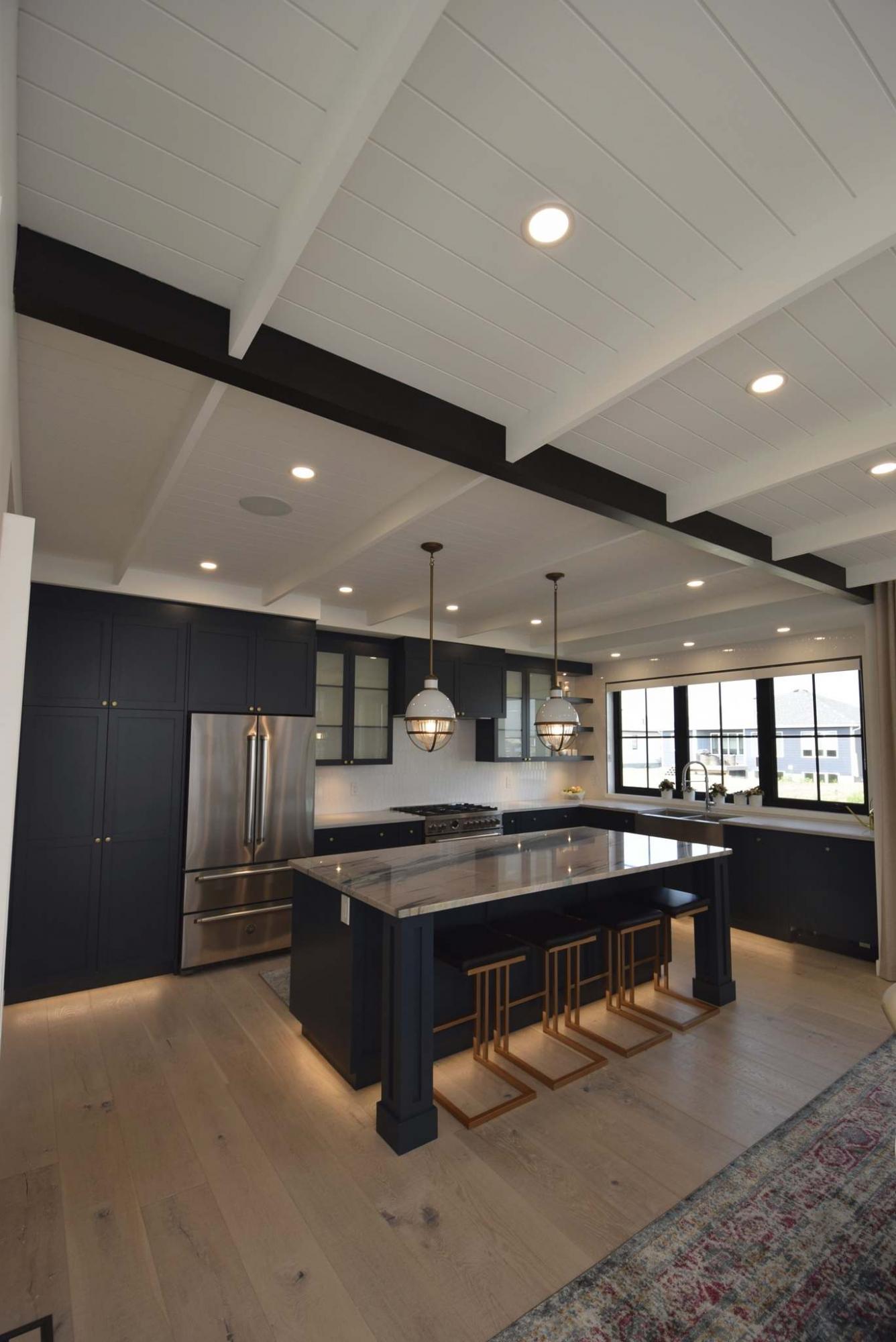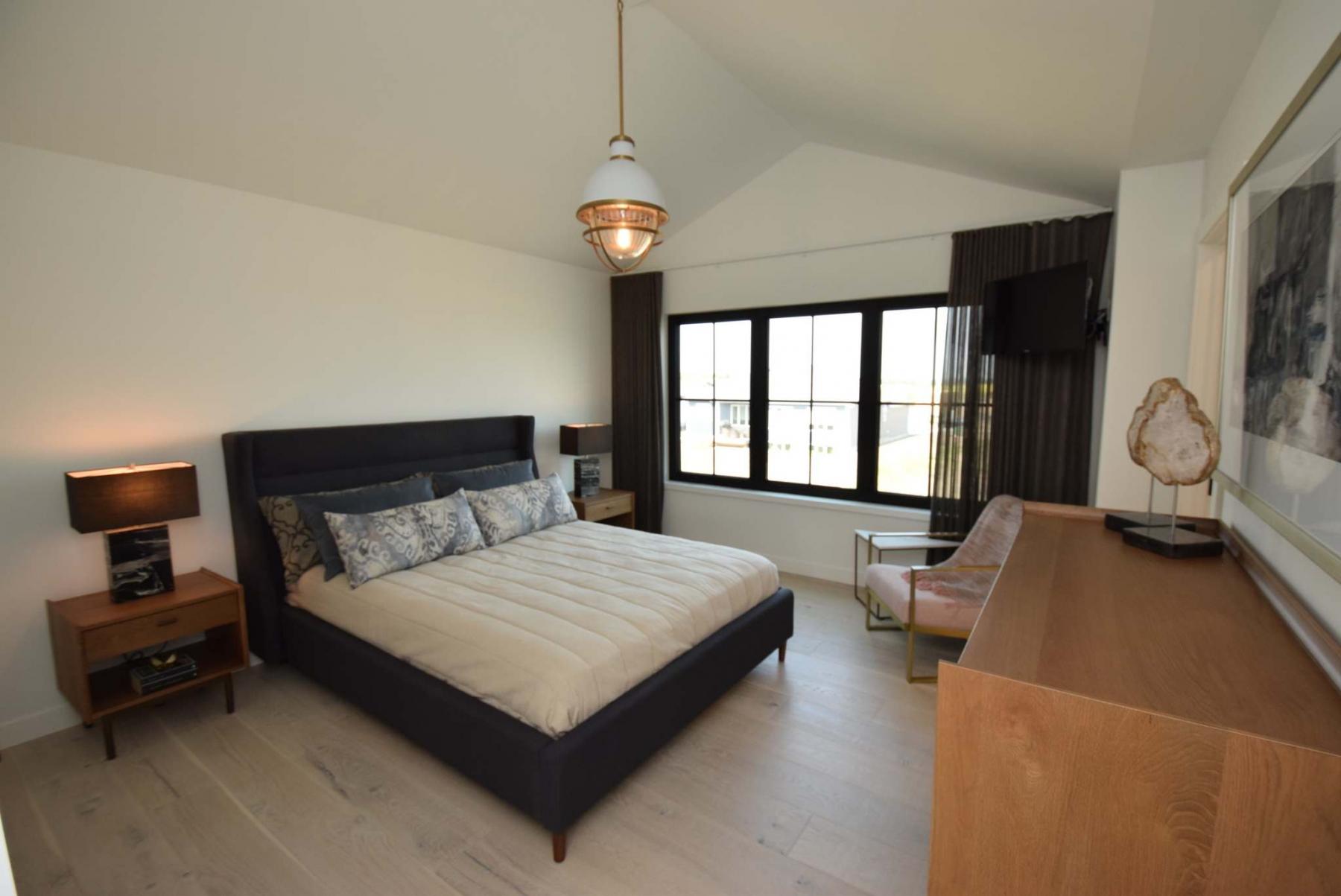 Marrying modern and rustic design themes can be a tricky proposition.
Go too far in either direction and the result is a home that either looks too modern or too rustic and doesn't sit well in its surroundings.
Eden Namaka, sales representative for Maric Homes' new show home at 26 Will's Way in East St. Paul's Gateway Point, says Maric's team got the balance just right with this design.
"With this home, they were going for a modern farmhouse design," she says. "The interior has really clean lines, and is timeless. All the details in the home are incredible."
The first hint that the 2,250 square-foot, two-storey home is a modern take on the classic farmhouse design is its exterior.
A brick facade that simultaneously combines grey, taupe and beige hues gives the home a distinctly rustic look.
At the same time, a black garage door, front entrance with black pillar and overhang, black front door, and huge, black-trimmed windows, alert you to the fact the home also incorporates modern elements into its overall design.
Step inside and you'll find a great room that takes your breath away. Modern yet warm and inviting, light cascades in through a host of well-placed windows. Meanwhile, the black-trimmed windows contrast magnificently with the white colour palette, while natural engineered oak hardwood flooring injects just the right amount of warmth.
Then, you glance upward and take in the beamed ceiling, which takes the great room's wow factor up another notch or two.
"White beams go lengthwise, with a pair of black beams going across to provide contrast," says Namaka. "The ceiling itself is lined with white shiplap. There are also lots of pot lights to light the great room at night."
Meanwhile, each area in the great room — kitchen, dining area and family room — has its own special personality.
Centred around a huge island with a gorgeous grey/taupe countertop with turquoise highlights, the kitchen features modern blue/grey cabinets that pop with the classic white backsplash. A stainless farmhouse-style sink next to a huge black-trimmed window finishes the highly-functional space off perfectly with a tasteful modern-rustic touch.
Next comes the dining area in the centre of the great room, which is defined beautifully by an eight-foot patio door on its rear wall.
Then, there's the family room, a delightful space that's awash in natural light and filled with understated modern country style.
"A big window on its rear wall and huge windows behind the open staircase, along with another window on the side wall, just fill it with light," she says. "It's such an inviting area — it really makes you feel at home. The entertainment unit, with a black gas fireplace set beneath a TV shelf above and open white shelving and cabinetry, looks amazing."
Ascend the stunning staircase to the home's second level, and you quickly realize the home's stylish yet functional design isn't confined to the main floor.
First off, there's a perfectly-placed laundry room at the top of the stairs. Then you stride into a bright spacious loft.
"Yet another large window allows lots of natural light to fill it," Namaka says. "It's nice to have a secondary living space upstairs. This is a spot that would be great for kids to use."
A long hallway to the rear of the loft — it's right-hand wall is lined with a wealth of closets and drawers to maximize storage space — then leads down to the main bath, two huge secondary bedrooms with large windows and walk-in closets, and the stunning primary bedroom.
"It has everything you need. The bedroom is the perfect size with a vaulted ceiling and big window that lets in more natural light, there's a huge walk-in closet between the bedroom and ensuite, and the ensuite is a gorgeous space with its tiled walls, clawfoot tub, walk-in shower with mosaic tile backsplash, split his/her vanities and a huge window that lets in more light."
Namaka says the home is exactly what you'd expect from Maric Homes.
"It definitely doesn't disappoint with its high-quality finishes, great floor plan and a one of a kind design that perfectly captures a modern farmhouse aesthetic. The style and practicality of the design is really impressive. You can really see yourself living here."
lewys@mymts.net
Details
Builder: Maric Homes
Address: 26 Will's Way, Gateway Point (East St. Paul)
Style: two-storey
Size: 2,250 sq. ft.
Bedrooms: three plus loft
Bathrooms: 2.5
Price: $979,900 (includes lot & GST)
Contact: Eden Namaka, RE/MAX Executives Realty, 204-997-5222 or Steven Crampton, RE/MAX Executives Realty, 204-509-3570