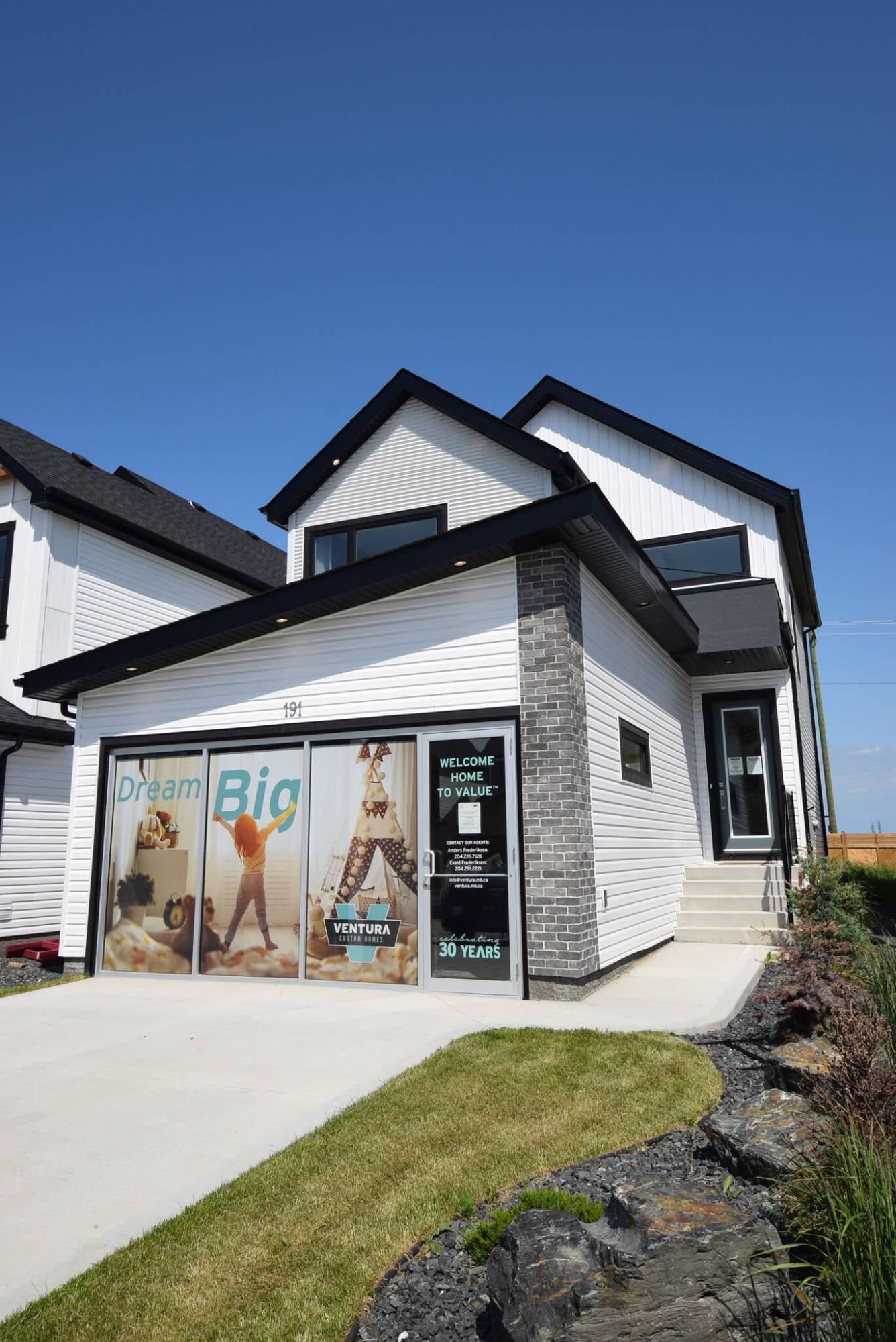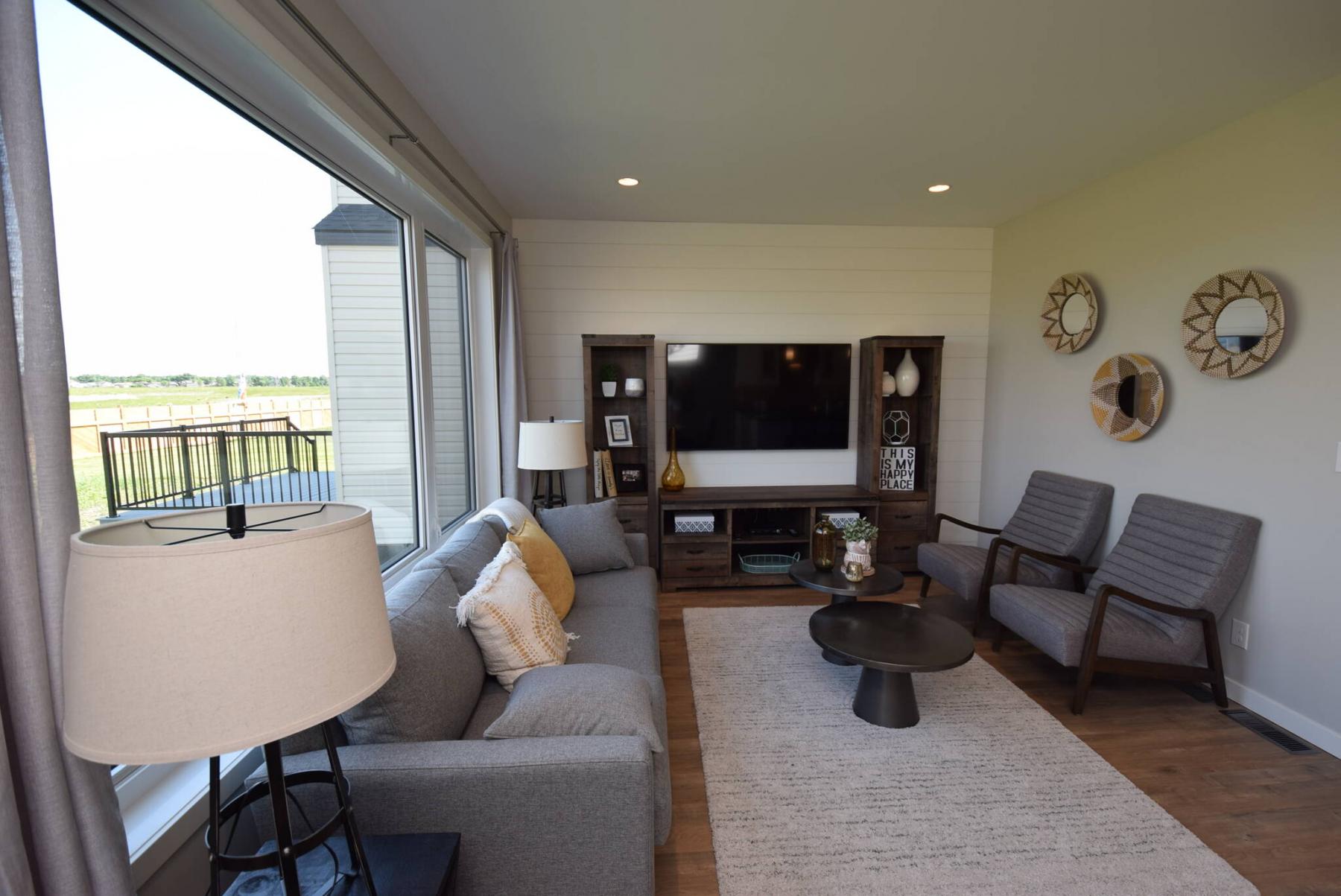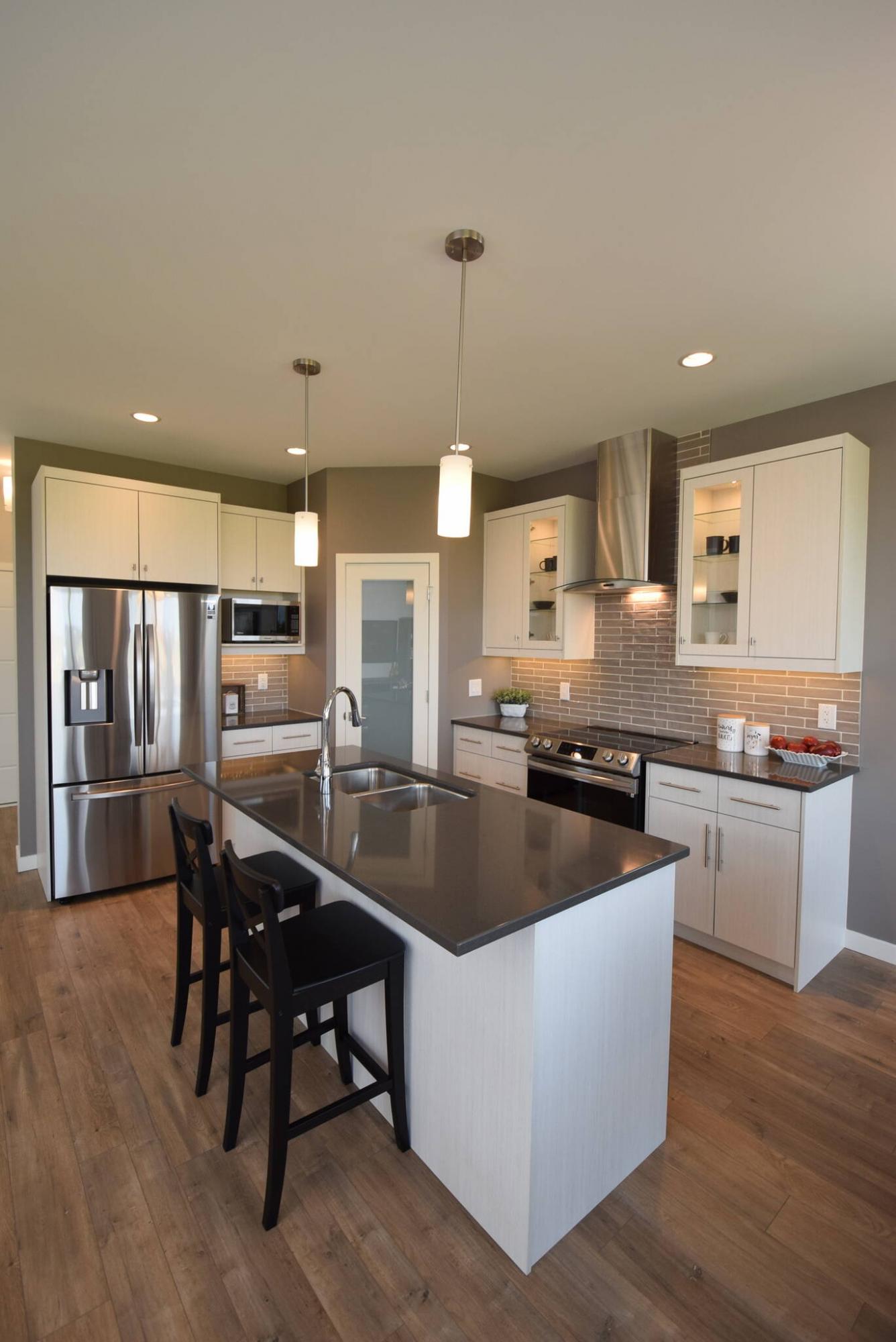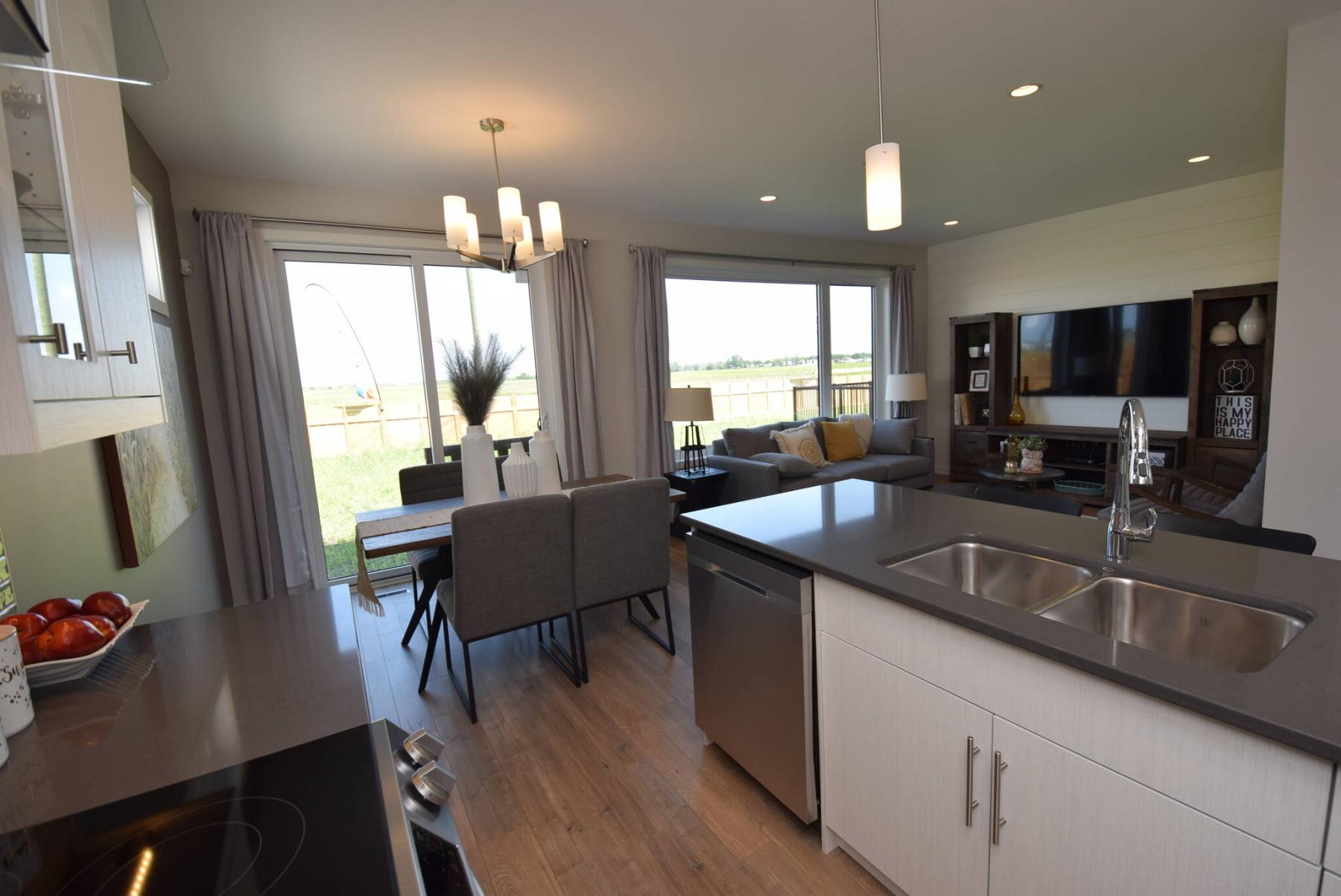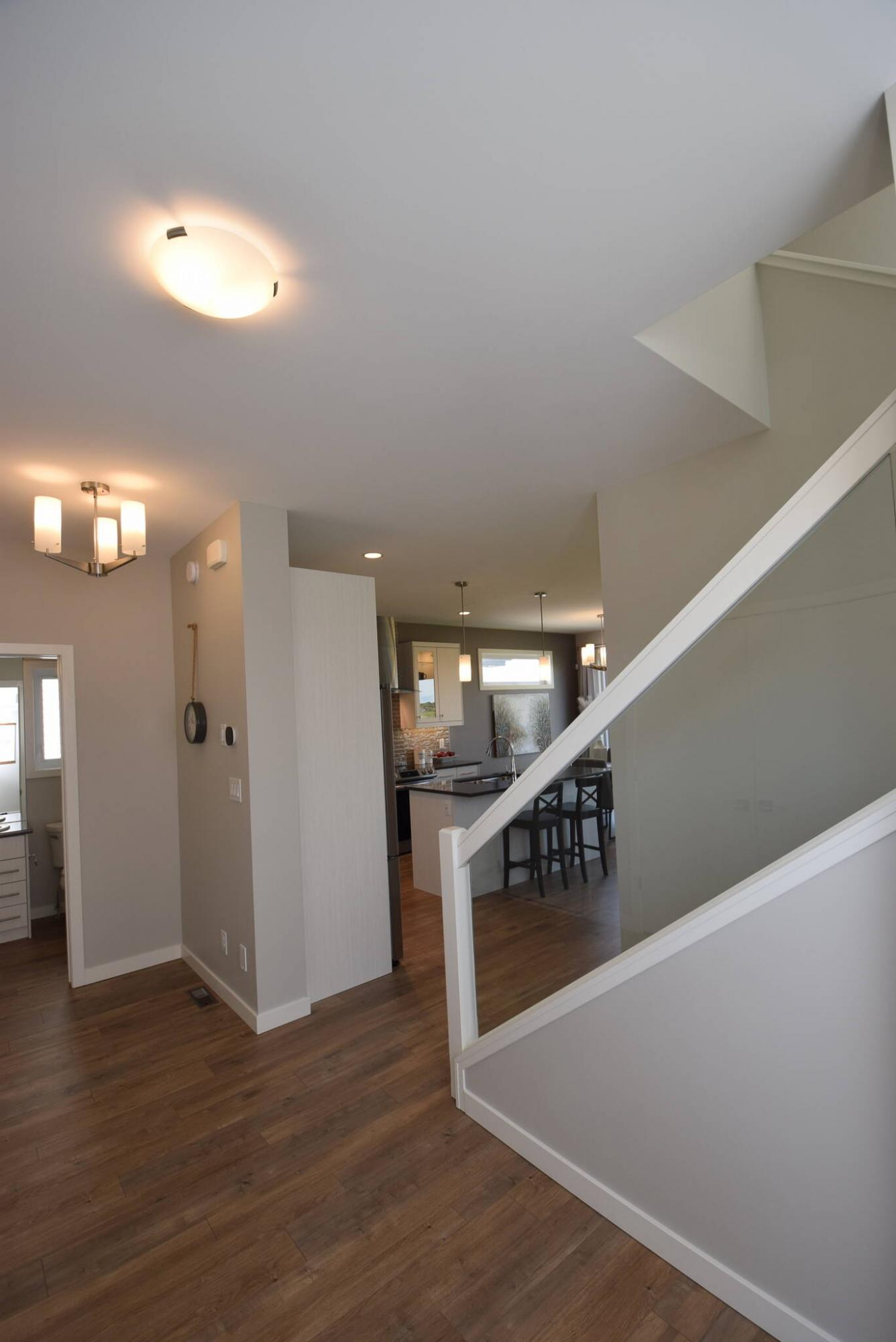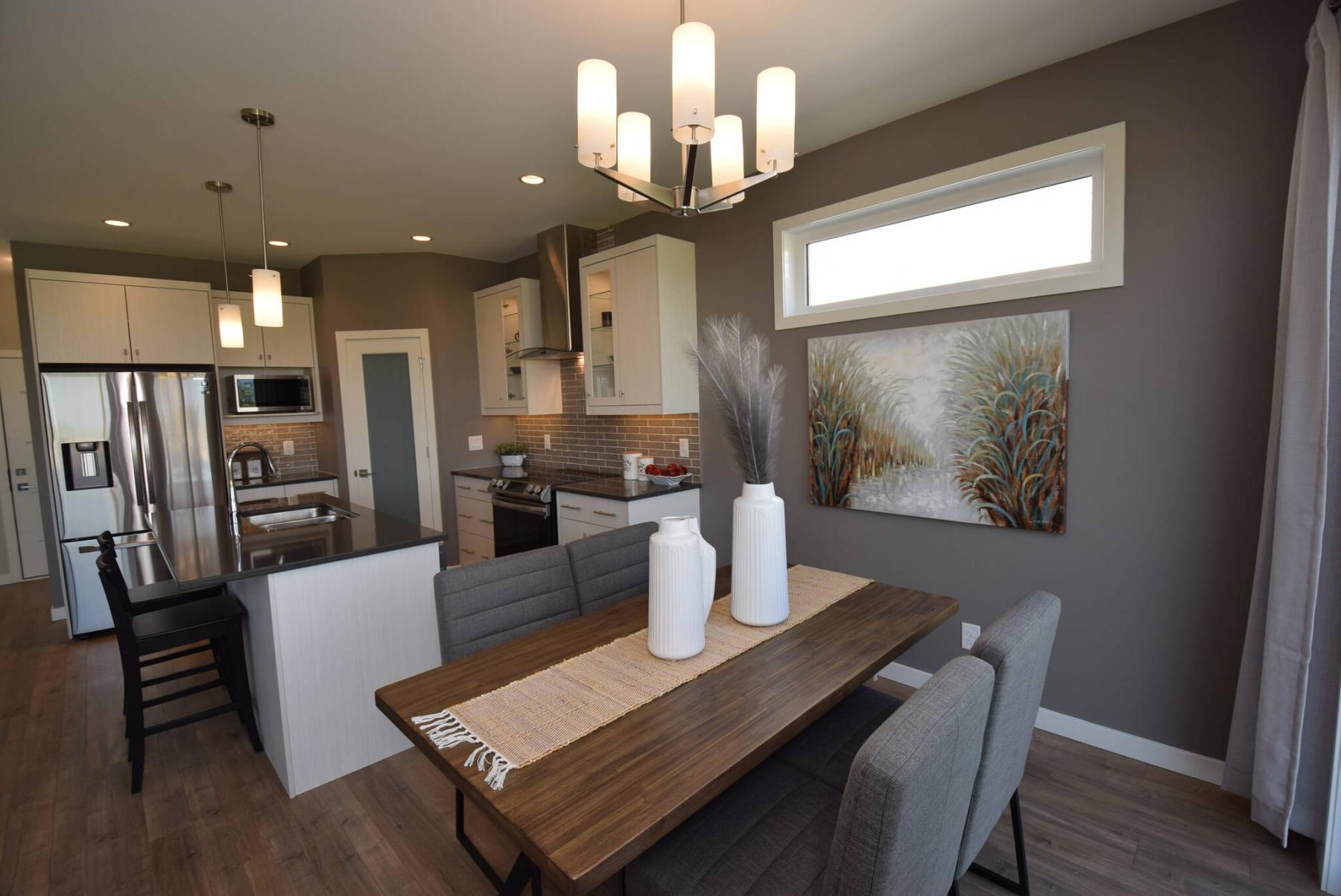 With the cost of building homes literally increasing daily, builders have been racking their brains to find ways to deliver affordable yet livable homes to families.
Ventura Custom Homes has come up with a solution in the form of the Bristol, says Anders Frederiksen, new homes sales consultant for the two-storey show home, which can be found at 191 Big Bluestem Rd. in Transcona's Summerlea.
"It features an efficient design that's geared toward affordability," he says of the 1,447 square-foot plan. "The footprint is smaller, yet it's a spacious, bright and functional home."
Right from the get-go, it's apparent that Ventura's design team put their thinking caps on when they conceived the Bristol.
"An eight-foot entry door leads into an extra-wide foyer with closet, door to the 19 by 24-foot double-attached garage and powder room down a short hallway to the left," says Frederiksen. "A transom window on the right-hand wall lets in natural light, while tempered glass inserts that border the upper-level staircase encourage light flow, and a nice, open feel."
The next stop is the Bristol's main living area, which, like the foyer, feels plenty big and bright.
"A few subtle design details create that feel," he says. "First, the ceiling is nine feet high, which is standard. Second, the rear wall is essentially filled with glass."
Turns out, that's an understatement.
The patio door behind the dining area is larger than normal, while the window on the great room's rear wall is massive.
"We went with an eight-foot-high patio door as an upgrade to match the height of the window in the family room exactly," explains Frederiksen. "The window in the great room is 119 inches long. When you add in the nine-foot ceiling, you get an area that is exceptionally bright, and that feels much bigger than you'd expect in a home that's 1,447 square feet."
A third factor also plays a part in the main living area's voluminous feel: exceptional space distribution.
"Each area, kitchen, dining area, family room, was placed perfectly and is just the right size. Flow between spaces is really good. You never feel like there's a lack of space."
Likewise, you never feel like there's a lack of style, as each space shines in its own special way.
The kitchen, which is tucked neatly off to the left, is functional yet fashionable with its mid-sized island, taupe thermofoil cabinets, dark taupe quartz countertops, taupe tile backsplash and stainless appliances.
Meanwhile, the well-placed dining area is a generous area that can easily hold a table that seats 10.
Then, there's the great room.
"An upgraded white shiplap feature wall not only looks great but shows off the warm laminate plank flooring really well," he says. "There's tons of natural light and plenty of room to put in a sofa and chairs or even a good-sized sectional."
The Bristol's efficient design continues upstairs, where nary a space is out of place.
"There's very little wasted space because there's no big, winding hallways. Thanks to that, the secondary bedrooms are both a good size at 11 feet by 10 feet and 11.5 feet by 10.5 feet."
With the main bath placed in the middle and a handy laundry closet preceding the primary bedroom, separation between the primary bedroom and kids' bedrooms is sensational.
Frederiksen says weary parents will have plenty to look forward to when they set foot in the well-isolated primary bedroom.
"It's surprisingly large for this size of house. There's ample room for a king-sized bed and large end tables, and a huge window lets in lots of natural light. The ensuite offers a walk-in shower, smart vinyl roll tile-style floor and a thermofoil vanity with matching medicine cabinet."
He adds that a well-designed lower level adds additional utility to an already functional home.
"It features a very smart design. Even though there's less than 500 sq. ft. of livable space, Ventura's design team fit in a rec room, bedroom, full bath and storage and mechanical rooms."
The Bristol is a great option for families looking for an affordable new home, says Frederiksen.
"We're seeing new side-by-sides selling for $500,000, so it just makes sense to get a single-family home for $550,000. This is the most affordable single-family home that we build. We're aware that prices have increased substantially and are doing all we can to create more efficient, affordable homes for families."
lewys@mymts.net
Details
Builder: Ventura Custom Homes
Address: 191 Big Bluestem Rd., Summerlea (Transcona)
Style: two-storey
Model: the Bristol
Size: 1,447 sq. ft.
Bedrooms: three
Bathrooms: 2.5
Price: from $550,000 (includes lot & GST)
Contact: Anders Frederiksen, RE/MAX Executives Realty, 204-226-7128