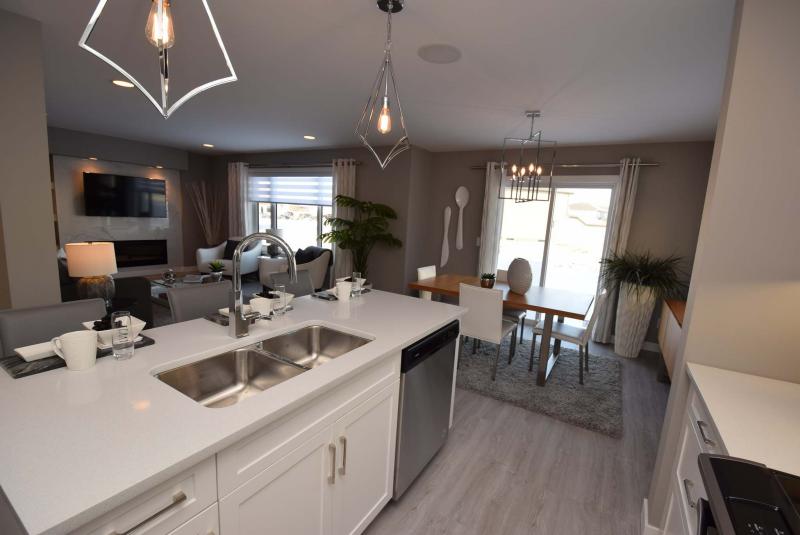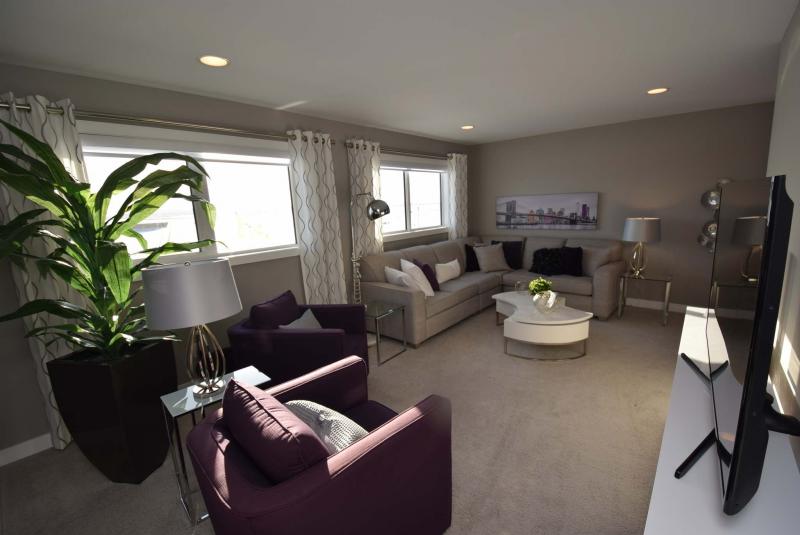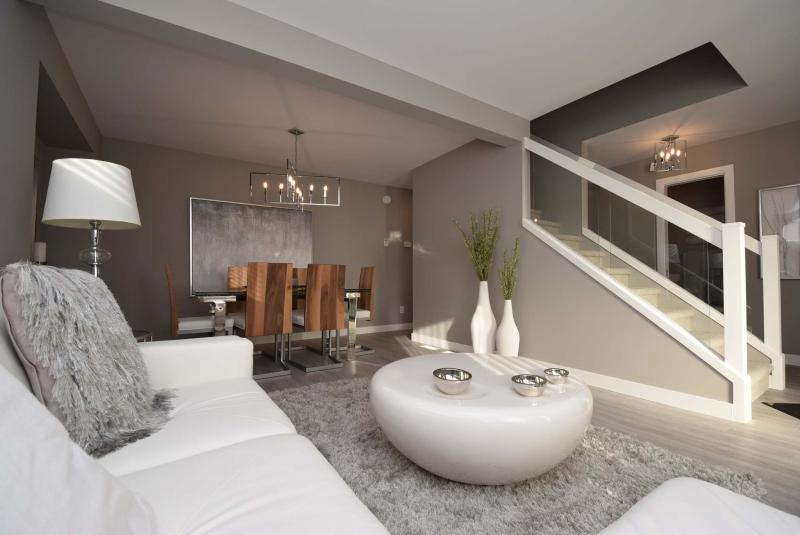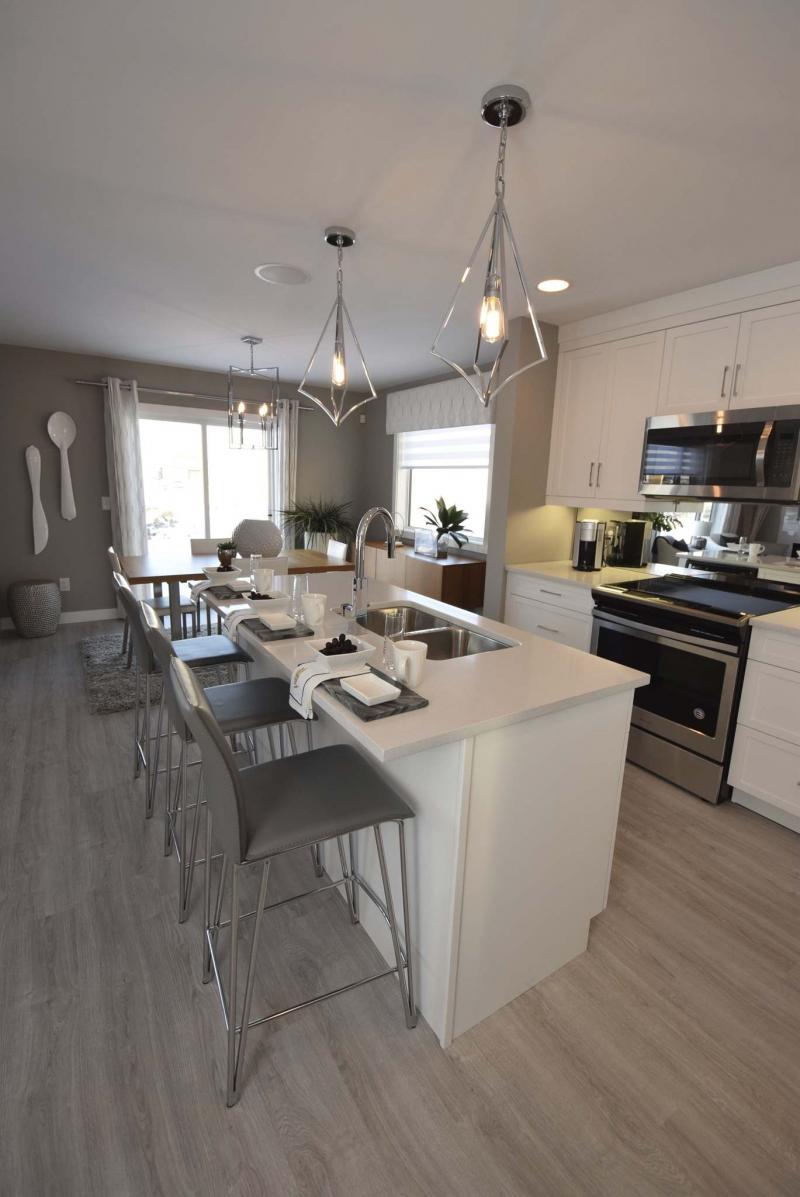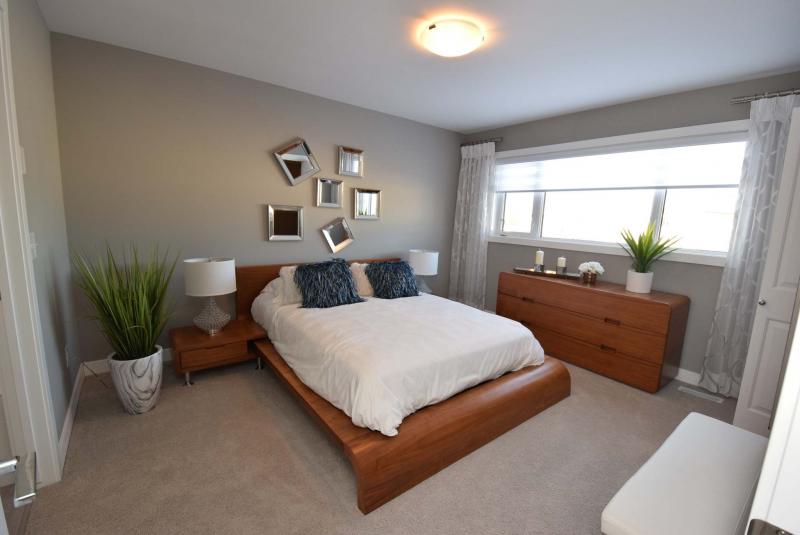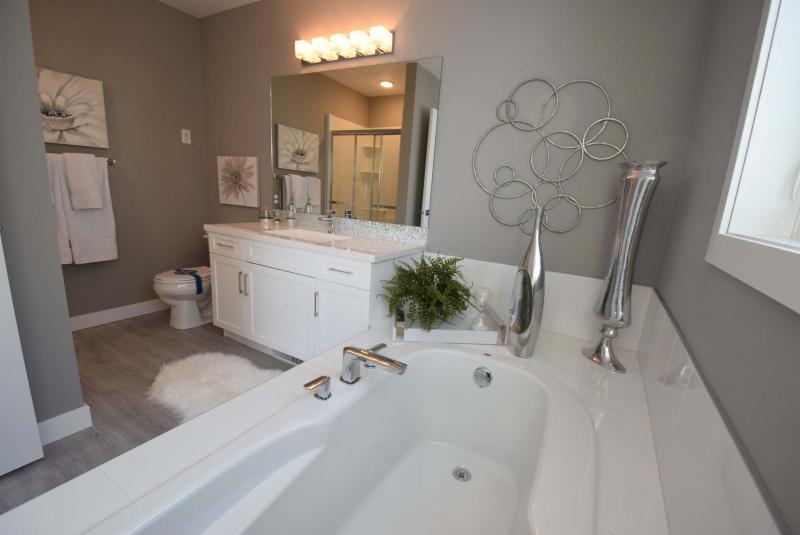 Thinking about traditional two-storey homes typically brings visions of homes with layouts that offer three bedrooms, a living room, kitchen and dining room.
You know, standard stuff.
The Ellington — Broadview Homes' 2,236 sq. ft., two-storey show home at 35 Skyline Dr. in Prairie Pointe — is anything but standard, says Lisa Castro of Coldwell Banker Preferred Real Estate.
"Broadview Homes' design team did a wonderful job of designing this home," she says. "It's a home that will work for any family, from a family of four up to a multi-generational family of 10. There's all kinds of space for everyone to spread out in this beautifully designed home."
Why is there so much space?
Because the Ellington features a traditional floor plan with a few novel design twists thrown into the mix.
The first of those design twists is the number of different spaces that populate the first and second floors, Castro says.
"On the main floor, you not only have one living room but two, not to mention a main-floor laundry room and main-floor powder room. Then, upstairs, there are not three but four bedrooms — plus a large bonus room. While the home's layout is quite traditional, the number of spaces it offers isn't."
In actuality, the Ellington is more of a traditional-modern hybrid.
Its front portion feels more traditional, with a living room/dining room set to the left of a centre staircase. Look to the right of the stunning staircase, and there's a hallway that leads to a wing that holds a main-floor laundry room, garage entrance and two closets.
A second hallway to the right of the stairs leads into the home's thoroughly modern main living area.
"There's an island kitchen at the front on the right side, a spacious dinette area to the rear and a beautiful family room tucked away to the left," Castro says. "A hallway across from the kitchen makes it easy to access the dining room while entertaining — it's just steps away."
The great room, meanwhile, is a delightfully livable space.
Tons of natural light flows in from large, well-placed windows on its rear wall, while finishes — taupe-tinted laminate plank flooring, medium-grey walls with white baseboards and window casings — and a kitchen featuring white cabinetry teamed with off-white quartz countertops and a mirrored backsplash give it a contemporary yet warm feel.
"Everyone who's been through the home has commented on the great room's space, sparkle and warmth," she says. "Each space is a good size, flow between spaces is excellent and all the colours and finishing materials blend together beautifully. The ceramic tile fireplace and maple entertainment unit in the family room are gorgeous."
Head upstairs and you find a family-friendly second level.
"It provides an abundance of space with four bedrooms, a main bathroom and a big, light-filled bonus room. If you have a large family, the bonus room comes in handy. Having a third living/family room for family members to relax in provides the extra bit of separation that big families need to stay sane."
Then, there's the bedroom wing, which offers three oversized secondary bedrooms, a spacious, well-appointed four-piece bath — and an isolated master suite.
"I just love it," Castro says. "It comes complete with a deluxe ensuite with tiled soaker tub, four-foot shower, vanity with dual sinks and audio package. Tons of light pours into the cosy bedroom through a huge window. A big walk-in closet that offers tons of storage space finishes it off perfectly."
She adds that if you're looking for a home that seamlessly blends tradition and modern design elements, the Ellington could be the home for you.
"Broadview's design team did a wonderful job of integrating modern design features into a traditional plan. The Ellington offers all the space, flow and separate spaces, that large families need to live comfortably without sacrificing style or privacy."
lewys@mymts.net
Details
Builder: Broadview Homes
Address: 35 Skyline Dr., Prairie Pointe
Style: Two-storey
Model: The Ellington
Size: 2,236 sq. ft.
Bedrooms: 4 plus loft
Bathrooms: 2.5
Price: $523,715.60 (Includes land, GST not included)
Contact: Lisa Castro, Coldwell Banker Preferred Real Estate, 204-952-2675