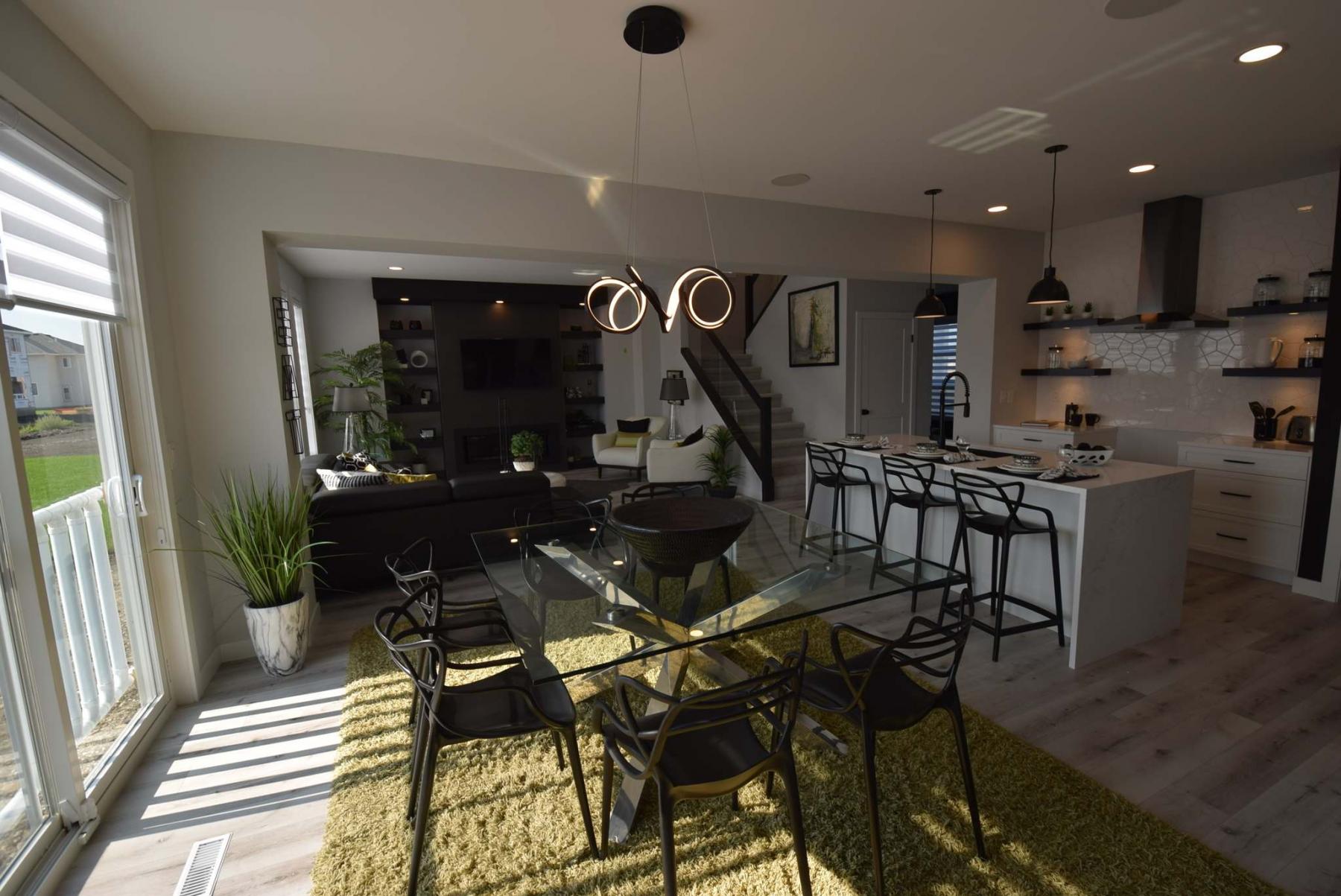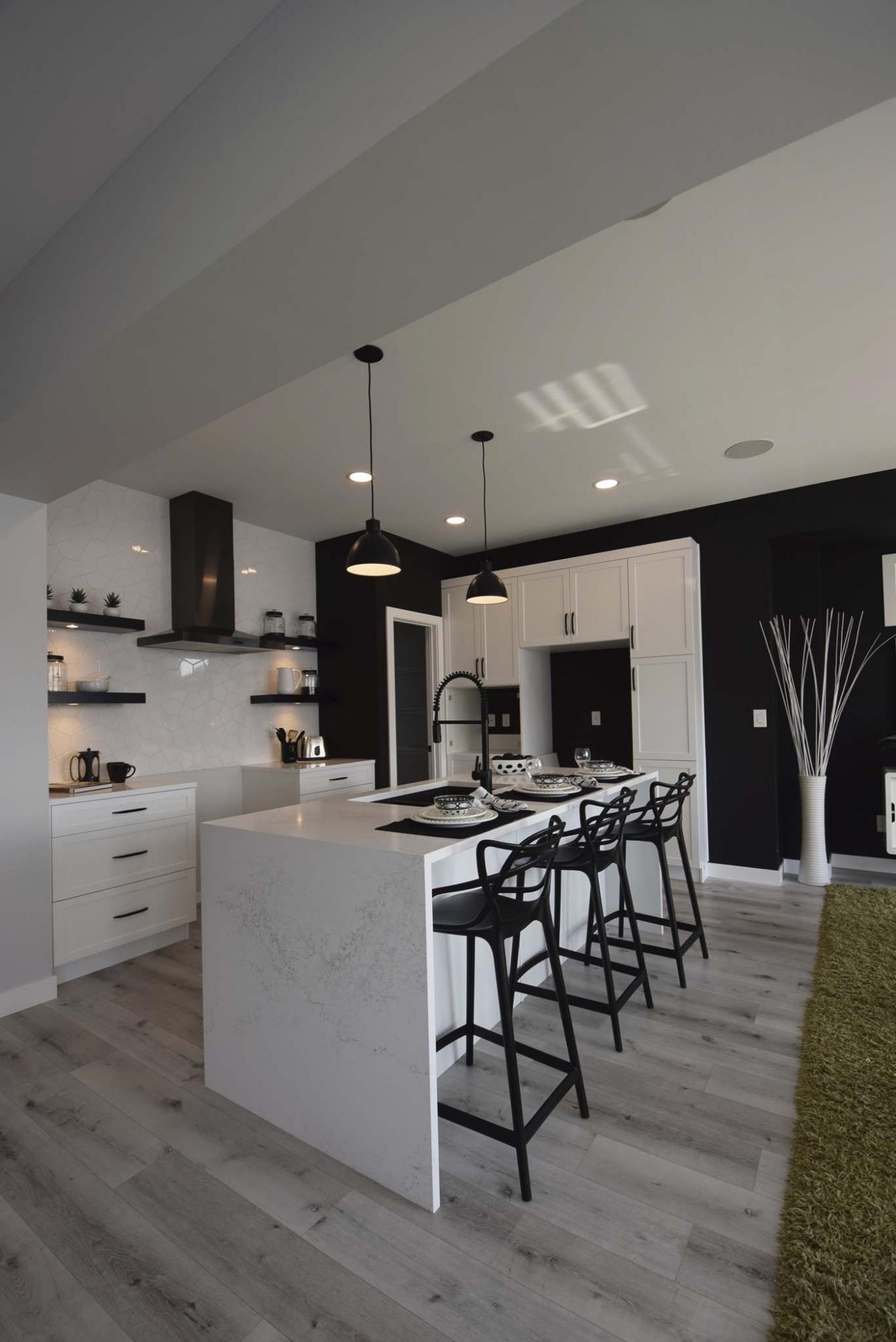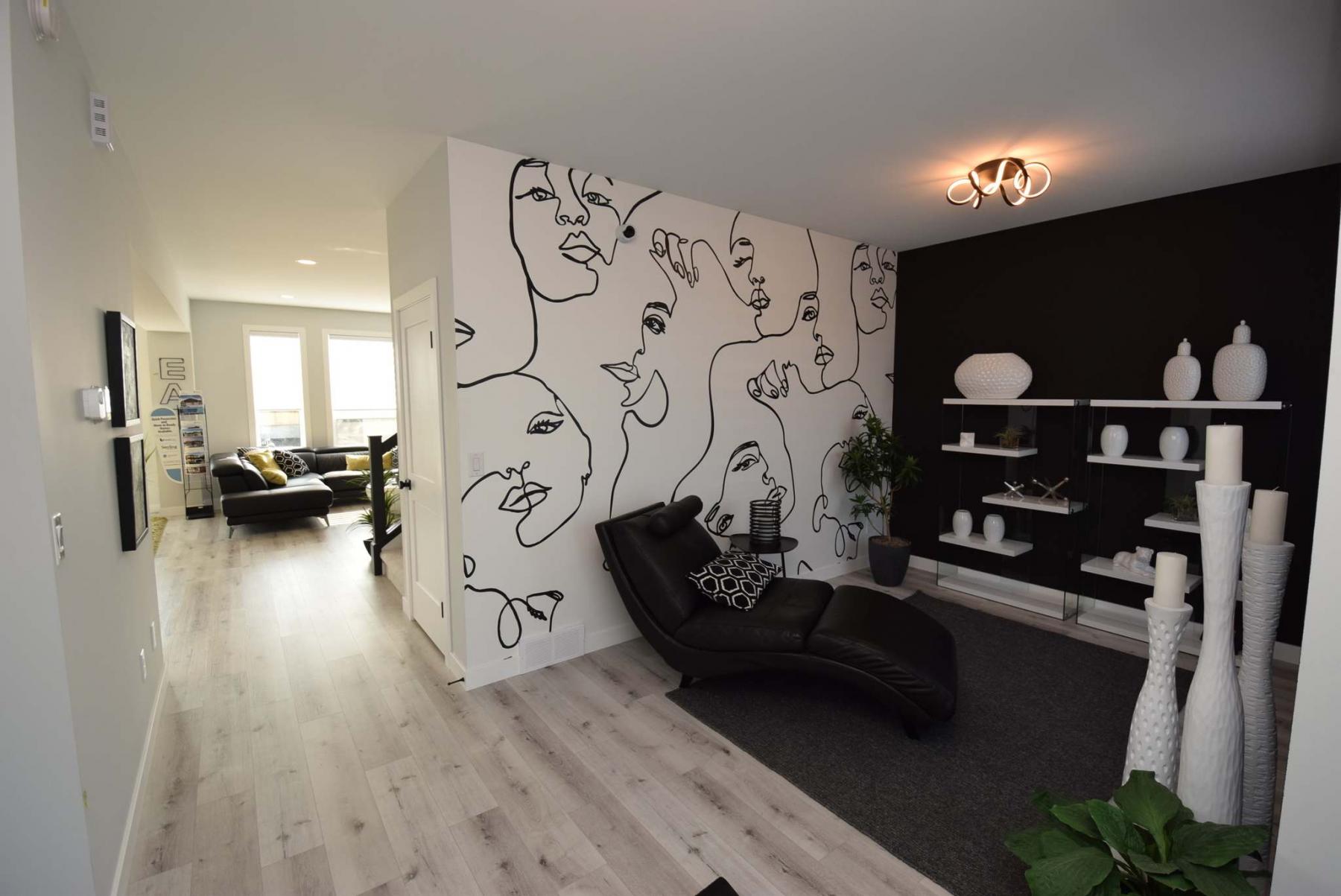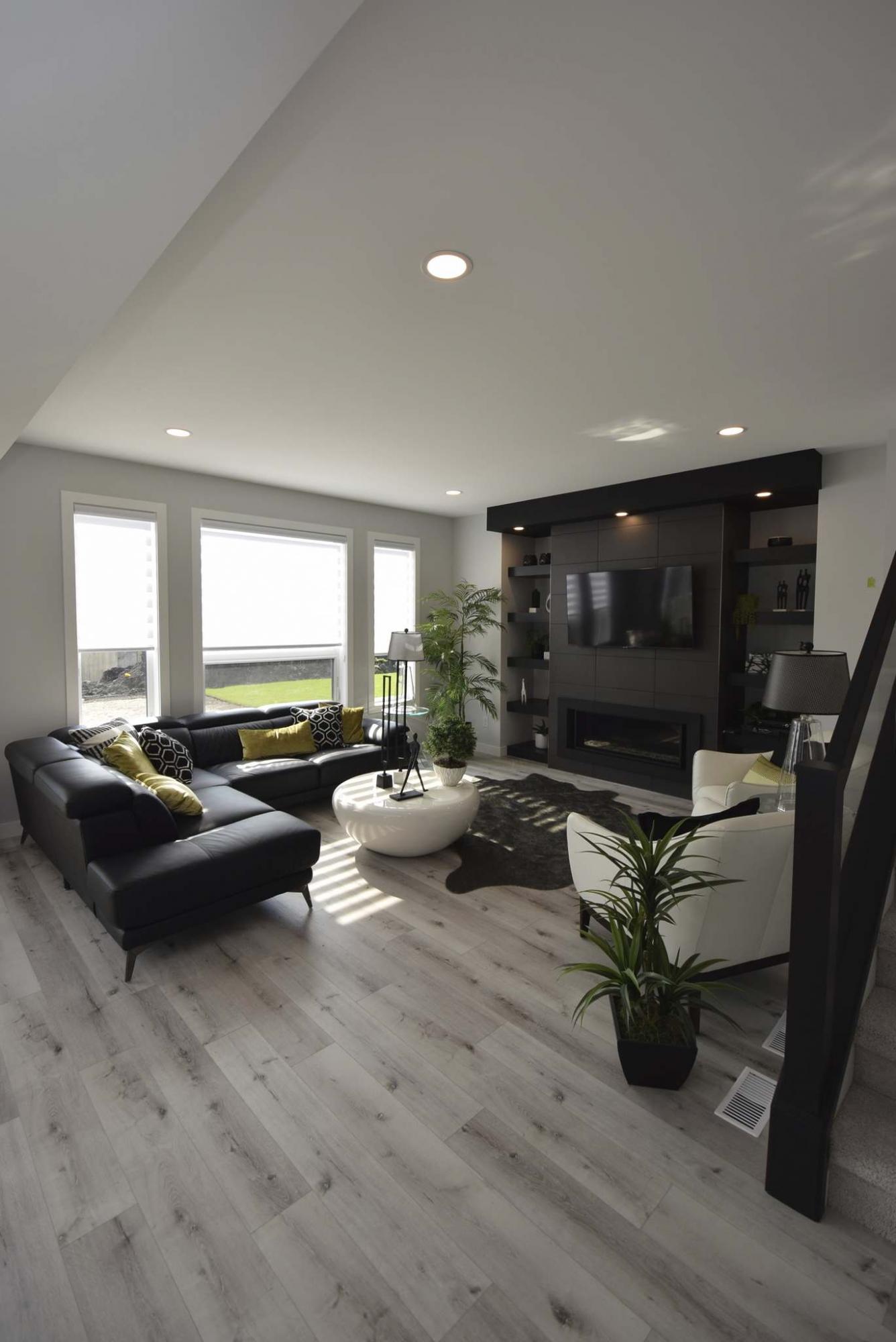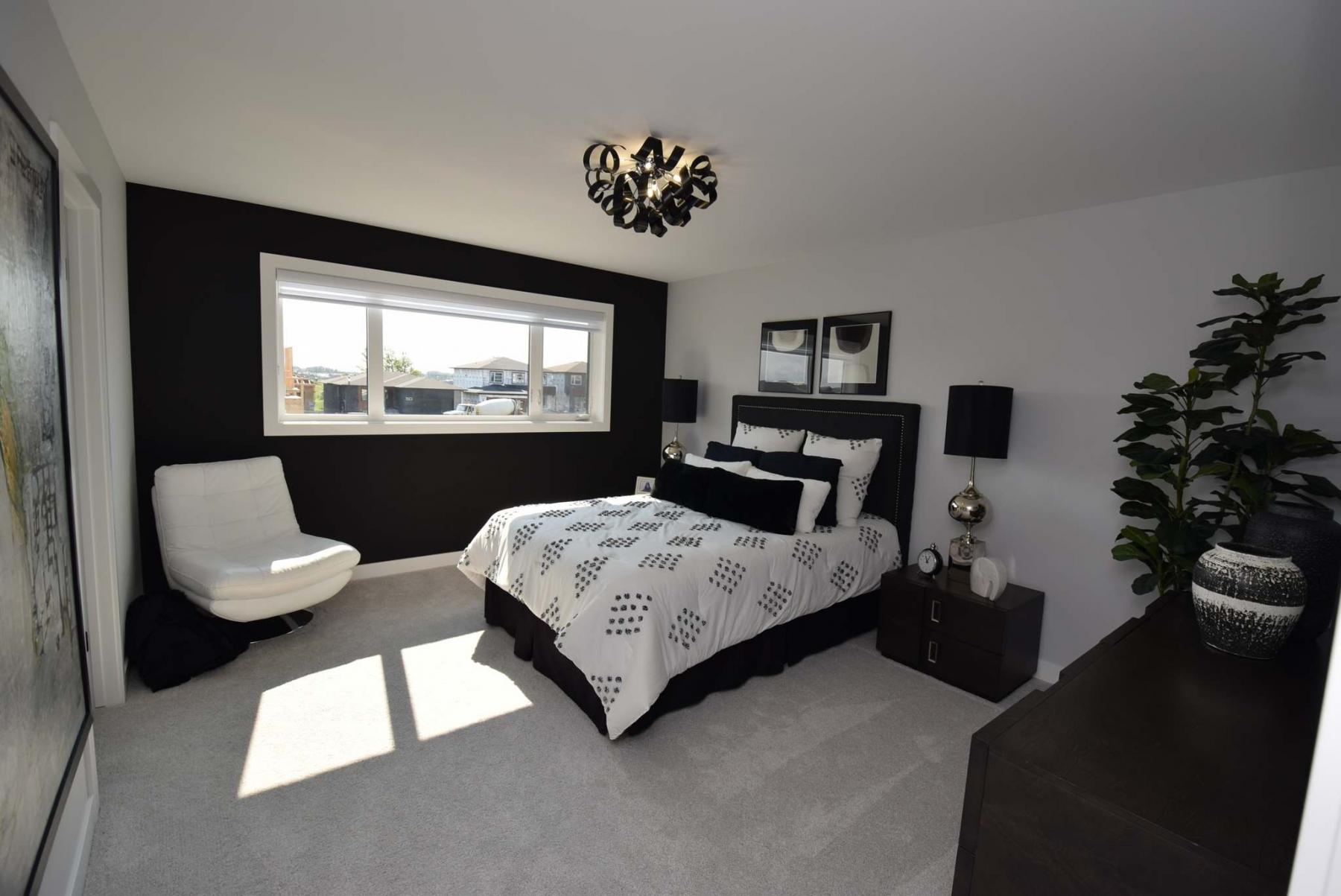 When builders conceive a show home, their goal is always to make a statement with its design.
That goal is fraught with peril for one lone, but significant reason: push the envelope too far to make that statement, and you run the risk of alienating prospective home buyers with a design that's gaudy or impractical.
Broadview Homes' new show home at 139 Middlechurch Gate in West St. Paul's Parkview Pointe is neither, says the sales representative for the 2,159 sq. ft., two-storey home, Chris Ilagan.
"With this home, Broadview's design team used a black and white colour scheme, which is rare," he says. "They didn't overuse the black, so everyone who's gone through the home so far has really liked the colour combination."
That combination becomes evident the moment you step inside the Monteray.
There to the right is a sitting room with a black-and-white mural on its rear wall, a mod, curly-cue LED light fixture on its ceiling and a black feature wall with white floating shelving on its side wall.
Simple yet striking, the colour combination — which is softened nicely by warm barnwood-style laminate plank flooring — makes a positive first impression.
At the same time, a wing to the left of the foyer notifies you that the home's modern style will be complemented by plenty of function.
It starts with a double coat closet, progresses to a powder room, then opens up to a generous mudroom with angled doorway that provides access to a walk-through pantry that connects seamlessly with the kitchen.
Ilagan says the island kitchen's black-and-white colour scheme is striking, albeit in a sensible way.
"Features like white drawers and cabinets with black handles and black floating shelving on a white tile backsplash really look good," he notes. "A black feature wall makes the white pantry around the fridge really pop, and the off-white/grey countertops and island fit in perfectly."
And while the modern colour scheme makes an impression, so does the great room's layout and natural brightness.
No matter which space you're in — kitchen, dining area or family room — there's lots of room to move about, and an abundance of natural light.
"Everyone has loved the layout because it's so easy to move in and around between spaces," Ilagan says. "People have also loved how so much sunlight streams in through an oversized patio door behind the dining area and huge picture window on the family room's rear wall."
He adds that the family room has also been a hit.
"Its highlight is an entertainment unit with a dark tile background, open shelving and black bulkhead with pot lights above. Its minimalist look is simple yet beautiful and finishes off the great room nicely."
The Monteray's striking yet sensible design continues upstairs, where three bedrooms, a main bath and a loft fill its 1,069 sq. ft. of available space.
"Most people choose to keep the loft, while some close it off so it can be used as a bedroom," says Ilagan of the 11.8-foot by 12.8-foot space. "Both secondary bedrooms are a good size, with one coming with a huge window, a feature that everyone has really liked."
Meanwhile, the upper level's final space — a spacious 17-foot by 12-foot primary bedroom — embodies the home's modern, yet warm design.
A huge, white-trimmed window on its rear wall allows light to stream into the bedroom from the southeast.
Light grey walls and plush grey/taupe carpeting then combine to create a soothing, tranquil ambience.
Ilagan says the ensuite is the primary bedroom's crowning glory.
"It's a beautiful space that comes with a tile floor, soaker tub, walk-in shower with tile surround and frameless tempered glass enclosure, and a white vanity with dual sinks. Everyone has loved its huge mirror with its black trim — it contrasts perfectly with the vanity and countertop."
Daring to be different paid off in the form of a memorable yet practical family home, he adds.
"It's a rare home that has lots of modern character, yet it also has the function that families are looking for. It gives them everything they need and more."
lewys@mymts.net
Details:
Builder: Broadview Homes
Address: 139 Middlechurch Gate (West St. Paul)
Style: two-storey
Model: the Monteray
Size: 2,159 sq. ft.
Bedrooms: three plus bonus room
Bathrooms: 2.5
Price: please contact sales representative for updated price
Contact: Chris Ilagan, New Homes Sales Representative, 204-583-1722