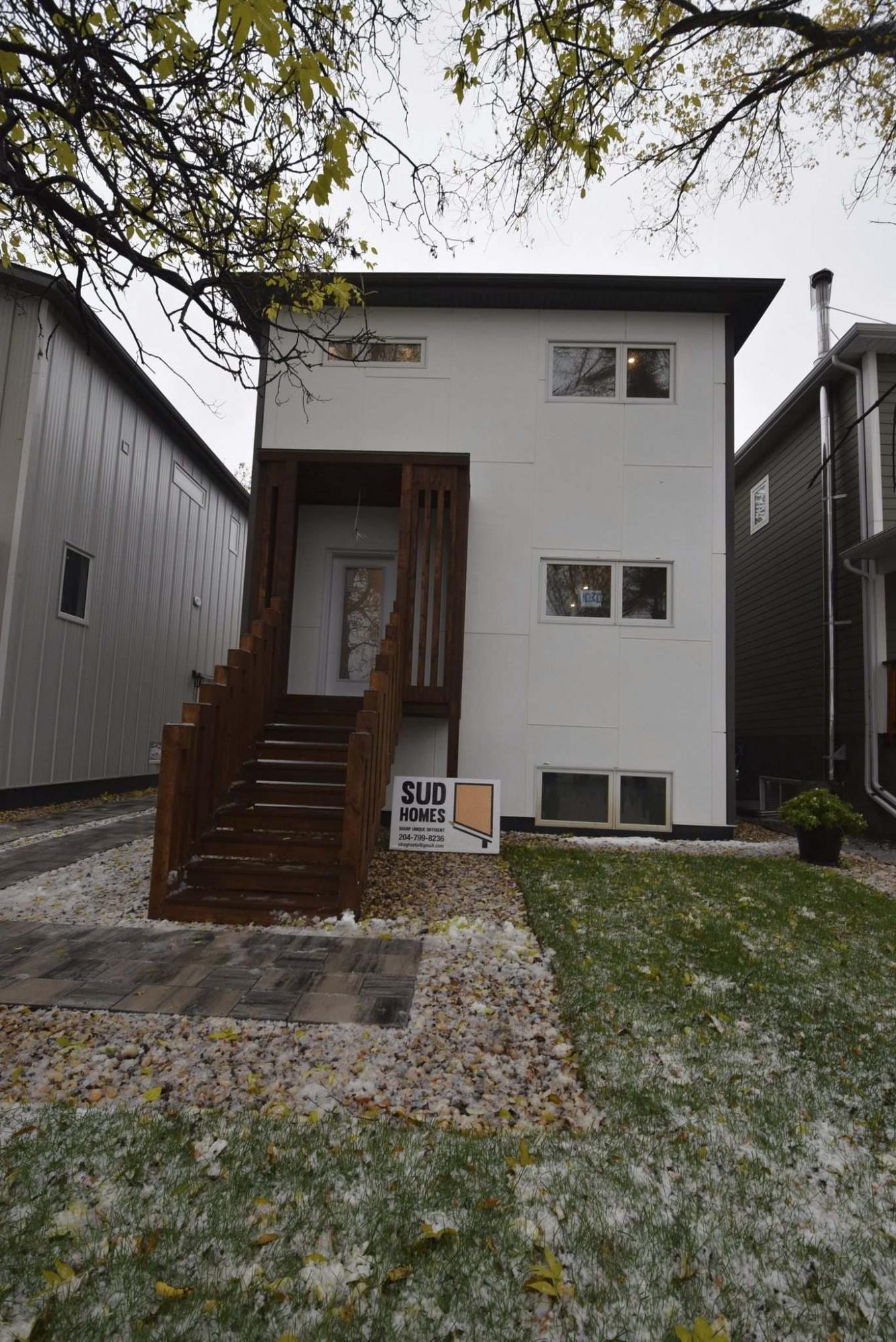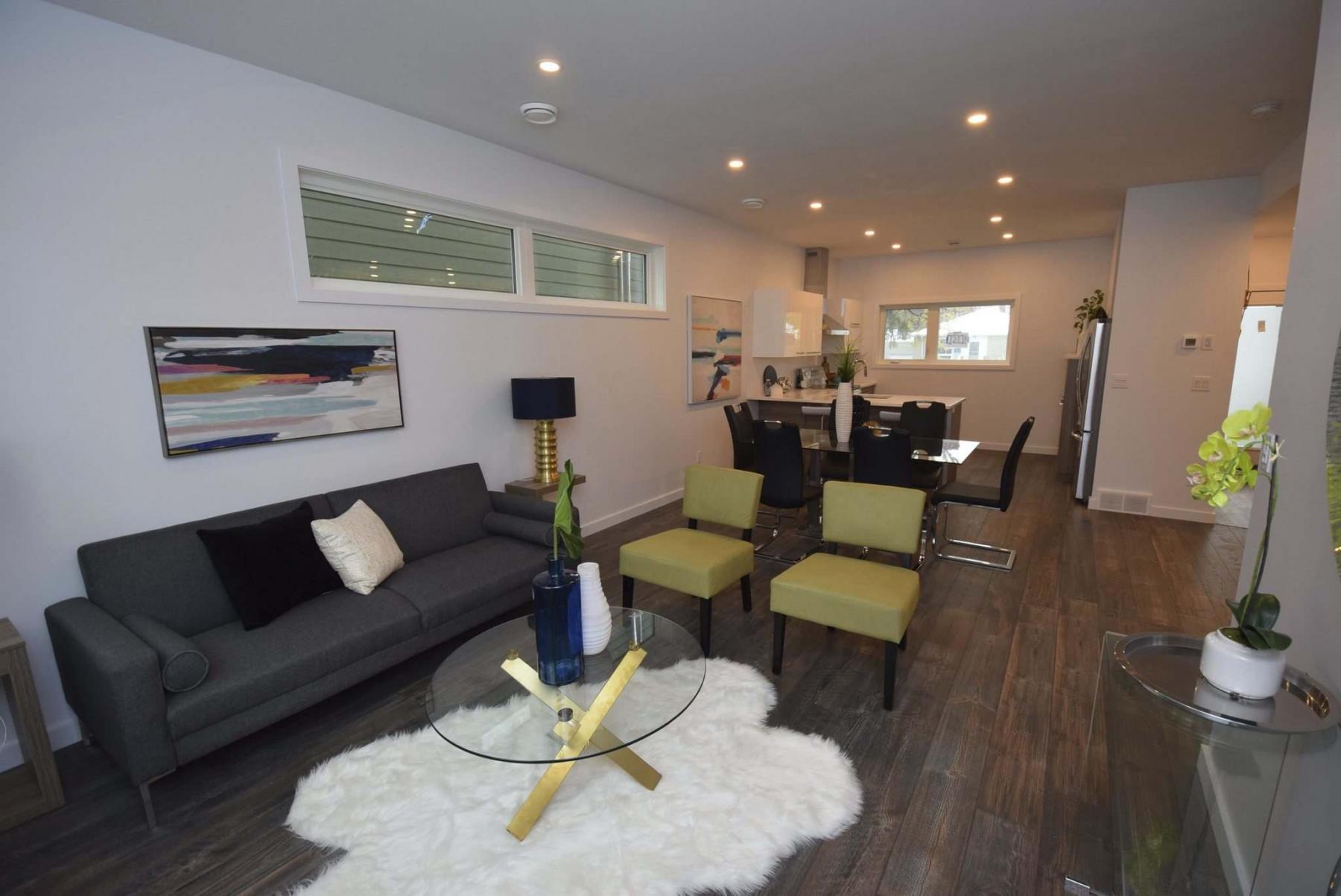 Infill homes may be the darling of the urban-planning crowd, but there's more to building one than necessarily meets the eye.
Once a lot is available, careful design is required to let the new home blend in with its older neighbours. Then the city has to approve the project. When it all comes together, what may have been a decrepit older home is replaced with something new, built to last and situated in a character neighbourhood.
Ron Derksen of Re/Max Professionals says that's why SUD Homes took great care in designing and building the new 1,409-sq.-ft., two-storey home that now occupies a 321/2-foot by 100-foot lot at 1030 Edderton Ave. in West Fort Garry.
"With its understated modern design, the home fits in with the neighbourhood, which is important," he says, noting that the build started at about the same time last year. "It was also built way over standard specifications inside and out to make sure it stood the test of time."
Although the home features a linear, modern exterior, it blends in perfectly with the surrounding homes. A metal-clad, stucco-free exterior gives the home a stylish yet practical look, while a pressure-treated wood stairway leads up to the front entrance in unassuming, rock-solid fashion.
Derksen says the home — which comes with a side entrance that provides access to a separate, 600-sq.-ft. lower-level suite — is exceptionally solid from the ground up.
"It's piled, and was constructed with an ICF (insulated concrete foundation) basement and engineered floor joists. The outer walls are filled with Rockwool insulation that's soundproof, fireproof and offers superior insulation values. Polyiso (rigid foam board) insulation was also placed on the inside and outside of the walls. Walls have an R-value of 24; the roof's R-value is 90."
The same attention to detail that went into the home's construction is evident in its layout and the quality of its finishes.
A sunken foyer transitions smoothly into a open-concept great room with nine-foot ceiling that features a well-proportioned layout. There's a peninsula kitchen to the right, dining area in the centre and a spacious living room at the far end of the naturally bright area.
"The builder really thought through the design of the main living area," Derksen says. "The kitchen is tucked neatly off to the side and offers plenty of room to create. It features an eating nook for two to three, 11/4-inch thick quartz countertops, glossy white cabinets up high, rift-oak style thermofoil cabinets down low and stainless appliances."
Even though the home is midsized, there's no lack of space in the great room's other two areas. There's ample space for a table for six to 12 in its centre, and the living room can easily accommodate a sofa, love seat, easy chair and entertainment unit, complete with big-screen TV.
Tons of natural light flows into the surprisingly spacious area from a host of well-placed tri-pane windows, while a liberal sprinkling of pot lights overhead can be turned on to add light at night or on dull, overcast days.
"It's a very functional, nicely finished area," he says.
"The cappuccino/grey laminate plank flooring looks great and complements the other finishes with its warmth and texture."
To ensure the main floor wasn't too open-concept, an enclosed mudroom — with ingeniously integrated powder room — was placed to the left of the living room to make way for a secluded hallway. Somehow, it holds four spaces — a three-piece bath, laundry nook, second bedroom and a private, well-appointed master suite.
"The home's layout is incredibly efficient, as shown by the bedroom wing," Derksen says. "The second bedroom is a good size, the bathroom is a beautiful space with curved corner shower, there's an area for a stackable washer-dryer and plenty of space left over for a big master suite that comes with a four-piece ensuite that includes a soaker tub-shower combo and dual vanities."
He adds that the home's lower level — that self-contained basement suite — simply seems like a continuation of its main level.
"Again, the layout is just so efficient. There's a main living area with eat-in kitchen, and living room as well as two bedrooms, a four-piece bath and mechanical/laundry room. A nine-foot ceiling and well-placed windows make for a bright, livable main living space, and both bedrooms are a good size. One even has a walk-in closet."
Three qualities separate the meticulously built home from other infill projects, he adds.
"It's not only unique — the basement suite could be rented out to students, or be used as a separate space for in-laws to live in — but it's also livable and exceptionally well-built. It's a low-maintenance, allergy-friendly home that offers a great location, tremendous quality and a functional, versatile design."
lewys@mymts.net
The details
Builder: SUD Homes
Address: 1030 Edderton Ave., West Fort Garry
Style: two-storey with 600-sq.-ft. lower-level suite
Size: 1,409 sq. ft.
Bedrooms: five
Bathrooms: 31/2
Price: $499,900
Contact: Ron Derksen, RE/MAX Professionals or Kevin Olfert, RE/MAX Professionals, 204-477-0500.
Open House: Saturday, Oct. 19, and Sunday, Oct. 20, 2 to 4 p.m.