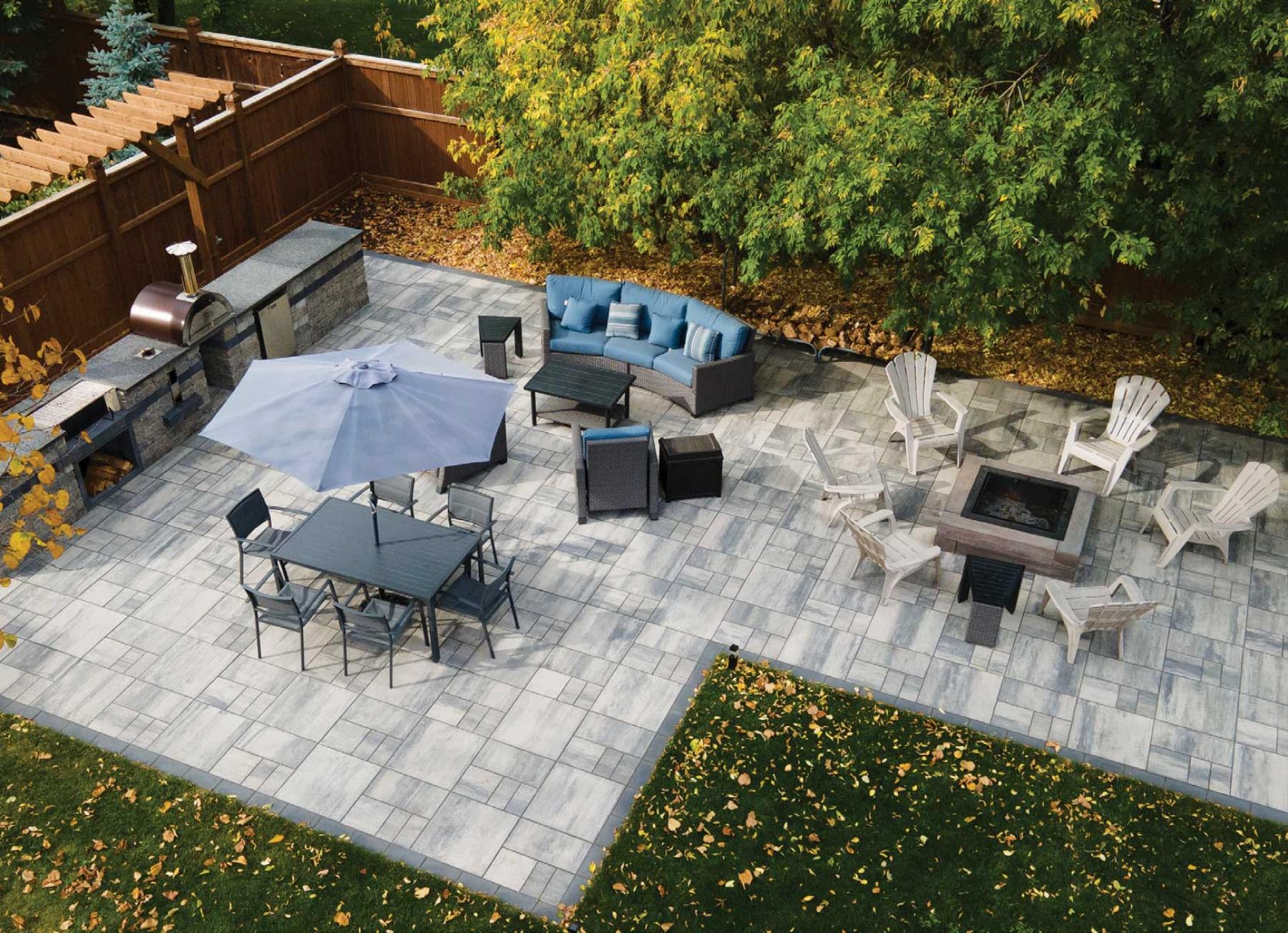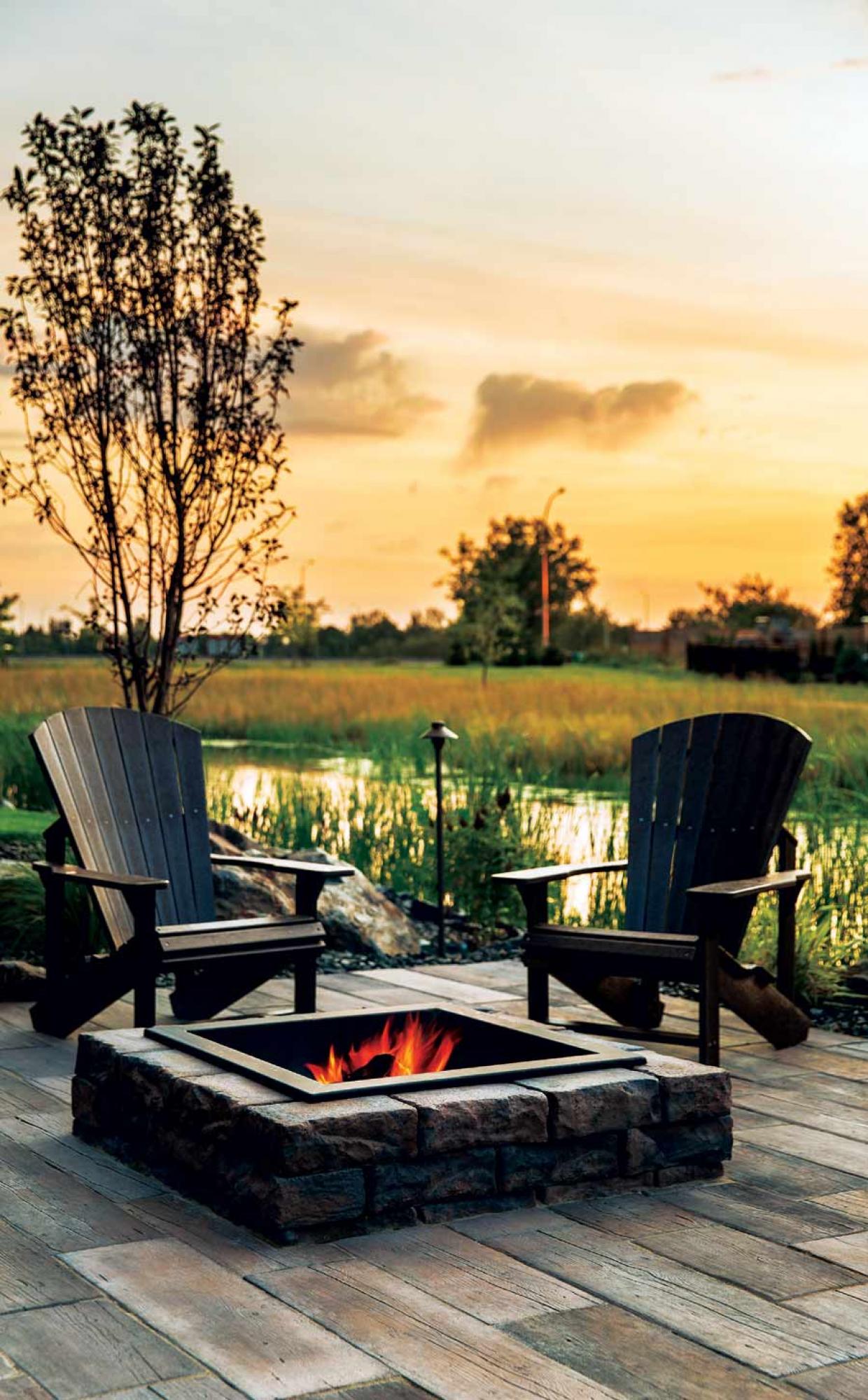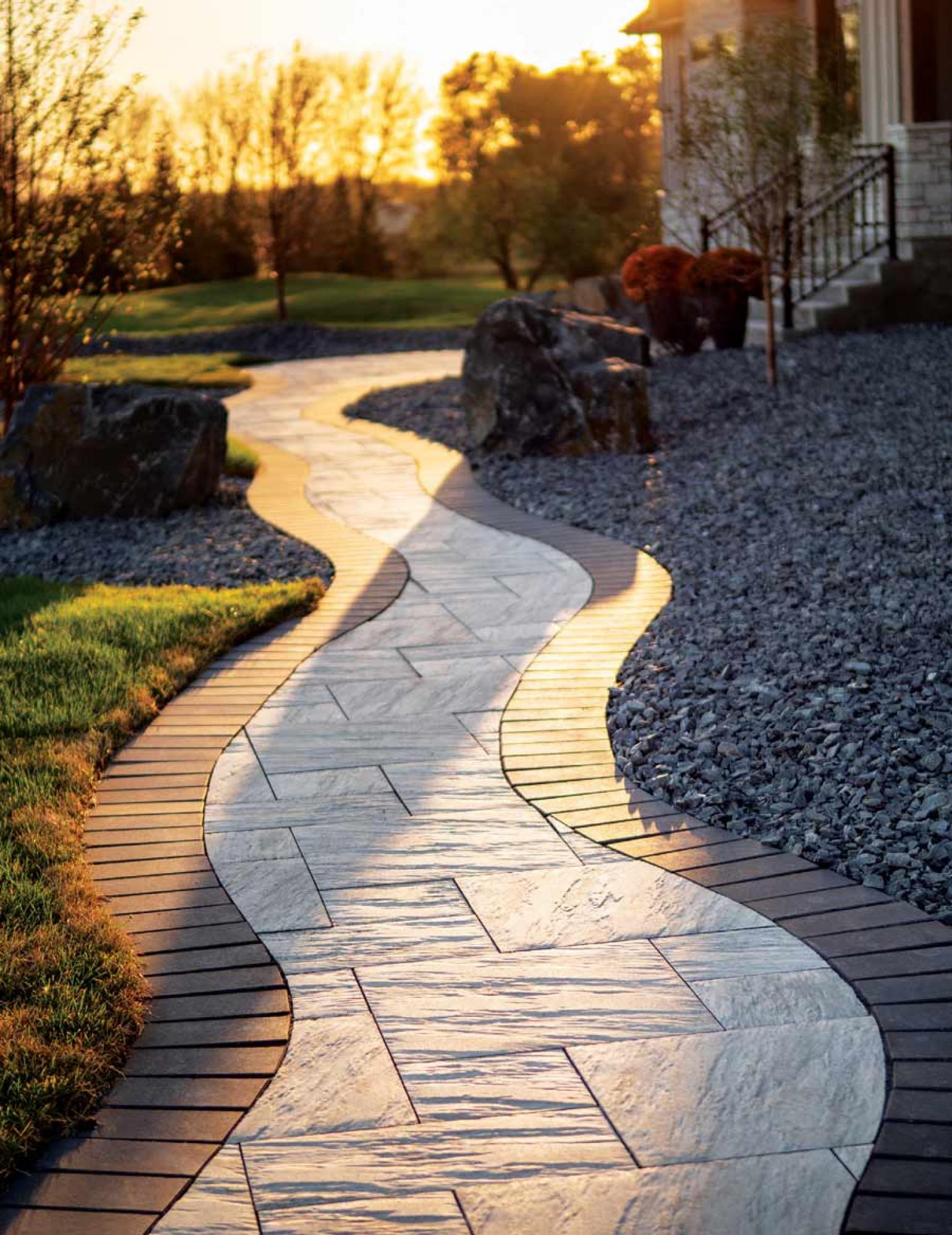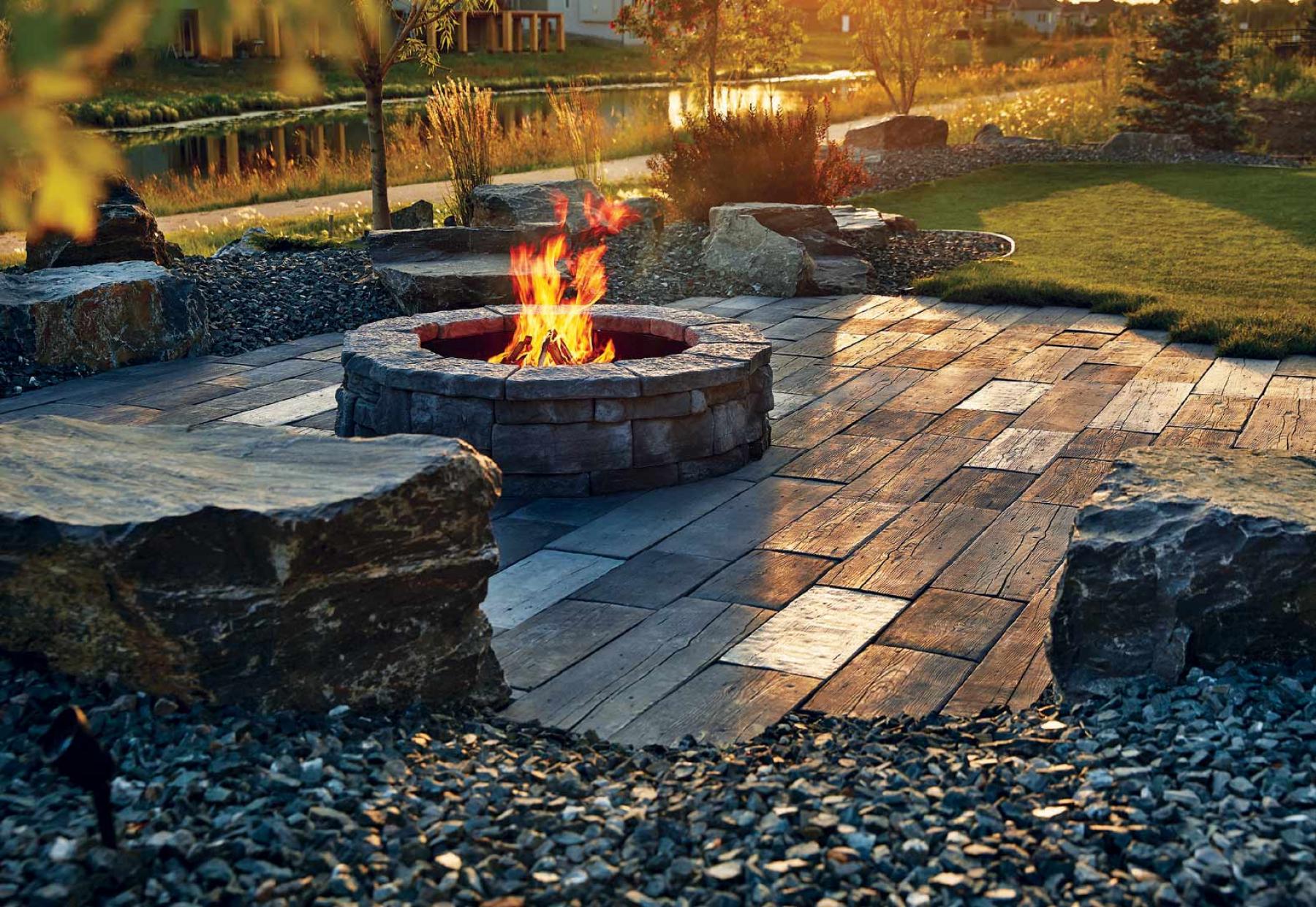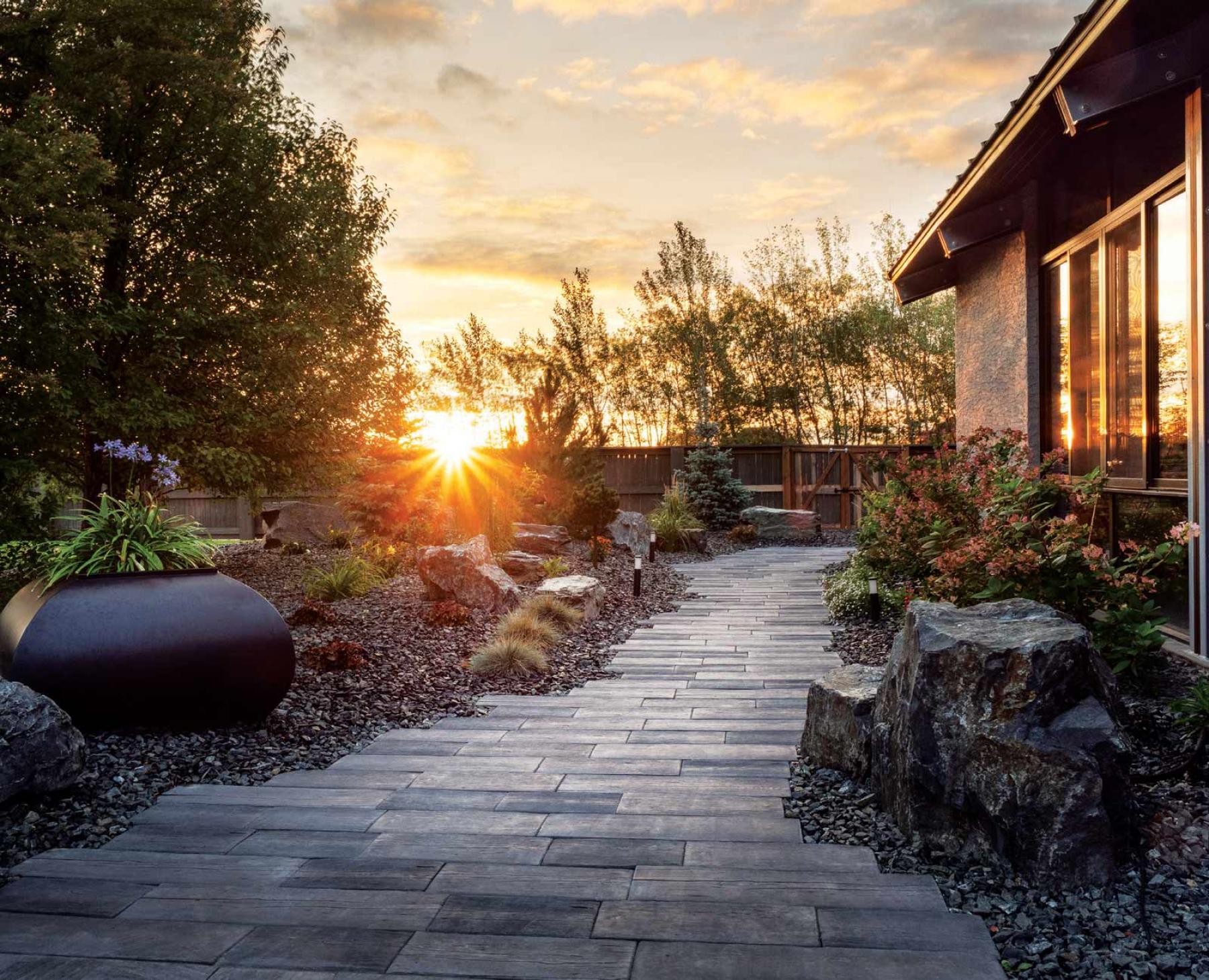 IT'S OFTEN SAID that a person's home is their castle, and that has probably never been more true than during the pandemic.
With many people working remotely and taking staycations, additional time at home has compelled us to look at what we can do to fix up that castle. In fact, a recent study conducted by Abacus Data indicated almost one in two Canadians have already done or are planning to do some kind of home renovation during the pandemic.
One area that has drawn the attention of many homeowners is their outdoor living space, which in turn has driven a surge of interest in hardscaping — using pre-cast landscaping materials such as stone or brick to build features such as patios, pathways and walls.
"When COVID hit, people couldn't really travel so their attention became focused on improving their home," says Peegy Ontong, marketing manager for Manitoba-based Barkman concrete products.
"As a result, people have started to think more about, 'What can I do to spice up my backyard aside from just having a lush garden?' "
Ontong says the first thing anyone contemplating hardscaping for their yard should consider is how they plan to use the space. That includes thinking about what your day-to-day schedule looks like and how you and your family typically gather.
"Some people still want to have their grass, but they also want to have a gathering space where they can set up a patio and table and bring out food in the summer. If so, maybe you can isolate a 12-by-12 space in the corner for a patio," she says.
"On the other hand, if you want to dream big, and you have the budget for it, maybe you can have a full outdoor kitchen."
Ontong recommends that anyone who is hardscaping for the first time start small. Rome wasn't built in a day and your yard doesn't have to be either.
"You don't have to start big. You can maybe start with a firepit or a walkway connecting one area of your yard with another," she says. "Firepits are a good place to start if you're not familiar with hardscapes and you want to try it out and see how it works."
One recent trend in hardscaping incorporates clean, linear lines in multiple residential applications. Ontong says Barkman's Broadway dry-cast pavers are a popular choice for driveways and patios. They come in a variety of colours — including charcoal, ash, sandstone, quartz and amber — and sizes that can be combined to create a wide range of patterns.
Another popular paving stone is the Roman, which can be used for patios, walkways and driveways. It has a "rocky, tumbled" look that Ontong says ensures it "doesn't ever go out of style."
For those looking for something a little more rustic, Ontong recommends Arborwood. These dry-cast slabs have a wood texture that makes them look like rough wooden planks. They come in two colours, brown and grey, and are ideal for pool decks, paths and patios. Unlike wood decks or surfaces, you don't have to worry about these slabs warping or rotting and you never have to paint or stain them. They also come with a lifetime warranty.
Ontong says landscape walls have become increasingly popular backyard additions for many homeowners. They add a stylistic flourish to a yard, and they are far more durable than the wooden boxes used in many backyard gardens. They can also be repurposed over time. For example, if they're used as part of a sandpit when the kids are small, they can be converted to a garden wall later on.
For those who favour a clean, straight line, Barkman offers the large-format Architextures retaining wall, which fits seamlessly in most modern spaces. Other retaining-wall options include Keystone Compac III blocks, which feature a textured face and can be used for both large and small projects. There's also the Bridgewood wall, which looks and feels like wood but will never rot or warp.
Regardless of what you choose for your castle's yard, Ontong says a big part of the appeal of hardscaping is that it's more durable and requires far less maintenance than grass or plants.
"It saves you a lot of time compared to mowing a lawn or weeding," she says. "A lot of people actually convert all of their backyards because of that. You don't really have to maintain it and you can enjoy it all year-round."