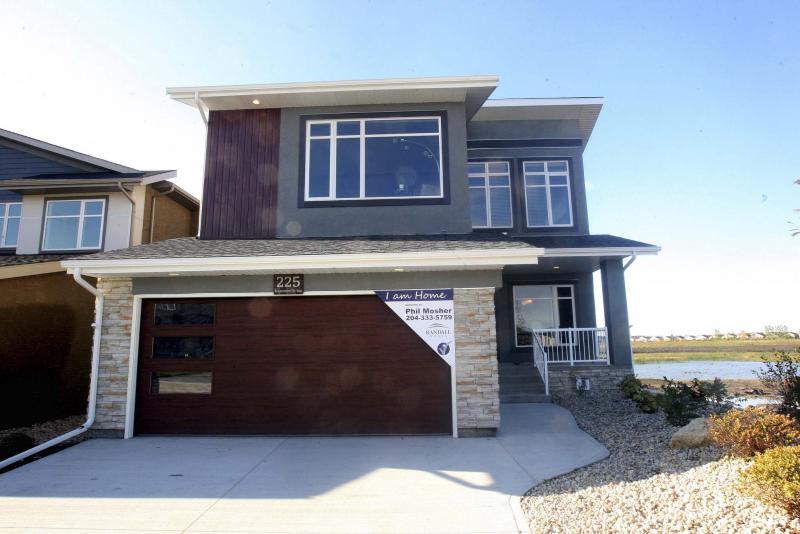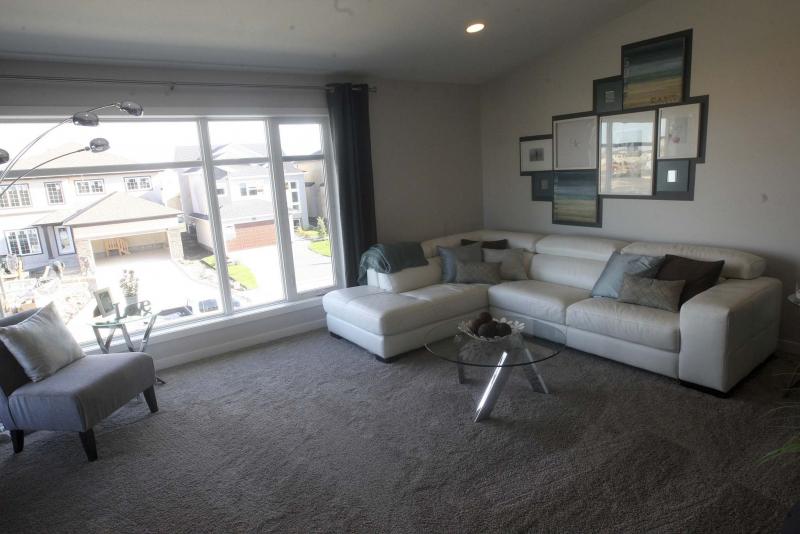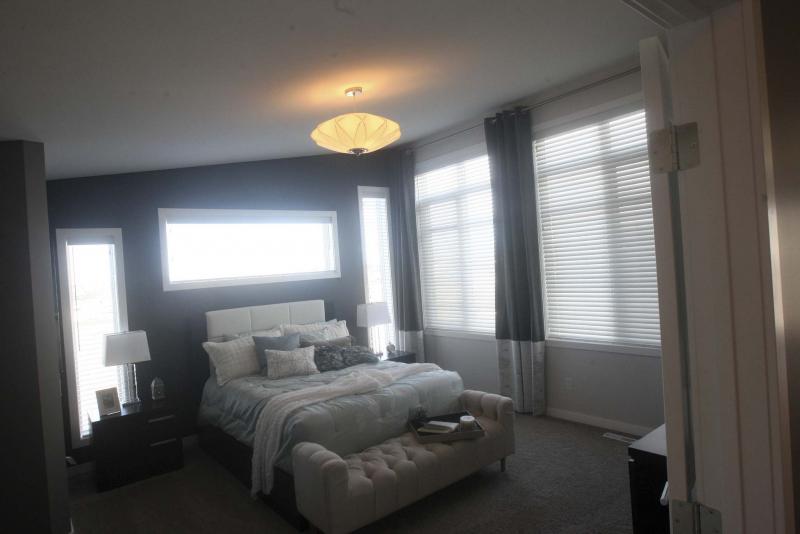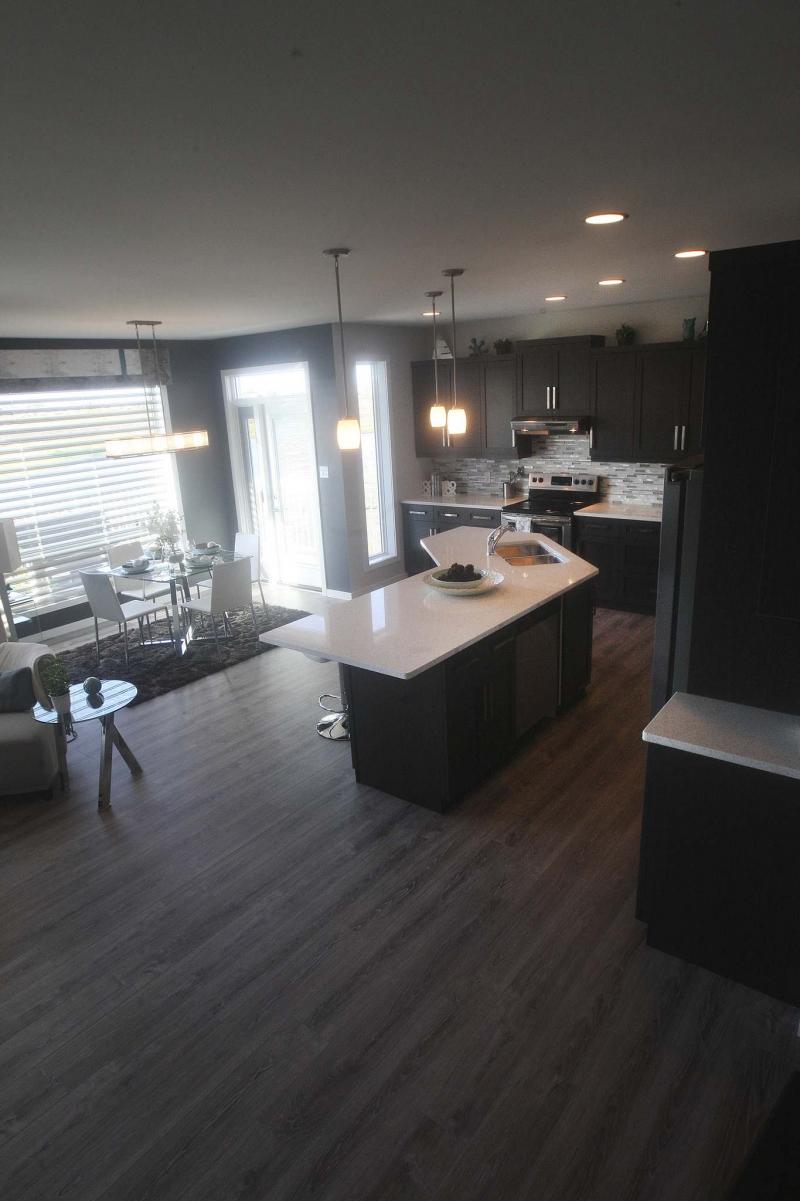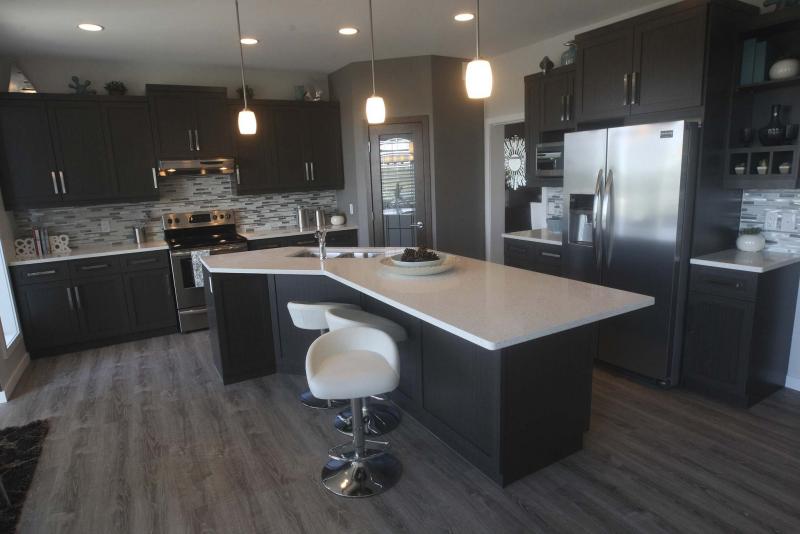 The list of prerequisites for new homebuyers is usually short, but quite specific. First, a home must possess curb appeal. Next — and the order here can vary depending on who you talk to — a home must feature a practical layout that flows well and is spacious, naturally bright and infused with stylish touches in just the right places.
Bearing those needs in mind, Randall Homes' design team designed a home — in this case, the Rochester Eight — to roll all those features into one neat package. It's a strategy that paid off, says Randall's sales representative for the 2,234-square-foot, two-storey home, Royal LePage Alliance's Phil Mosher.
"It actually sold during the first week of the Fall Parade of Homes," he says. "The home's design is just awesome from top to bottom."
That well-executed design starts with the home's exterior, which is — in a word — striking. The moment you look at the home, your eyes are drawn to its roofline, which has essentially been divided up into four quadrants. The rooflines above the garage, front entrance and above (what turns out to be) the second-floor media room all cant toward you, while the roofline above the master suite angles away from you. Not only that, but the windows fronting the media room, master suite and entrance/dining room are huge.
Then, when you step inside, you're greeted by an exceptionally spacious foyer. "It's not cramped at all, and that's due to its excellent design," says Mosher.
"There's a flex/dining room to the right and sunken wing (set four steps down) to the left that holds a laundry room (with sink and window) plus a door to the attached double garage. Having those spaces on either side makes an already sizeable foyer feel even bigger. It's a great way to enter into a home."
From there, the foyer branches left and right. Head right and you can access the kitchen through the flex/dining room, which is notable for a huge picture window on its rear wall and cantilevered buffet niche with inset vertical window that injects additional daylight into the 9.4 x 14-foot space.
Go left and you find a hallway with powder room to the right that leads into the family room. Regardless of the route you take into the great room, the result is the same: It quickly becomes apparent that you've arrived in an area that's sufficiently spacious, bright and stylish.
"It's hard to know where to start with the great room. I suppose the first thing that people notice is the killer view," Mosher says.
"Huge windows are on either side the (cultured stone) fireplace in the family room, plus a large window behind the (smartly cantilevered) dinette area showcases the lake behind the home. A patio door off the dinette area also leads out to a low-maintenance deck that overlooks the water."
As might be expected, all the glass on the rear wall allows daylight to stream in, making for a pleasingly bright great room. Flow from space to space is excellent, while the finishing materials — which include wide-plank laminate (cappuccino) oak flooring, cappuccino thermofoil cabinets, white/grey quartz countertops and a taupe (glass) tile backsplash offset all the light with a welcome warmth and texture.
"Visitors to the home have also loved the massive (angled) island," Mosher adds. "It not only has a recessed nook that seats three, but is also perfect as a prep area for cooking or serving area for entertaining."
An extra-wide staircase then leads to the second floor, which offers the same high level of function exhibited by the main floor. "The (17 x 14.6-foot) media room to the right of the stairs has been a huge hit with people," he says. "They love the huge window on its rear wall that lets in tons of light and its vaulted ceiling — a feature that makes an already generous space feel that much bigger."
Just steps from the media room is the master suite, an inviting space with a double-door entrance. The moment you step inside, you're literally immersed in light and open space.
"The angled roofline made for an incredible master suite with a high, vaulted ceiling that allowed for the placement of two massive picture windows on its side (right-hand) wall," Mosher explains. "The bed is also surrounded by windows above and to the side, and there's a hallway with a walk-in closet and double closet on either side that leads to a gorgeous ensuite with tile floor, custom tile/glass shower and huge window."
Capping off the home is a thoughtfully designed walk-out basement. "A pair of huge windows on either side of a door that leads out to a covered patio not only provide a smashing water view, but you also get a wide-open area — when all the mechanical equipment is tucked neatly off to the side — that can easily hold a rec room, fourth bedroom, four-piece bath and storage room," he says. "Add in the basement, and the home gives you about 3,000 sq. ft. of total living space."
Mosher says it's easy to see why the home sold in such short order. "It's the total package. It features a great, functional layout, it's bright, it flows beautifully, and style features are spotted beautifully. It's one of the best-balanced home designs I've seen; it just works well in every aspect."
lewys@mymts.net
Builder: Randall Homes
Address: 225 Bonaventure Dr., Bonavista
Style: Two-storey
Model: The Rochester Eight
Size: 2,234 sq. ft.
Bedrooms: 3 plus upper level media room
Bathrooms: 2.5
Price: $615,900 (Includes lot, net GST)
Contact: Phil Mosher, Royal LePage Alliance, 204-333-5759