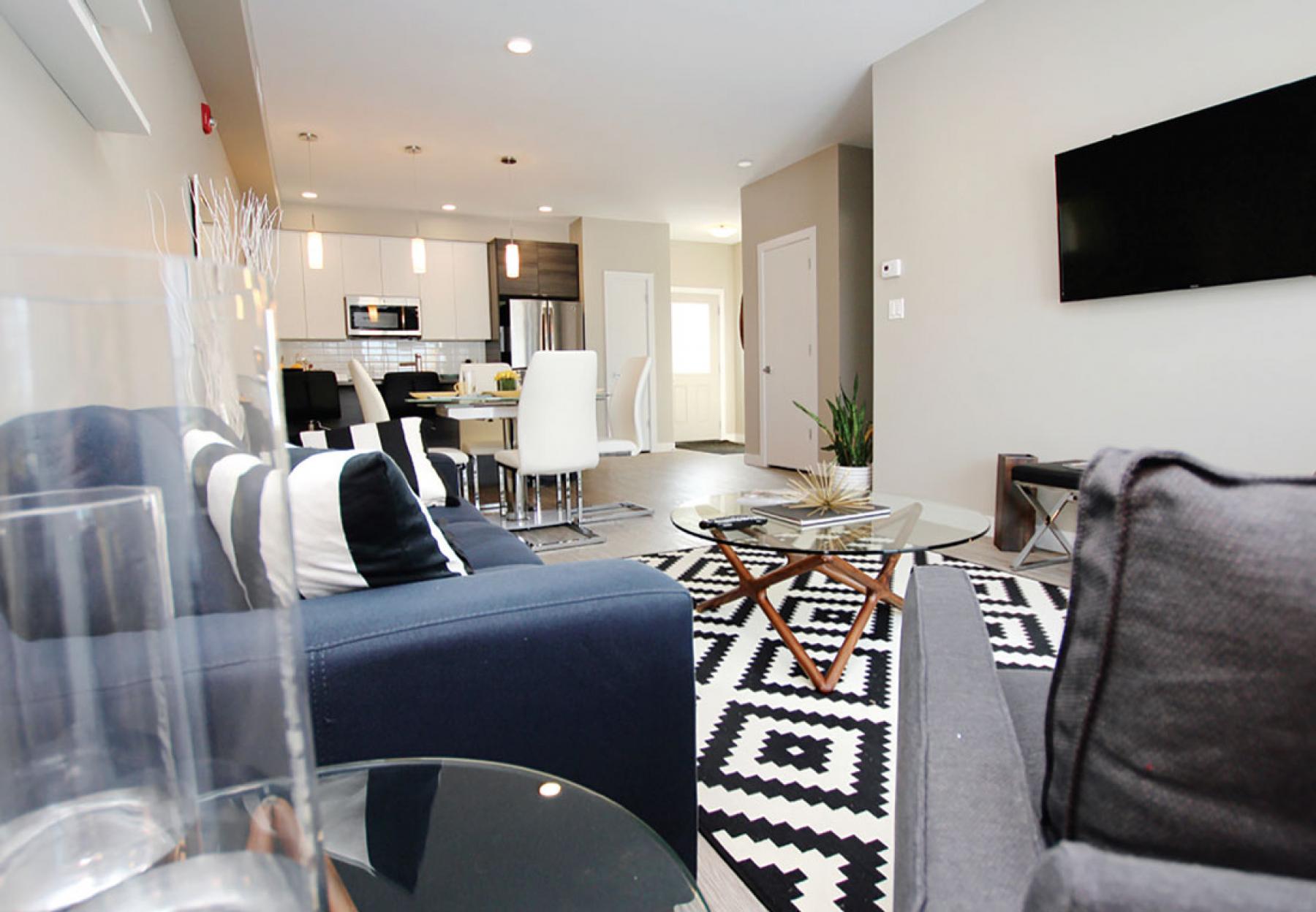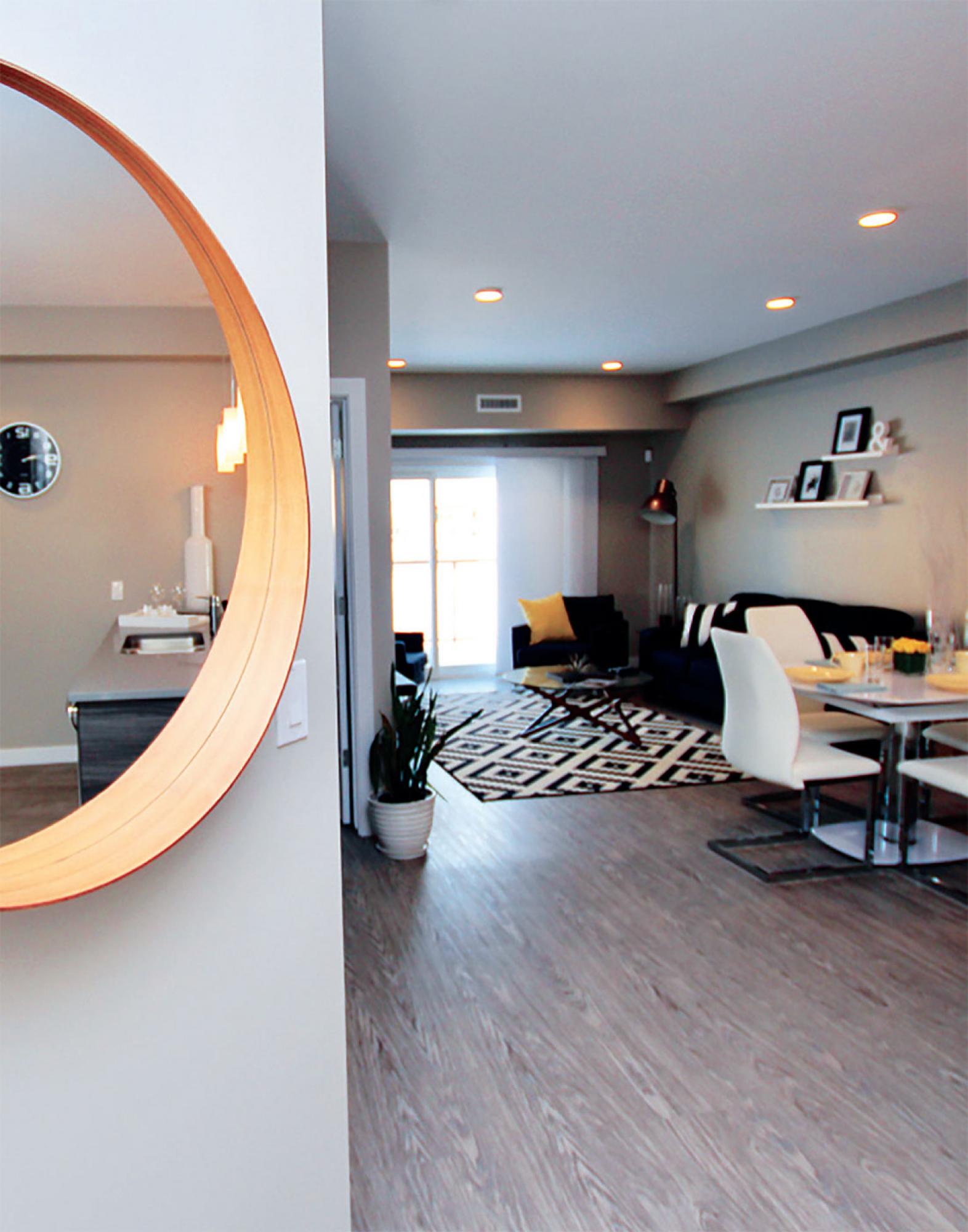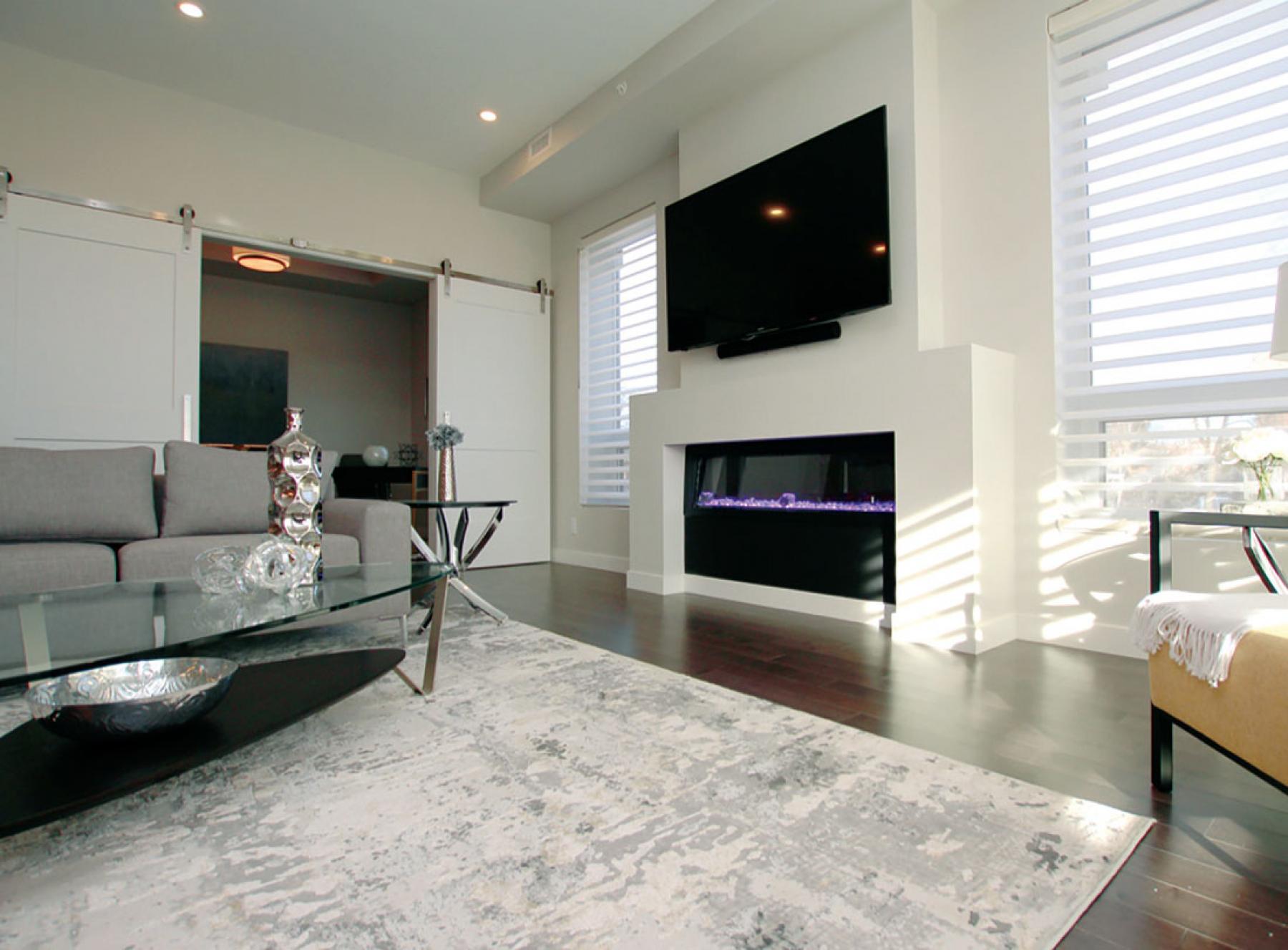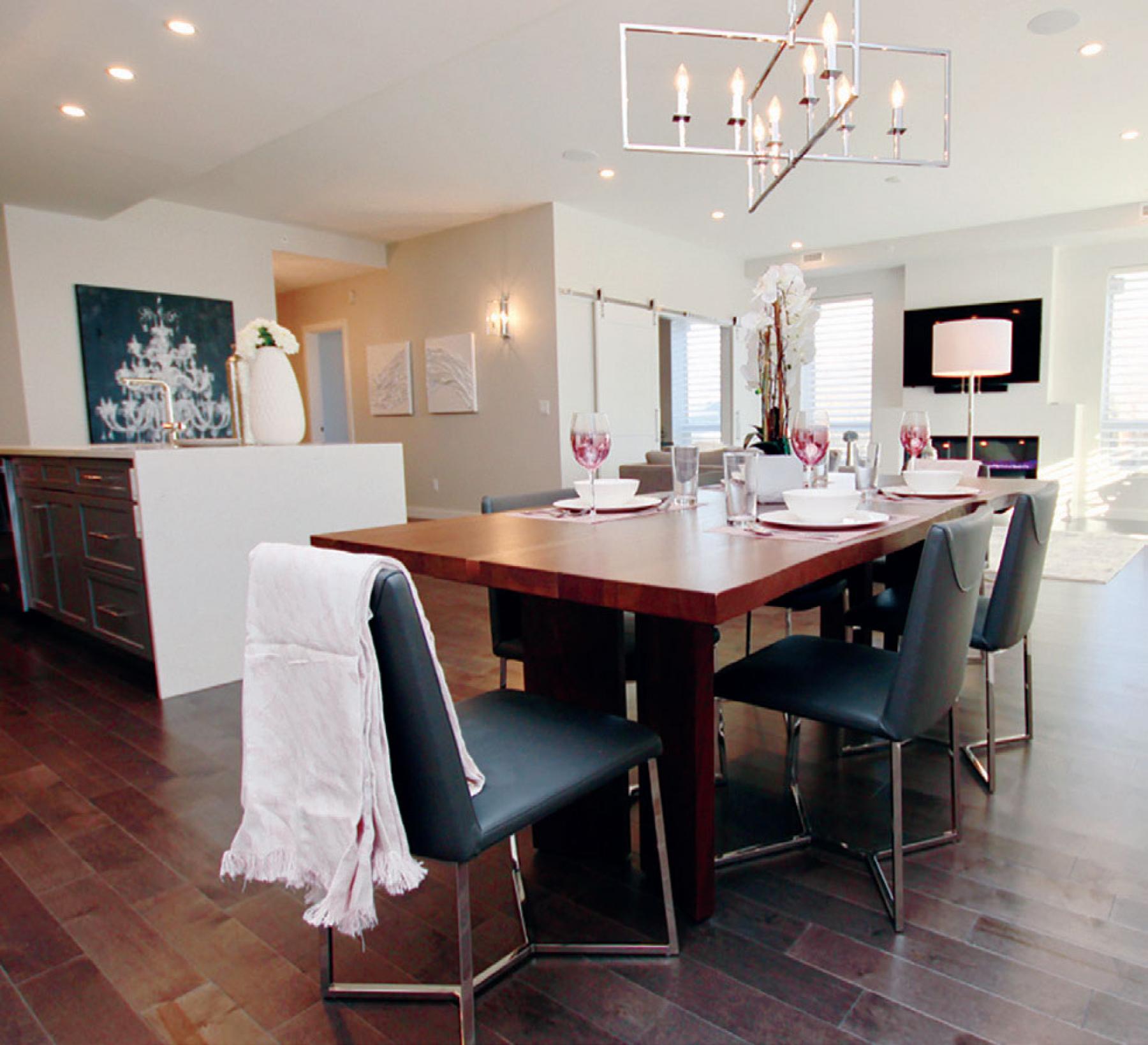 MINIMAL SPACE, MAXIMUM STYLE
Does your place lack space? The biggest challenge is trying to trick the eye into making your home appear larger than it is. You can achieve that illusion with the right paint palette, lighting, furniture selection, and – of course – by keeping your clutter at bay, says Kelsey Kosman, owner/designer of Dollhouse Design. "Keep light, neutral colours on the walls, and keep (the home) really light and bright and airy," Kosman says, adding it's equally important to eliminate the number of different flooring styles and paint colours in a home that's on the snug side.
"Whenever we have a visual transition, the space shrinks. Gone are the days where we're putting carpet in the living room. We want the eye to think the space is larger, so have the same flooring flow throughout."
In terms of colour scheme, a neutral palette is the way to go. Creams, beiges, greiges, whites and greys are all solid hues for creating an airy effect. Adding a pop of colour is dandy, but limit it to less-committal textiles like toss pillows, throws and drapes, Kosman says. Artwork is another safe way to add colour without overcrowding the place.
Mirrors are still a trusty way to trick the eye into making a space feel larger than it is. Same goes for lighting. Kosman suggests layering fixtures like recessed pot lights with pendants, lamps and undercabinet lighting to keep the wattage up and the dreariness down.
As far as furniture goes, it's a matter of finding pieces that are compact without looking like they belong in a dorm room. Look for couches with deep seating but skinnier arms so they don't crowd the living room. Coffee tables and shelving units should be white and compact to avoid looking clunky. You can even buy slim-line recliner chairs that are just as comfy as the oversized, overstuffed man-cave variety.
But a small home can't thrive on decor and furniture alone — it has to be organized, practically to the point of minimalism. This especially goes for folks who have kids or those who have recently downsized from a house to a condo. Large wicker baskets and storage solutions are must-haves for toys, and sometimes you just have to be willing to take things down a notch.
"Be open to changing your stuff out," says Krista Koop, senior designer/co-owner of Irwin Homes. Along with building custom homes, Irwin has introduced a number of luxury condo developments — their latest being the 187-unit Bloom & Timber Condominiums, now under construction in East Kildonan. While some developments, such as The Residences at Nineteen/ Fourteen on Henderson Highway, give full-size houses a run for their money, condos are popular among empty-nesters who are looking to scale back.
"Sometimes there's an emotional attachment, but what you have to keep in mind is you're scaling down … purging, minimalizing," Koop says. "But it's an opportunity for something new."
When all else fails – because stuff happens – Koop says many of Irwin's condo complexes have an alternate solution: "Most of our projects have storage in the underground garages."
SIMPLY GRAND
Got more room than you know what to do with? It's not the worst problem to have. The sky is generally the limit when designing and decorating a large home – but just because you don't have to be as strategic as you would with a smaller space, that doesn't mean you can't get creative.
"You could go bolder with colour," Kosman says, though she admits she still prefers a neutral paint palette for a large home.
"Sometimes people want to add a feature wall … an application of wood, or wallpaper, or paint. You have flexibility to be more creative with something like that." Again, Kosman suggests minimal flooring and paint colour transitions, which means choosing one style of flooring to run throughout the living room, kitchen, dining area and bedrooms. Ditto for paint colours.
"Even if we're dealing with a really large space, more times than not, I'm painting an entire house one version of off-white," she says.
Or, you could opt for the other end of the spectrum, says Koop, who's been an interior designer for 16 years.
"The current house I'm in, all of my walls are black. We have huge windows, so there's a lot of natural light."
Almost all of the same design rules of thumb for small spaces apply to larger abodes, but it's important to upsize everything — from lighting fixtures to furniture to rugs — to ensure there's no wasted space.
"It can look ridiculous if your furniture doesn't fill the space properly," Koop says.
Also ridiculous: Artwork that doesn't adequately fill a large wall (or vice versa). And don't even get Kosman started on undersized area rugs.
"When we're talking about area rugs, all of the front legs of the furniture around that area rug should be on the rug," she says. "For example, if you have a couch and a love seat, and you get an area rug that's too small, it doesn't look right. The minimum is the front legs, but we could pull it to the middle of the couch, because it's hard to find the exact perfect size of rug."
One of the bonuses of more square footage is an abundance of natural light. Koop calls it "a designer's dream."
Among Irwin Homes' larger builds are an "unbelievable" 7,000-square-foot bungalow on McCreary Road and their current "dream build" — a custom stunner on acreage along the river on Henderson Highway clocking in at a whopping 6,000 square feet.