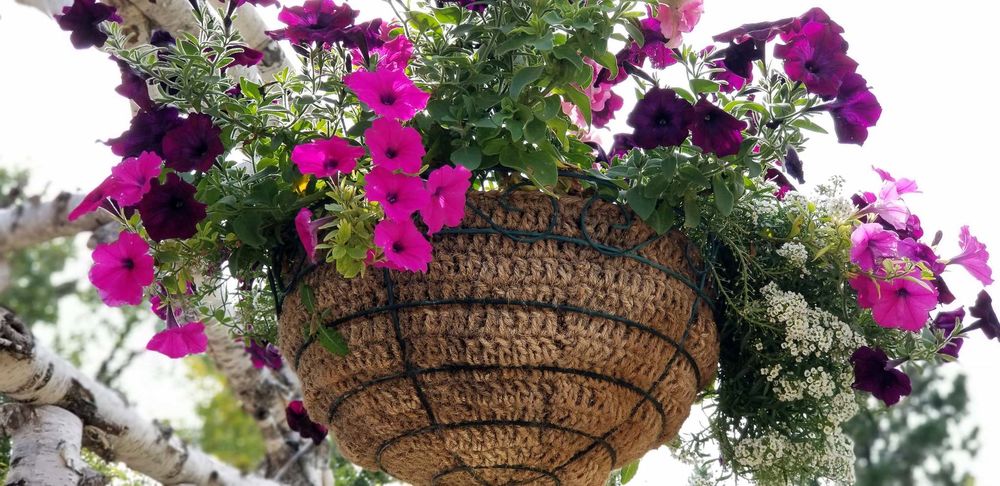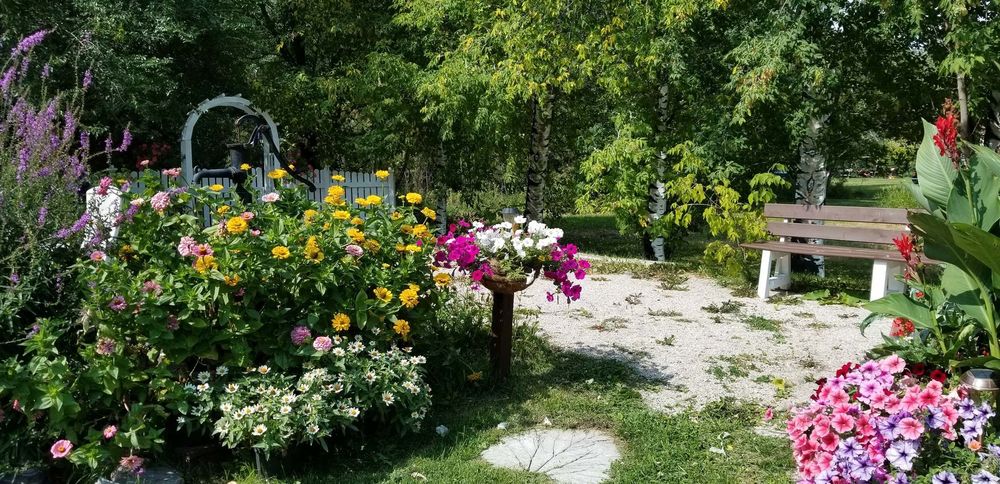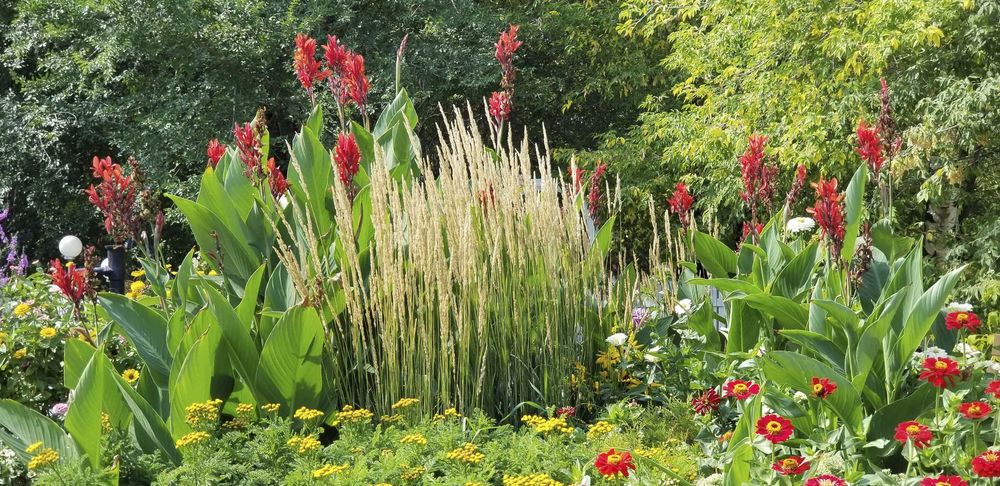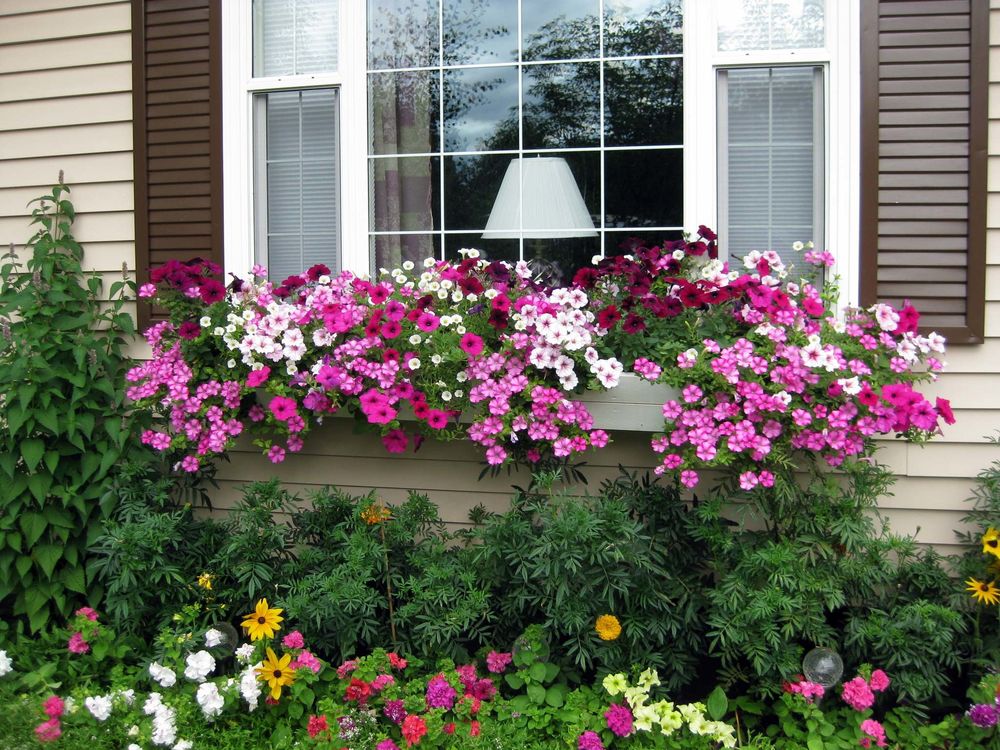 Dennis Rawluk has lived his whole life in Moosehorn, a small town located in Manitoba's Interlake Region, about 197 kilometres from Winnipeg. The hardware manager at the local Co-op, Rawluk likes to garden. There's nothing new about a man who gardens. The influence of men who garden has a storied history. Rawluk, though, is as handy with a hammer, paintbrush and crochet hook as he is with a garden hoe and a packet of seeds.
Rawluk grows his own vegetables, cooks four-course meals, and bakes bread, buns and Saskatoon pies. He is a skilled carpenter who built the two greenhouses that stand on his property, as well as a large barn. He creates exterior wooden surfaces with a stone tile inlay, makes stepping stones from rhubarb leaves, grows cut flowers for bridal bouquets and teaches painting classes.
I was interested in learning more about all of that when I visited him at his garden, but my first question had to do with the hanging flower baskets that he crochets from jute twine. What does it take to crochet a hanging basket, I asked. About an evening, Rawluk replied. But seriously, these are not your '60s hippie-style hanging baskets. Each basket requires approximately 21/2 balls of jute twine and is about as tightly stitched as any pair of tough hands could manage.
"Densely woven jute retains moisture much better than coco mats made from coconut husk fibers," Rawluk said. He receives many requests for his crocheted baskets.
Although Rawluk has worked at the Moosehorn Co-op for more than 30 years, he used to raise three different breeds of purebred cattle on a large farm. When he moved into town, he initially purchased two adjacent lots and began renovating his small house. When the run-down trailer on the lot across the street from him was becoming party central, Rawluk purchased the property at the first opportunity, as well as the one adjacent to it.
It's a great story whenever someone restores calm and quiet to their neighbourhood, but Rawluk is responsible for much more than that. He has transformed the space into a flower-filled park-like setting that today attracts an average of 500 visitors annually, some from as far away as Vancouver Island and Germany.
To grow the thousands of plants that fill the raised beds and containers in the expansive garden, Rawluk needed to build a second greenhouse. He also built a large barn. He scours the local area for unique vintage items, which he repurposes for his garden. The long box from a wooden horse-drawn wagon, for example, is filled with dozens of potted dwarf zinnias each summer. Why potted? Brides in the surrounding area clamour for the opportunity to incorporate as many as 50 to 60 of Rawluk's potted flowers into their weddings and then return them afterward.
Rawluk studied floral design at Red River College. In addition to the flowers he grows from seed, he also forages wild flowers for the bridal bouquets he creates from his garden. He combines stems from ornamental grasses such as Panicum elegans Frosted Explosion and Purple Fountain grass (Pennisetum setaceum rubrum), which he starts from seed indoors under grow lights in early March. The soft, fuzzy-like plumes are fatter and bigger than any I've seen.
Rawluk buys seed from local seed suppliers such as T and T Seeds, McKenzie Seeds and Lindenberg Seeds, but he also harvests seed heads beginning in late summer. He collects seed from plants in his garden such as hollyhocks, marigolds, rudbeckia, zinnia and so forth, and from pretty much anything else that catches his interest, such as wild Queen Anne's Lace, that he might come across while on a walk or drive.
One of his favourite flowers is Rudbeckia Indian Summer. Long-blooming, the golden yellow flowerheads with their chocolate-black centres can be close to 20 centimetres across. Rawluk allows Indian Summer to naturalize in his garden by self-seeding although this zone 4 perennial does not always come back the following year. He starts new seed each February and in spring, once the soil is warm enough, he plants the seedlings throughout his garden.
He also starts hollyhocks in February. His favourite variety is a dwarf hollyhock called Queeny Purple, which blooms in mid-August. He starts lisianthus from seed, as well as pansies and red geraniums, which he combines with orange marigolds and Victoria Blue salvia. He starts perennials such as lupins from seed, too. He swears by Styrofoam egg cartons as the ultimate way to start seeds on a windowsill but has also invested in a heated seed mat and grow lights.
Rawluk overwinters canna, calla, gladiolus and dahlia bulbs, and creates large, colourful patches of blooms. In one dramatic display, Rawluk combined tall red-flowered canna lilies and Benary's Giant deep red zinnias with wheat-coloured Karl Foerster ornamental grass and a splash of mustard yellow yarrow for contrast. Each fall, he plants spring bulbs en masse such as tulips, muscari, daffodils and hyacinth. In 2017, he planted 1,000 tulip bulbs.
And so it goes through the different seasons except that someone like Rawluk, with his boundless energy, has no shortage of new ideas and innovations. Last August, Rawluk visited Butchart Gardens in Victoria, B.C., and was intrigued by a vibrant display of zinnias, marigolds, canna lilies and Ipomoea potato vine in the gardens at the Empress hotel. While the extremely close planting with very little breathing room between the annuals seemed a recipe for fungal problems, the display was healthy and thriving.
This spring, Rawluk has dug a long trench — about 20 cm deep — the length of his pathway and plans a dense display of Safari marigolds with their extra-large blooms. He uses powdered cinnamon to help prevent the fungus that causes damping-off in seedling trays and plans to experiment with cinnamon in his garden to see if it is successful as an anti-fungal treatment.
It's immediately clear to visitors to Rawluk's garden that he has a passion for birch bark. An arbour made from birch wood is loaded with hanging baskets filled with favourite petunia varieties such as Supertunia Vista Bubblegum petunia and Headliner Lipstick petunia. But there are also easels made from birch wood which hold wooden pallets painted with scenes of birch trees. Look closely at the maple trees that border his garden and you will soon see that they appear to have trunks that belong on birch trees. It's just Rawluk having a bit of fun.
On one side of the garden stands a massive (304 by 243 cm) painting of birch trees, which Rawluk created. Rawluk applies a protective coat of transparent sealer to these outdoor works of art.
Normally he paints on a pallet board that measures 76 cm tall and wide. His garden art has attracted so much attention that he is busier than ever giving workshops to teach others to paint scenes of birch trees on wooden pallets.
Rawluk is a man for all seasons.
Sunday, the Can-West Iris Society hosts the 12th annual Iris Show and Sale at the Bourkevale Community Centre, 100 Ferry Rd., 1 to 4 p.m.. Admission is free.
colleenizacharias@gmail.com