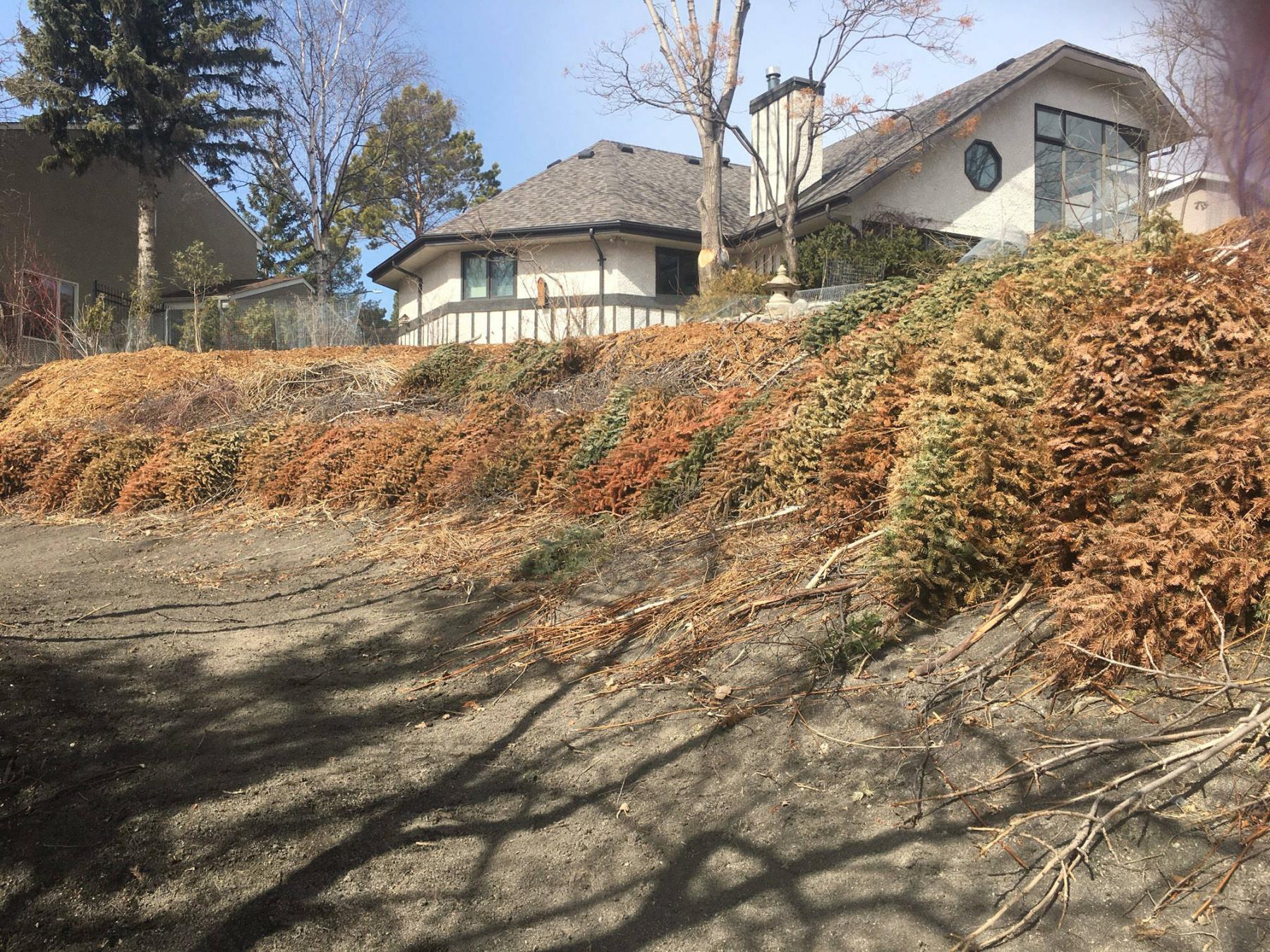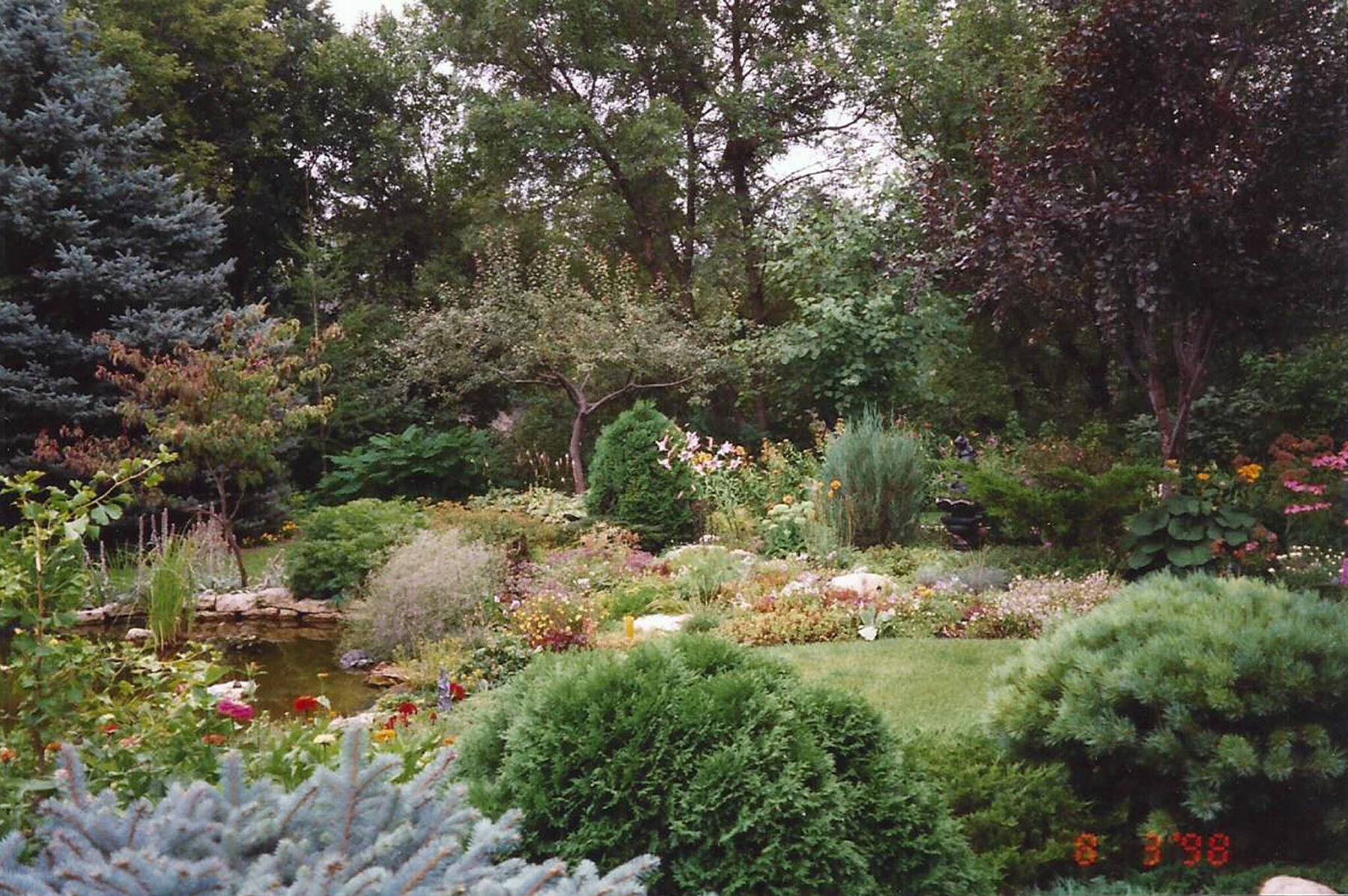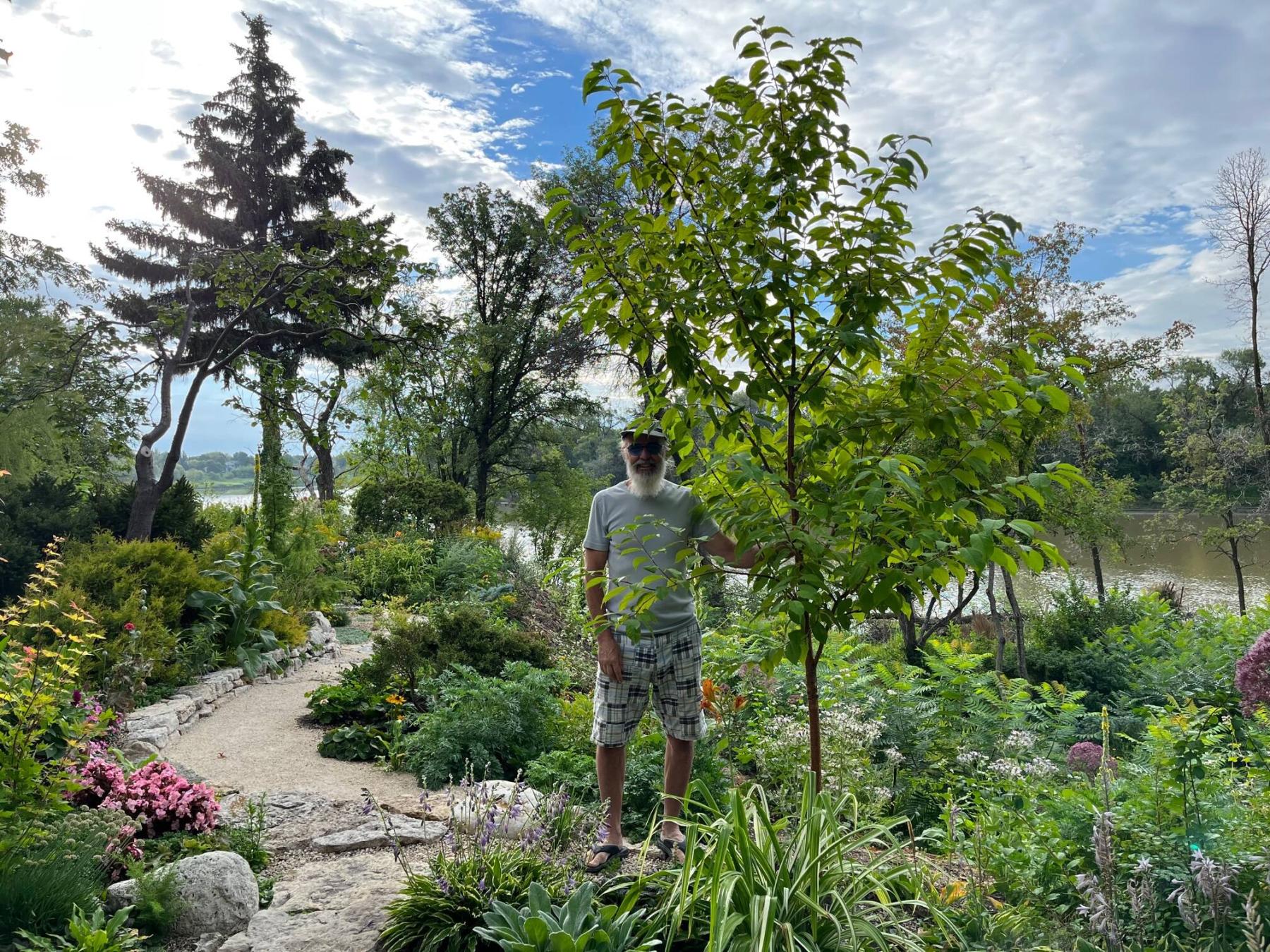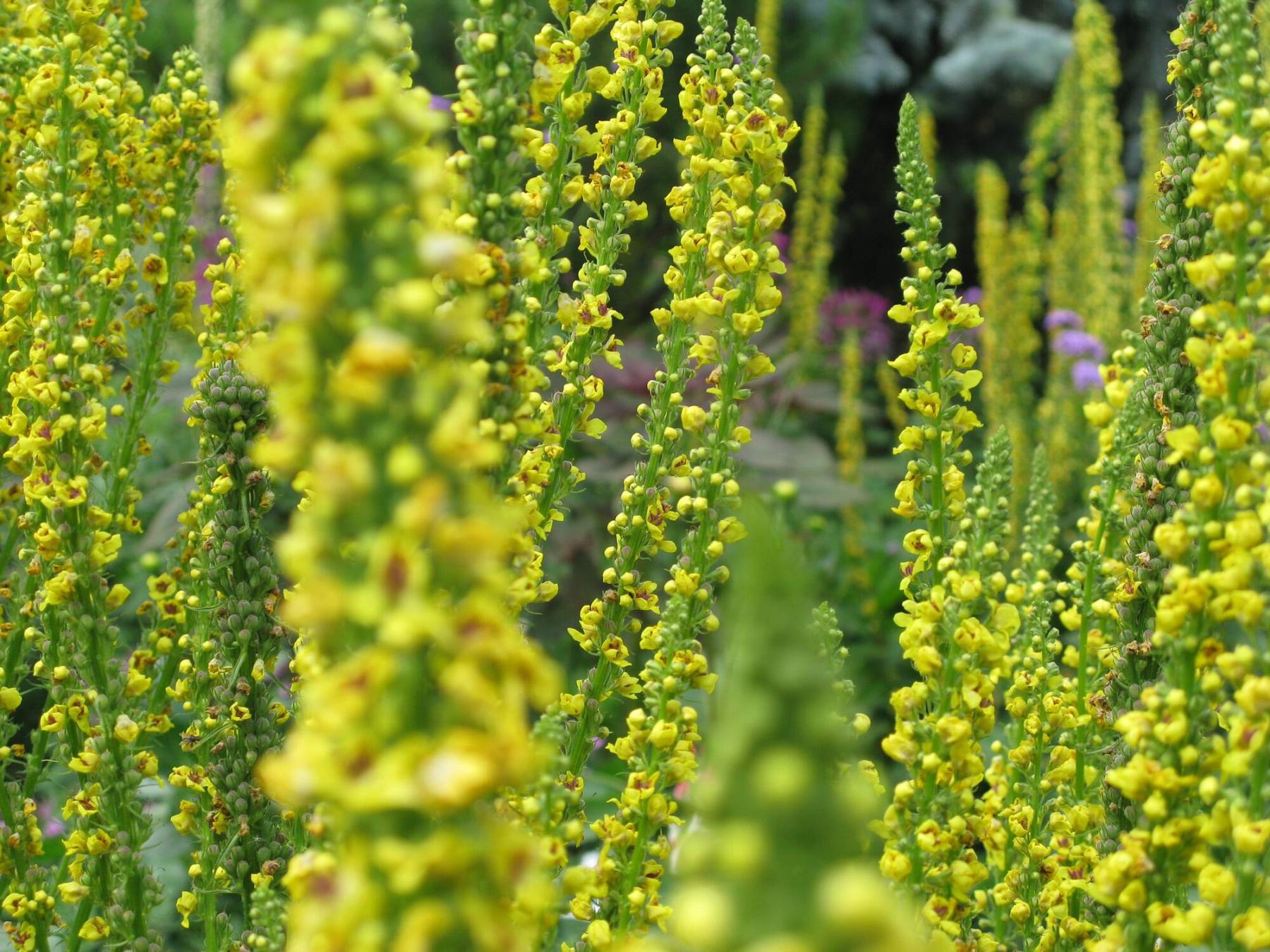 With spring only a few weeks away, gardeners are on the cusp of a new season. For Raymond Normandeau who lives along the Red River, the spring gardening checklist is a lengthy one.
On November 2, 2020, the riverbank adjoining Normandeau's St. Vital property collapsed into the Red River without any warning. The collapse happened in a matter of seconds, leaving a gaping sinkhole more than six metres down. The fault line of the landslide was a mere three metres from the edge of Normandeau's house. The massive landslide took with it dozens of mature trees and his carefully cultivated garden that was nurtured and planted over a 30-year period with perennials and shrubs.
This is a story of two gardens, not only in the sense of the garden that was lost and the new garden that must now be created but rather, the stark contrast between the portion of Normandeau's unique, collector's garden that the river did not swallow and the landslide repair and remediation that demands a radically different approach as quickly as possible.
In the immediate aftermath of the landslide, the most important task was to relieve weight on the riverbank. Twenty big truckloads of soil were hauled away leaving a steep 45-degree slope. A layer of riprap (big rocks) was placed on the riverbank over the winter of 2020. Engineers releveled the slope to make it more gradual. Normandeau spread 10 yards of wood chips on the slope and in early 2021, he collected more than 100 Christmas trees from recycling depots along with over 300 bags of leaves from generous neighbours and residential properties. The Christmas trees, along with hundreds of bags of leaves, plant clippings, and compost were laid against the bare soil of his steep slope. This process is known as evergreen stream revetment designed to slow or halt erosion and help rebuild the streambank in anticipation of high-water levels from snow-melt and run-off from torrential spring rains.
He also ordered and collected seeds for trees, shrubs, perennials, and grasses which he carefully placed in pockets on the south-facing slope. The severe drought of 2021 followed by the wet spring of 2022 proved challenging for the establishment of the new plants. In hindsight, Normandeau says he would have done some things differently. "Instead of layering Christmas trees, I would have used hay bales like building blocks stacked up against the slope which would provide some flat areas like terracing." Whether hay bales or Christmas trees, the organic material eventually decomposes but hopefully they will have done their job of rebuilding the soil and seeded plants will have rooted sufficiently.
"My approach to gardening has evolved as a result of this whole experience," says Normandeau. Normandeau is a landscape designer by trade. He is also the gardener (niwashi) for the Japanese Cultural Association of Manitoba's jewel of an enclosed garden where he practices the ancient art form of horticultural pruning and training techniques. He has plenty of skills in his toolbox. Normandeau has planted several tree seedlings, but his more immediate goal is to prevent further environmental damage by planting deep-rooted native plant species that will help to anchor the soil and build soil structure.
Normandeau needs plants that will cover a lot of ground quickly and considers factors such as ecological function – the services that plants perform within or between species including benefits to pollinators. The growing conditions on the south-facing slope are hot and dry. "I am going to tolerate spreading, self-seeding plants including volunteer plants that were not intentionally planted but germinated in the soil," he says. Some of the plant varieties growing on the slope include Goldenrod (Solidago), pasture sage (Artemisia frigida), Staghorn sumac (Rhus typhina), Miscanthus silver grass, and verbascum (common mullein) have robust root systems and produce an abundance of seeds. On a recent visit to Normandeau's winter garden, the large, snow-covered seedheads of Miscanthus, Staghorn sumac, and Verbascum were architecturally beautiful. Tall verbascum which grow two metres tall and feature yellow flowers in summer are scattered throughout like watchful sentries. At the bottom of the slope, the silver plumes of giant miscanthus grass collected from roadside ditches wave in the wind.
In spring, Normandeau will take care not to disturb the soil once the snow has melted. "If you clean everything up and don't allow any natural debris, you can lose new seedlings that are trying to establish." Normandeau seeded the slope last year with buckwheat and alfalfa green manure. He will scatter the seed again in late May so the deep root systems of the fast-growing annual plants can help to build soil organic matter and soil structure and contribute to soil fertility. The plants also choke out weeds. Bees love the small white flowers that appear in summer.
Roses are a suitable choice for planting on steep slopes. There are many types of drought-tolerant roses that thrive in hot, sunny conditions. Normandeau planted several hardy roses last year and plans to install more this year. Along the top lip of the slope, he wants to create a privacy screen of tall Joe Pye (Eupatorium maculatum), a prairie wildflower with feathery pink blooms in August along with some upright cedars.
The deep, spreading roots of mature trees are a critical factor for riverbank stabilization. Normandeau's riverbank collapse resulted in the death of several large oak and elm trees. Indeed, his view of the river was previously obscured by a dense thicket of mature trees. Depending on the species, trees reach maturity at different rates. In a northern climate such as ours, it can take 30 to 40 years for a species such as oak to reach full maturity.
Now, when visitors enter Normandeau's backyard they are greeted by the lip of the steep slope just three metres away and an unobstructed view of the Red River. At first it feels intimidating. But follow the pathway along the house foundation which takes you to the portion of the garden that did not slide into the river and its beauty is evident even in winter. So, too, is Normandeau's creativity and love for unusual plants.
"I still have half a yard," he says gratefully. Specimen plants such as Winged Euonymus spindle tree, carefully trained so that Normandeau can walk beneath the winged branches, as well as a Japanese Maple tree which is a good-sized clump, Japanese Black Pine, Siberian Spruce with its slender pyramidal habit, and a 30-year old Ginkgo biloba tree are all good indications that Normandeau has few qualms about pushing zone hardiness. An apricot tree and two Black Walnut trees situated at the right distance to accommodate a hammock were planted 30 years ago and offer four-season interest with attractive bark. Polar Star rose bushes are planted along the foundation of Normandeau's house, their tall canes smothered in fragrant white flowers in late spring. Nearby, a large pond which tilted during the riverbank collapse has since been reduced in size.
Normandeau is not worried about the length of his gardening checklist nor how many years it may take to complete. "Gardening now becomes let's see what the landscape does rather than trying to control it."
colleenizacharias@gmail.com