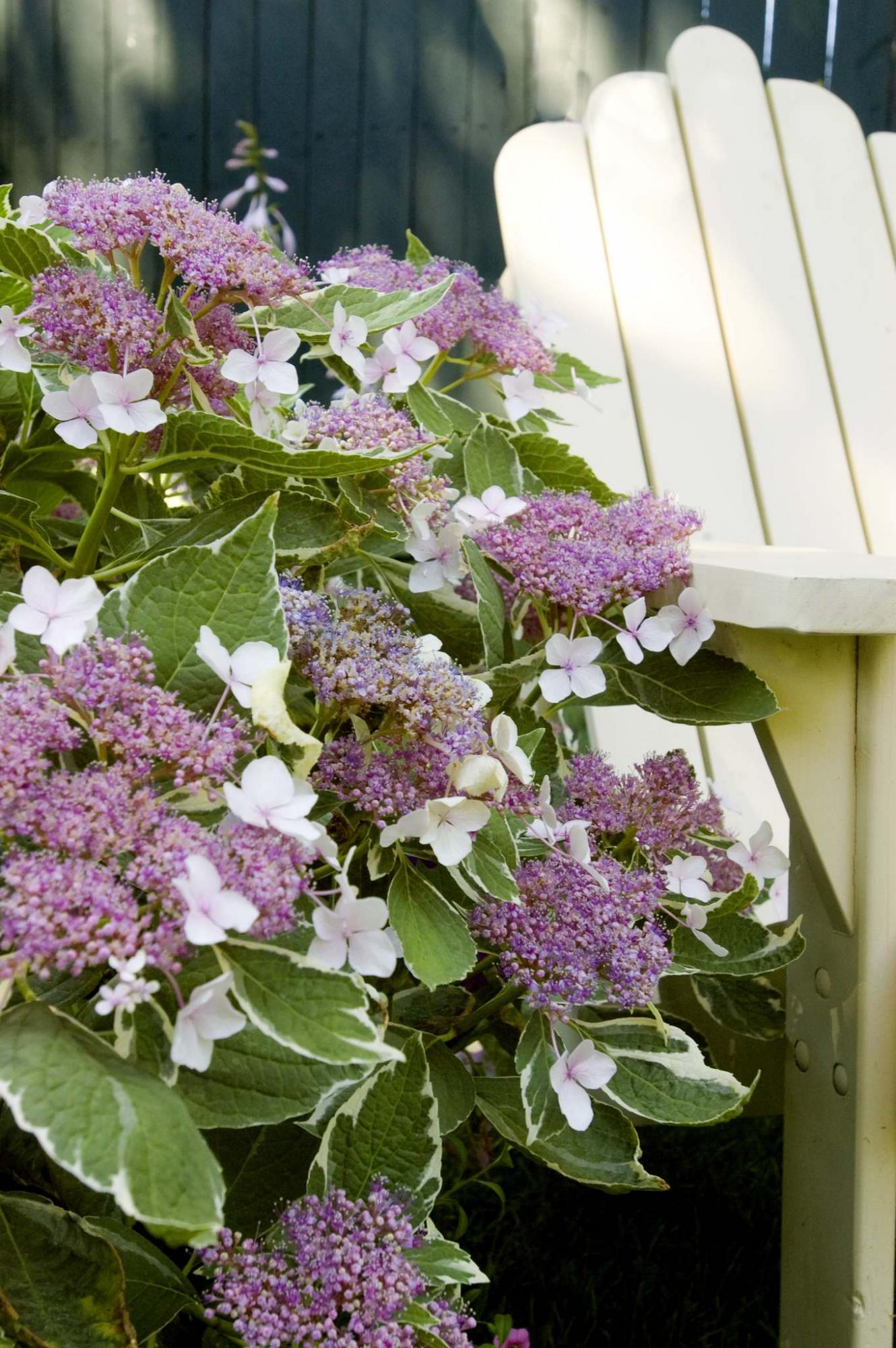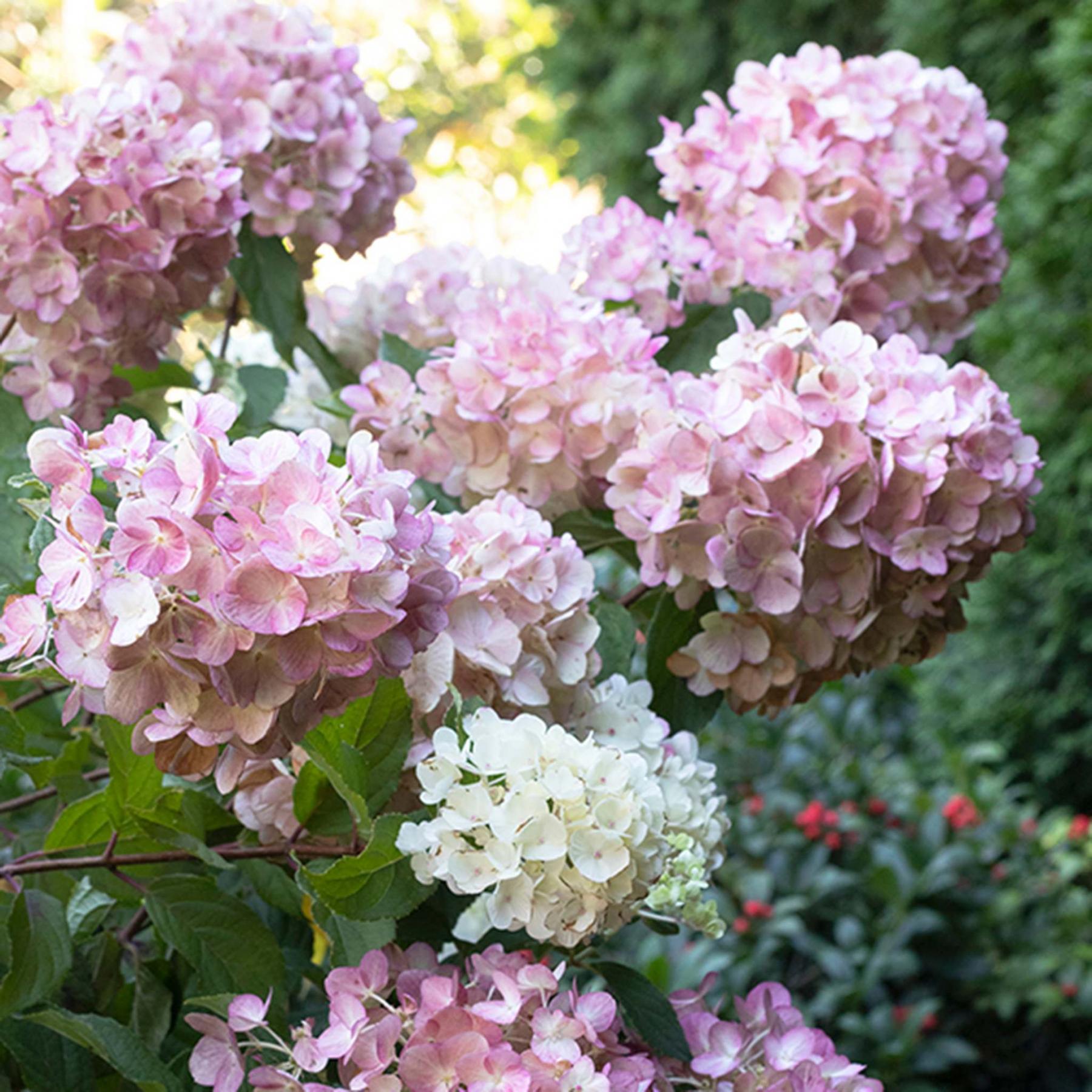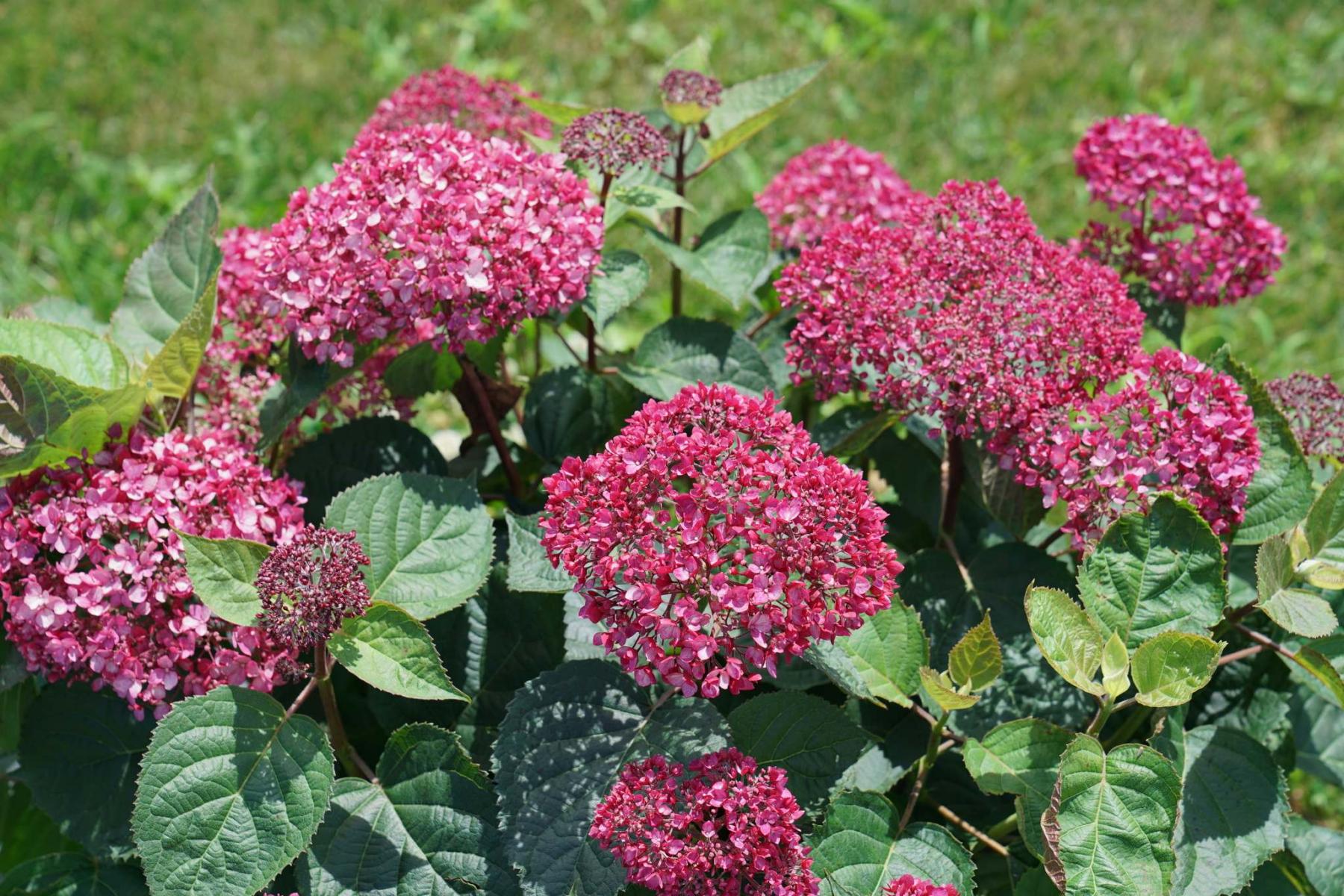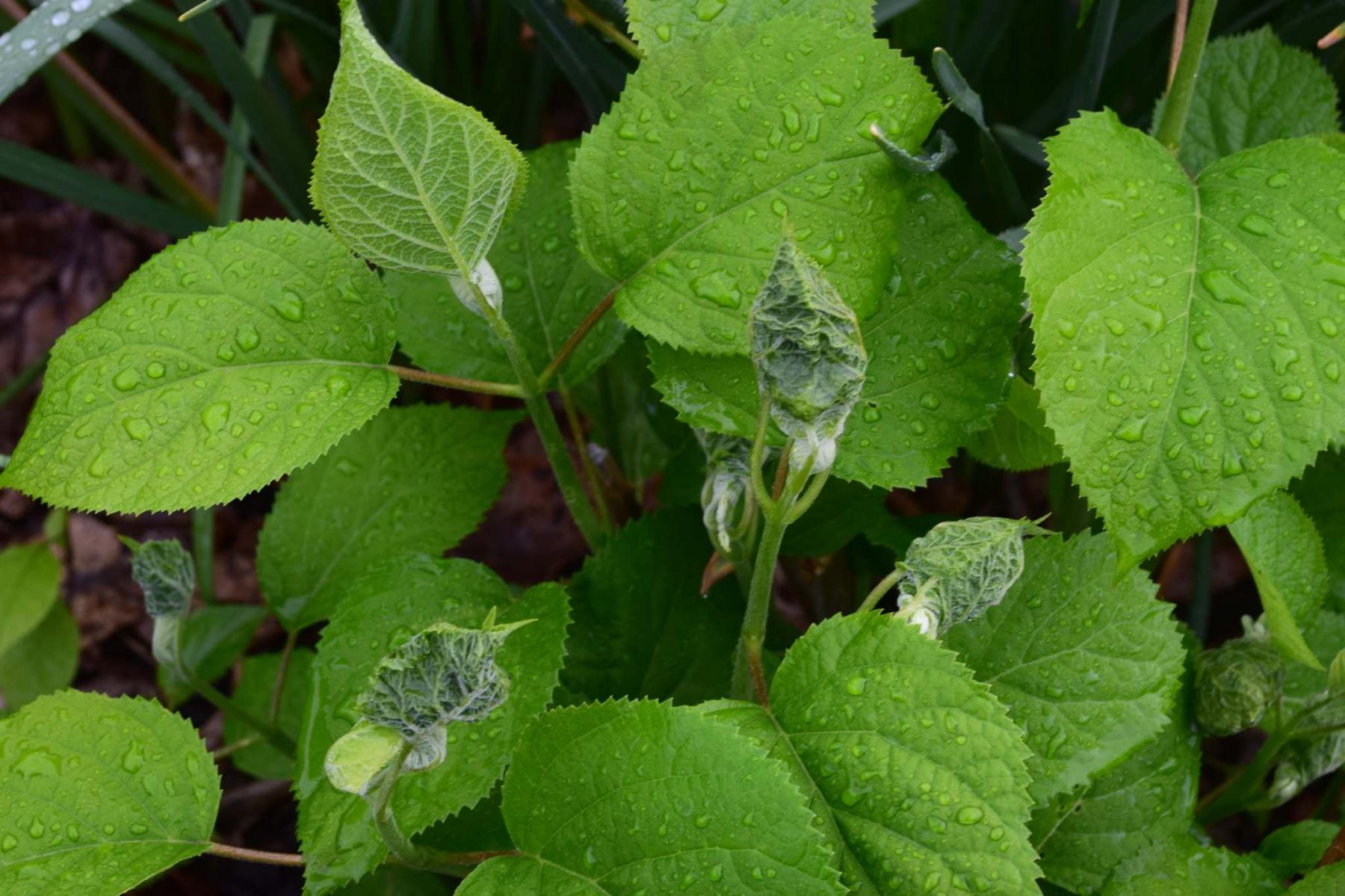 How do you select just one hydrangea cultivar when there is an annual smorgasbord of luscious, new varieties that instantly slay you with their spectacular beauty? In a perverse sort of way, this annual dilemma is made easier thanks to the insane popularity of hydrangeas. How so, you ask? Hesitate even briefly while you debate purchasing yet another hydrangea and others will swoop in and snap up every single hydrangea right under your nose. Poof, problem solved.
This year I have come across some fabulous new varieties of hydrangeas at local garden centres. And yes, in the case of one new hydrangea that I purchased (Seaside Serenade Bar Harbor), I returned to the same garden centre a few days later to purchase a second one but they were all gone. The Seaside Serenade hydrangea series is a new exclusive Monrovia introduction. There are 10 varieties in the Seaside Serenade collection. I spotted two varieties at Schriemer's Garden Centre: Bar Harbor, a new compact variety of Annabelle Hydrangea arborescens with white flower heads and zone 3 hardiness, and Hamptons, a reblooming macrophylla with pink flower heads and zone 4 hardiness. Hamptons leathery foliage transitions from dark green to fiery cinnamon-red in fall.
If you need a compelling reason why you should grow a Seaside Serenade hydrangea, the series has been specifically bred for its compact size, sturdier stems and thicker, waxier leaves that better resist heat, humidity, and wind.
Justin Hancock is the senior director of marketing for Monrovia, a leading North American wholesale grower of premium plants. "Our plant hunters work with breeders, and top of mind is criteria such as long season of interest, better garden performance and the ability to hold up to adverse conditions." The straight sturdy stems of Bar Harbor hold up even in heavy rain. Hancock says the blooms of Seaside Serenade hydrangeas are exceptionally long-lasting compared to other hydrangea varieties and are excellent when cut for flower arrangements. Seaside Serenade hydrangeas are best suited to a location with full morning sun and dappled afternoon shade.
Monrovia's collection of new and exclusive hydrangeas also includes Strawberry Shake and Candy Apple. Both are compact to medium-size panicle hydrangeas with sturdy stems that will not flop. New introductions typically have limited availability when they are first released but both these varieties could be found locally this spring. Strawberry Shake arrived at Shelmerdine Garden Centre this week. The blooms start out a creamy white, then transition to blush pink. The large, showy blooms are stunning in fresh or dried cut flower arrangements.
The lime green flower clusters of Candy Apple panicle Hydrangea bear a resemblance to the popular Limelight hydrangea but Candy Apple has a more compact form. Both Strawberry Shake and Candy Apple grow to a mature size of 1.2 to 1.5 metres and are hardy to zone 4.
Hydrangeas that are hardy to zone 4 will need extra winter protection in our zone 3b climate but it can be done. The Endless Summer collection of hydrangeas, for example, has been available at many local garden centres for many years. All five varieties — The Original, Twist-n-Shout, Blushing Bride, Bloomstruck, and the most recent introduction, Summer Crush — are hardy to zone 4. Plenty of snow cover is essential but you will also need to add a thick layer of mulch around the base of your shrub in late fall just prior to freeze-up. It is essential to provide your hydrangea with adequate moisture throughout the growing season, especially during hot weather.
Hydrangeas, whether hardy or tender, are well suited to growing in patio containers. Many local garden centres are carrying a greater variety of compact, specialty hydrangeas which are not hardy to our zone 3b climate. Some of the varieties I have come across this year include Hydrangea quercifolia Ruby Slippers, Hydrangea serrata Tuff Stuff Ah Ha, the Cityline Bigleaf Hydrangea series, and First Editions Hydrangea macrophylla Light-O-Day. All of these are hardy to zone 5 so most definitely are not candidates for overwintering under normal conditions but they are very suited to growing in containers where they will provide a spectacular display all summer long and well into the fall.
First Editions Light-O-Day is a strikingly unusual Hydrangea macrophylla. As if the elegant lacecap flower heads with an outer ring of pure white petals and soft pink inner blooms were not enough, the large light green foliage is edged in white.
If the temptation is to look ahead to 2021 and exciting new varieties on the horizon, Hydrangea arborescens Invincibelle Garnetta is an ultra-compact hydrangea from Proven Winners that boasts silvery pink, ruby-red mophead blooms on extra sturdy stems. Garnetta is hardy to zone 3.
Where have all the hydrangea tree forms gone? Gail Aubin of Aubin Nurseries, a wholesale nursery in Carman, says garden centres in Manitoba have had an avalanche of customers this spring. "No one has been able to keep plants in stock," she says. The limited supply of hydrangea tree forms sold quickly. When I last checked, St. Mary's Nursery on St. Mary's Road had Limelight and Quick Fire hydrangea tree forms in stock.
Plant hydrangea tree forms in a location in your garden where they will receive some protection from strong winds. Take care to protect the slender trunk from rodent damage during winter by applying a plastic tree wrap or tree guard. Only a light pruning is required in early spring to remove the dried flower heads.
It's essential to integrate a range of plants into your hydrangea shrub bed so that you have a mix of textures and colours as well as different shapes and sizes. Otherwise, the silhouette or outline of a mass planting of hydrangeas can end up looking like a massive blob of enormous, cream-coloured flower heads. A tapestry of plant varieties is always more interesting than a monoculture. Hydrangeas combine well with a diverse mixture of plants that play a supporting role and share a preference for organically rich and moist, well-drained soil. Consider astilbe, roses, peonies, dwarf conifers such as yew, shrubs such as Ivory Halo dogwood with light green leaves with creamy white margins, daylilies, iris, etc. Really, so versatile is the hydrangea that you can make any number of different plant combinations work.
If your vision is to plant a hydrangea hedgerow using a single cultivar, create a layered effect by pairing your mass planting of hydrangeas with a border of low-growing shrubs or perennials which have an overall form or shape of bloom that echoes your choice of hydrangea cultivar but also offers diversity.
If there is a potential fly in the ointment in our love affair with hydrangeas, it could be the Hydrangea leaftier moth (Olethreutes ferriferana) which has been found on Hydrangea arborescens Annabelle hydrangeas in southern Ontario. Caterpillars tie two or more hydrangea leaves together with silk and then feed on the newly forming flower bud. The best prevention is to simply squish the caterpillars inside the leaf pouch. But don't despair as Hydrangea leaftier is not a prevalent pest in Ontario and I am not aware of any reported sightings in Manitoba.
colleenizacharias@gmail.com