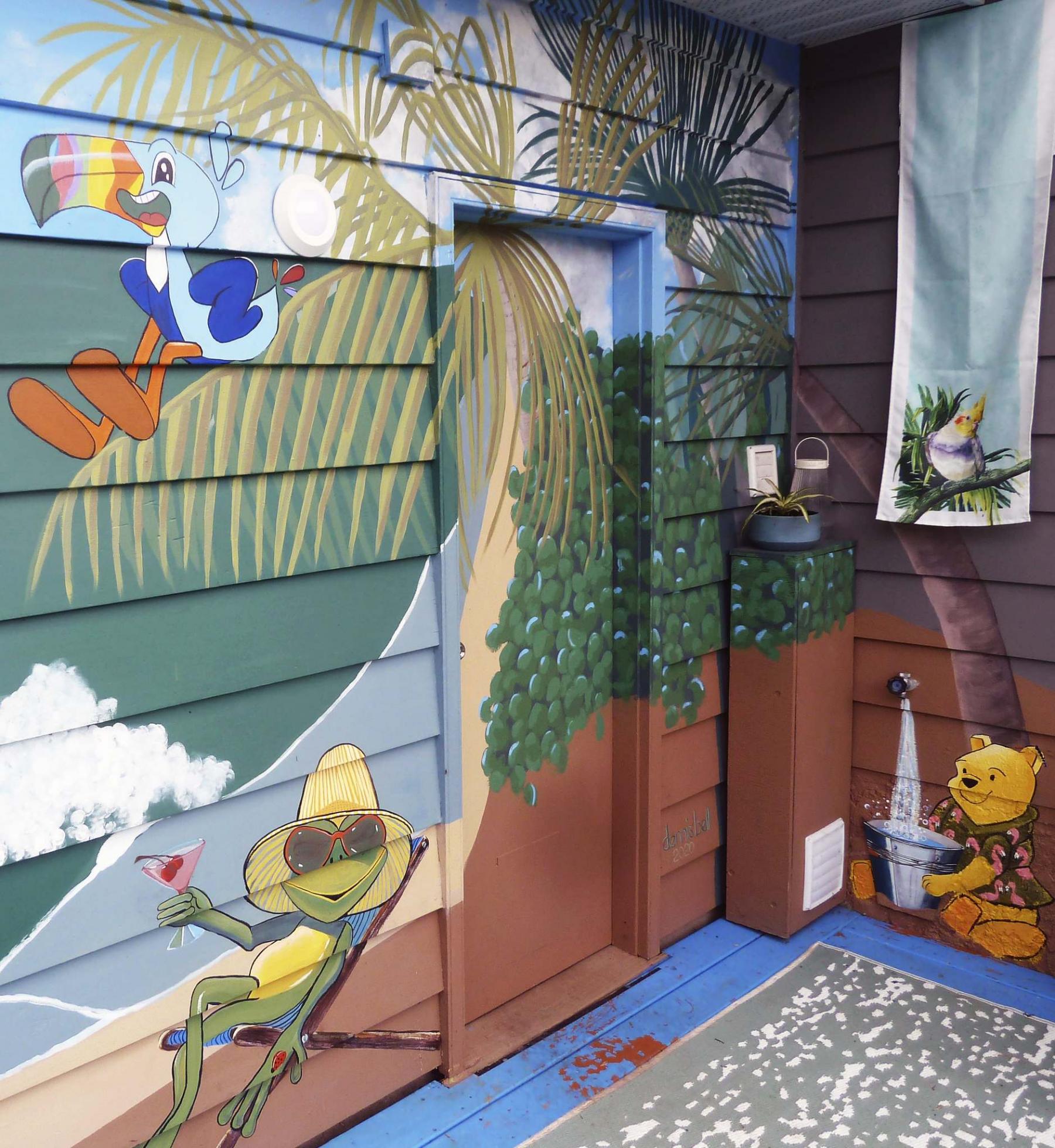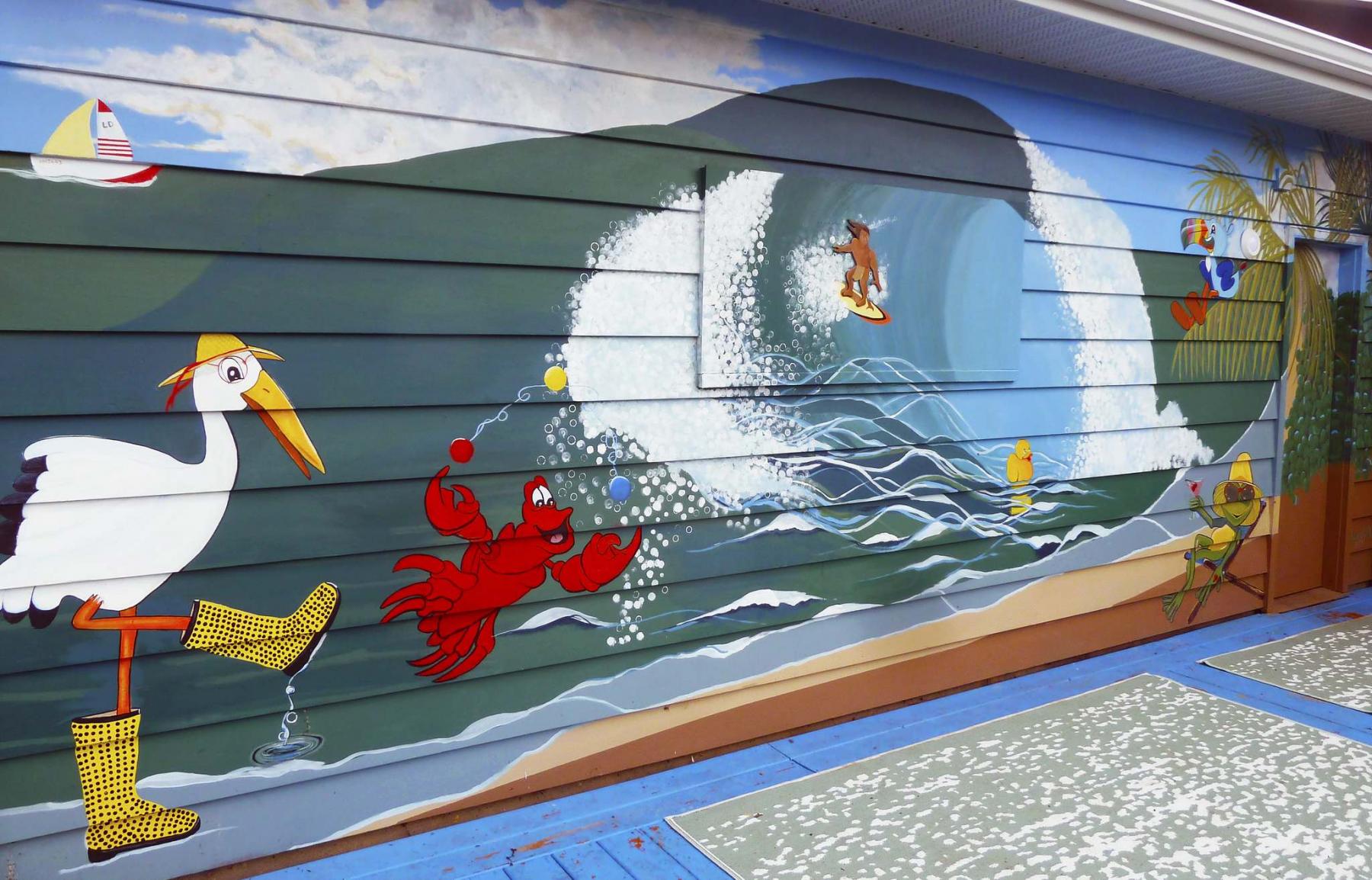 When Lisa Bertrand, owner and operator of Little Luxuries House and Carpet Cleaning, popped in to visit client Dennis Bell a few weeks ago, little did she know it would lead to Bell painting a big beautiful mural on her and hubby Dan's garage wall — but life is like that sometimes.
Especially during a pandemic.
Lisa and Dennis got talking about COVID, and kids and grandkids, and Dennis's career as an artist/painter of fabulous murals, then somehow meandered into the huge drop in kids entertainment options due to COVID captivity.
In fact, that's why Dan and Lisa had already been "theme parking" their big backyard some, making it a little more kid friendly during those socially distanced family visits.
So it was only logical that the addition of a big cheery cartoony mural would only make their place even more fun. More cheerful for them too, as the mural borders on their patio, which Dan now is going to paint a nice sandy beachy colour to enhance their tropical theme.
Great idea guys.
Oh, Lisa, did Dan tell you that he's now thinking a hot rod mural on the garage door out front might just be spectacular? (hope he doesn't mind me mentioning that)...
The hot rod mural will be... would be... fabulous too of course, because, probably as many of you reading this know, Dennis Bell has been a highly respected artist hereabouts for decades now, murals being just one of the skills he excels at.
Dennis tells me he appreciates this mural opportunity coming along, as COVID has hurt a lot more than kids entertainment opportunities. As we are all well aware, it has had a huge and often devastating impact on business, both corporate and private, definitely inclusive of the arts community overall.
As with so many artists, the current situation makes it much more challenging to get your work in front of people via exhibits, art shows, retail in general; performers' shows sadly just cancelled pretty much everywhere.
But fortunately for Dennis and others in his line of work, social distancing still allows those who paint murals, houses, whatever, to get out there and get the job done.
I have a friend who paints homes/houses, inside and out, who's getting lots of work from isolation inspired ideas. I mean we're actually sitting in our homes long enough to notice what could use upgrading, which may include a new paint job — or a nice mural on your rec room wall, or a hot rod on your garage door!
Interior murals can be very positive for one's attitude, so many unique possibilities. One of Dennis's favourite inside jobs (with considerable help from his wife Diane) is a small room in the Children's Hospital (Health Sciences Centre) where kids go for recovery immediately following surgery. They wake up to beautiful tropical fish swimming around them. A nice distraction for both kids and parents.
He adds that one of his most memorable exterior murals was commissioned by a woman who hired him to paint a poppy from ground level to the roofline on her two storey St. Vital house.
Dennis, again with Diane's assistance also painted two of the Bears on Broadway — and for interest's sake, it was Dennis and friend and fellow artist Wayne Arthur who created the rather large mallard duck statue at Netley Creek.
Should you have any possible mural ideas you'd like to discuss with Dennis he can be reached at belld1@mymts.net.
Many thanks to Lisa and Dan for sharing their mural adventure with us today, maybe inspiring us to consider morale boosting ideas, whatever they may be, for our own homes.
Comments and feedback always welcome!
lmustard1948@gmail.com