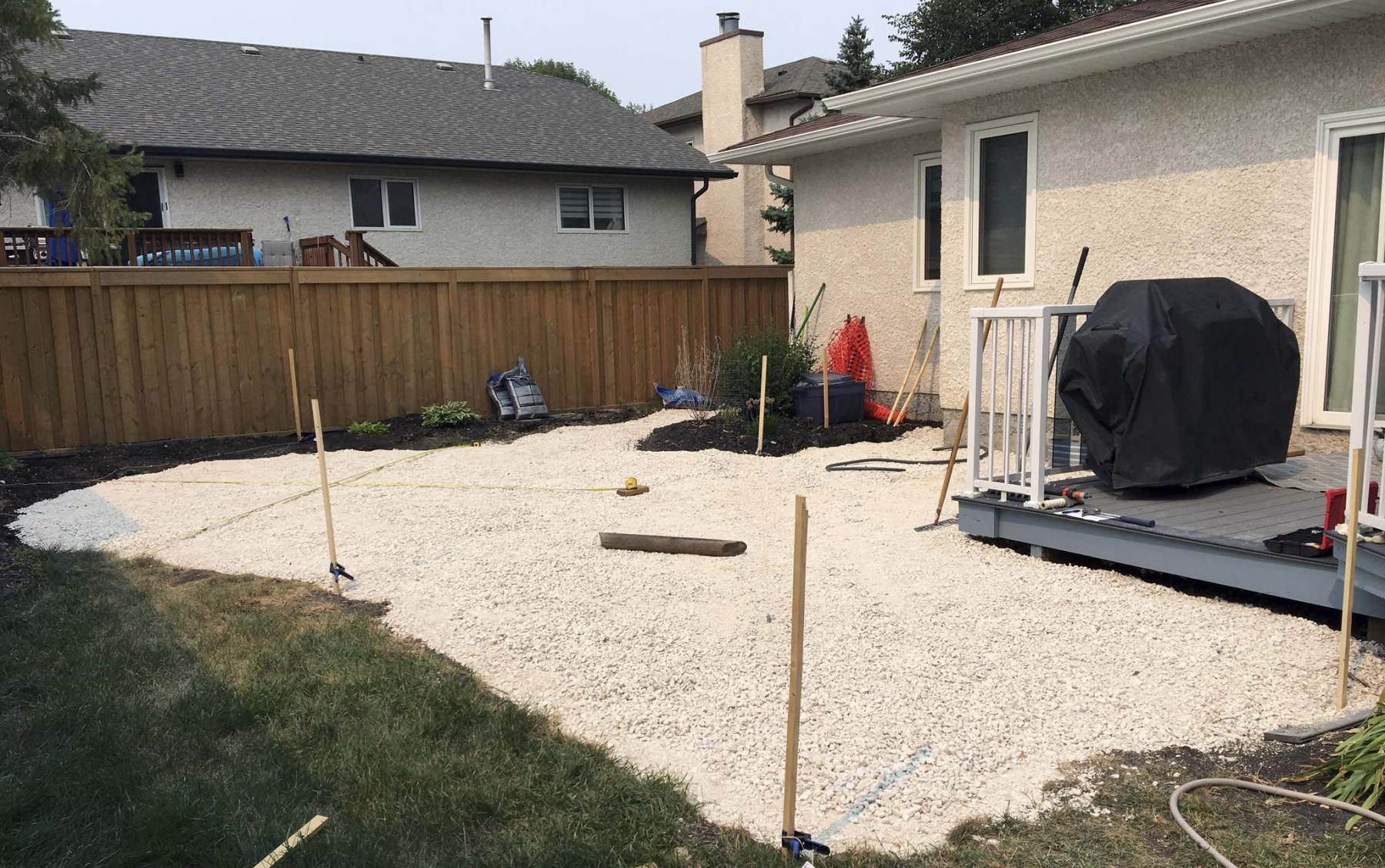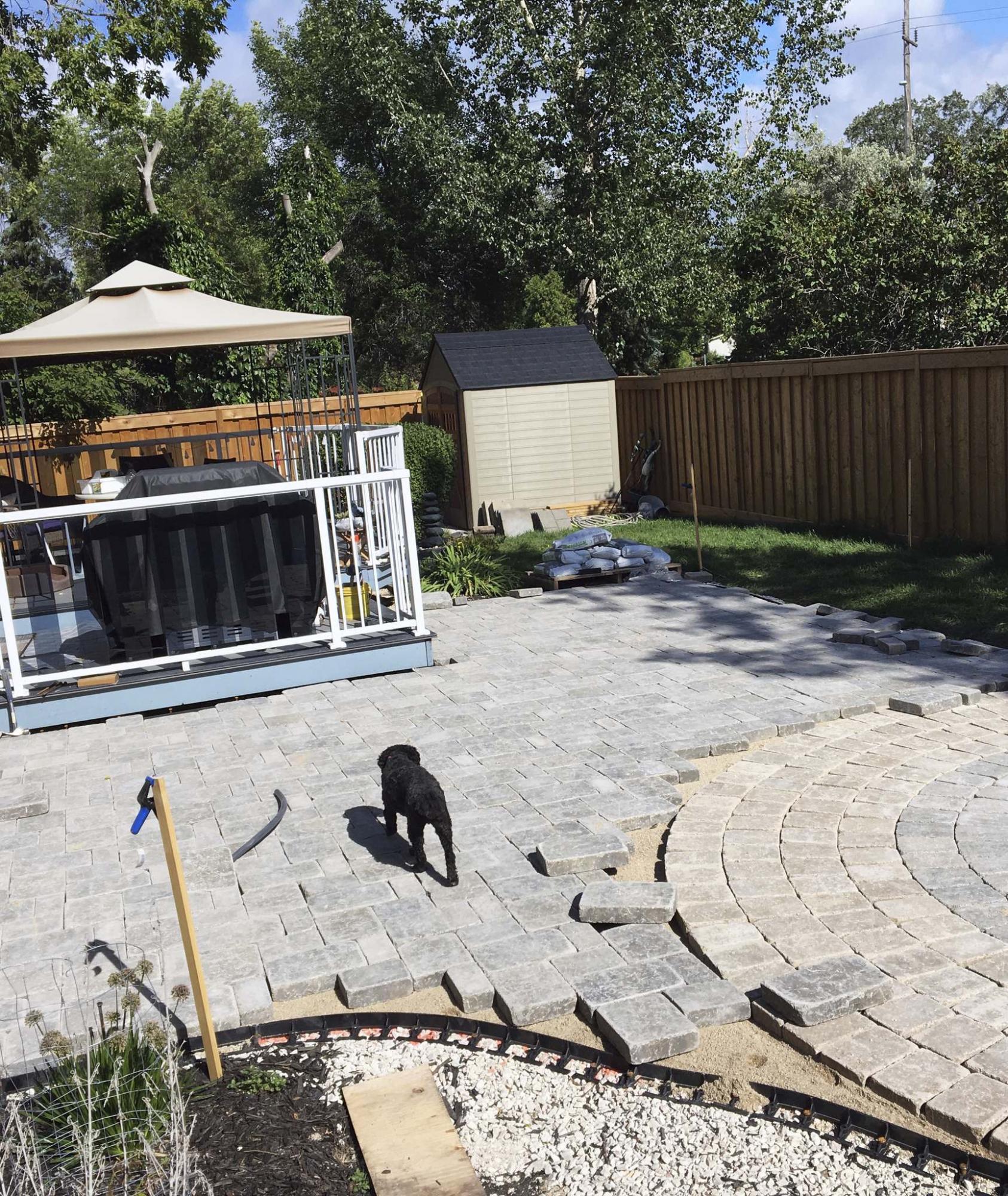 Congratulations to Bayne and Mary Robertson who are currently in labour, and soon to deliver their brand spanking new stone patio. And what a beauty it is!
Bayne tells me this all started innocently enough. They needed a 12 x 12 foot pad to put their new hot tub on, 144 square feet, easy peasy, let's git 'er done.
So planning begins, conversation happens, and suddenly it becomes a 650-square-foot patio. That's just what happens when project-type people start planning. If it can be bigger and better, it will be.
And yes, they're doing it all themselves.
Detail guy that he is, Bayne has been keeping a bit of a blog documenting the progress of the build, and for those thinking maybe it's time for a new patio in their yard, his notes just might provide some excellent guidance, not to mention entertainment.
Let's check his first instalment from about three weeks ago:
(Language warning): "First night before the dig. Glad I built this side fence to pop out. Clear path to backyard site. Got a big-ass dump trailer. Dig zone mapped (spray paint on grass), dig starts tomorrow morning."
The dig was made much easier and faster by Bayne renting a walk behind skid-steer he used to fill the trailer.
Day 1 wrapped with about half the dig complete, then finished up on Day 2, his summary of which goes as follows:
"Despite 32 C and a track derailment (skid steer), Phase 1 is done. Twenty thousand pounds of backyard taken to the dump. Rental equipment returned."
Bit of irony here re: the dump trips. Bayne tells me twice on one day he was charged $100 per load to dump dirt…at a landfill site. Wow.
Moving along, the soil removed is now (on Day 3) replaced with 11 yards of three-quarter-down limestone, packed to control settling down the line. Once that's finished, it's topped with an inch of sand, smoothed, but not packed, and a slight slope away from the house through all layers. Now ready for the Roman stone to arrive.
At this point in the blog, Bayne's buddy Greg Boettcher pops in with a bit of advice: "I notice you have the patio going right up to the house foundation and you mentioned slope. You might be aware that no matter the age of your home, due to our weather, the ground next to the foundation will always be settling, requiring periodic maintenance to re-adjust them. You might consider a 20cm or so raised and trimmed gap that just has gravel right along the wall. That way you just top it up periodically."
Duly noted.
And it was also about this time that another buddy, Terry Taylor, tells Bayne that if he wants to save considerable money on electrical supplies, he should do his shopping at Dell's Electric on Wall Street. Which turned out to be great advice.
But I digress. There's just way too much daily blog dialogue to present it all here, so let's just cut to the chase and focus in on Days 12 through 14.
Day 12: "Weather cooperated and Mary and I put in an eight hour day to finish the circle. The wagon and wheelbarrow got a good workout travelling back and forth to the front yard for materials. A couple of rogue rows requiring cut rock."
Day 13 & 14: "A good 12 hours over the weekend plugging stones into place. Mary and I are pretty pooped out as the stones weigh seven to 20 pounds each. Each wagon load weighed 432 pounds and we did easily 20 trips. Why get a gym membership?"
Bottom line, it's all coming along famously, although Bayne ends the blog entry with "I'm surprised I didn't need an ambulance today."
No pain no gain young man. Carry on kids, you're doing a spectacular job!
Comments and column ideas welcome!
lmustard1948@gmail.com