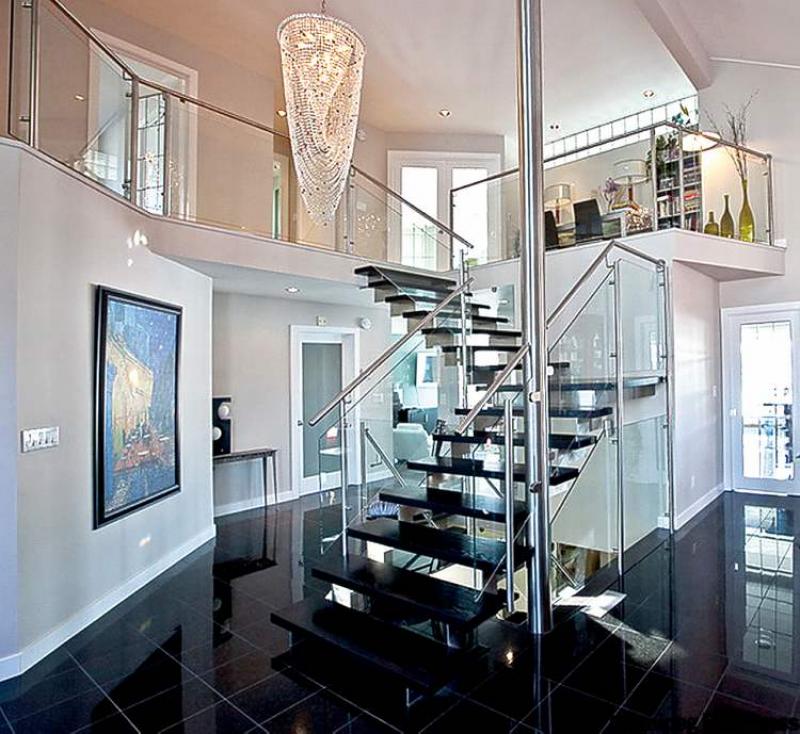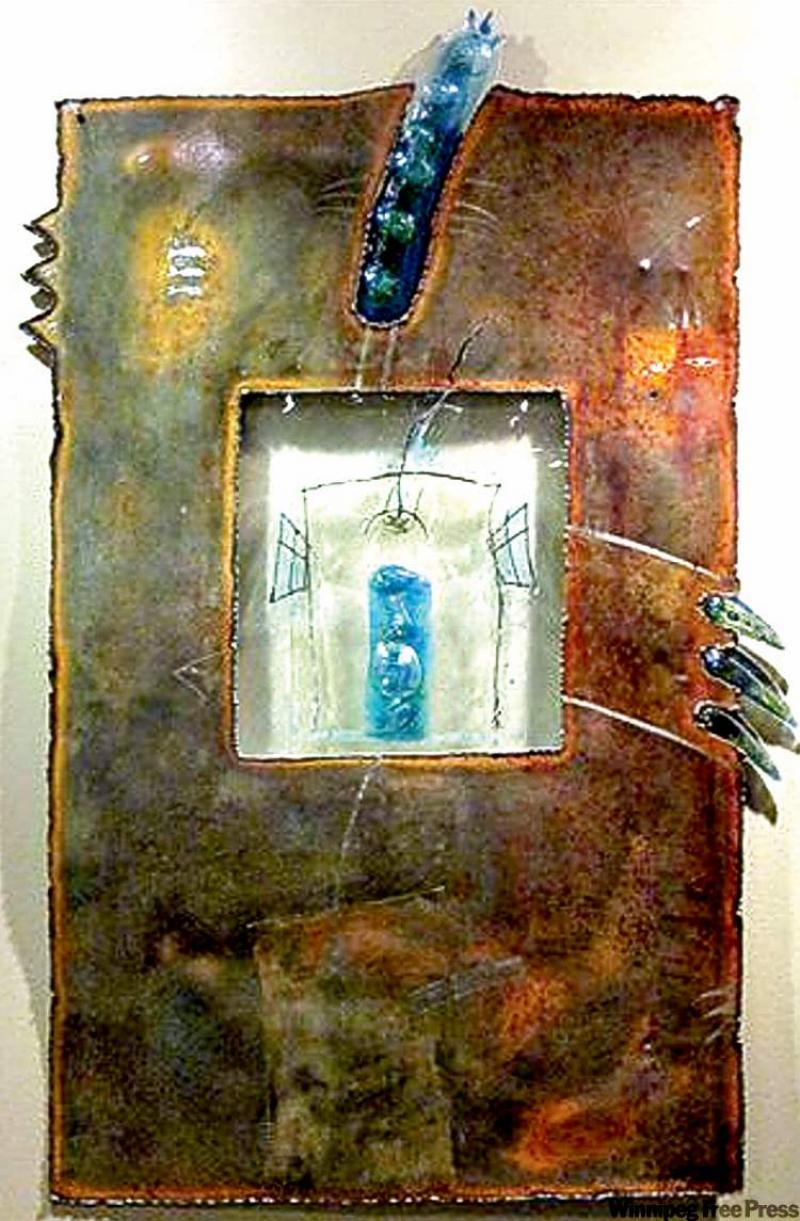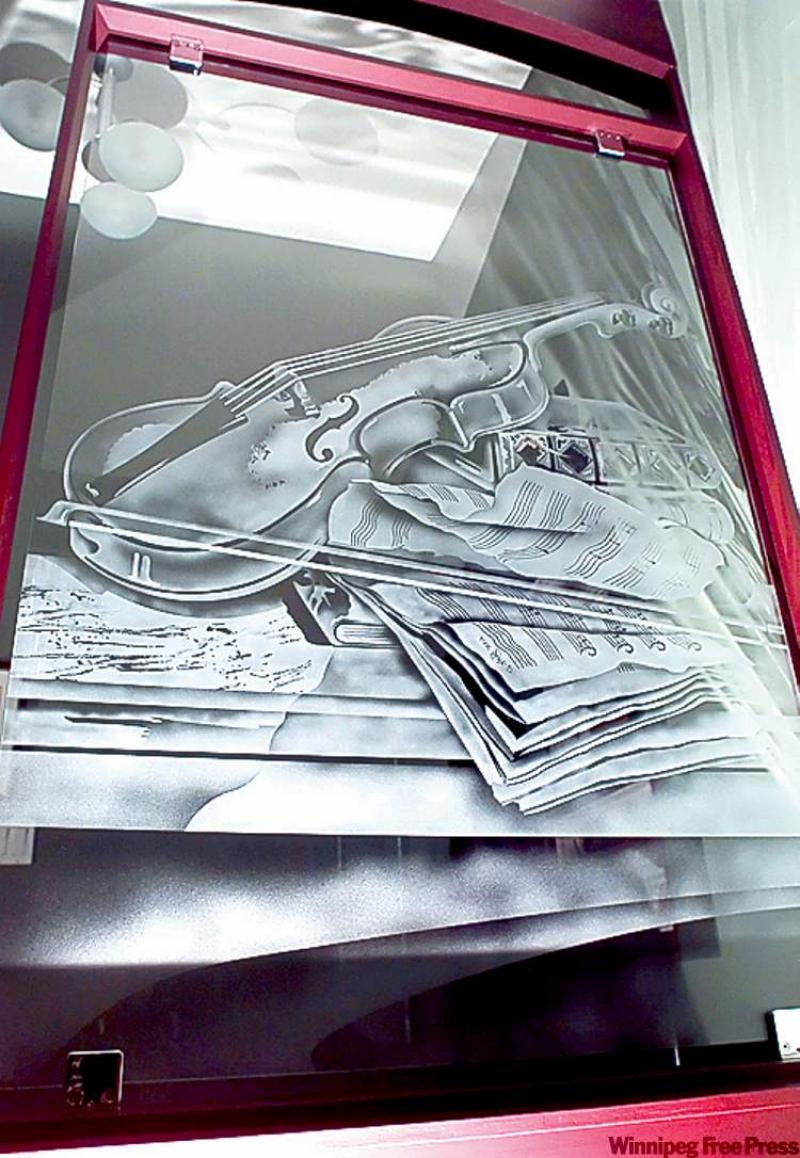 Using decorative glass elements in the home is not new but its scope of design possibilities is often overlooked and underestimated. Today we'll look at the wide range of options for using art glass in the decor.
Glass is comprised of three simple ingredients; sand, soda ash and lime. When melted together at high temperatures, these components become a soft mass, which when cooled becomes glass. Because of its pliability, glass can be made into just about any shape, size and form, which makes it a wonderful medium for artists and designers alike.
Take this photograph of a recent new home built in on Vanderbilt Drive in Winnipeg, for example. The homeowners opted for a custom glass staircase, which is unusual but stunning. Dark wooden stair treads provide a touch of warmth. The transparency of the staircase helps maintain an open concept look.
Local Winnipeg company SSG Notions (Stainless Steel and Glass Notions) created and installed this masterwork and many others over the years, both commercially and residentially. Executive sales director, and an artist in his own right, Aleem Khan oversaw this extensive undertaking.
"This project was made possible because a visionary client allowed us to really push our ability to the limit," says Aleem. "SSG Notion is not simply an installer of stainless steel and glass products. We are doing custom designs and basically inventing each design based on the needs of our client. You won't find a staircase exactly like this one anywhere else in the world. With the exception of the attachment hardware, we created every aspect of this staircase from scratch; and even the attachment hardware (imported from Europe) had to be modified."
On working in this creative field, Aleem says, "I'm very proud of the products we're creating and installing. It's high-tech... Winnipeg style."
You can see more unique installations at www.SSGnotion.com
Aleem's personal website (www.khancept.ca) showcases his talents.
Artwork such as stained glass has been around for ions and is still a popular discipline, but sometimes there are artisans who push traditional boundaries and create something completely new and coveted.
I first happened upon a few stunning pieces at a local jewelry store, Vandenbergs Fine Jewellery, and was blown away by the truly unique medium. Local artists Jolanta and Zbig Sokalski create stunning artwork in their studio, Clear Energy Glass. The pair has set out to create artwork that highlights the invisible energy that is embodied in clear material. Their technique fuses glass with metal or stone to create visually compelling symbiotic works of art. The pair spent 10 years studying art in Poland and is now creating commission pieces for local businesses as well as items for sale to the public on an international scale (www.clearenergyglass.com).
Kudos, by the way, to local businesses that support local artists. We could all do more of that.
Another local specialty glass company offers yet another realm of custom glasswork for homeowners and businesses alike. Chris Kaleta of MPD Glass and Vinyl Graphics drew and sandblasted the violin design pictured here. This company has been in Winnipeg since 1990 and provides custom glass design etchings and graphics for residential and commercial properties.
These are just three examples of how versatile decorative glass accents for the home can be. The great thing about this art medium, if you will, is it can be totally customized to your specific needs. Imagine having a family crest etched into the front door panel or a custom stained glass panel instead of plain, clear glass cabinet inserts. The possibilities are endless.
Other items made with glass that can enhance the decor are things like custom-designed mirrors, shelving, furniture, crystal (in lighting), lampshades, sheet-style water features, collectible glass (bottles, decanters, etc.) tiles, bathroom sinks, glass panels for cabinets, custom glass mosaics (in a shower or backsplash), glass panelled room dividers, art glass, glass finials, sun catchers and so on.
Customized glass gives homeowners other options, as well. If you prefer tons of natural light, you can forsake window treatments and have your windows sandblasted in a frosted finish to provide needed privacy, for instance. This is a helpful option for entry doors with large windows, as well. Even a plain bathroom mirror can be enhanced in this manner with a decorative frosted border.
It's crystal clear glass offers a wide range of decor options for the home. Check out the above mentioned websites for great ideas for your home.
connieoliver@shaw.ca