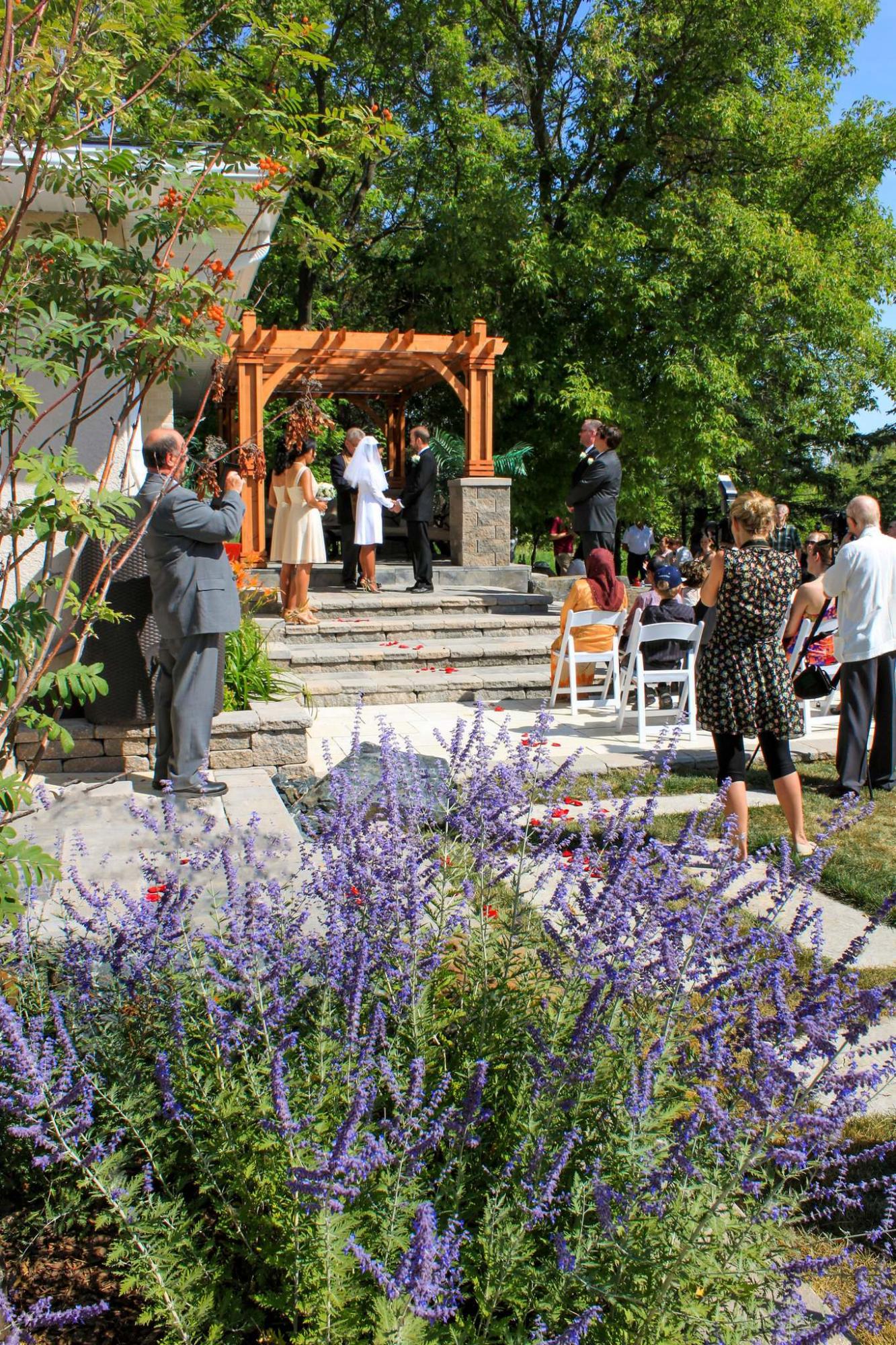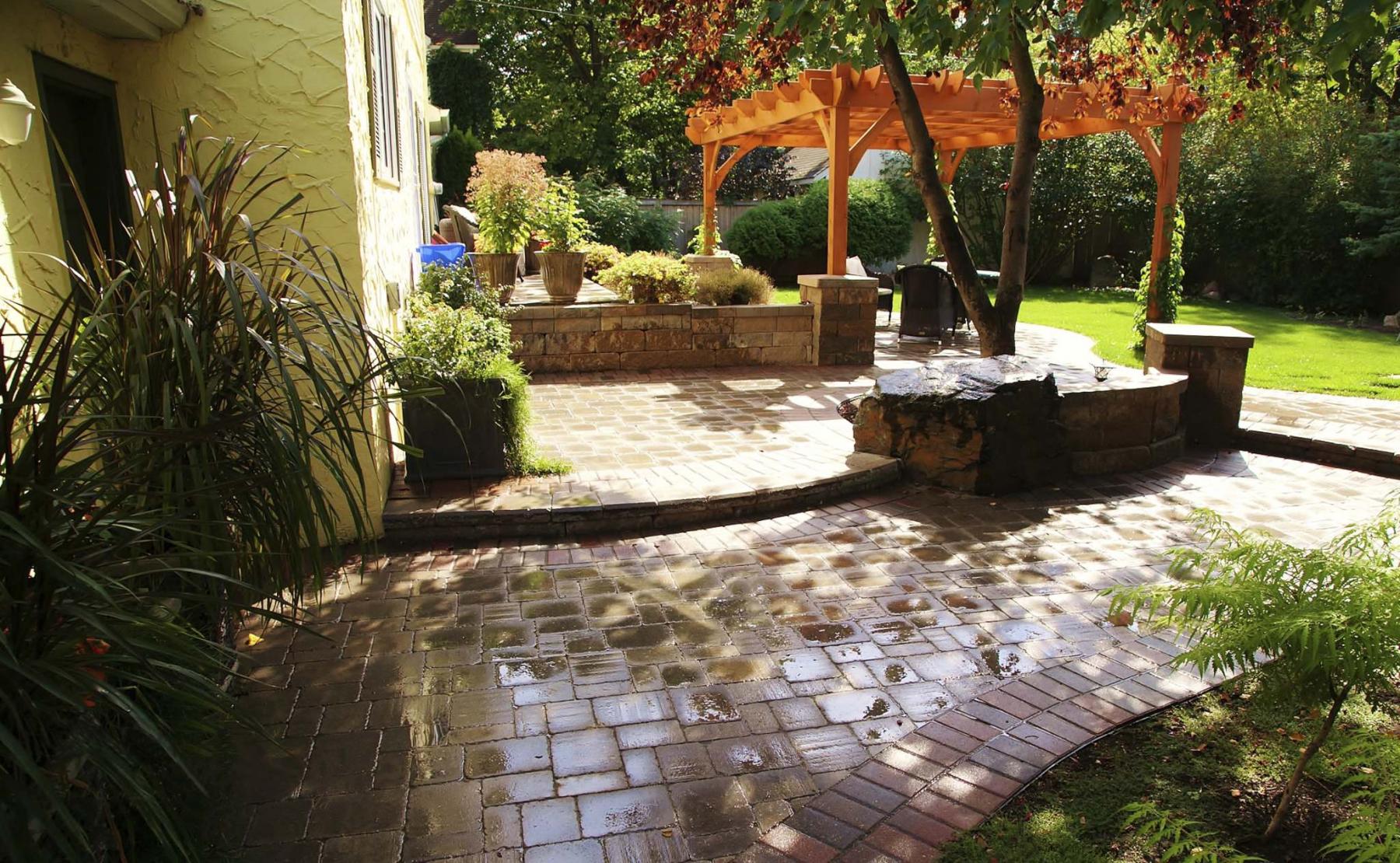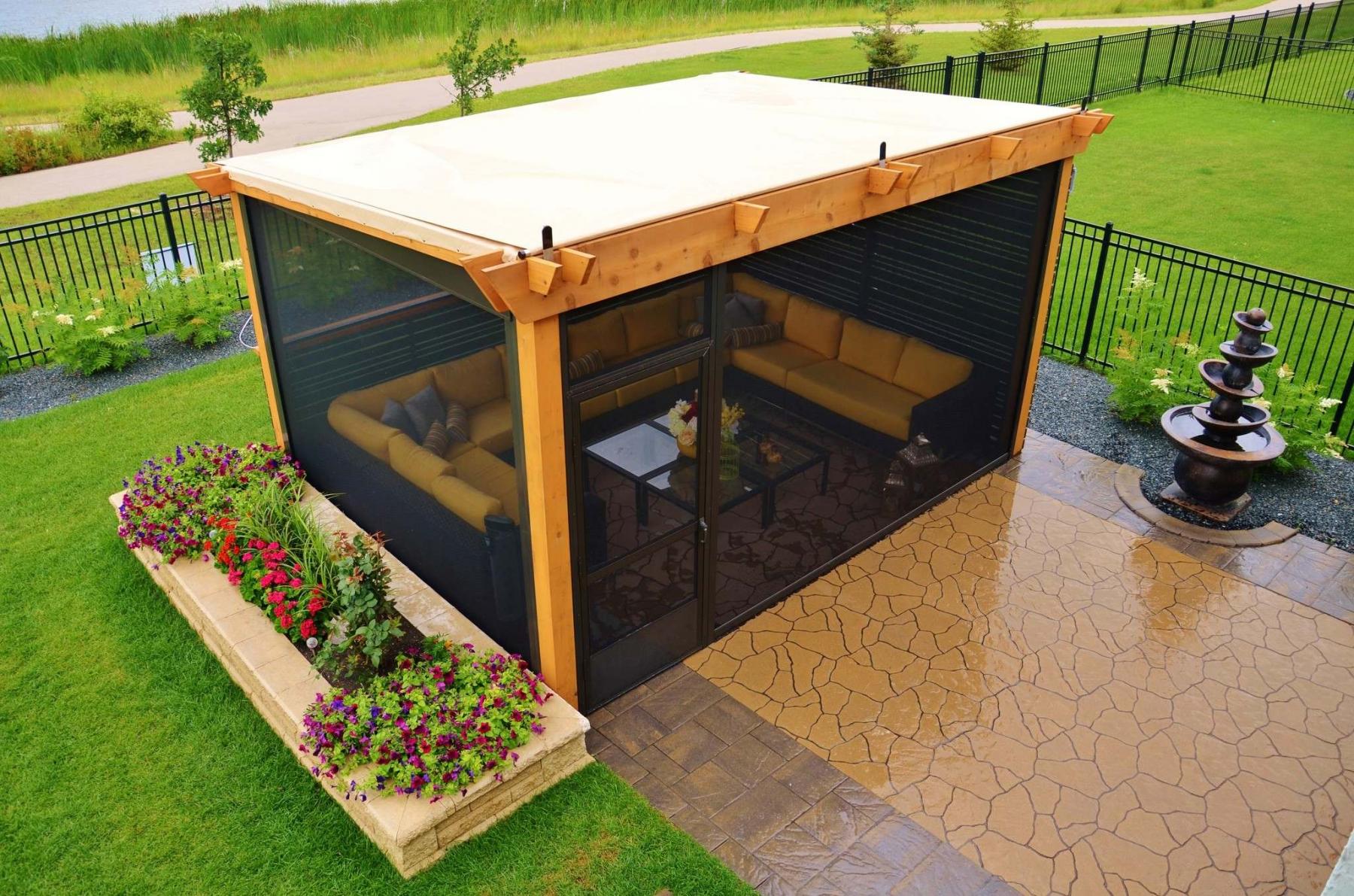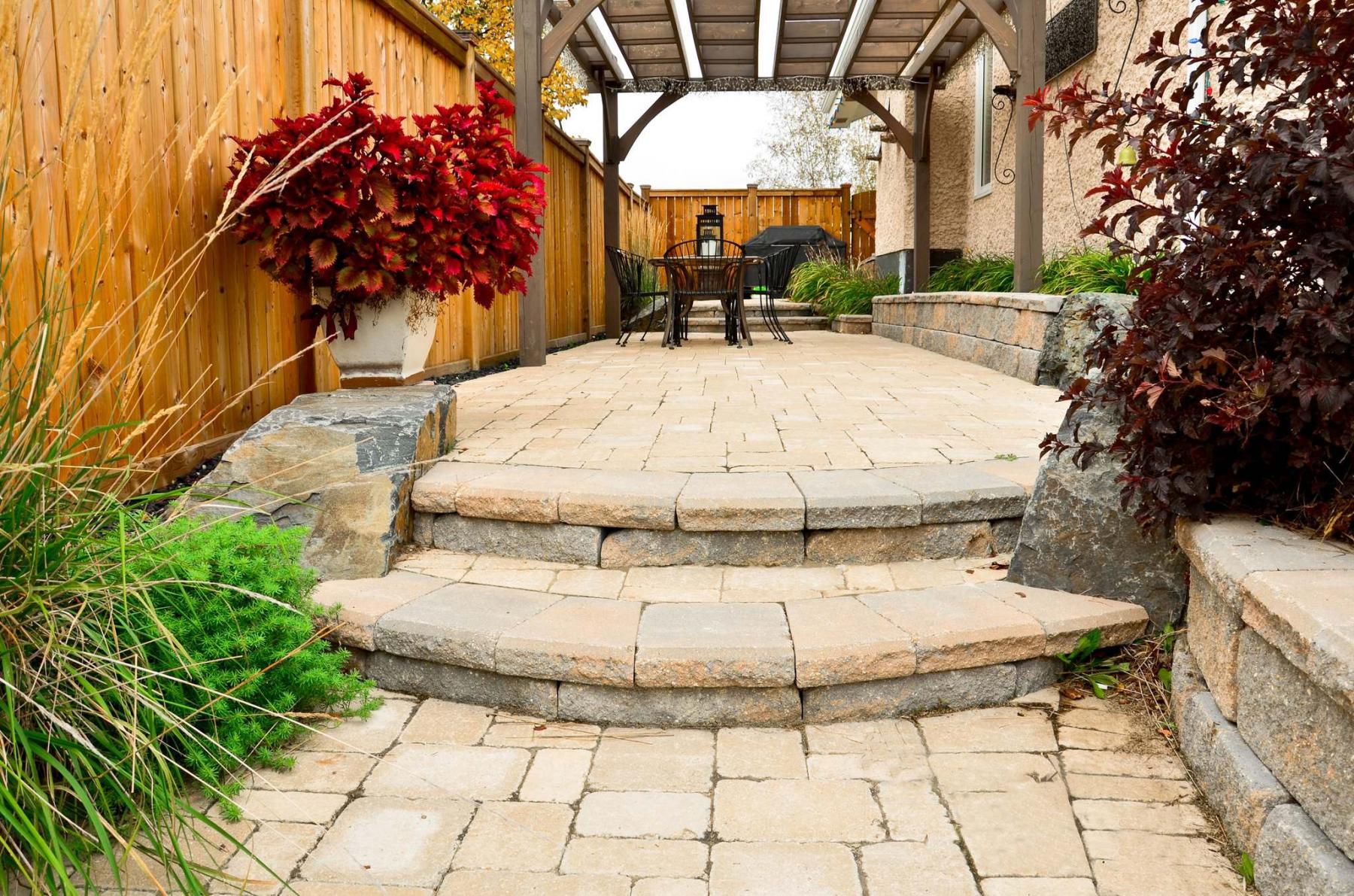 Chocolates are nice on Valentine's Day and a bouquet of fresh cut flowers is always appreciated. But at a time when seemingly endless social distancing restrictions amidst freezing temperatures may be throwing a wet blanket on romance and causing couples to feel more housebound than ever, why not celebrate your love this pandemic Valentine's Day with the tantalizing prospect of your very own pergola.
The term pergola comes from the Latin word pergula, which means "projecting eave". A popular design element in gardens throughout the centuries, the function of a pergola has stayed consistent: to provide inviting shelter. A pergola is an ideal way to transform your outdoor space into a cozy retreat — or private escape — where you and your Valentine can while away warm summer afternoons and spend romantic evenings together under the stars.
Byron Rocke, owner of B. Rocke Landscaping in Winnipeg, is in the business of bringing landscape dreams to life and designs and builds pergolas for many of his clients. Pergolas can function as a transitional space to other outdoor rooms in the landscape but also serve as an intimate dining space, says Rocke. Sun and wind patterns change throughout the day and can impact the amount of time we spend outdoors. A shading structure such as a pergola extends our use of the landscape.
Desperately seeking an escape from rambunctious co-inhabitants for even an hour or two? Privacy beckons with a pergola design that includes screening and a retractable roof. And keeps the bugs out.
There are three shared goals, says Rocke, that homeowners look for when they are considering a backyard project: privacy, comfortability, and beauty. A client's wish list for their backyard oasis may not always meet their budget, says Rocke, so it is important to have a long-term vision at the outset of any design project. "By planning ahead, your project can be designed so that additional features can be easily incorporated at a later date."
Cedar is a commonly used wood for constructing pergolas and is Rocke's wood of choice. When it is allowed to weather naturally without the wood being stained or sealed, cedar develops its iconic shade of gray colour. Cedar is also rot-resistant as well as more pollinator-friendly than pressure treated wood which may contain toxic chemicals. It is, however, a relatively soft wood (you can dent it with a thumbnail).
Custom detailing on posts or cross beams adds another layer of interest to your pergola design, says Rocke. "For example, knee braces (the angle braces in the upper corners of the pergola) are structural but can be curved or detailed in such a way that they enhance the entrance as well as the interior of your pergola." Decorative detailing such as an extra tier added to the rafters also adds style and architectural interest. Your completed project should look good from every angle, says Rocke.
Posts can be designed to include concealed, recessed LED strip lighting, says Rocke. "It's an easy way to incorporate ambient outdoor lighting but it's hidden." Hanging outdoor café-style string lights also creates an inviting atmosphere.
In many of his pergola designs, Rocke incorporates stone pillars on at least two of the posts, an important structural consideration in our winter climate with its freeze-thaw cycles. A fair bit of movement can result due to clay soil freezing and thawing that causes built structures to shift.
Adding a pergola to a side yard — often one of the most underutilized areas in a landscape — expands the opportunities to enjoy your outdoor living space. For one client, Rocke transformed the side entrance to a house by creating a pergola with a dining area situated between the house and the fence along the property line. Old concrete steps adjacent to the door landing were removed and new stone steps were incorporated. A low stone retaining wall was added for extra seating.
"Whenever we are designing in a tight space," says Rocke, "every square inch counts for functionality, design flow, and smooth transition to other parts of the landscape." Rocke makes suggestions in the design phase for the addition of decor or a focal point such as containers because new opportunities are always created whenever a space is newly designed.
Suppose you would like to add a pergola to an existing deck but are concerned that construction might disturb a nearby mature tree? "We're very cautious when we are working around trees," says Rocke. Mature trees add so much value to the landscape and deserve to be accommodated. In one landscape where a pergola was added to an existing deck along with a low stone wall, Rocke made certain to provide enough room for a mature tree and added a large granite boulder for a natural element. There are creative opportunities, too, he says, to repurpose existing hardscaping materials when a project includes both a pergola and a patio.
There are many different types of climbing plants for pergolas. Virginia creeper is a deciduous perennial vine with brilliant fall colour. Humulus lupulus or the common hop is a herbaceous vine that produces rampant growth. A marvel to watch each spring as the thick vines scramble up posts and cover rafters (an amazing 50 cm a day until it reaches its mature size), the large, heart-shaped leaves also create dense shade. Arctic Beauty Kiwi is a lesser-known climber that is excellent for screening. Hardy to our climate, Arctic Beauty has attractive dark green foliage with stunning white-pink variegated foliage. A grape vine would work, too, says Rocke, so long as you don't mind frequent visits by hungry birds. Cobaea scandens Cup and Saucer vine is an annual vine that grows rapidly and produces stunning flowers.
Homeowners want to be able to sit outside but have the comforts of the indoors, says Rocke. Manitoba's weather, though, is notoriously volatile and variable. Rocke is designing pergolas with roofs that open and close like a shutter system for a growing number of his clients. "Anything with a roof shelter is nice," says Rocke. "If there is a rain shower in the afternoon, a retractable roof protects your outdoor cushions and furnishings so you can use them again in the evening." The retractable roof stays in place for the winter and can carry heavy snow loads.
A pergola can be designed to also have a privacy screen on one or two or all four sides. "The screens retract up and down and then it's basically an open sided pergola again," says Rocke. There are also screens that slide horizontally.
A pergola can be a gathering place, focal point, backdrop for an outdoor wedding or your own personal space – quiet, private, and surrounded by nature. "It is the immediate impact it has on you when you step outside and the comfortability that it offers that is most important," says Rocke.
Warm up your winter days by planning your new pergola. Look forward to intimate outdoor dining and the chance to spend afternoons and evenings together beneath a ceiling of sky.
Isn't it romantic?
colleenizacharias@gmail.com