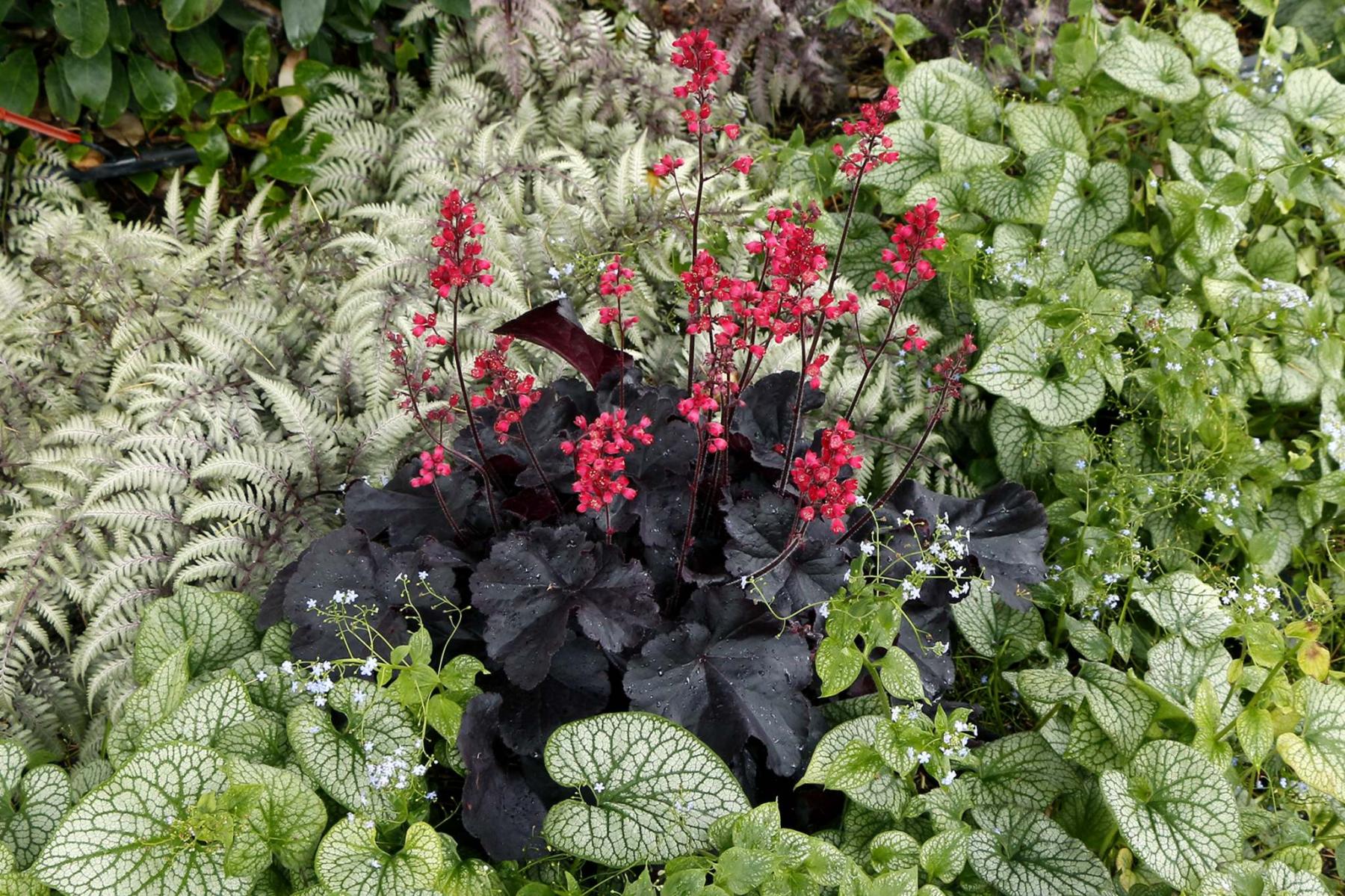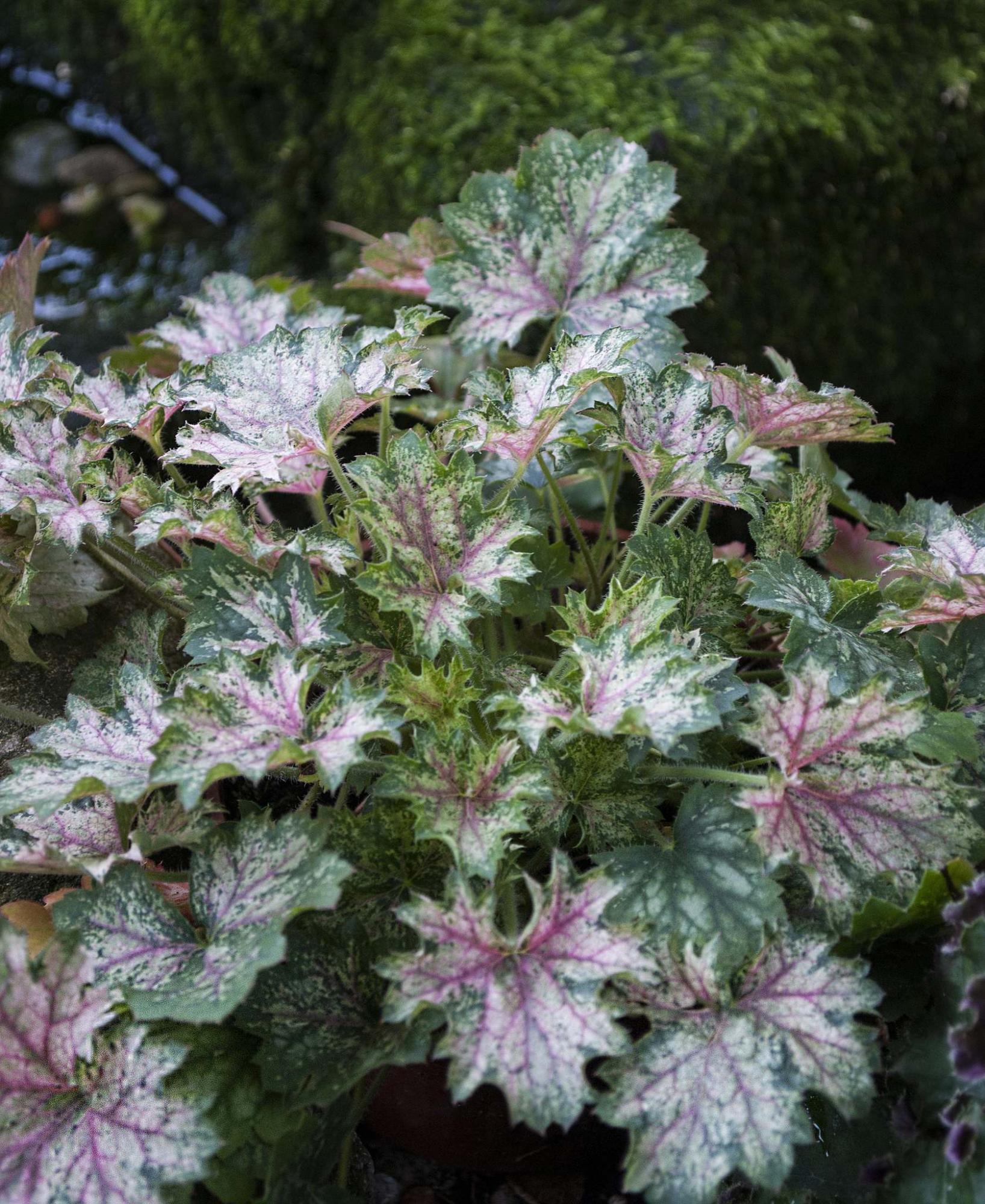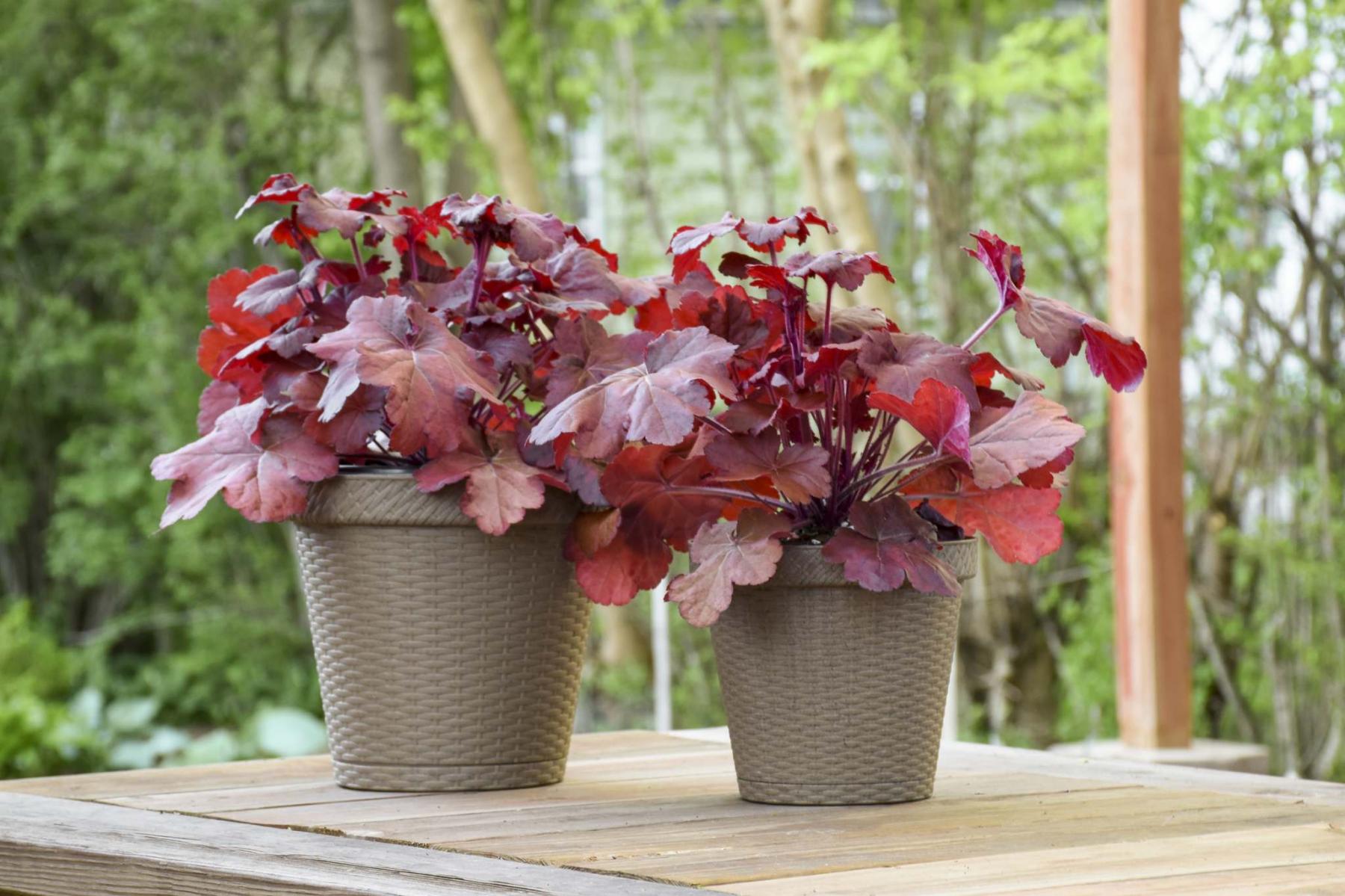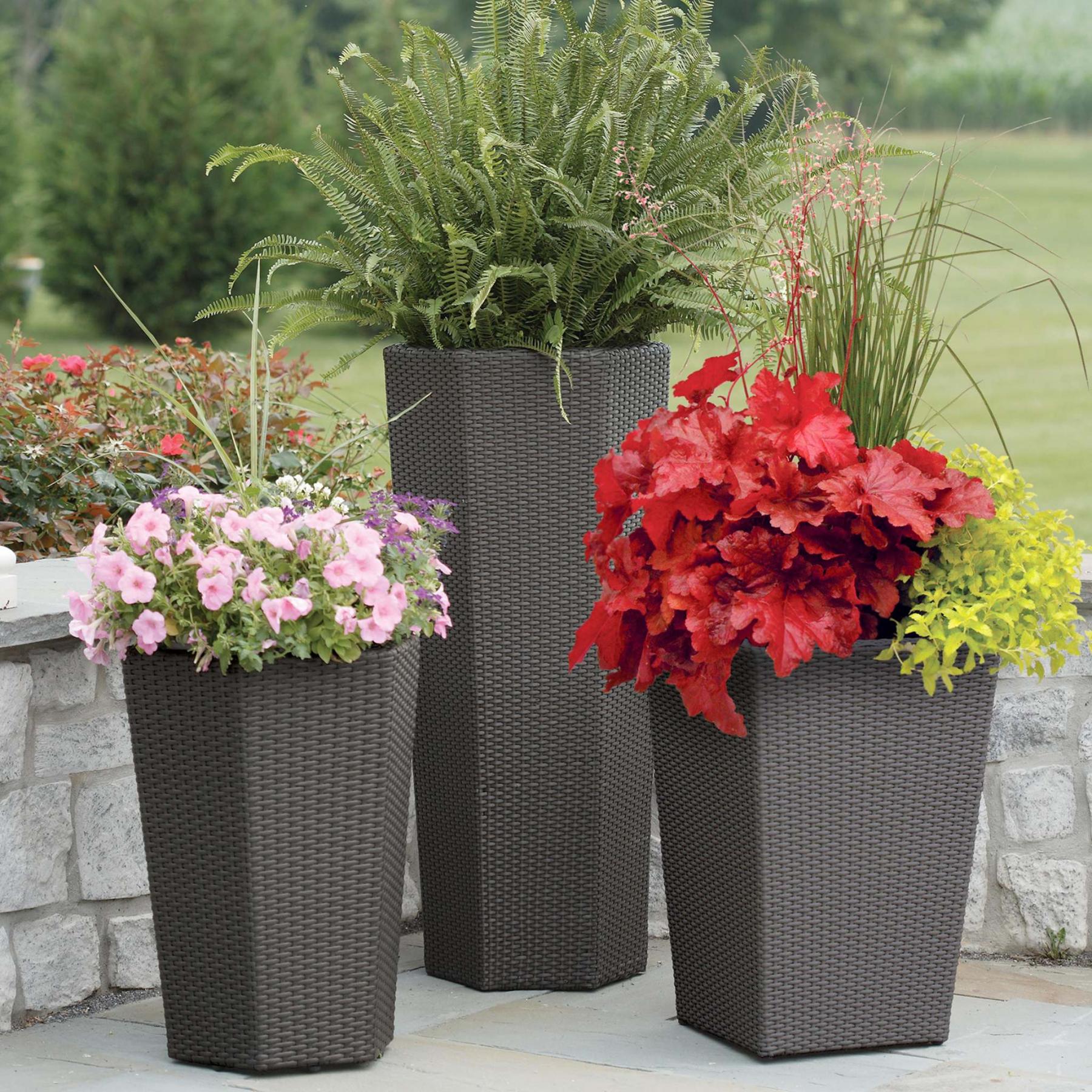 Whether you like to use the botanical name of heuchera (pronounced hew-ker-a) or prefer to call it by its common name, coral bells, this is a fantastic plant grown for its foliage that gardeners simply can't get enough of.
Most varieties have zone 4 hardiness (hardy to -29 C) although there are some varieties that are hardy to zone 3. The fall presents an opportunity to take steps to help to ensure the winter survival of heuchera. Ask a prairie gardener to name the biggest challenge in growing heuchera and severe winter temperatures probably get the nod. The main reason, however, for why heuchera may not survive from one year to the next is soil that is saturated with a surplus of moisture, especially over the winter months.
Well-drained soil is one of the most important considerations for heuchera. Remember this time last year? Winnipeggers saw the second wettest September on record which was followed by a surprise ice storm on the weekend leading up to Thanksgiving. The record amount of wet snow resulted in soggy soil conditions with little chance of drying out before the onset of winter. Many gardeners reported losses of heuchera, sedum, hydrangea, delphinium and other species that require excellent drainage.
Because heuchera are shallow rooted, the risk of frost heave which can occur during winter or spring presents a challenge because the crowns of heuchera tend to push out of the soil when the ground freezes and thaws.
In late fall, one method is to spread a seven- to eight-centimetre layer of organic mulch such as shredded dry leaves or aged wood chips around coral bells — but not piled up on the centre of the plant — for winter protection. This is especially important in November when there is the likelihood of freezing temperatures without the benefit of an insulating layer of snow cover.
Joanne Jones, of Lacoste Garden Centre, recommends using flax straw. "I like using it as mulch for protecting tender perennials in winter because it doesn't compress on top of plants and risk rotting out the crown," says Jones. "You can pull it apart and fluff it up and it pretty much stays that way. Flax straw has an oil content so it doesn't get soft and soggy during winter," she says.
The goal in adding a layer of mulch around your heuchera is to help protect the root so the crown does not push up and suffer winter injury severe enough to cause the plant to die. If you notice in spring that the woody root crown of your heuchera has risen above the soil level but still shows signs of life, lift and replant it by digging up the root ball without damaging any viable roots. Place your heuchera into a deeper hole taking care to not bury the crown (the top of the root ball should be one cm up from ground level).
Heuchera thrives in humus-rich soil. Topdressing with a layer of compost is highly recommended and promotes healthy microbial activity which feeds the roots of your plants.
The benefits of adding store-bought mycorrhizal fungi to your planting hole are debatable. There's no doubt that mycorrhizal fungi is indeed beneficial to plant roots but countless different types of active fungi already exist in your garden soil. As well, the mycorrhizae that occur naturally in your soil belong there — homegrown, if you will — whereas you have no way of knowing if store-bought manufactured mycorrhizae contains species foreign to the soil in your specific geographic location or even if it is still alive. Save your money and invest your time instead in making compost. Allow soil to dry moderately between waterings but not to dry out.
While heuchera plants are not heavy feeders and aged compost is usually enough to provide them with the nutrients they need, Jones recommends applying a light fertilizer in spring that contains sulphur which helps to lower the high pH of our clay soil and gives heuchera plants the more acidic to neutral pH they prefer. Jones recommends a fertilizer sold at Lacoste that has been blended specifically for our soil type in southern Manitoba.
Coral bells not only decorate the landscape but are also beautiful accents in container arrangements. No matter how many varieties we already grow, who can resist the annual parade of gorgeous new varieties at garden centres each spring?
Take Heuchera Dolce Toffee Tart, for example, a new variety for 2021 from Proven Winners. Newer leaves start out amber with a silver overlay and mature to ginger with a silver overlay so that at any given time during the growing season, Toffee Tart displays differing shades of colour. In spring, creamy white flowers are held on burgundy stems. In late summer, the rounded, lobed leaves mature to green. Dolce Toffee Tart has a medium size spread of 40 to 45 cm. Since the leaves are lighter in colour, plant in an area where there is protection from the afternoon sun. Toffee Tart has zone 4 hardiness and is so tempting you may not be able to resist a second helping.
Heuchera Black Forest Cake is another new variety to watch for in 2021. Bred by Terra Nova Nurseries, Black Forest Cake brings great colour contrast to beds and containers with smooth, dark chocolate foliage topped with an abundance of bright, cherry-red flowers in May and June. This dramatic new coral bells variety is tolerant of high heat. It is said to have greater sun tolerance due to its dark foliage although a part shade location results in the deepest colour. For a high-impact display, combine Black Forest Cake coral bells with Brunnera Jack Frost against a backdrop of Pewter Lace Japanese Painted Fern.
Primo Mahogany Monster is a new and interesting variety on several counts. For starters, it features large ruffled leaves with rich mahogany colour, but also, the Primo series is much larger than the daintier Dolce coral bells series. Mahogany Monster, for example, has an impressive spread of 55 to 70 cm! The Primo series is also fast-growing due to Heuchera villosa parentage which contributes added vigour. Mahogany Monster blooms in midsummer. Light pink buds with creamy white flowers float atop burgundy flower stems with a scape height of 80 to 96 cm. A beautiful monster, indeed.
Heuchera Forever Red is a stunning new medium-size variety with the reddest foliage ever. Seeing is believing especially when the ruffled leaves are illuminated from behind by the sun. I saw it for the first time this fall when cooler temperatures favour Forever Red's most intense colour. Interestingly, Forever Red is a vigorous grower that is said to develop more crowns for a fuller look.
Looking for something completely different? Heuchera Dew Drops fits the bill. This unusual variety, which Lacoste plans to carry, features blue-green foliage splashed with creamy-white centre markings and veins that turn pinkish-red in mid-season. A spray of bright coral-red flowers bloom in late spring.
colleenizacharias@gmail.com