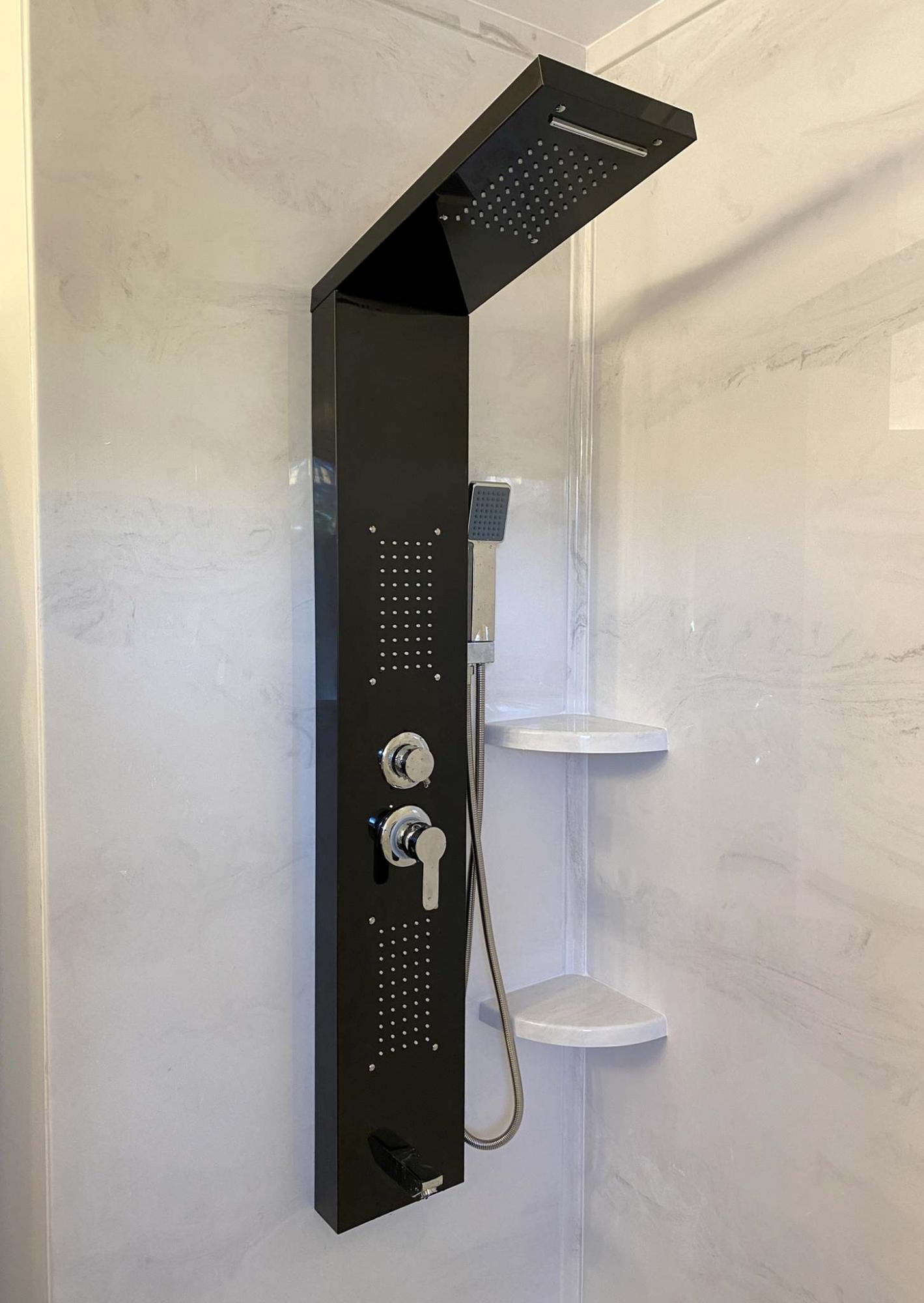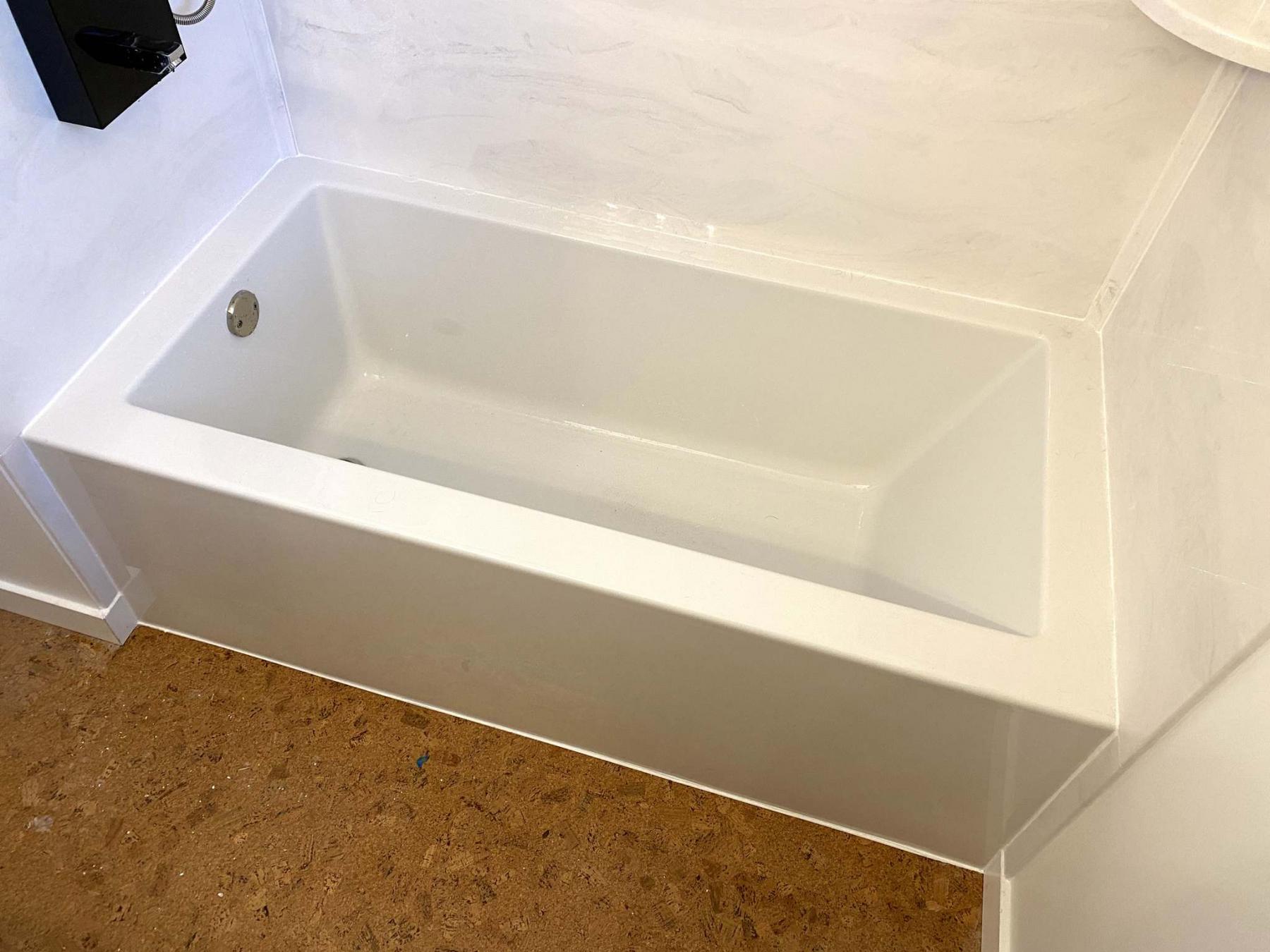 The key to any successful renovation is a timely collaboration. And every once and a while, a scenario arises that clearly reminds me of that.
During a recent bathroom upgrade, a client's specific finishing request ultimately achieved the desired look. The process, however, created several unexpected delays — and apparently it ain't over yet!
Throughout my years of bathroom renovations, certain tasks have become commonplace (as would be expected). The space is first gutted, the electrical and plumbing services are then revised or updated to suit the new design layout, and the new features are rough-plumbed before the aqua-board is finally installed. A new coat of paint finishes most of the room, before areas can be populated with the various bathroom amenities. Within the tub and/or shower stall, certain features are always required — finished walls, a tub and/or shower faucet, and either a shower door or curtain.
In this instance, the homeowner chose a black shower column with a tub spout that provides a variety of water flow options; rainfall, waterfall, body-jets, a hand wand, and of course the tub spout. A sliding barn-style glass shower door at three-quarter height was preferred over a shower curtain to preserve the sleek lines of the modern-look of the 22-inch deep soaker tub. The tub and shower walls, however, would be completed using a process I had not yet encountered — engineered granite. This step required a third-party sub-trade (chosen by my client) to complete this installation.
Typically, engineered granite is quite common for countertops. As such, the bathroom would also receive a matching vanity countertop with built-in sink. I readied the bathroom space and awaited the third-party engineered granite installer to complete his tasks so I could then continue with the remaining tasks to finally complete the bathroom. With no set date as of yet, it was necessary for me to tackle jobs for other clients due to the engineered granite installation delay. Because I was not directly involved with the granite sub-trade my client had chosen, I had little to no control over the scheduling and coordination of those impending tasks, which made me quite anxious. Finally, roughly a week later, I got word the granite installer had indicated to the client they would be by later that day to install both the shower stall walls, and the vanity countertop — giving less than a day's notice is not typical. Although I had hoped to be on-site during their install, it was impossible to coordinate without better lead time. At any rate, the tasks were finally being tackled and that was what mattered most.
After completing my day's tasks at the other jobsite, I sent a text to my bathroom client to inquire — he was less than enthusiastic. Although the shower walls look as good as expected, the engineered vanity top plus sink had not been manufactured to the correct specifications (no surprise to me — the company never bothered to take on-site measurements once the wall-mount vanity had been installed). This would now cause another delay, and again wreak havoc on my schedule.
In an effort to appease my clients' granite disappointment I allocated time to complete what I could. The shower column was mounted, and the sliding glass shower door was erected and secured into place so the shower stall was ready for use. And as of this moment, we still waiting for the re-manufacture and re-install of the vanity countertop to the proper specifications.
There is no doubt the bathroom will indeed look fantastic once it's fully completed. However, it will have unnecessarily taken three to four times longer than expected. This is why it is so very important to forge relationships with reliable sub-trades that understand the importance of coordination and consistency.
BossEnterprise@outlook.com