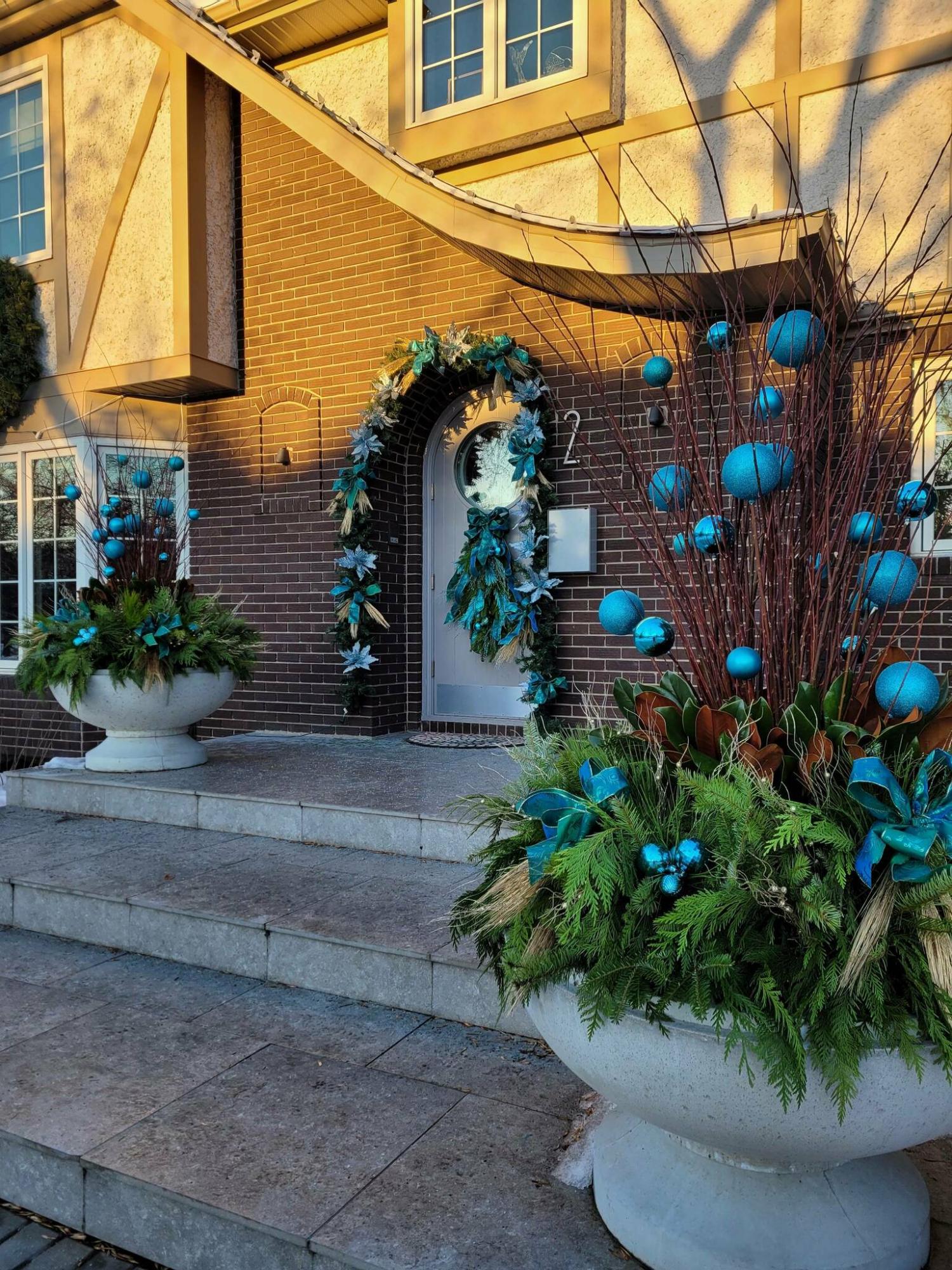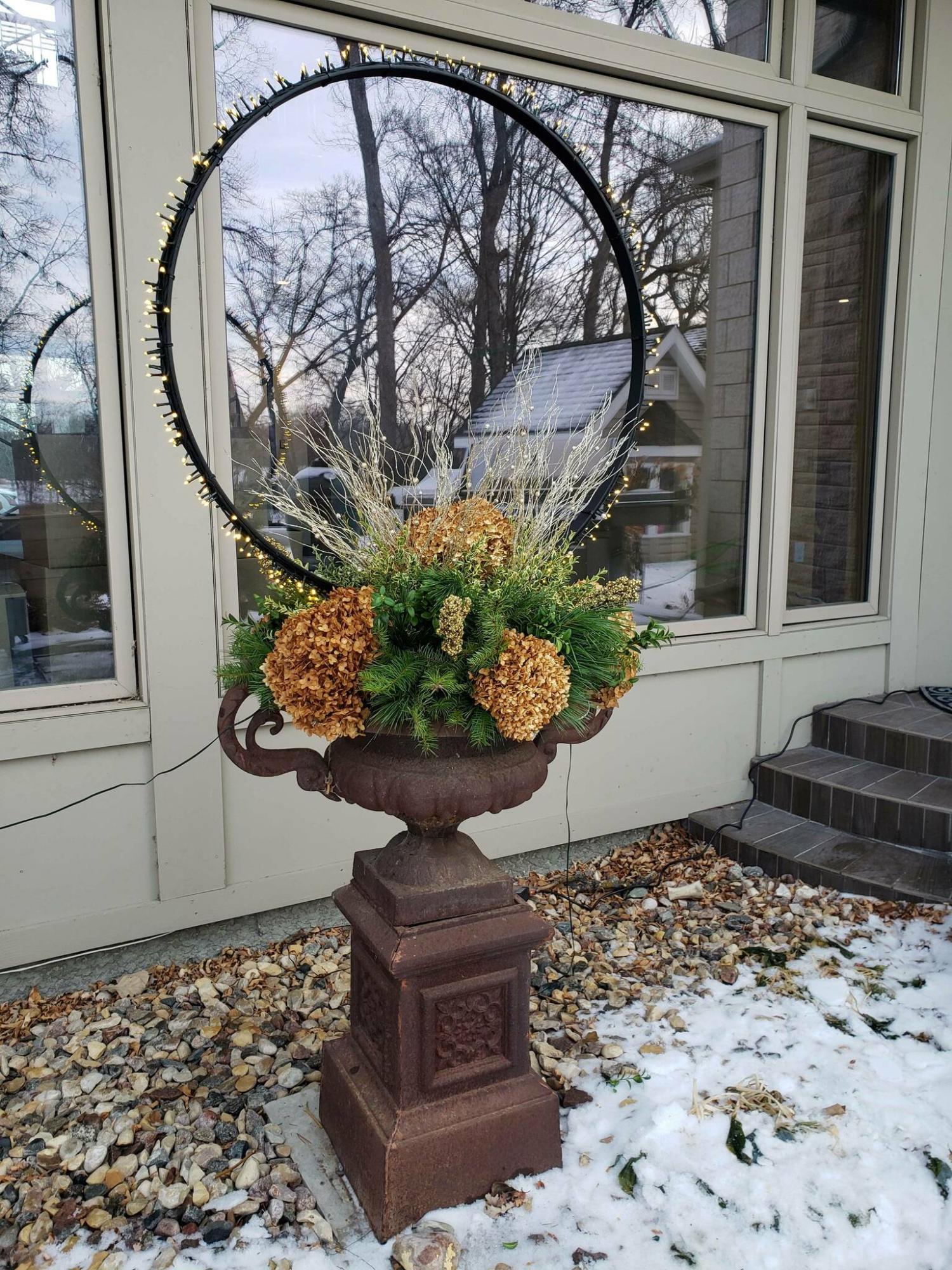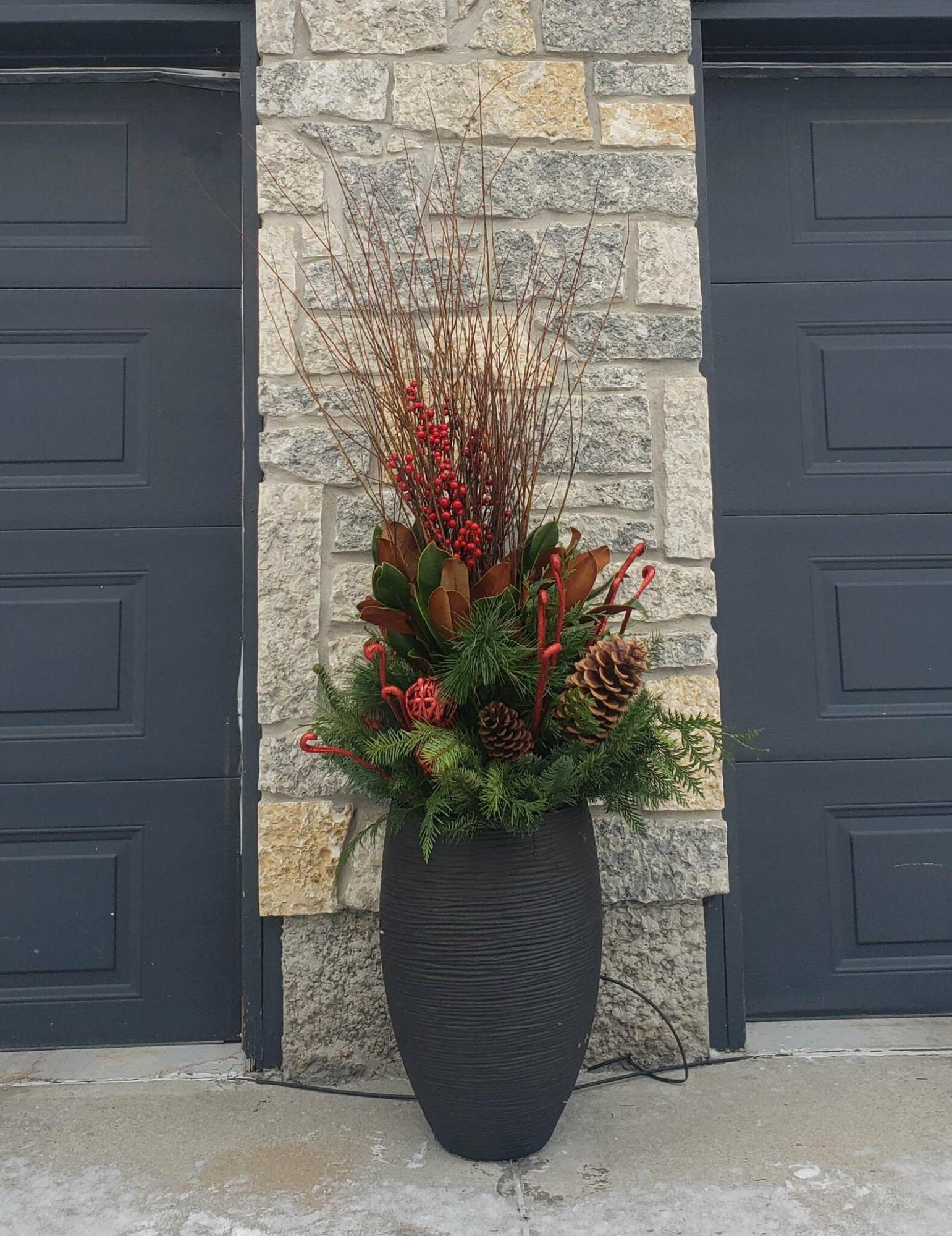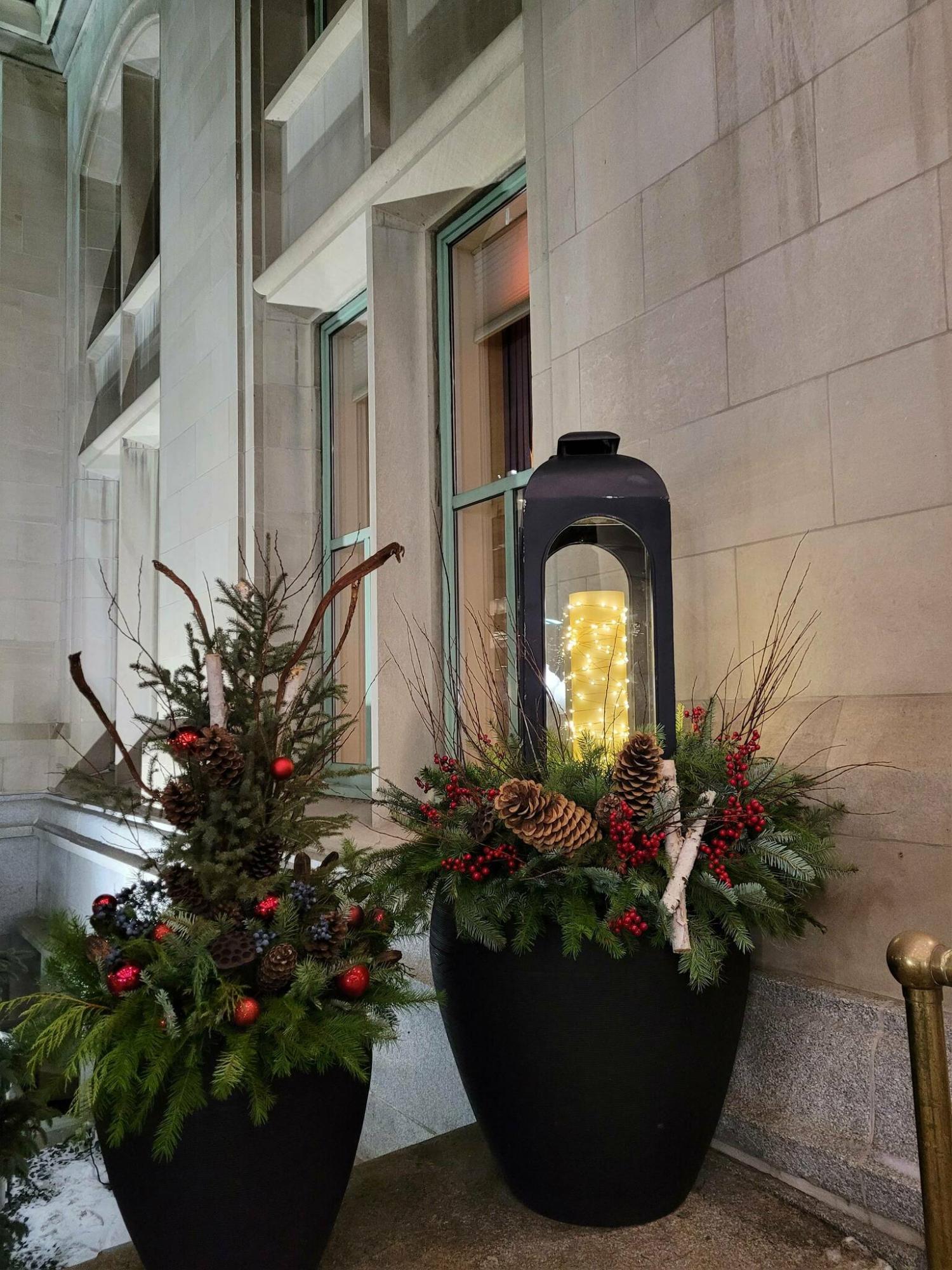 Outdoor containers create an eye-catching entryway during winter and especially for the holidays. Adding a wreath to your front door that complements your container design will take you through the holiday season with style. Karen Chopp, also known as the Barefoot Gardener, is a professional container garden designer who specializes in creating customized container displays for clients in and around Winnipeg. "By incorporating some of the elements you already have you can reduce the amount of money you spend and design beautiful outdoor container gardens that are not like everyone else's," she says. It's like shopping in your closet and putting an outfit together using the different pieces you have that you know will work well together. The end effect will not only be innovative but also more satisfying.
Prior to starting her own business, Chopp designed containers and created holiday displays for 529 Wellington Steakhouse. The historic mansion which was originally built in 1913 for hardware merchant J.H. Ashdown was absolutely dreamy to decorate, says Chopp. With six mantles and 36 feet of banister to decorate, Chopp created lavish looking designs by using a skillful mix of fresh and artificial materials but also improvising and foraging. It's a talent that she continues to utilize.
Chopp loves the challenge of finding something unique and coming up with fresh ideas. She especially likes to reinvent. "Just looking at something and thinking of all the different ways you can use it can really help you to create the look you want," she says. An inexpensive artificial garland, for example, that doesn't really grab you at first can be taken apart and the individual components that you do like can be used in your designs. "You might be able to use the leftover pieces in your indoor table arrangements – nothing has to go to waste."
Chopp has been busy this month visiting local garden centres as well as wholesale outlets outside of Manitoba. She also buys fresh greenery at local florists and stops in at dollar stores. There are unique finds and inspiration to be had by visiting many different places. "There are some really great DIY decorator packs at local garden centres that have complimenting materials and even exotic items like seed pods on picks." Chopp loves the excitement of seeing all the bits and baubles that are arriving in stores at this time of year.
If you have a smaller container, you may be able to drop an insert container inside and use soil as the base for your arrangement. Water the soil and the decorative stems that you add will freeze into place. Large, irregularly shaped containers are more of a challenge. "One of the really great interior mechanics if you don't want to use dry floral foam is to make a base out of chicken wire," says Chopp. "It works really well to scrunch it up so that you get all those nooks and crannies for easy placement of the stems you are using." Bricks in the bottom of your planter will prevent the wind from blowing it over, especially if your arrangement has some height to it.
Chopp achieves height in a variety of ways. She forages willow and red dogwood branches. "Take a drive out to the country and you can find willow and dogwood in ditches, or you might have some on your own property. You can take a unique branch off a tree or shrub and hot glue some baubles onto it."
Birch continues to be popular because it combines with almost anything and adds a natural, rustic touch that extends your container design beyond the holidays and into the New Year. Willow is another organic element that Chopp likes to use in her designs. "I use many, many stems of straight willow or birch twigs and infuse larger pieces of birch." Chopp always incorporates these in odd numbers with varied heights. She creates lush fullness with multiples of fresh greens such as white pine, Noble and Fraser fir, cedar branches, and variegated boxwood.
Sugar pine cones, buddha nuts, grapevine balls, and exotic seed pods as well as dried grasses and artificial berries are some of the accents featured in Chopp's winter container designs. Not all artificial berries are meant for outdoor use. Look for ones that are weather resistant so you can be confident that the outer shell of the berries won't crack or break off in freezing temperatures, says Chopp.
Unbreakable hanging ball ornaments are great accents. Chopp removes the hanging finial at the top of the ornament and with a hot glue gun she attaches a wooden pick or branch. "The colour options are endless and can really add a fun element," she says. For one client, Chopp used a mix of assorted teal blue ball ornaments in different sizes which she attached to branches artfully arranged at different heights for a magical floating effect. The client's door was decorated with an existing garland to which Chopp added teal accents to tie together the design and overall look.
Shapes and structures such as obelisks or handcrafted wooden or metal accents add an unexpected architectural element and serve as focal points to anchor your design. "If you have a medium-size obelisk that you grow annual vines on during the summer, why not place it in your winter container, put lights on it, and decorate around the base," says Chopp. For one client who wanted three large containers decorated, Chopp had wooden apertures built in the shape of a star. She wrapped the stars in garland and strands of lights and decorated the base with long-needle pine accented with crimson red ball ornaments in different sizes. Chopp enjoys changing things up from year to year. She might, for example, cut off the stands on which the stars are built and display them altogether differently one year by hanging them.
Chopp learned welding techniques in a hands-on course so that she could craft her own garden art. For one client who wanted her to create a unique design for a pair of cast iron urns on pedestals, Chopp made a large metal ring which she wrapped with lights. At the base of the ring, she created a stunning composition using a mix of fresh cut greenery including variegated boxwood. She tucked in large, dried Annabelle hydrangea flowers which she accented with 10 stems of gold Milo berries and 10 stems of gold picks for some holiday sparkle.
Chopp illuminates her holiday containers with strands of mini-LED rice lights in warm white. Also known as micro lights, these rice-shaped decorative lights can be set to blink or twinkle, however, Chopp prefers to have steady lights that are always on.
A wicker chair that you normally use as your porch décor, says Chopp, can be decorated with a wreath and a throw blanket. "Add a container arrangement for a welcoming vignette. Or dress up your vintage Cruiser bike." There are many ways to add a festive touch by incorporating items you already have. Large lanterns are ideal, says Chopp. "Wrap fairy lights all the way around the candle and decorate the base with fresh greens."
colleenizacharias@gmail.com