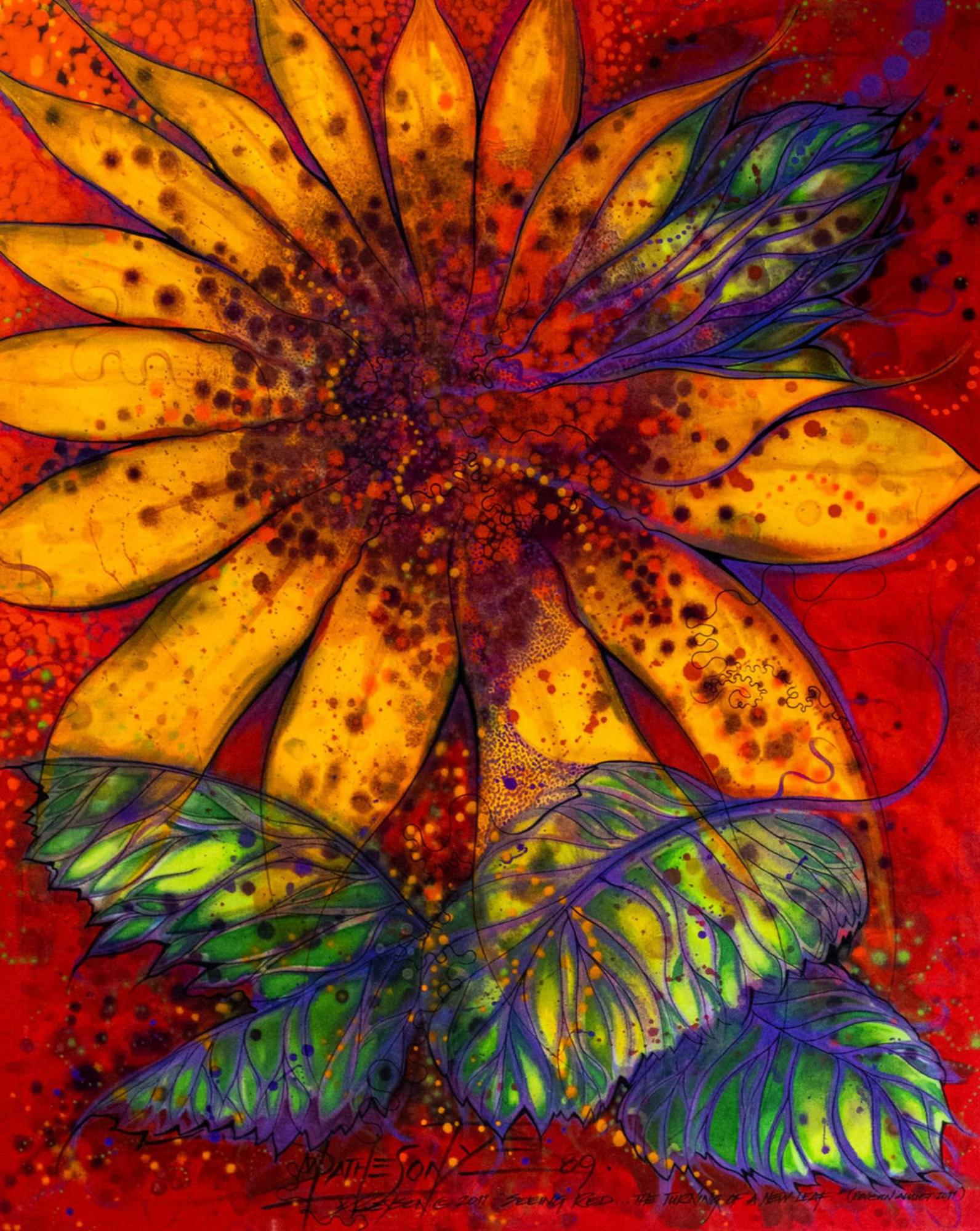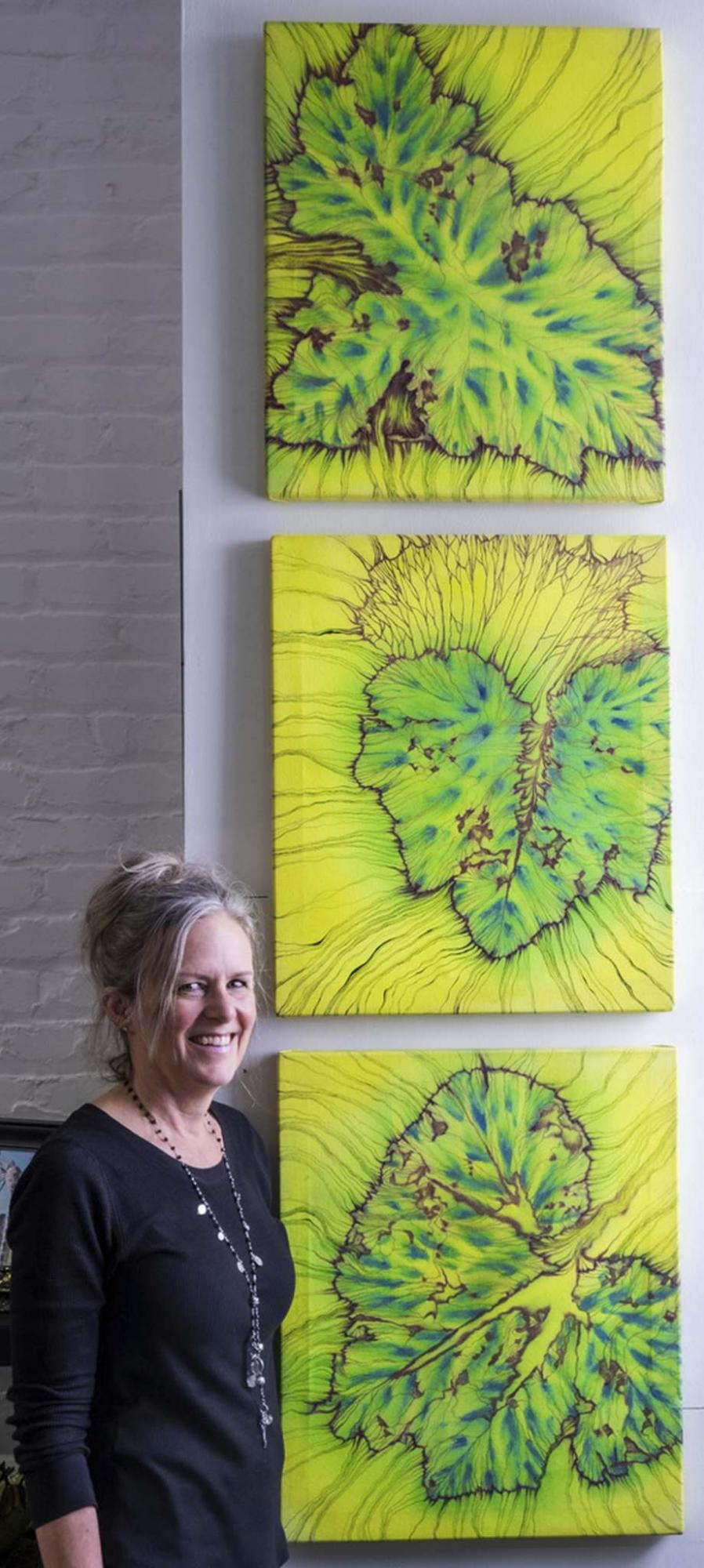 In a winter climate where colour pretty much disappears for six months each year, we have to be able to find it somewhere, and that somewhere is indoors.
Not that there's anything wrong with endless barren white snow, without a green leaf to be seen anywhere, but it definitely takes some of the warmth out of our lives.
That absence of colour, particularly if your home or office is painted with neutral, bland colours, can definitely leave us wanting, even unconsciously, for something to brighten up not only the world around us, but in us as well.
Our senses need colour, and no one, other than maybe Mother Nature herself, brings more colour and vitality to this planet than local artist Deborah Elizabeth.
Bland perishes before her!
Take for example the gorgeous green leaves you see beside her here. Much more than just a painting, this is literally a transfer of nature into art.
These are zucchini leaves from a hobby farm near Pigeon Lake, in actual size, which Deborah pounded, ground into the canvas, then painted over to immortalize on canvas. This technique is but one of many ways she breathes life into the walls, keeping summer with all its gorgeous green alive and thriving all year long.
"Colours are reflective," says Deb, "sunlight, or any light, falling on rich colours reflects them about the room, adding warmth when needed most."
She adds that colour doesn't have to come into our homes and businesses only in the form of art, but also via the colours we choose to create our environment with. It also comes down to the furniture and decorating choices we make, everything that offers options to build the visual world around us.
After my visit to Deborah's home, which is also her studio, I've been making a point to check out my own humble abode, to see where and how I might add a painting, or picture, or wall hanging perhaps, and what walls I might add some colour to, or a different colour, to make things feel a little more alive and even a little more homey.
Not only is the great outdoors basically black and white this time of year, but inside, I have four black and white cats, and a black and white dog, my "furmily" who all bring tons of love and entertainment, but don't contribute to the colour scheme a whole lot. Their extremely colourful personalities however, certainly make up for that. Love them to pieces.
No surprise that Deborah creates not only through her remarkable acrylic canvasses, but also watercolour, pen, pencil, pastel and so on — and does some of the most extraordinary pet/animal art there is to be seen. She also designs and makes gorgeous jewelery, consults in numerous areas including logo, tattoo and theme design, and you can even see her work on the big screen, as she's also a movie set painter.
One of the most important things I think we can take away from today's colourful column, is not to take our living spaces for granted, and basically accept the status quo as what is and must be.
Take the time to have a good look and see what might be. There are so many choices we can make, and opportunities available to reinvent our own personal worlds, and bring visual respite when needed most. We don't have to live in a same old same old world.
For an instant hit of colour, and to learn all there is to know artistically about Deborah Elizabeth, visit deborahelizabethoriginals.com for a close up introduction to her incredible body of work. A dazzling experience if ever there was one.
Comments or feedback, love to hear from you!
lmustard1948@gmail.com