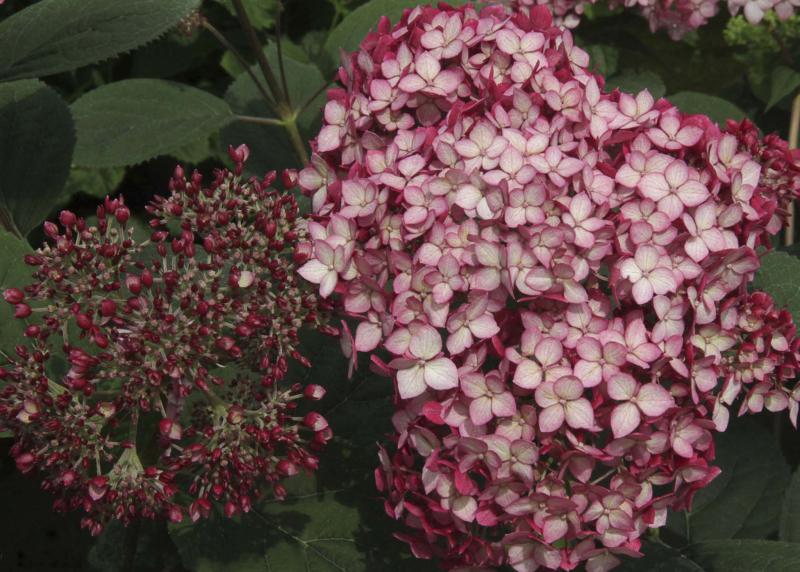 The hydrangea, with its large, showy blooms, has a considerable impact on the landscape. In addition to beautiful colour that transitions to deeper shades as temperatures cool in late summer, the bountiful blooms of the hydrangea extend late into fall for one of the longest flowering displays in the garden.
Some gardeners avoid hydrangeas out of concern they are too difficult to prune. Hydrangea paniculata varieties, though, couldn't be easier to prune as this species flowers on new wood or current year's growth. I leave the dried flowerheads on for winter interest and snip them off in early spring to just above the first pair of new buds.
One of the most popular panicle varieties, Limelight is a spectacular late-season bloomer with large panicles in shades of lime and cream, which transition to pink with a tinge of burgundy as temperatures drop.
Now comes a new variety: Moonrock, with pointier panicles packed with dense, creamy florets at the base and intense chartreuse colour at the top for a delicious two-toned effect. Moonrock is one of three panicle hydrangeas in the new Lavalamp series from the Bloomin' Easy collection by Van Belle Nursery, a wholesale nursery in Abbotsford, B.C.
(imageTagRight)
Nicole Touchette, a Van Belle sales and marketing representative who hails from Portage la Prairie, said in a recent phone interview that Moonrock holds its lime-green colour longer than other lime-coloured hydrangea varieties on the market. At 1.2 metres tall and 1.8 m wide, Moonrock is suitable for the middle to back of the border.
Lavalamp Candelabra is similar in size to Moonrock. It has a strongly upright habit with large candle-shaped blooms that start out creamy white, transitioning into deep reddish-pink as the blooms age.
Lavalamp Flare is more compact (only 60 centimetres tall and 90 cm wide), making it well-suited to the front of the border. Its sizeable, cone-shaped blooms age to a brighter red-pink than any other compact paniculata, Touchette says.
Each of the hydrangeas in the Lavalamp series have been selected for their low-maintenance attributes, Touchette says. In addition to flowering characteristics and colour changes that are unique and different when compared with older varieties, the large panicles are supported on sturdy red stems. As well, they are classified as hardy to zone 3 (minus 40 C).
Tolerant of sun, an ideal location in a Prairie garden would be one that has full morning sun until early afternoon and part sun during the hottest period of the day.
This new series will be available this spring at Canadian Tire.
Zinfin Doll hydrangea is a new selection from Proven Winners. Although the dense pink-red blooms resemble those of two older panicle varieties — Pinky Winky and Vanilla Strawberry — Zinfin Doll's large flowers bloom earlier for a longer blooming season and are excellent for cut flowers.
While the appetite for hydrangeas grows worldwide, top breeders are continuing the quest for ever-larger blooms, extra dark green foliage, stronger stems and more reliable reblooming characteristics. What's particularly notable about many of the new hydrangea introductions for 2017 is the emphasis on rosy to red tones.
Invincibelle Ruby is a compact hydrangea shrub (60 to 90 cm tall and wide) with a mounded habit. Dark burgundy-red flower buds open to a two-tone combination of silvery-pink and ruby-red flowers.
Rather than a paniculata, Invincibelle Ruby is a variety in the species Hydrangea arborescens. Buds are also reliably produced on new wood, making this variety easy to prune. Instead of a panicle, the inflorescence is rounded.
When at first you don't succeed, try, try again. That's what has happened in the case of Invincibelle Spirit, a much heralded hydrangea when it was first introduced in 2009. Developed as the first-ever pink flowered Annabelle hydrangea, the flowers are small in size and have a habit of flopping over. Invincibelle Spirit II is an improved version that boasts darker foliage, stiffer stems and (naturally) noticeably larger flowers. An arborescens, the rounded flowers age to green and maintain a striking presence in the garden summer through autumn. Invincibelle Spirit II prefers a part-sun location with dappled shade in the afternoon. New blooms are produced right until frost and buds are produced on new wood.
While there is the assurance that these new and improved varieties are basically easy to grow, the name hydrangea is the first clue that this is a species of plant that will have certain expectations of the gardener. The name comes from the Greek hydra, meaning water, and angeon, meaning vessel. The hydrangea is a moisture-loving plant that thrives on a regular watering schedule.
Well-drained, nutrient-rich soil with good aeration is important to ensure a healthy root system. Heavy clay soil should be amended annually with the addition of organic material, such as good quality compost or well-rotted manure, to improve drainage and aeration. Working shredded, disease-free leaves into your topsoil feeds the soil and improves its structure as the leaves slowly break down. Providing a layer of mulch (away from the base of the plant) to keep roots cool in summer and warm in winter will also help to ensure that your hydrangea performs its best.
These steps are beneficial whenever we are preparing a site in our gardens for a new plant. In the case of hydrangeas, it really does make a difference to how the plant performs when attention is paid to soil conditions, adequate moisture, fertility, proper exposure and pruning requirements. Signs of protest — discoloured foliage, a lack of blooms, failure to thrive — become evident fairly quickly if this highly ornamental plant is left to fend for itself.
In our mostly alkaline soils that have higher pH levels, iron chlorosis (where iron is unavailable to the plant) can be a common problem, particularly if soils are compacted or depleted of nutrition. Signs include younger leaves with pale or yellowing colour and noticeably dark green veins. Iron chelate reduces chlorosis by making iron available. For foliar applications, dissolve iron chelate in water according to package directions and spray foliage thoroughly. Monitor your plant and repeat as need.
Yet the hydrangea is not overly temperamental. Pests and diseases are rarely present. Foliage remains attractive throughout the growing season. Mildew is a problem only in overcrowded conditions. Any leaf spots or fungal infection that may appear are usually the result of overhead watering or too little or too much watering.
Ensure that you are providing a plentiful source of pollen and nectar for native pollinators by including native plants in your planting scheme. Simply put, hydrangeas are more people-magnets than they are bee- or butterfly-magnets. The inflorescence (flower) of the mophead hydrangea, for example, consists mostly of sterile florets and a smaller number of fertile florets. Lacecap hydrangeas, such as Twist and Shout, have numerous smaller, pollen-bearing fertile florets with an outer ring of showy, sterile bracts. Hydrangea arborescens varieties have mostly fertile florets, while the inflorescence of the paniculata hydrangea is a combination of showy sterile flowers and nondescript fertile flowers.
Anise hyssop (agastache), catmint (nepeta), purple coneflower and sedum are just a few of the many pollinator-friendly plants that combine well with hydrangeas.
colleenizacharias@gmail.com