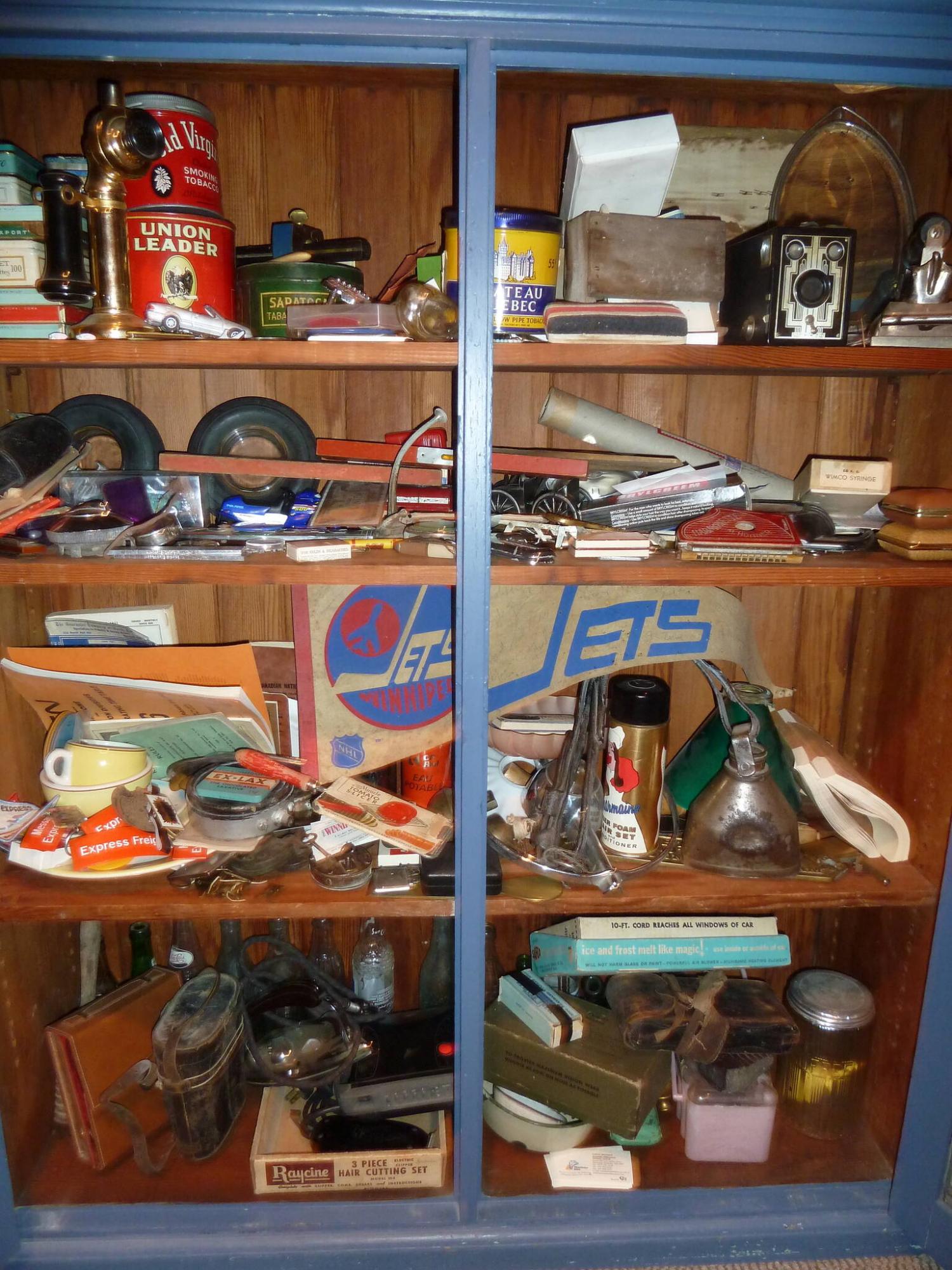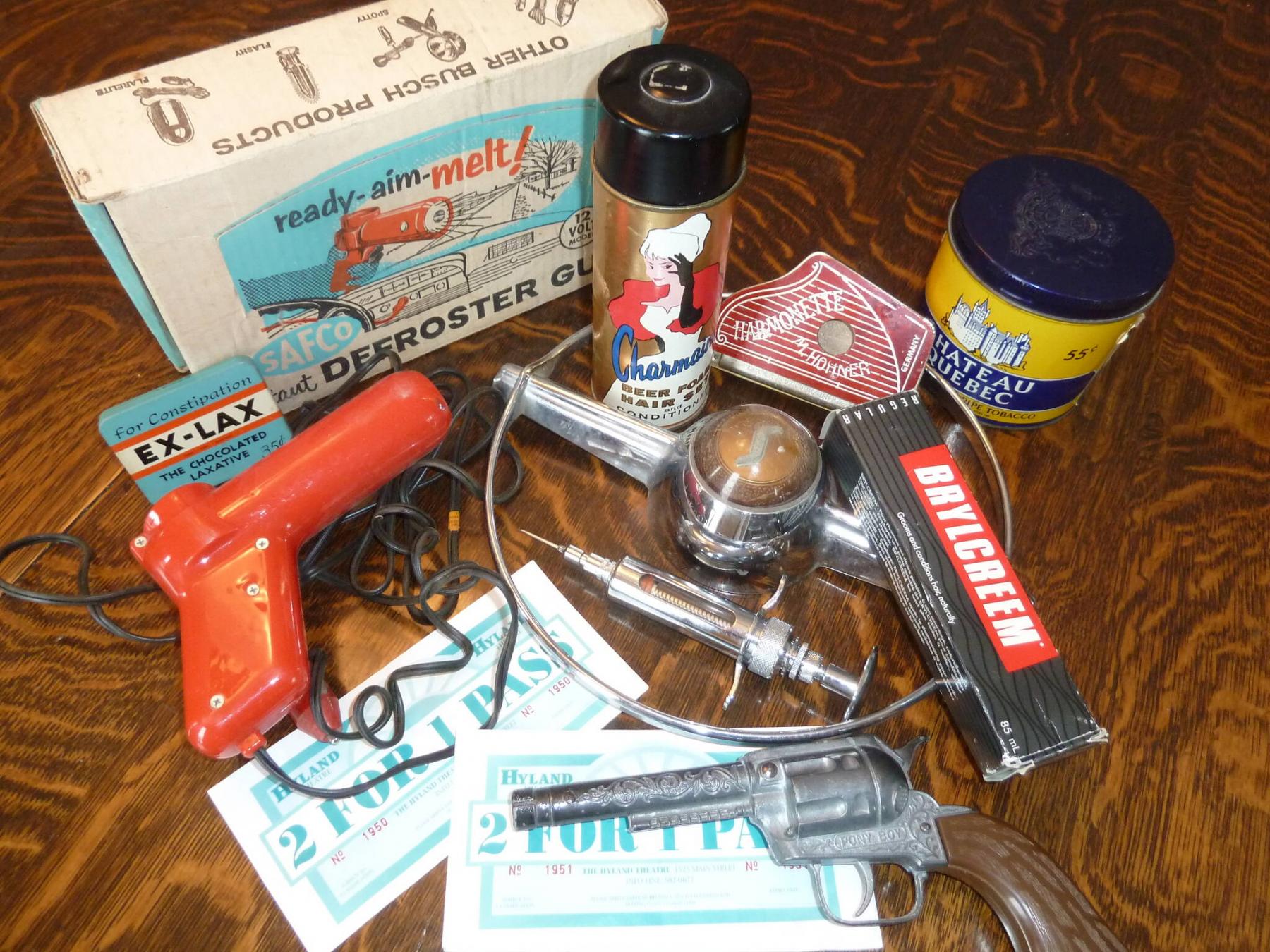 Do you have one of these in your home?
A treasure chest (cabinet) containing a plethora of fascinating but worthless artifacts I keep around just because I like them.
I mean, in the deep dark cold of winter, I can go down to this cabinet, open the doors and spend at least a couple of hours triggering one great memory after another. Because that's really what this "treasure chest" is all about, picking out one object at a time, using each as a key to unlock the memories it represents.
One of the true treasures in this cabinet is a number of old cigarette tins that each contain a few stacks of undeveloped negatives from pictures my Dad took during his bachelor days, late 1920's early 30's, and they are fabulous.
Some of the ones I've had developed show Dad, a girlfriend, and his buddies with their girlfriends, posing for crazy shots of them all dressed up in fancy "courtin'" duds, hanging off the 20's and 30's cars they were cruising around in. Some of the expressions and antics they're up to are priceless.
The non-lethal version of Bonnie and Clyde cavorting through the beautiful countryside.
Dad was a picture taking fiend back then, always was actually. Included in the many albums he compiled are shots he took hanging out of a bi-plane, flying over the Grand Opening of the International Peace Garden back in 1932. He'd have made a great photojournalist. I should get all his negatives developed and put on a show of his works. Some of the shots are just amazing. Sounds like a great project for 2022. Yeah. So many projects, so little…discipline.
I also have the cameras he used, from the old accordion type to the box type, the latter I can remember him using a lot. I love having decades of family albums from the decades of pictures he took. So many family picnics with all the aunts and uncles and cousins, and lots more of the family vacations we went on every summer.
Now while there's a lot of family history type stuff in that cabinet, there are also many goodies I snagged here and there just to have fun with, and also simply to preserve local history whenever possible.
Could you, for example, use a 2 for 1 pass to the old Hyland Theatre here in the Peg, 1525 Main Street? No? Good, then I'll just keep them.
I also have a great pair of large syringes with very sharp needles that I got just to terrorize the grandchildren with. It worked. No doubt they're plotting revenge at some point when I least expect it. No worries, I'll keep them at bay with my old Roy Rogers-type cap gun. They ain't takin' down Grandpa without a fight.
I have another "gun" that might come in handy for these frigid winter days, an original "ready-aim-melt Safco 12 volt instant DEFROSTER GUN!" Ten foot cord, reaches all windows of your car! You just plug it into your lighter, and in almost no time, all your windows are clear. Might be a good idea to start the car before plugging it in or by the time you're finished you'll have wonderfully clear windows and a dead battery. Bet it's been done.
I also have a couple of things some of you would like to have for looking good tonight, an original, full, spray can of Charmaine Beer Foam Hair Set and Conditioner for the ladies, and a tube of Brylcreem for the guys. Just think of how great you'd smell. See, social distancing can be a good thing!
How bout a 1950 Studebaker horn ring for honking in 2022 at midnight? Or my Dad's old Hohner harmonica to wail out Auld Lang Syne as the clock strikes 12!
HAPPY NEW YEAR!
Comments and column ideas welcome!
lmustard1948@gmail.com