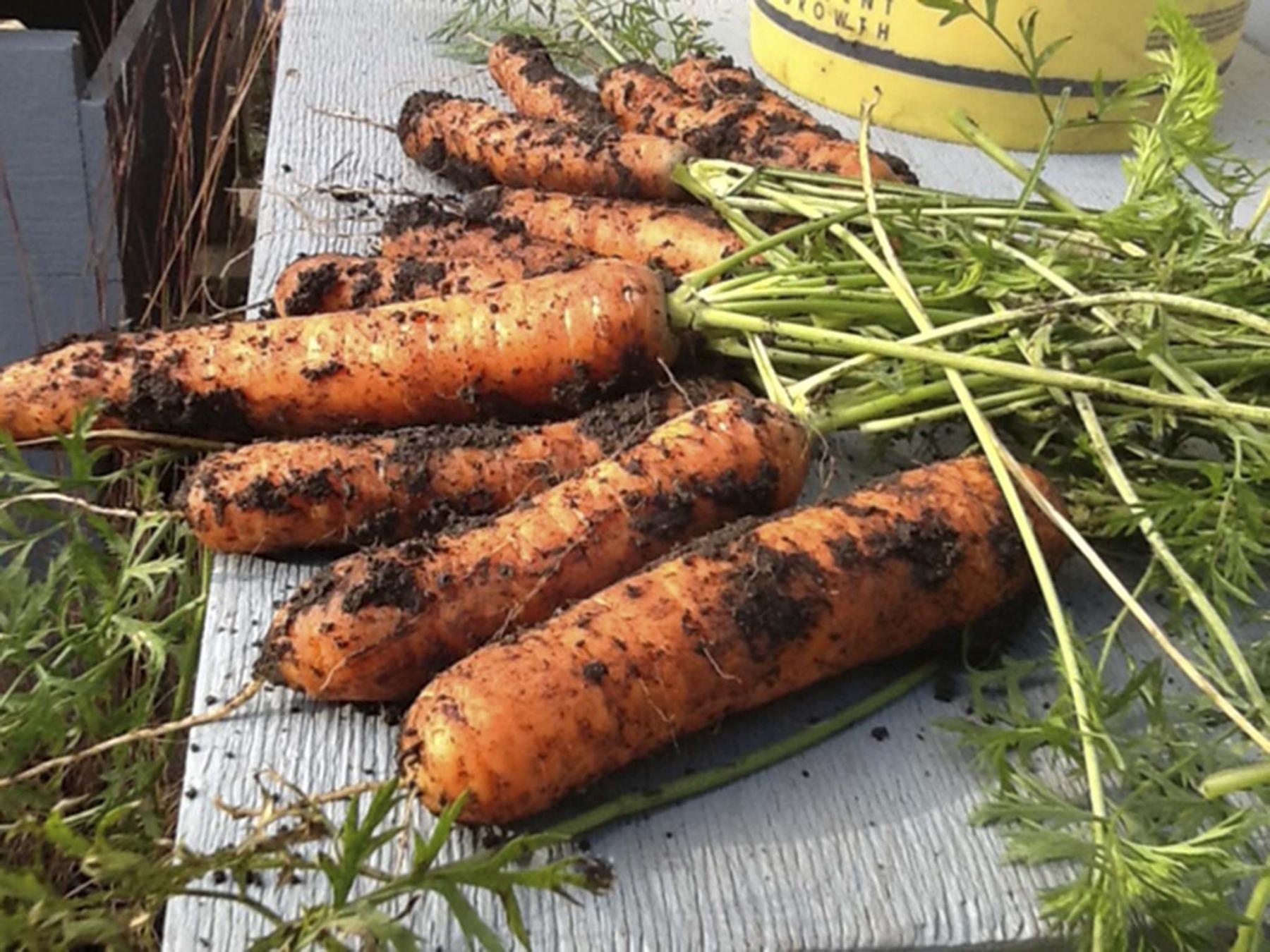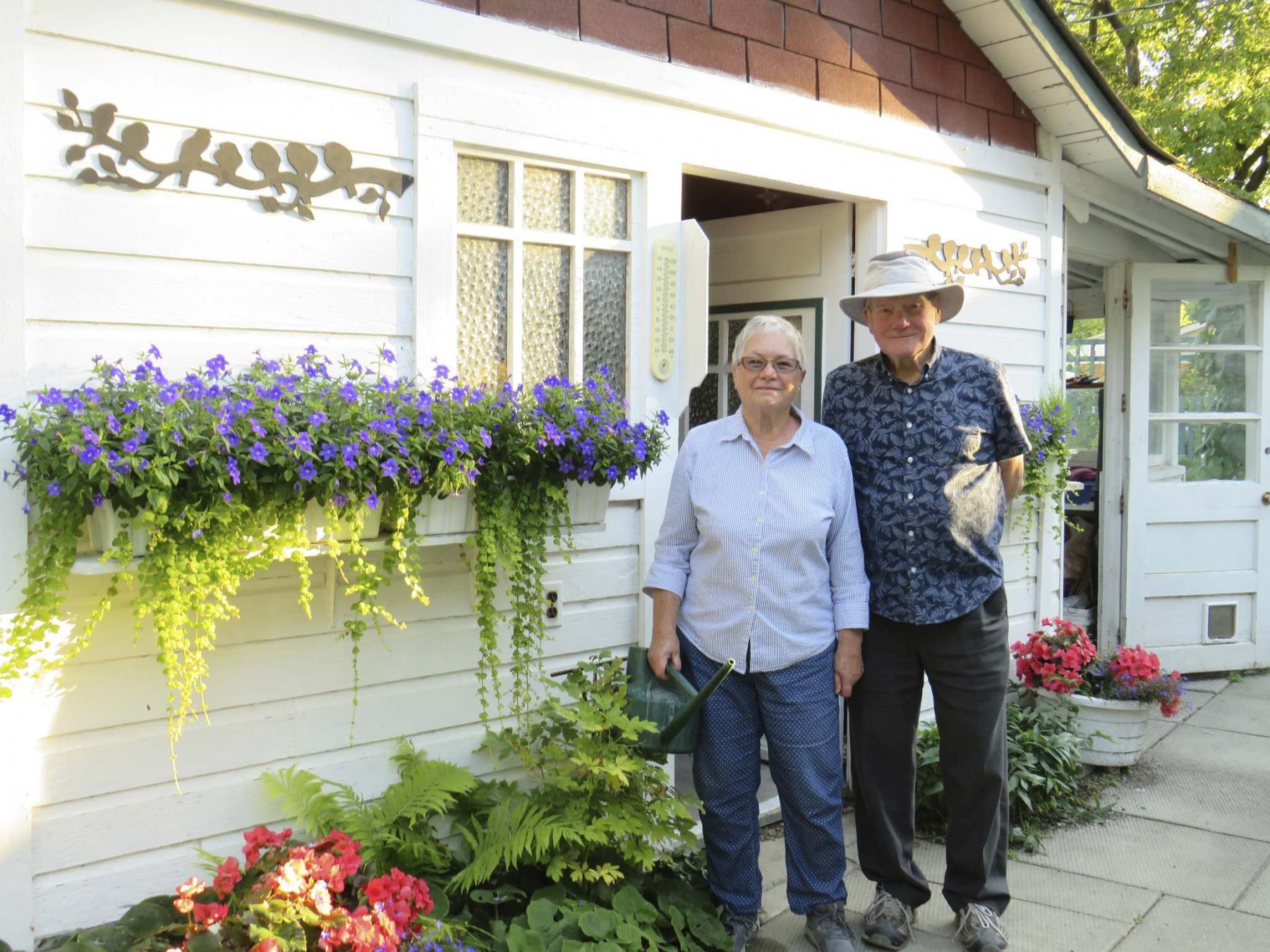 These days there is always something simmering on Bill and Lenore Linton's stove. The now vintage blue enamel canning pot that Lenore purchased in 1962 for three dollars is filled with jars and the pungent smell of vinegar wafts through the kitchen. Several different types of beans are picked in the garden each morning, meaty and juicy tomatoes are ripening on the vines and ready for canning, the peppers are ready to harvest, next the carrots will be finished growing and then it will be time to dig up the potatoes and begin curing the squash. Bill and Lenore are planning delicious and healthy meals and making favourite recipes as they stock their freezer and pantry for the fall and winter months.
Theirs is a marriage story that revolves around the fruits of their labour in the garden. Their resilience and self-sufficiency through 62 years of marriage, including the lean times that so many couples experience at some point, resonates more than ever this summer.
Lenore, 81, and Bill, 87, have lived in the same house in Old St. Vital for the past 58 years. Built in 1912, the one-and-a-half story house sits in the centre of a lot that is 75 feet wide. Two weeks prior to taking possession of their house July 1, 1962, Lenore, who was expecting her second child, asked permission of the existing owner if she could plant seeds in the garden. By September she was harvesting and canning tomatoes. She has been canning tomatoes every year since. When Lenore worked as a primary school teacher and there was a glut of tomatoes, she put them into a bag and froze them for later use in soups and stews. "I grow tomatoes because they can be used in just about any dish all winter." Now that the last jar of tomato-orange and ginger chutney is finished from last year, Lenore will grow Jaune Flamee tomatoes next year so that she can have more chutney.
When Bill replaced all the plumbing in the house with copper pipes, he repurposed the old iron piping to use as tomato stakes. This year they are supporting 13 tall tomato plants that have produced a bounty of fresh tomatoes. Favourite varieties, to name a few, include Sun Sugar, an early maturing cherry tomato; Juliet, a saladette tomato that is great in sauces and salads; and German Johnson and Rose, both productive heirloom slicing varieties that make great sandwiches. Lenore grows Forme de Coeur tomatoes every year because they are excellent for canning, sauces or sandwiches. She buys many of her tomato seeds from Casey's Heirloom Tomatoes in Airdrie, Alta. Although many of the vegetable crops, such as beans and peppers, did well in this year's heat and humidity, Lenore says her tomatoes didn't set any fruit during that period.
Lenore and Bill subscribe to growing what they like to eat and what they can keep and use later.
"When you have a garden, you pick what's ready."
Meals are based on the ingredients that are available so that nothing is wasted. In summertime, that means numerous delicious ways to use beans. They grow several varieties of pole beans: Algarve, a very early climbing French bean; Emerite, a heritage filet; Monte Gusto, a yellow wax bean; French Gold, a long, slim French filet type; and Early Spanish Musica, a crunchy flat green slicing bean.
The beans grow on hoops that Bill made by bending conduit used for pulling electrical wire through. The series of repurposed hoops cover a pathway in their vegetable garden like a bean tunnel with crops growing on the sides and overhead. Bill picks beans every day throughout the summer — he says it keeps him young. Together they make bean salad, a favourite meal at lunchtime, or add the beans to minestrone or borscht soup recipes that are then frozen in quantities that are just enough for two bowls.
The freezer already holds loads of fruit from the garden. The Lintons grow haskap berries, Saskatoons and three types of dwarf sour cherries from the Romance series: Valentine, Crimson Passion, and Juliet. "It's been a fantastic year for cherries," says Lenore. Some of the fruit is eaten fresh as it is harvested but the bulk of it is frozen (without sugar) for making jams and jellies during the winter when there is more time. Growing up, Lenore's mother made raspberry jelly. "We would put the jelly into jars and then look at the way the sunlight would come through the jars as they were cooling on the counter. It was so beautiful."
Lenore and Bill choose which root vegetable varieties to grow based on how well they store. "Bolero carrots are good keepers in the crisper in the fridge and stay nice and sweet," she says. After harvesting, Lenore washes the carrots and dries them carefully before placing them in her fridge. During the winter months she uses them in soups or for making coleslaw or muffin or cake recipes. Any zucchini left over from the summer is grated, measured in the quantity needed for individual recipes, and frozen for later use.
By far, their favourite squash varieties are Barbara F1, a butternut variety, and Crown Prince, a handsome variety with blue skin and bright orange flesh. Lenore says that the Crown Prince squash is an excellent winter keeper. Once the squash is ready to harvest by late September, it will cure in their greenhouse before being stored in the cold room in their basement. Bill built the greenhouse, which is attached to their garage and gazebo.
Most people agree that during a pandemic, grocery shopping isn't fun anymore. Growing your own food in your backyard garden, says Lenore, translates into fewer trips to the store and hence, reduced risk from COVID-19. "We've kept safe since COVID began and we want to keep that way," she says.
Lenore keeps a journal where she records the dates when she starts seeds and when they germinate as well as the dates when seedlings are transplanted into pots and moved into the greenhouse or cold frame and when they are planted in the garden. She also keeps a record of when each tomato variety produces its first ripe tomato and when the squash plants produce their first female flowers after she has self-pollinated them.
"Sometimes Bill and I wish we were younger and had the energy we used to have," says Lenore. But in the next breath she tells me that she is planning next year's garden and has already ordered her seeds. "I have so many favourites but not enough room to grow them all," says Lenore who rotates varieties from one year to the next.
Typically, Lenore starts seeds the first week in April after she and Bill return from their winter vacation in Victoria. But with coronavirus upending their travel plans, Lenore is thinking about starting some of her crops earlier next year — peppers, for example. "I'm tempted to try starting lettuce and spinach in early March," she says. That way she and Bill could be eating fresh greens before June. "We're thinking of the positive things — you have to look for the upside."
colleenizacharias@gmail.com