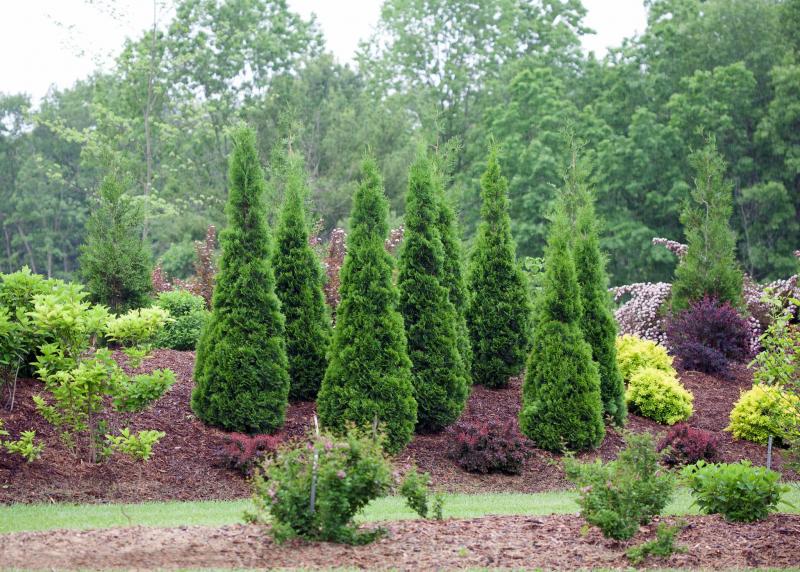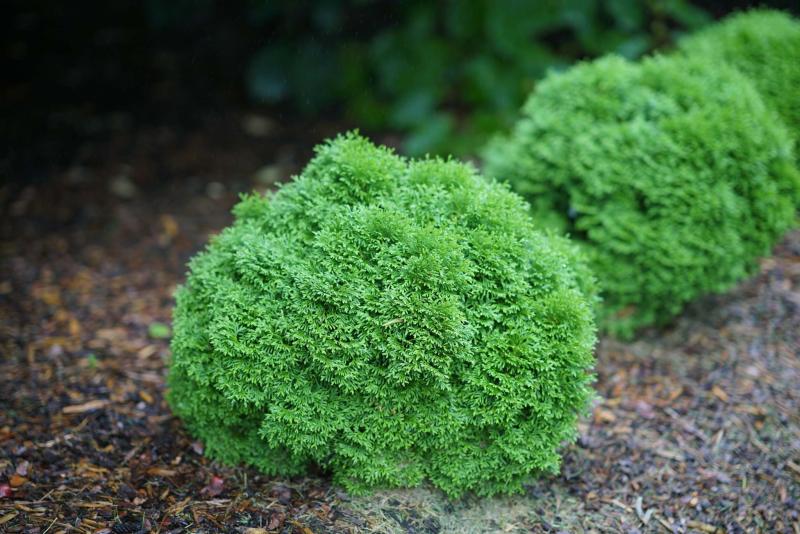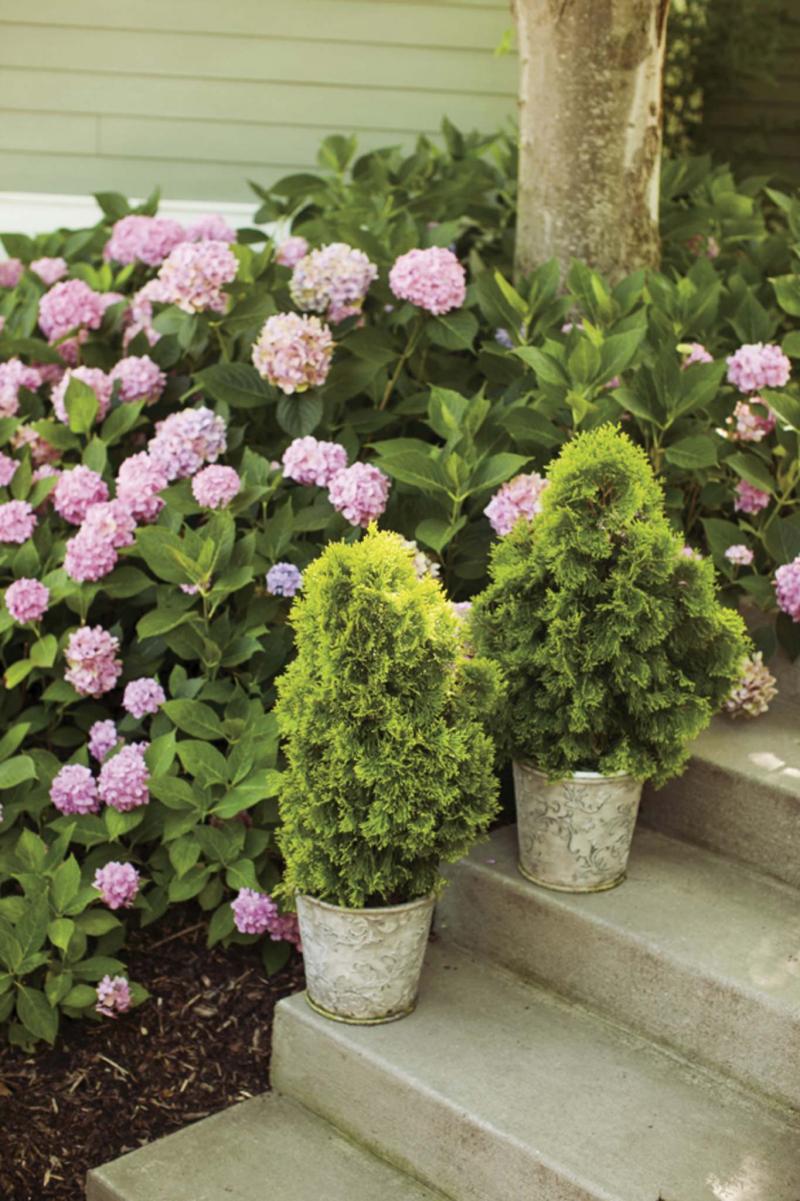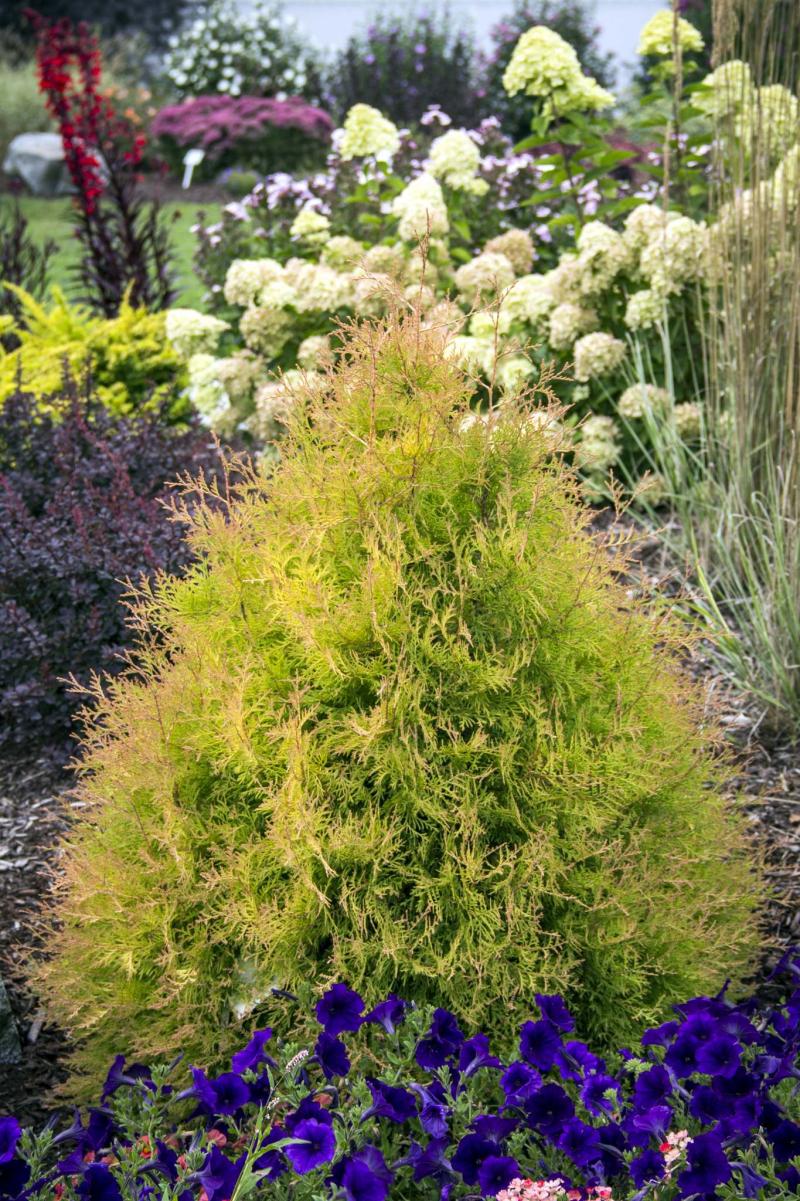 Do you know the story of Baby Bear — Baby Bear Dwarf Cedar, that is?
Hugh Skinner, the plant breeder who developed Baby Bear, says the story begins with his father, Frank Skinner, a renowned horticulturist who made his home in the Dropmore region of Manitoba. On a trip to Montreal in the early 1960s, the elder Skinner collected seed from pyramidal cedars in the Saguenay-Lac-Saint-Jean region, which he used to start 400 seedlings.
From those original seedlings, Hugh, who makes his home not far from Dropmore, observed two dwarf plants, one of which was very narrow and upright. Beginning in the 1980s, he proceeded to propagate new plants and watched them develop and grow over the next couple of decades.
Nursery growers came knocking at his door and, today, Baby Bear Dwarf Cedar (Thuja occidentalis ByHugh) is recognized by the horticulture industry as a significant coniferous plant. A rock star in the landscape, Baby Bear is in production at Bylands Nurseries, a leading wholesale supplier of plants to growers across Western Canada, northern Ontario, North Dakota and Minnesota.
Jan Pedersen, the regional sales representative for Bylands, says that Baby Bear is a true dwarf with a naturally tight, symmetrical habit, dense form and bright green foliage. As a juvenile, Baby Bear is little more than a metre tall. As a mature adult, Baby Bear stands about 1.8 metres tall and is a svelte 60 to 90 centimetres wide.
At one-third of the mature height of taller cedars such as Skybound or Brandon, Pedersen says, Baby Bear never needs pruning and is extremely hardy for our climate.
"It's a good option for homeowners who want to grow a cedar near their front door," Pedersen says, "but don't want it to be brushing up against the eavestrough by the time it matures."
Pedersen says that in Western Canada, we typically refer to the Thuja species by the common name of cedar. However, in other regions, this species is known as arborvitae, Latin for tree of life.
At three metres in mature height, North Pole Arborvitae Thuja occidentalis is much taller than Baby Bear. North Pole sports a narrow, upright columnar habit, which makes it suitable as a specimen plant for narrow sites or for screening out unwanted views.
Selected by Art Boe of Minnesota, North Pole has an elegant shape and is resistant to winter burn. Owen Vanstone, of Vanstone Nurseries, grows three North Pole cedars beside the northwest corner of his house in Portage la Prairie, where they are routinely whipped by strong winds. About four or five years old now, North Pole has not exhibited winter burn.
Evergreens have long been used in our landscapes for their year-round colour and appeal. The workhorses of the garden, evergreens play a valuable role as protective windbreaks from winter's harsh winds and as habitat for birds. "The cover that evergreens provide in winter is much denser than that of deciduous plants, which lose their leaves in fall," Skinner says.
Today there are more shapes and sizes than ever to suit even the most compact spaces.
If all you have room for is a tidy evergreen globe, take a look at Tater Tot Arborvitae Thuja occidentalis. A new introduction from Proven Winners for 2019, Tater Tot looks as adorable as its name. A mounded shape with fragrant, fan-like evergreen foliage, Tater Tot is a mere 30 to 60 cm tall and wide at maturity and provides an attractive contrast to flowering perennials.
Owen also likes the compact size and lacy foliage of Fire Chief Thuja occidentalis and especially its exciting colour tones. Native to Canada, Fire Chief carries the Bloomin' Easy brand. It offers bright gold foliage in spring and deep red fall colour. Slow growing, it will take several years before Fire Chief attains its mature size of 125 cm by 125 cm.
Fire Chief is suitable to a location that is full sun to part shade and won't require pruning to maintain its shape. Fire Chief does, however, prefer evenly moist soil that has been amended with compost and will suffer if it is not hydrated in periods of drought.
Filip's Magic Moment cedar is a Proven Winners variety and grows as a dense little cone, making it ideal for planting near entryways. The outer growth emerges a colourful gold which persists year-round. Ultimately it will grow to 182 cm tall; however, the ultra-compact size of a young specimen makes it ideal as a thriller for a patio planter.
If gold is the new green, then you may also want to consider Polar Gold cedar. Native to Canada, Polar Gold is a tall arborvitae with a narrow, space-saving habit, Vanstone says. New growth emerges a glowing gold colour that persists year-round.
Pedersen says it's important to be mindful that cedars come in many variations of mature widths. Techny cedar, for example, is a popular broad pyramidal that grows to five metres tall and 2.5 metres wide, so would not be suitable as an ornamental pillar at your front door.
That said, Pedersen says, Techny is enjoying renewed interest by privacy-seeking homeowners who are looking for ways to screen views. Techny is fast-growing and its aromatic foliage responds well to shearing.
Wareana Siberian cedar is another broad pyramidal that is useful as an informal hedge or as a living screen. At three metres tall, it is shorter than Techny but has the same width. Don't underestimate the value that the dense foliage of Techny and Wareana represents to birds in the dead of winter.
Sometimes we see cedars wrapped in burlap. One of the reasons for this, Pedersen says, is for protection from the winter sun, particularly at this time of year. In March, the reflective nature of snow and sunshine can double the light intensity on cedars.
If the roots of cedar plants — indeed, evergreens in general — are not hydrated properly in the fall, Pedersen says, then the combined effect of a bright, sunny location and reflection from snow at this time of year compounds the risk of browning.
Pedersen's father grew Brandon and Skybound cedar varieties in his backyard. He liked to keep some bags of thawed soil so that in early March he could distribute a layer of black soil in a patch around each of his cedars. This effectively darkened the snow and hence mitigated the reflective light that occurs at this time of year. This strategy helps to minimize winter damage to evergreen foliage and eliminate the need for burlap screens.
Evergreens are low-maintenance plants once they are established. Heavy hydration in late October, Pedersen says, also goes a long way in minimizing the desiccation that can occur in late winter.
How important is location? While cedars are adaptable to low light conditions, Pedersen says, most varieties prefer a bright sunny area free of excess reflection, such as an outside white stucco wall. A cedar planted against a south-facing wall may find the conditions challenging unless it is heavily mulched to help it retain lots of moisture.
With their different shapes, foliage textures and year-round colour, cedars are wonderful and useful additions to the landscape.
colleenizacharias@gmail.com