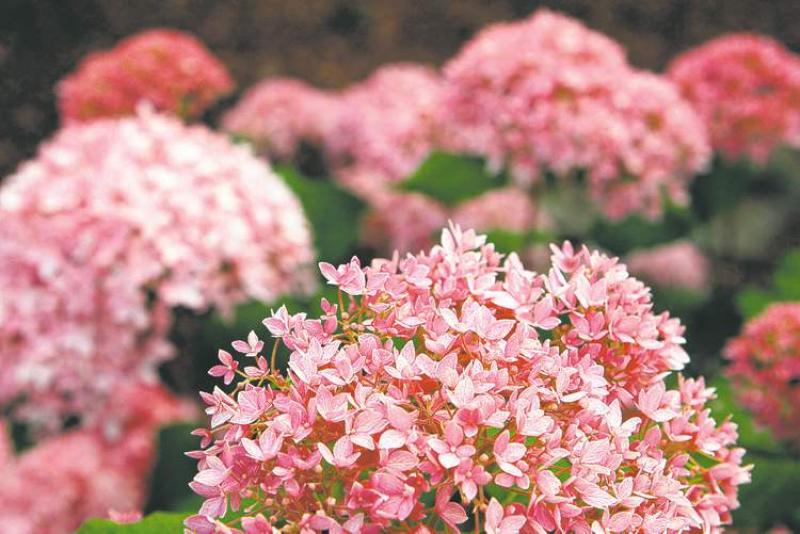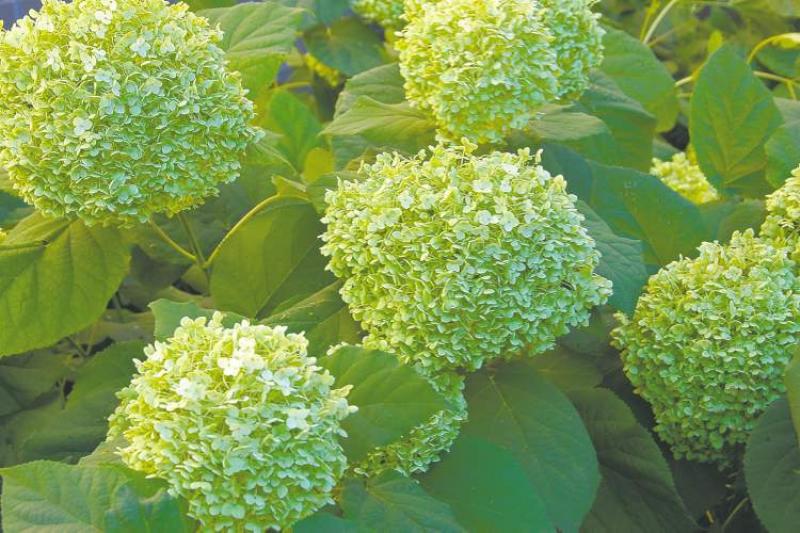 When it comes to lush and romantic blooms on a large scale, hydrangeas rank with peonies in terms of their arresting visual beauty in the garden.
But, while herbaceous peonies die to the ground by the end of each autumn, hydrangeas are unsurpassed among flowering shrubs. Their large showy blooms show from midsummer to fall and evolve in colour as the season changes.
Each year several new varieties of hydrangeas burst onto the gardening scene, complete with promises of sturdier stems to support the ever-larger heads, more flowers per plant, or colours that include white, green, pink, red, or a combinations of hues.
Vanilla Strawberry Hydrangea, for example, features tri-coloured 10-inch blooms that are a blend of vanilla and strawberry, turning to a rich strawberry-red colour that lasts from three to four weeks.
Little Lime Hydrangea, a new dwarf selection that is one-third the size of Limelight Hydrangea, produces vast numbers of blooms that are about six to eight inches across. Flowers start out green-white but take on pinkish tones by fall -- great for a small garden space or even a container.
The name Incrediball, of course, suggests what is perhaps the largest bloom of any of the hydrangeas on today's market -- up to 12 inches across. Their blooms start out lime-green, change to pure snowy white, and then fade to shades of pale green.
Owen Vanstone, of Vanstone Nurseries in Portage la Prairie, highly recommends the Incrediball Hydrangea.
"It has just about displaced the Annabelle because it has more vigour -- incredible stem strength and huge flower size," he says. "Winter hardiness is equal or better."
Another variety is Invincibelle Spirit, which promises blooms that will emerge bright and hot pink. Unlike the hydrangeas of old, it's a heat-tolerant variety that will grow in full sun. There are many such varieties to tempt us and more in development.
There is a certain mystery to hydrangeas, however, and it lies within the area of care and maintenance.
One of the most commonly asked questions among gardeners at this time of year is, "Should I prune my hydrangea"? The answer depends on what type of hydrangea you're growing. If you're familiar with the variety, the answer is fairly simple to find. But, if not, your best bet is to exercise patience until the plant begins blooming so you can see the shape and colour of the inflorescence -- key to identifying your hydrangea.
The most common types of hydrangea available in our growing zone are: the mophead (Hydrangea macrophylla var. macrophylla), lacecap (Hydrangea macrophylla var. normalis), and panicle (Hydrangea paniculata). Each type has its own set of pruning rules and growing requirements.
The most popular species is the macrophylla, which means "big leaf." It produces the mophead blooms that are globular or rounded in shape and six to eight inches wide -- mostly showy, infertile flowers arranged on the outside and a small number of fertile flowers in the interior.
Because the flowers are mostly sterile, they are not pollinated and do not produce fruit and seed, so the flower heads last a very long time.
Examples of the mophead type of hydrangea include Hydrangea arborescens (Annabelle, Incrediball and Invincibelle Spirit) and the Endless Summer collection, whose latest entry is Bella Anna.
The lacecap variety features a flattened flower cluster with an inner ring of small-sized, fertile flowers surrounded by an outer ring of large, showy flowers. An example is Twist-n-Shout, hardy to zone 4.
Paniculata hydrangea is perhaps the hardiest hydrangea. Flowers are in the shape of panicles, or cone-shaped. The best-known example is Pee Gee. Others include the incomparable Limelight and its dwarf selections, Little Lime and Little Lamb, as well as Bombshell, Pinky Winky, Vanilla Strawberry and Quickfire. Bombshell promises more blooms per plant than any other paniculata.
When it comes to an early blooming time, Philip Ronald, of Jeffries Nursery in Portage la Prairie, recommends Quickfire.
"Quickfire is one of the earliest paniculatas to bloom. An early blooming characteristic is important in Manitoba which has a short growing season," he said. "Once petals are unfurled in white, they turn a deep pink and hold that colour through fall. Quickfire also offers a compact rounded habit that fits neatly around foundations".
Another variety that is making more of an appearance at the garden centre is the climbing hydrangea (H. anomalis subspecies petiolaris), hardy to zone 4.
The next step to identifying and caring for your hydrangea is to determine whether it blooms on new or old wood -- or both. Again, if you're not sure, it's essential you simply do nothing until the plant begins blooming.
For example, the Endless Summer hydrangea, discovered by plantsman Michael Dirr at Bailey Nurseries in Minnesota, has pink or blue blooms (depending on soil acidity) and blooms on new wood of the current season and old wood of the previous season. It will re-bloom all summer and into the fall.
Pruning should be done as soon as flowering is finished, prior to flower bud formation for the following year. Failure to bloom (always distressing) results when new flower buds forming at the tips of stems in late summer are pruned off. Clip off spent blooms about 1/2-inch above the first set of leaves beneath the blooms. Removing the spent blooms of the first flower flush is essential for the production of flower buds on the new growth.
In the spring, wait until new leaves have fully expanded before cutting any dead-looking stems to the ground -- they may not be dead. Be patient, as you may have to wait until June before new growth is visible. Also, do not prune branches until the plant has reached maturity -- about three years.
The easiest hydrangeas to prune are those that bloom on new wood -- the Hydrangea paniculata and Hydrangea arborescens cultivars. If you cut them back in the late fall, they will still bloom next spring. Simply prune in either late fall or early spring to whatever height you want it to grow. Hard pruning to six to eight inches above the ground will encourage long stems on older plants and giant blooms. The dried, tan-coloured inflorescences can also be left on the plant for winter interest.
Colleen Zacharias is a master gardener and certified prairie horticulturalist.
Colleen.Zacharias@gardensmanitoba.com