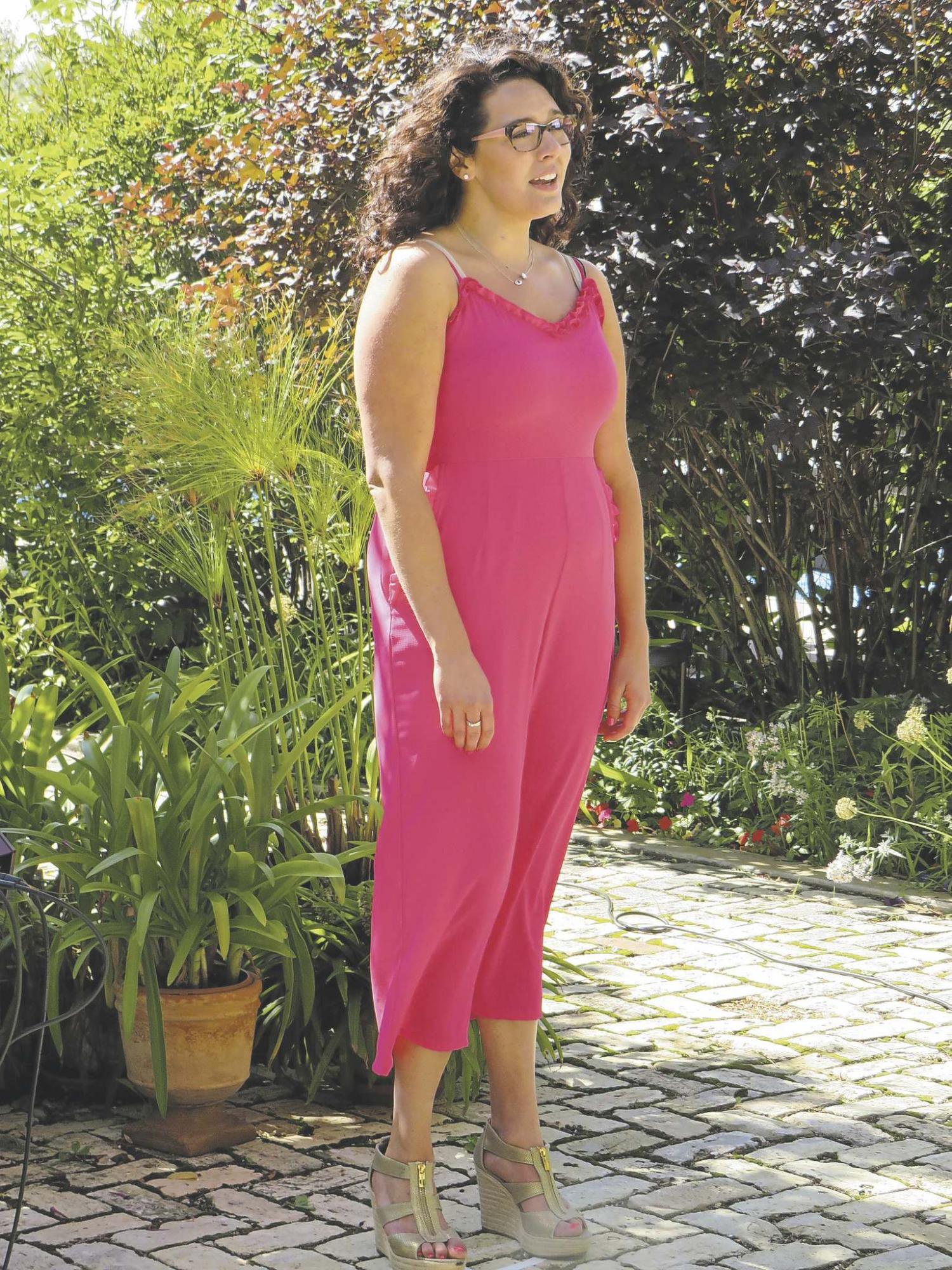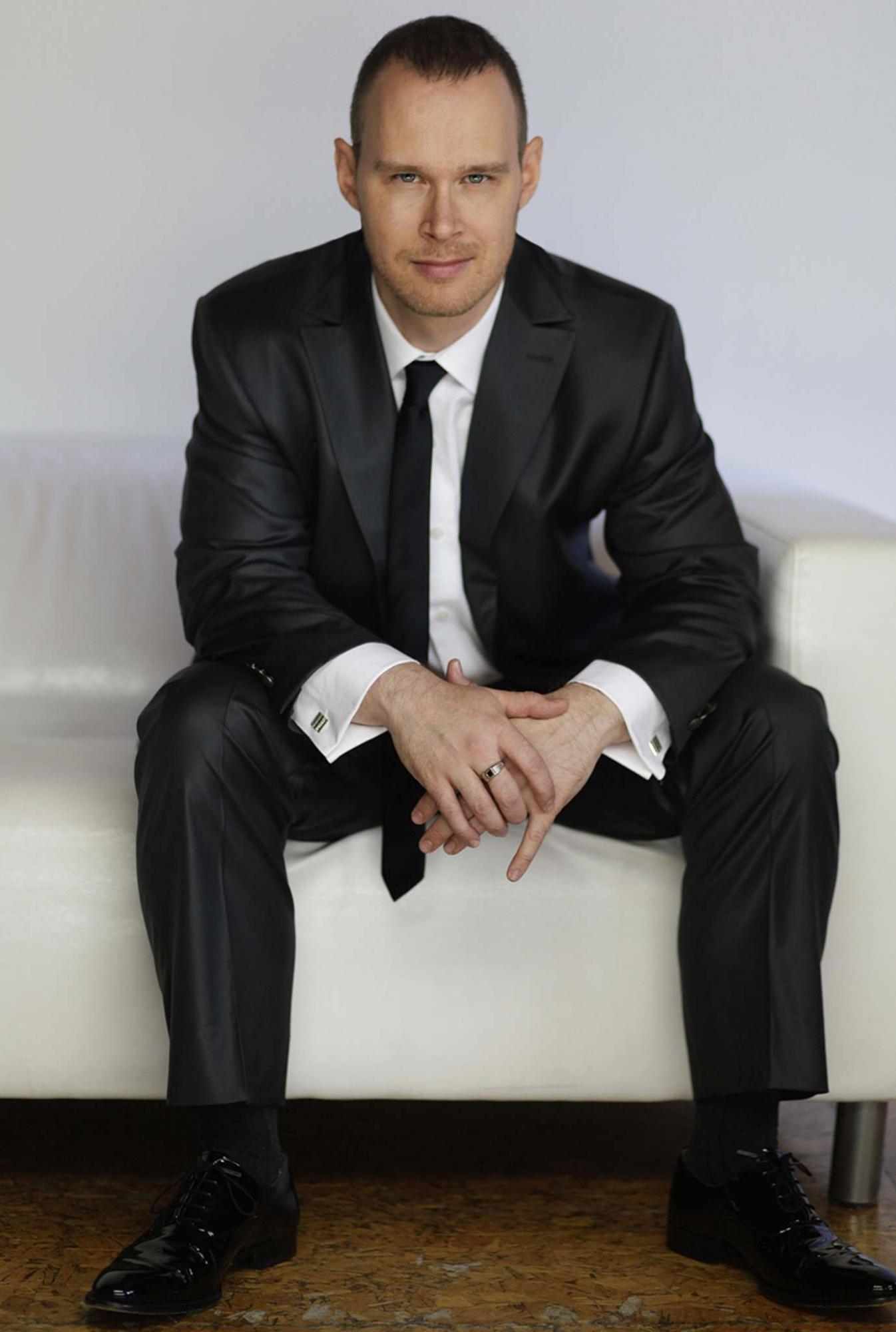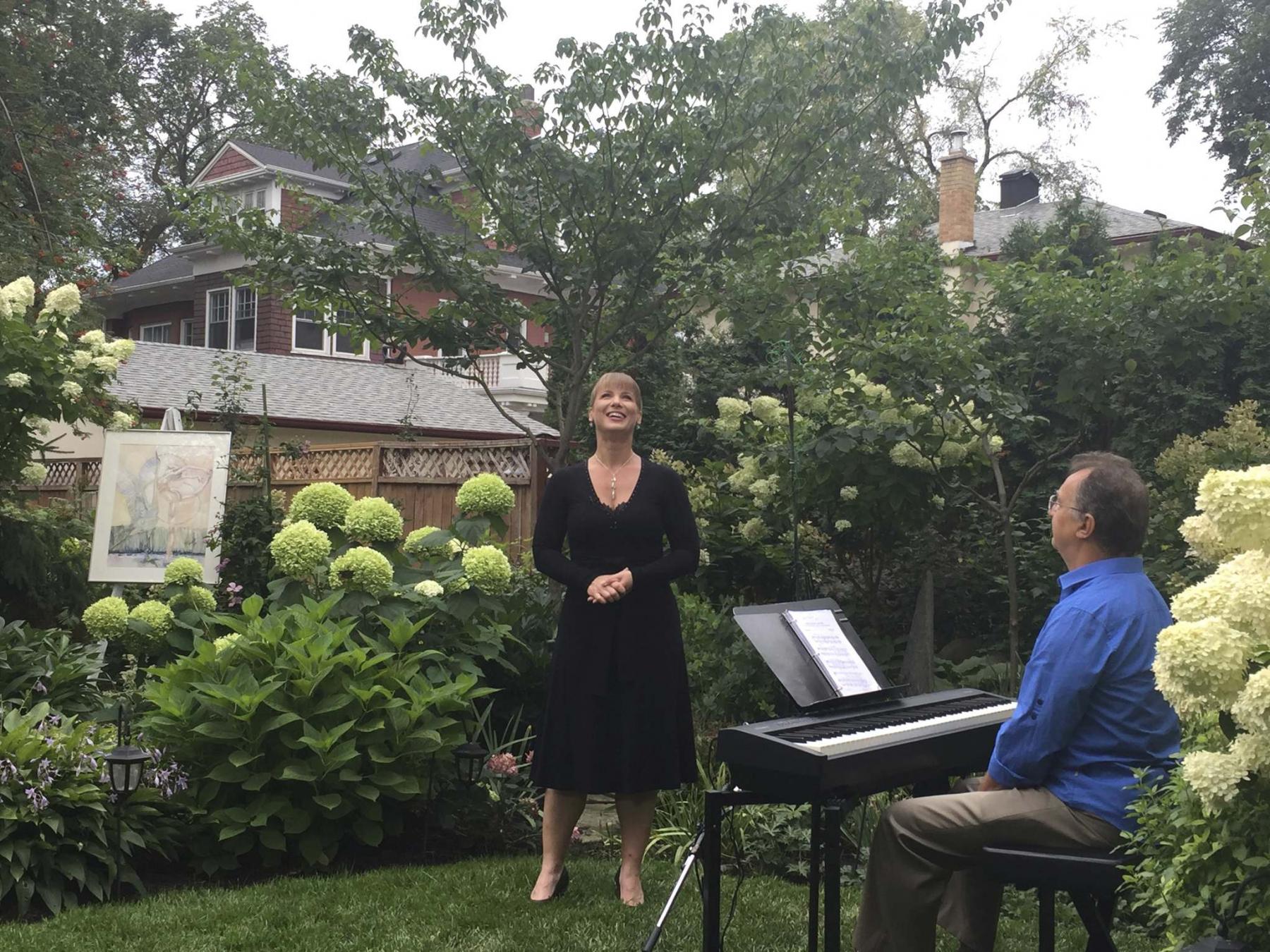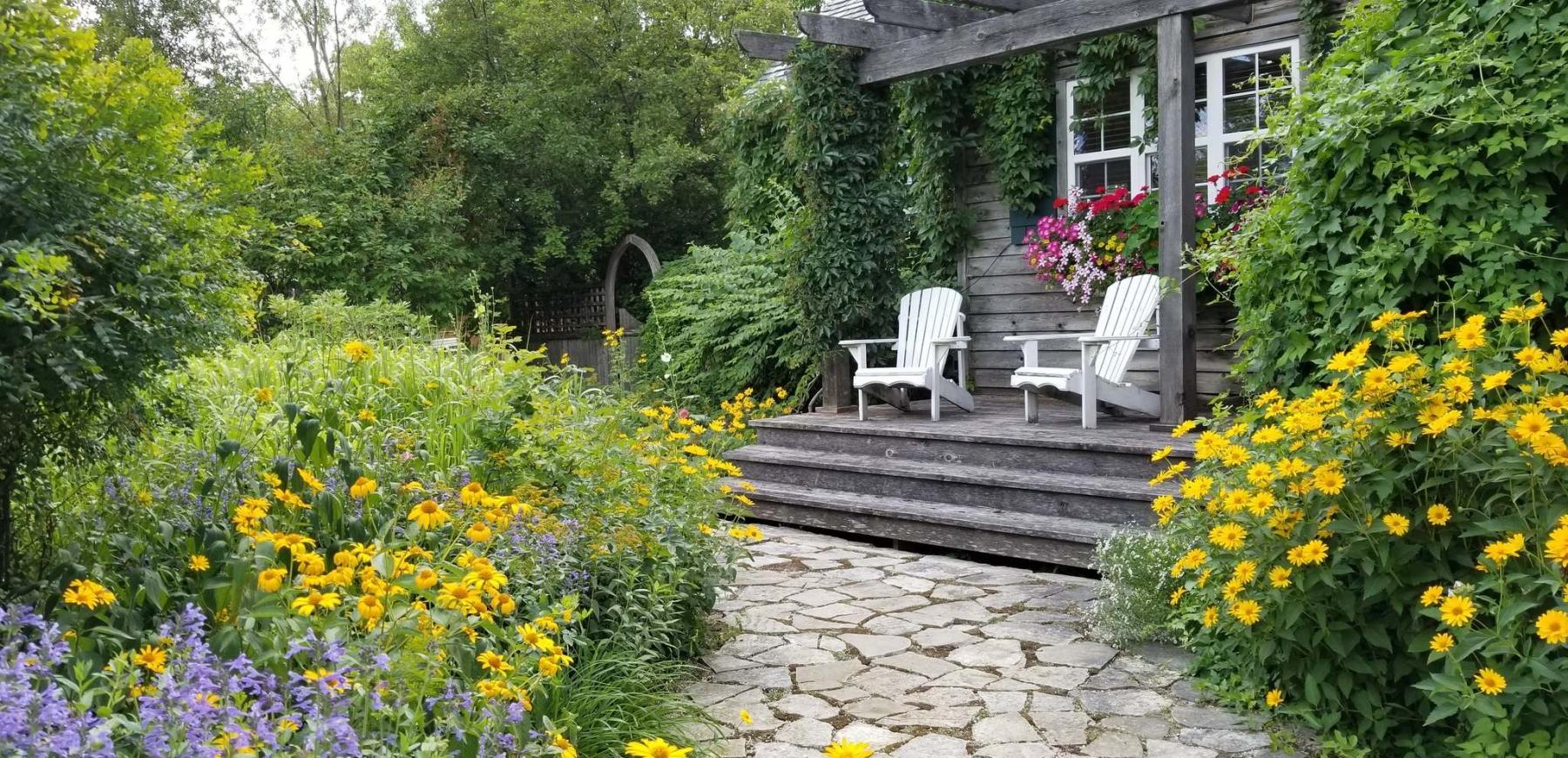 Beginning Saturday, Manitoba Opera debuts a new virtual experience called Opera in the Garden. So pull up the most comfortable seat in the house, take your mind off things and immerse yourself in soul-stirring performances by Manitoba Opera singers in three elegant gardens.
The three 25-minute videos, filmed during the last week of August and first week of September, capture the warmth and radiance of summer. Enjoy the superlative music of classically trained Winnipeg singers Lara Ciekiewicz, soprano, James McLennan, tenor, and Jessica Kos-Wicher, soprano. Accompanists include Tadeusz Biernacki, Manitoba Opera's longtime chorus master, and Lisa Rumpel, an active member of Winnipeg's arts scene.
You will also be treated to an intimate tour of the three private gardens that set the stage for the singers' performances. In each episode I talk to the garden owners about their individual style and the design processes that brought their vision to life as well as challenges they have encountered in realizing it and what they envision next.
Life happens in the garden and music feeds the soul, so it was this connection between music and garden design, and the possibilities for a unique collaboration, that first began to percolate last spring in the creative mind of Darlene Ronald, marketing director for Manitoba Opera. A gardener herself, Ronald hired an opera singer to perform at her birthday party a few years ago. "The combination of singing in a garden setting is lovely, so I wanted to see if we could put something together this year to provide programming for people who enjoy opera as well as gardens, but also to continue to provide some performance opportunities for singers," she says.
There is no doubt the pandemic has altered the landscape. Indeed, the pandemic has proven to be the mother of all reinvention for every segment of our society, from garden clubs that were forced to cancel annual garden tours to the performing arts whose much anticipated productions were put on ice. But that said, under its community-engagement umbrella Manitoba Opera has been involved in all kinds of unique initiatives over the last several years including dinners, panel discussions and guest speakers from all kinds of different backgrounds and areas of expertise. Often these initiatives are focused on productions Manitoba Opera is featuring and discussions centre on how the stories they tell relate to our 21st century world.
"It really gives us great opportunities to explore content that appeals to a wide variety of people who may or may not be opera-goers," says Ronald. "Now, we continue to reach out and connect with people even if we can't meet in-person together. We're so happy and thrilled our garden owners so willingly agreed to share the beauty of their private spaces with a wider world."
The filming of Opera in the Garden was done by Moose Toque, a Winnipeg-based video production company. Moose Toque's James Hiebert and Alex White are both graduates of Red River College's Creative Communications program. The timing was perfect. As if on cue, the weather co-operated and the bees and hummingbirds went about their business as the crew set up their equipment. On the last day of filming, blustery winds teased intermittently but only heightened the experience and drama of the outdoor setting.
Episode 1 takes place in Melva Widdicombe's garden in Armstrong's Point and features soprano Lara Ciekiewicz, who sings Porgi Amor from Mozart's The Marriage of Figaro and Song to the Moon from Rusalka by Antonin Dvorak. During the filming, one by one, neighbours gathered nearby to listen in or to catch a glimpse from their windows of the amazing scene unfolding before them. The performance by Ciekiewicz is breathtaking. Such beauty transfixes and moves us.
The idyllic setting of Widdicombe's garden and her artistic talent in creating sculptural elements and a skillfully composed planting palette with enviable layers of texture will inspire you to dream up new ideas for your own private oasis. Towering 100-plus-year-old elm trees that once shaded her property are slowly disappearing and Widdicombe describes how she is adapting and evolving her garden design. Her garden holds unexpected surprises. As an artist who is ever mindful of the relationship between the arts — music, painting and gardening — Widdicombe says movement, light, shape, colour, form, balance and texture interweave to create a garden of tapestry.
Episode 2 takes us to June Bennett's garden in Assiniboine Landing where the lush setting is one of pure escapism made even more perfect by the magical voice of tenor James McLennan, who performs Not While I'm Around from Sweeney Todd by Stephen Sondheim. Born and raised in Winnipeg, McLennan is an avid performer of contemporary music.
There is great continuity and flow in Bennett's landscape. Accented with a tantalizing mix of grasses, shrubs and perennials with rich seasonal colour, the naturalistic setting is a wildlife habitat for many species of birds. A spectacular pond and foot bridge takes centre stage. You won't want to leave.
In the third and fintal episode of the Opera in the Garden series, John Tinkler's Winnipeg garden invites you to discover and explore three exclusive and unparalleled garden rooms where timeless and authentic design meets contemporary style.
The owner of Design Manitoba, Tinkler excels at making the vision for his landscape a reality. He says there should be only one man-made object in each view — say a bird bath or an obelisk. "More than one and the eye doesn't know where to look as there are too many focal points fighting for your attention," he says.
Oh, but what focal points, along with superb structure and architectural elements, including stunning performances by Jessica Kos-Whicher, accompanied by Lisa Rumpel, of Quando me'n'vo, a soprano aria from Giacomo Puccini's La Bohème as well as Joy Alone by Jake Heggie.
In addition to Opera in the Garden, Manitoba Opera subscribers can also check out other live-streamed events planned for the coming months. On Nov. 7, the Sopranos of Winnipeg will feature internationally acclaimed artists and hometown favourites, Tracy Dahl, Andriana Chuchman, Lara Ciekiewicz, Monica Huisman, Lara Secord-Haid, Lida Szkwarek and Andrea Lett, who will perform a selection of works in a 75-minute, live-streamed, season-opening event from Centennial Concert Hall. For tickets and more details, visit mbopera.ca.
For now, you won't want to miss the first episode of Opera in the Garden which is being released today. The second episode will be released on Oct. 10 and the third on Oct. 17. The cost is $10 per episode or $25 for all three. Tickets can be purchased online at mbopera.ca or by phoning 204-944-8824.
colleenizacharias@gmail.com