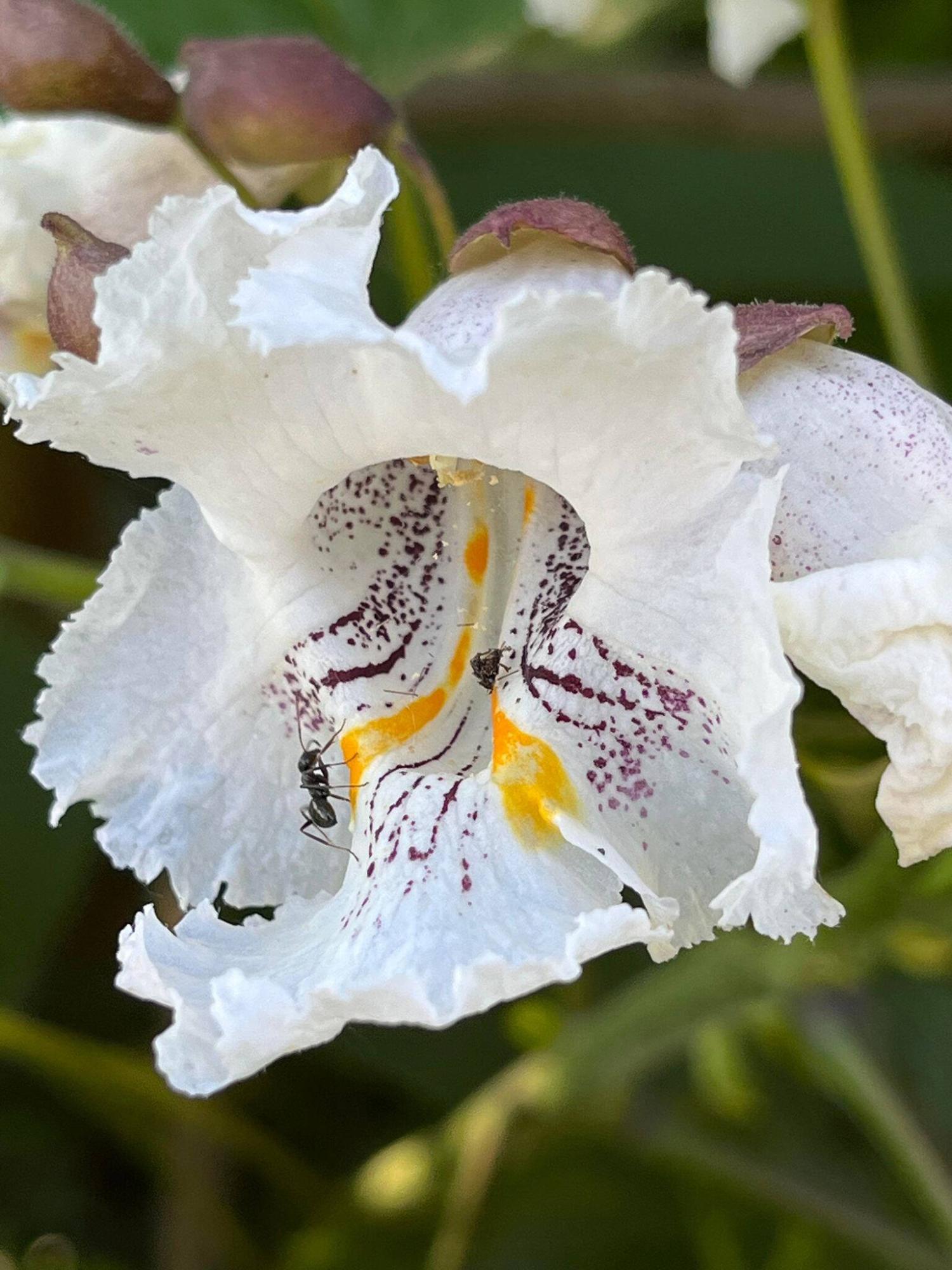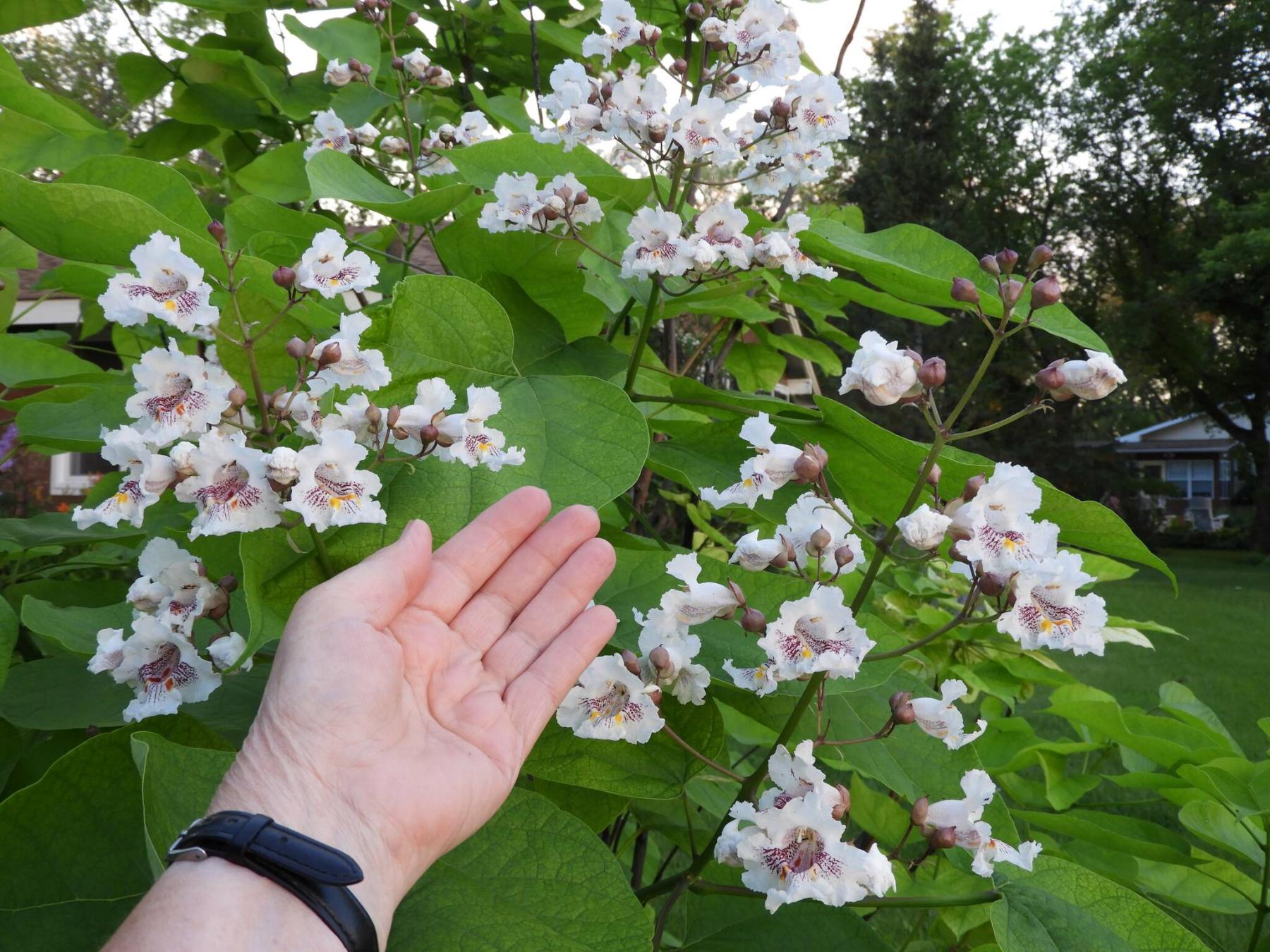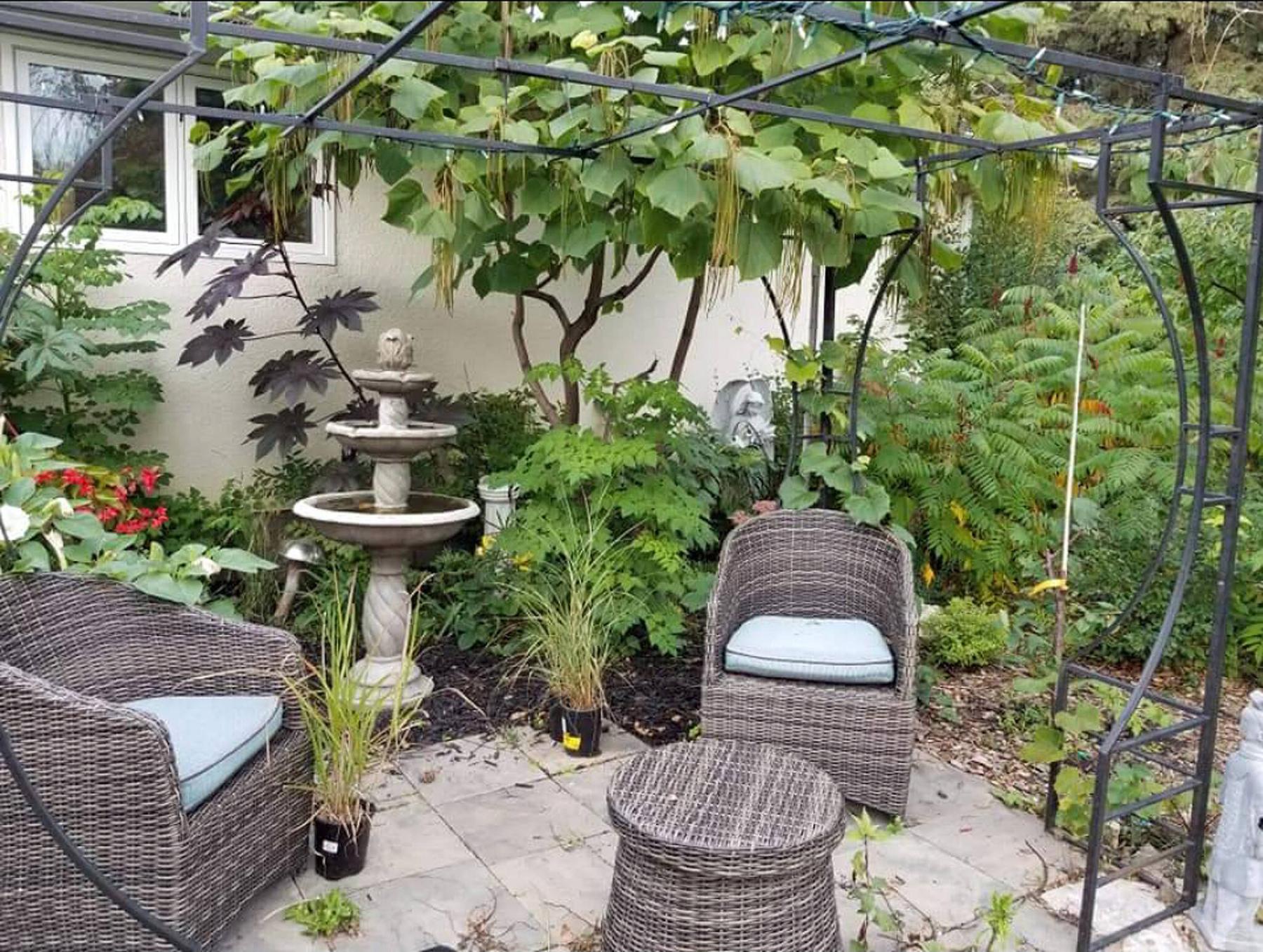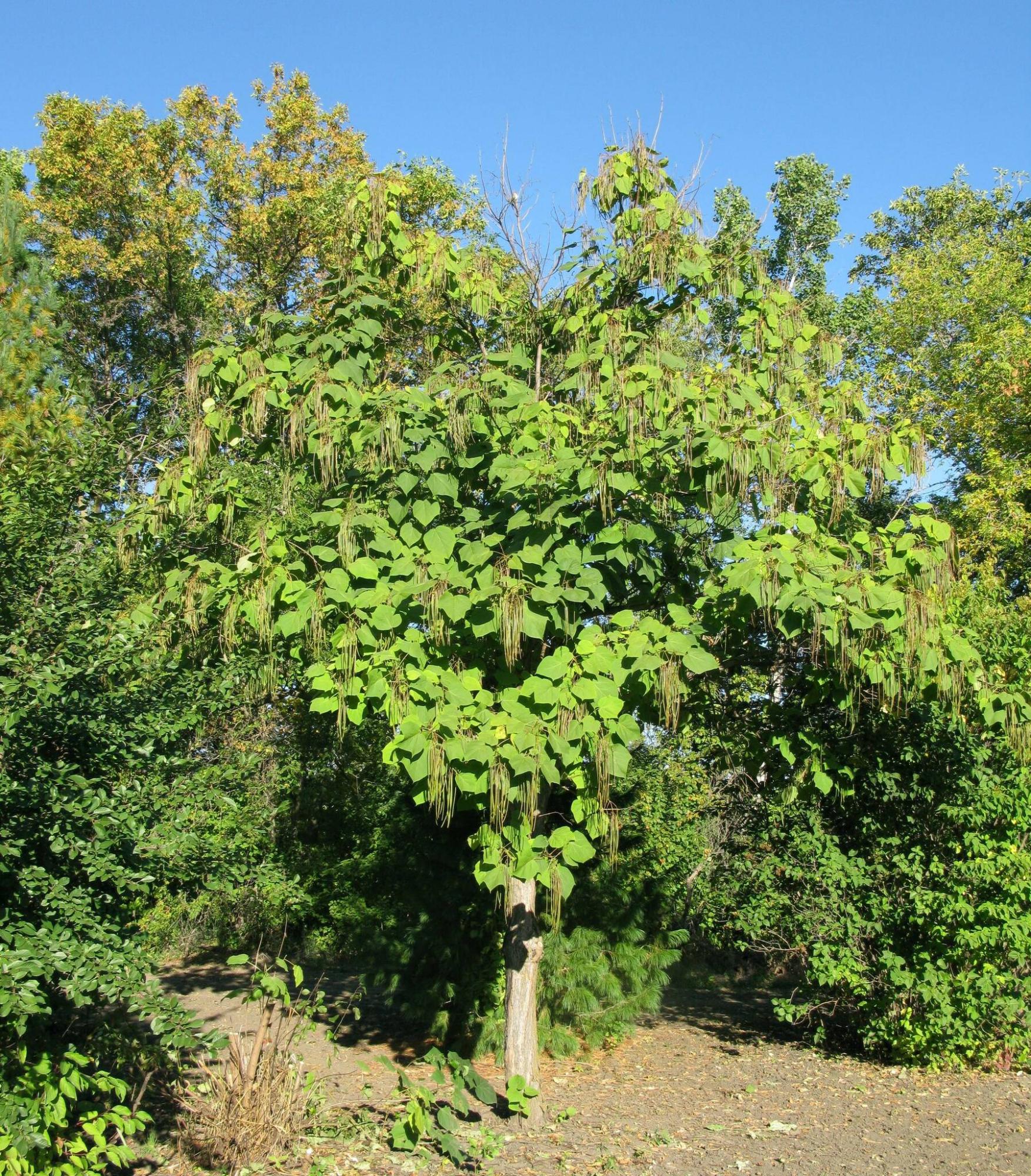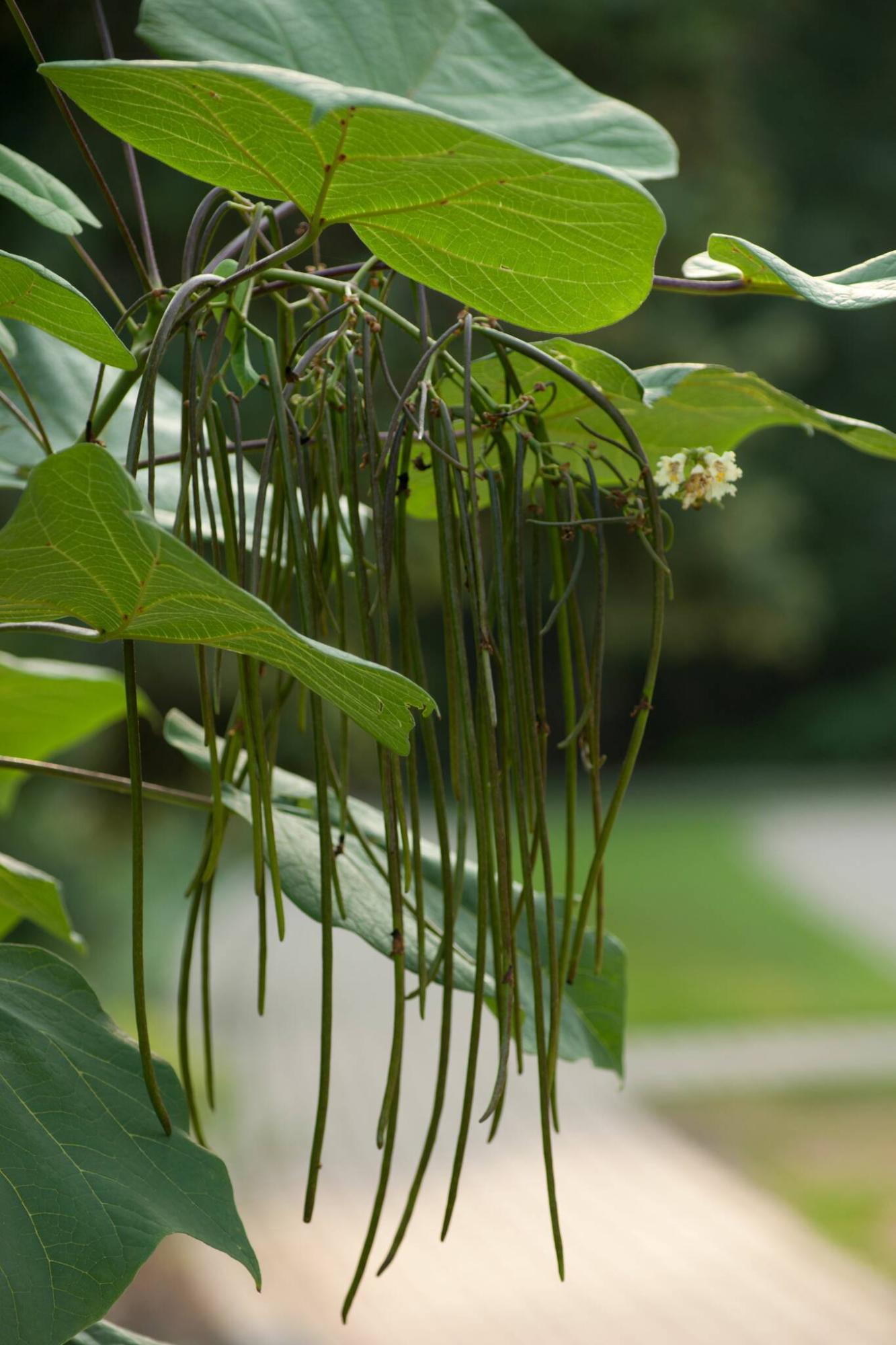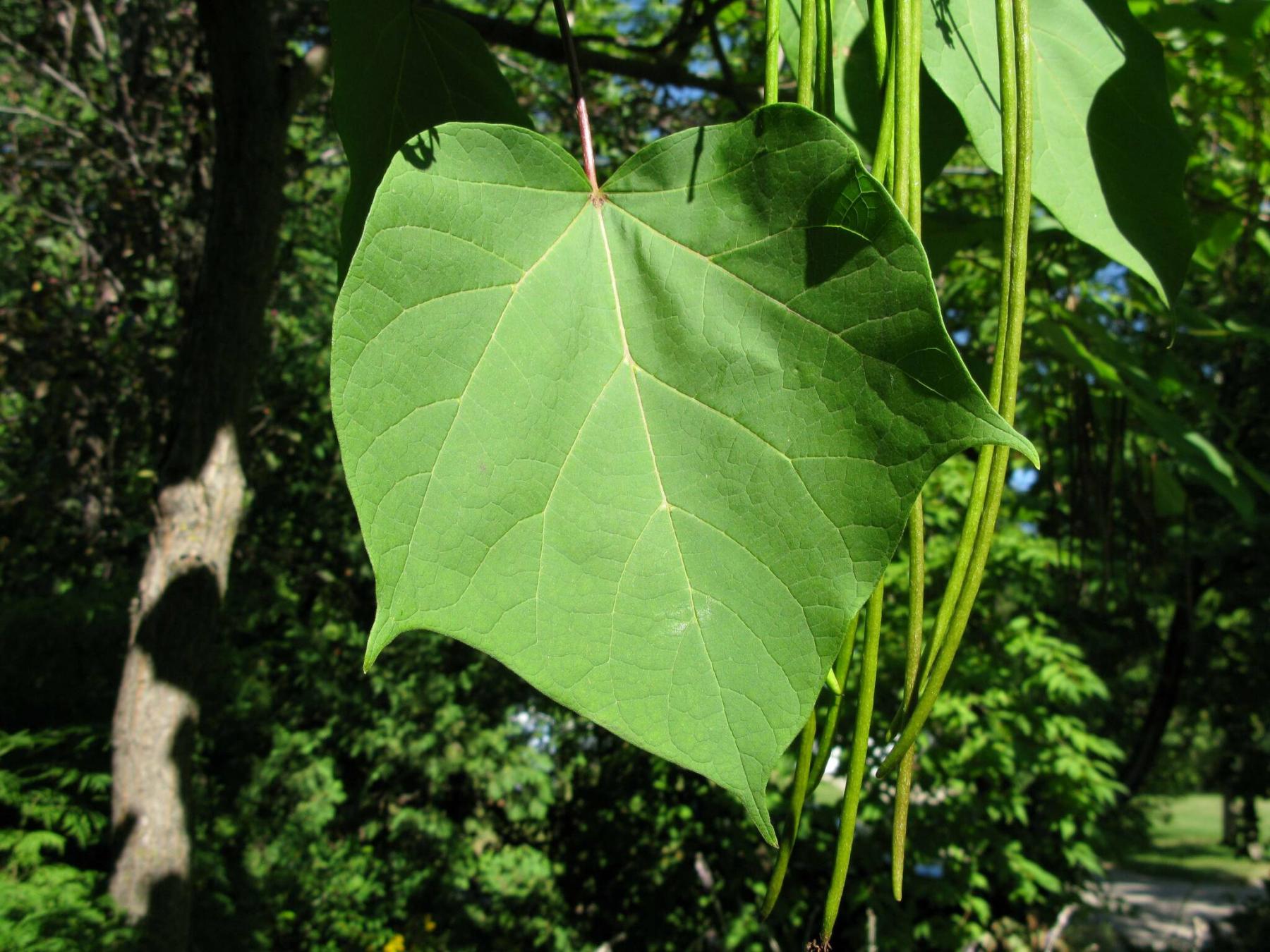 The catalpa tree holds an undeniable mystique. That becomes readily apparent when you talk to someone who grows a catalpa tree who knows someone else who grows a catalpa tree who knows someone who wants a catalpa tree.
There are two types of catalpa — Northern Catalpa (Catalpa speciosa) and Chinese Catalpa (Catalpa ovata). Catalpa belongs to the Bignoniaceae family. Northern Catalpa has very large, elongated heart-shaped leaves. Chinese Catalpa's leaves are broad and more square-shaped. Catalpa's flowers are spectacular and grow in dense, showy clusters. Orchid-like, the large bell-shaped flowers have frilly, lobed edges with brush strokes of orange on the throat and purple inner spotting. Chinese Catalpa's flowers are yellowish white. Northern Catalpa's flowers are white and the showiest of the two at twice the size. And as if the shocking beauty of the flowers weren't enough, long dangling seed pods (up to 50 cm) that look like string beans accentuate the exotic tropical appeal of catalpa.
Commonly grown in southern Ontario and in the midwestern U.S., catalpa is hardy to Zone 4. In southern Manitoba's Zone 3 climate, catalpa is not considered fully winter hardy and only rarely will you find it sold at local garden centres. In our cold climate, catalpa is not intended to be a street tree nor a candidate for urban reforestation. It's a showstopping collector's tree, after all, and a conversation piece that people always ask about when they see it. And such is the popularity and allure of catalpa that it's not hard to find someone in Winnipeg, Selkirk, Steinbach, Neepawa, Portage la Prairie, Morden, Carman, and other cities and towns, who grow catalpa in backyards and farmyards. In many cases, the homeowners started their catalpa tree from seed or grew it from cuttings or seedlings they received from someone else's tree. Interestingly, the homeowners I talked to for this article have been growing their catalpa trees for anywhere from 13 to 20 years.
But let's hear first from Rick Durand, a plant breeder and prairie tree researcher who has evaluated tens of thousands of different types of plants for cold hardiness during his 40-year career in the horticulture industry. During the years that he lived in Portage la Prairie when he was involved in the breeding work at Jeffries Nurseries prior to moving to Kelowna to work for Bylands Nurseries tree research program, Durand planted both a Northern Catalpa and a Chinese Catalpa at his Portage farm. The trees grew to a height of about 25 feet (7 metres).
"Both Chinese Catalpa and Northern Catalpa can perform reasonably well in protected sites and when the growing season is average," says Durand. Even with a protected location, winter kill is not uncommon in a harsh winter. "You can expect to have some dieback some years, but it keeps growing," says Durand. Regular pruning is needed to remove the dead wood. A wet fall or cold, late spring also poses challenges. "Major winter damage usually occurs when the summer is unseasonably cool and when the fall is abnormally wet allowing catalpa to grow late into the fall season. This late growth does not give the Catalpa time to harden off properly." A cool, wet spring that results in late flowering disrupts catalpa's growth cycle and this is exacerbated unless it really dries up in the fall, says Durand.
"Plant catalpa in a protected area in sun or part sun," says Durand. "The soil should be reasonably moist but not wet. A fenced area that reflects heat will keep catalpa a little warmer. Another ideal spot would be in front of a grove of trees where it is protected from wind that can cause breakage to the somewhat brittle branches." Durand has observed that catalpa which has wide-spreading roots does much better planted in sod. "It self-seeds prolifically in an area that is cultivated. If you fertilize, only use a balanced fertilizer (equal amounts of nutrients). Too much nitrogen risks producing lush growth that won't harden off in time for winter."
There are six Northern Catalpa trees in the English Garden at Assiniboine Park. "We started with one plant — Northern Catalpa — in front of the old conservatory about 14 years ago," says Craig Gillespie, horticulturist at Assiniboine Park Conservancy. "We transplanted it, along with five seedlings, to the English Garden." Gillespie says that he was surprised at how easy it was to transplant the larger specimen, however, it has thrived in its new location. "We grow our catalpa as multi-stemmed trees. With catalpa's wide growth, they do want to take up a fair bit of garden space. We also must keep on top of the seedlings that sprout up."
Gardeners can get excited about catalpa seedlings. The sharing network among gardeners is a prolific one. The St. Andrews property of Jonny Faykes is the site of numerous catalpa trees. A large specimen with a broad canopy grows in front of the foundation of his house. An avid gardener who is fearless about growing a wide range of unusual plants, Faykes also has his own landscaping business and has introduced many of his clients to catalpa. "In early spring, the seed pods split open, and the winged seeds float around. I start the seeds outdoors in an area where the soil is not disturbed," says Faykes. He has also rooted cuttings from catalpa in water in spring but has found that catalpa adapts better when it is started from seed.
Faykes prunes catalpa in spring when the buds are starting to form, carefully pruning off any dead material from winterkill. He admires the structural shape of catalpa's branches, the stunning flowers, and seed pods. "The other neat thing about catalpa is that the leaves all fall at the same time with the first hard frost, so you only have to clean them up once."
Members of the Selkirk District Horticulture Society started a catalpa tree from seed and planted it at Red Feather Farm Park. Leila Wegert, a member of SDHS, says the tree is now about two metres tall. Wegert also grows a young catalpa tree in her Selkirk backyard from a seedling given to her by Maureen Klein, a Tyndall gardener. Klein purchased a catalpa tree at Morden Nursery about 20 years ago. Today Klein's tree stands six metres tall and two metres wide. She has shared numerous seedlings with others.
Although catalpa is not typically favoured by deer, Nia Massey's Selkirk garden is visited by many deer which browse the top of her catalpa tree every winter. Hence it rarely surpasses three meters in height and is more of a large bush. Last year, Massey counted 17 clusters of beautiful blooms.
Glenda MacPhee, who lives in Neepawa, started her catalpa from seed that a friend brought back from Kelowna. MacPhee's tree is now 13 years old. "Some years it has died back quite a bit but with all the snow we had last year, the dieback was very little. As a result, I had a dozen flower clusters," she says.
Do you also grow catalpa? I'd love to hear about your experience.
colleenizacharias@gmail.com