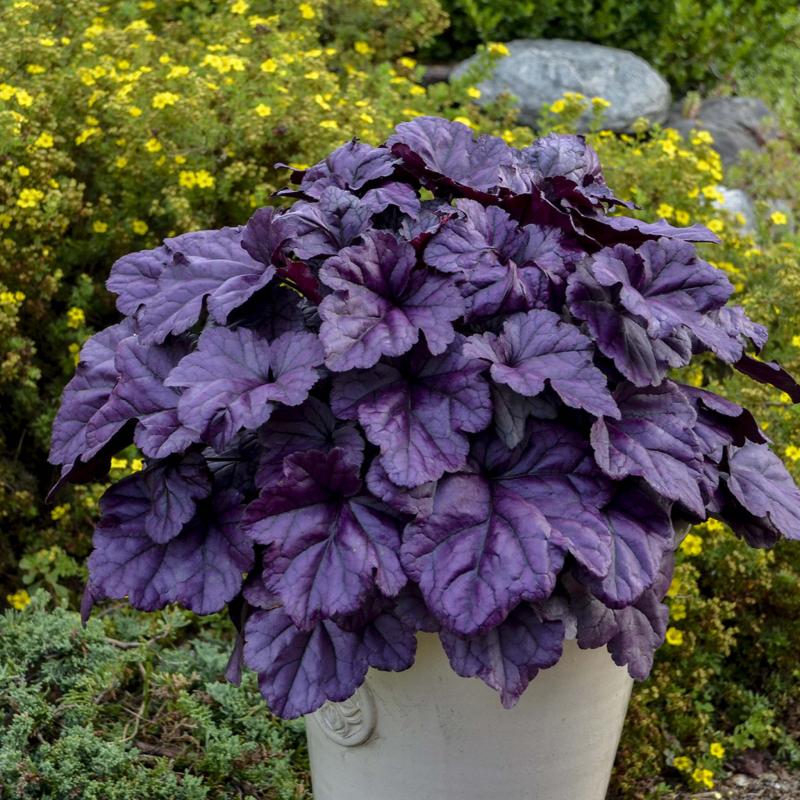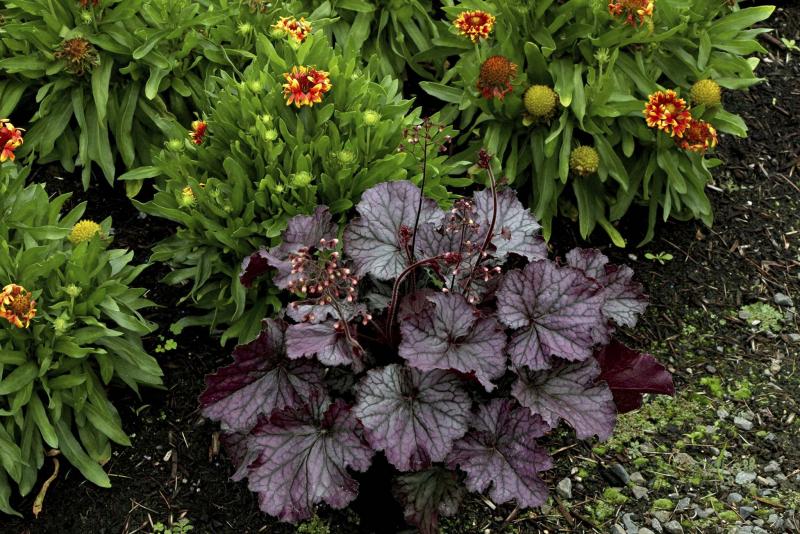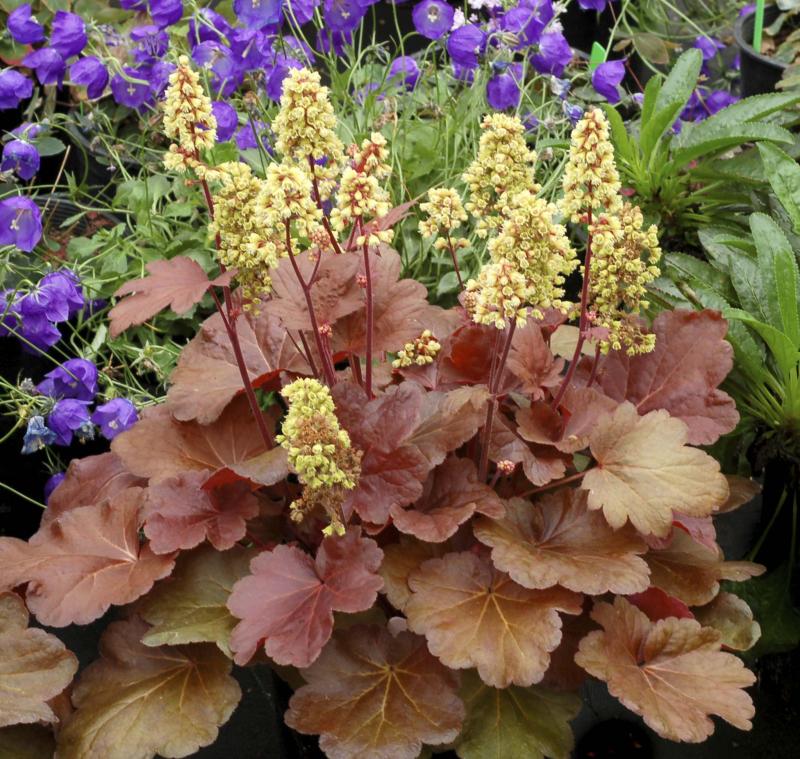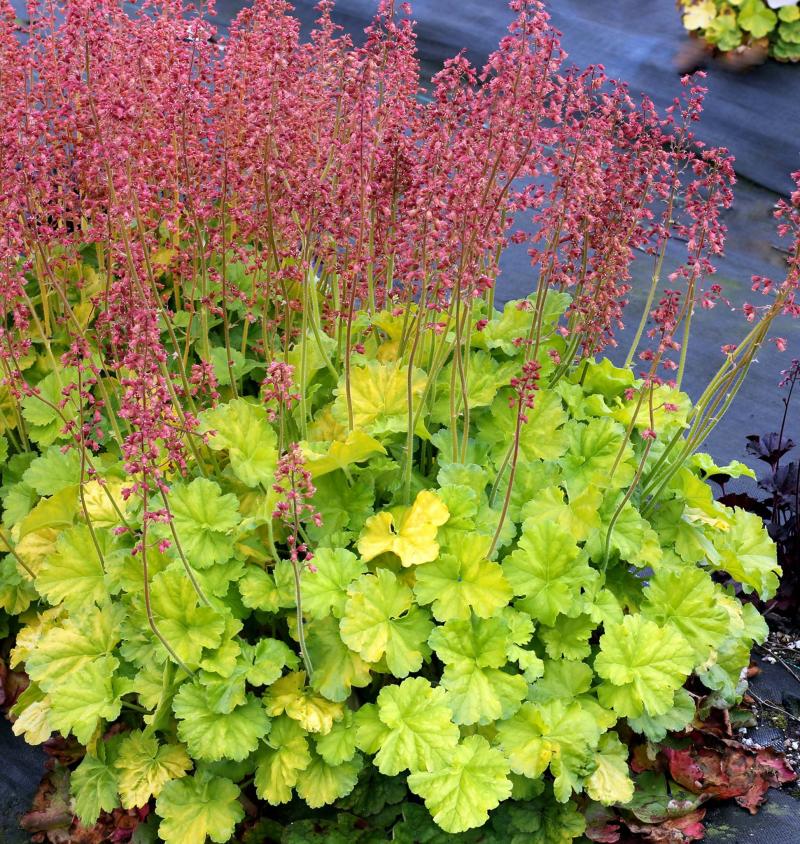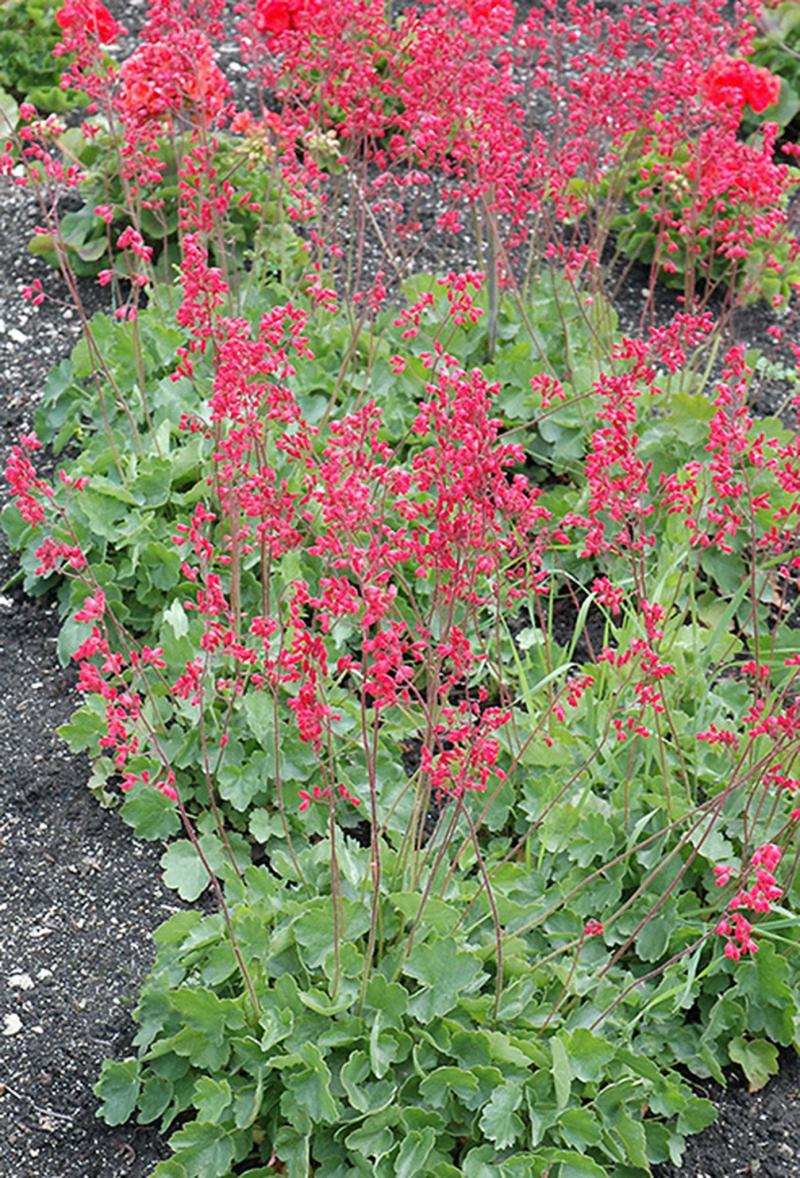 There are some plants we grow for their flowers and others we grow for their foliage. We're also influenced by a plant's shape and size and how well it plays with others in the grand-design scheme of things.
Heuchera (coral bells) is so eminently adaptable to a variety of uses in the garden that few of us can ignore the new and exciting offerings awaiting us each spring at local garden centres.
Low-growing with tempting foliage in a range of unusual shapes, patterns and colours, heuchera is a key plant no garden should be without. Heuchera also makes an excellent container plant and adds a sophisticated and classy style.
A quick scan of the hardiness zone information on the plant tags shows nearly all varieties are generally hardy to zone 4 or higher. That's close enough to zone 3b hardiness for those of us who won't be without these leafy beauties with their airy flowers.
Our enthusiasm may be tempered by the tendency of heuchera to push its crown out of the ground as a result of freeze-thaw cycles that occur during winter. Frost heaving can be lessened in our cold climate by applying a layer of mulch in fall for winter protection.
Heuchera makes other demands in the garden, too. As the plant ages, the crown becomes woody and sparse. Every three or four years, it's recommended to dig up the whole plant in spring and reset the clump, taking care to not bury the crowns when planting. Typically, heuchera prefers a location providing full morning sun and afternoon dappled light. There can be little compromise when it comes to the requirement by all heuchera species for well-drained soil.
It is well worth the effort to grow heuchera and no one knows this better than the breeders who are introducing new and dazzling hybrids with greater cold tolerance and longevity. One such introduction is the Northern Exposure series from Terra Nova Nurseries. The series consists of varieties called Amber, Lime, Red and Silver, and the two most recent introductions, Northern Exposure Black and Northern Exposure Purple.
Northern Exposure Lime has round, lime-green leaves and narrow spikes of rust-red flowers. Northern Exposure Purple has purple to silver leaves. Most of the series is classified as zone 4; however, two of the varieties, Black and Purple, are classified as zone 3 on Terra Nova's website. In response to my email inquiry, Chuck Pavlich, director of new product development at Terra Nova Nurseries, said these are the only two varieties in the series to have been tested in plant trials in Minnesota. Pavlich believes the other varieties are equally hardy; however, trial data must first be completed.
Interestingly, the Northern Exposure series has a distinct Prairie connection. Each of the varieties has been bred from Heuchera richardsonii, a species hardy to -40 C. It can be found growing throughout the Prairies and as far north as the Northwest Territories. Pavlich says the Heuchera richardsonii used in the breeding was sourced from Saskatchewan near Anglin Lake outside of Prince Albert National Park.
In addition to H. richardsonii, the Northern Exposure series has been bred using H. sanguinea and H. micrantha. If this seems like too much information, consider that parentage determines both the beauty and success of any hybrid. In addition to the cold hardiness provided by H. richardsonii, H. sanguinea provides red flower colour and H. micrantha contributes ruffles and unique purplish-bronze foliage colour like the kind found in H. micrantha Palace Purple, a popular variety.
There is an even closer connection that makes the Northern Exposure series an exciting one for Manitoba gardeners. When Henry Marshall and Lynn Collicutt were breeding hardy ornamentals at the Morden Research Station that could survive our cold winters, they recognized the potential of H. richardsonii. In 1983, Marshall introduced three hardy heuchera cultivars with H. richardsonii parentage (along with H. sanguinea): Brandon Glow, Brandon Pink and Northern Fire.
Lynn Collicutt, a recognized lily breeder, continued the breeding work of Dr. Marshall and introduced Ruby Mist, another exceptional and cold-hardy heuchera cultivar.
Today, Collicutt makes her home in Sidney, B.C. She grows Northern Fire and Brandon Pink, two heuchera varieties which originally grew in her garden in Manitoba, and says they are thriving.
Collicut says that in addition to attractive foliage, heuchera has many advantages. "I love the compactness of the foliage," she says, "and how the flower stems rise up and give that very delicate appearance to the plant." The flowers are long-lasting and attract hummingbirds. In addition, the stems make nice cut flowers.
Brandon Pink, with masses of coral-pink flowers on 50-centimetre stems, remains one of Collicutt's top 10 plant varieties. Despite its Manitoba roots, Brandon Pink is not always easy to find at local garden centres. Vanstone Nurseries, a wholesale nursery in Portage la Prairie, grows Brandon Pink and says it should be available this spring at Jardins St. Leon Gardens on St. Mary's Road and likely other locations as well.
In addition to the Northern Exposure series, keep your eyes peeled for these new varieties. For those who love purple, Heuchera Dolce Wildberry is a new introduction for 2019 said to be an improvement on an earlier version, Blackberry Ice. Wildberry has longer lasting, more intensely purple foliage. The larger leaves are scalloped and glossy and accented with charcoal-coloured veins. The dark stems hold white flowers with rosy pink calyxes. Wildberry, rated as zone 4, is best suited to part shade but will also grow in full shade.
Last year, I grew Primo Black Pearl in my garden. A 2018 introduction, with shiny yet black foliage and cream flowers, Black Pearl is a large, vigorous plant. Mine showed some scorching on the foliage because I planted it in a location that receives late afternoon sun.
Heuchera Lemon Love is a new introduction for 2019. A Heuchera villosa hybrid with slightly ruffled chartreuse foliage, Lemon Love has been bred for greater resistance to burning, a problem associated with other chartreuse varieties. It's recommended to plant Lemon Love in a location with part or filtered shade. Dorinda Penner, of Sunshine Greenhouse in Steinbach, says she hopes to have both Wildberry and Lemon Love in time for spring.
One of heuchera's advantages is that it is deer-resistant. Rabbits, though, like to bite off the flowering stems just as they bloom and often leave the wreckage strewn about in bits and pieces. Blondie is a miniature heuchera from the Little Cuties series introduced about six or seven years ago. The rabbits in my garden leave Blondie's flower stems completely alone.
Blondie has beautiful caramel-coloured foliage. The slender but sturdy stems floating above the leafy skirt have a long bloom season and are more densely flowered than other varieties. Perhaps they are too much of a mouthful for rabbits. Regardless, I'm intrigued enough to want to try more of the varieties in the Little Cuties series.
● ● ●
Make your plans to attend the 121st Manitoba Horticultural Convention, Jan. 31 to Feb. 2, at the Carman Community Hall in Carman. For more details, visit icangarden.com/clubs/mha.
colleenizacharias@gmail.com