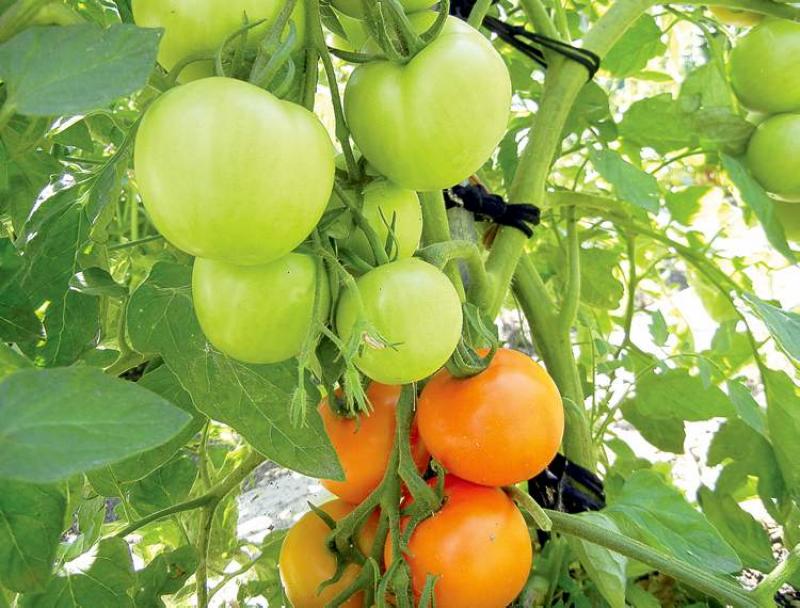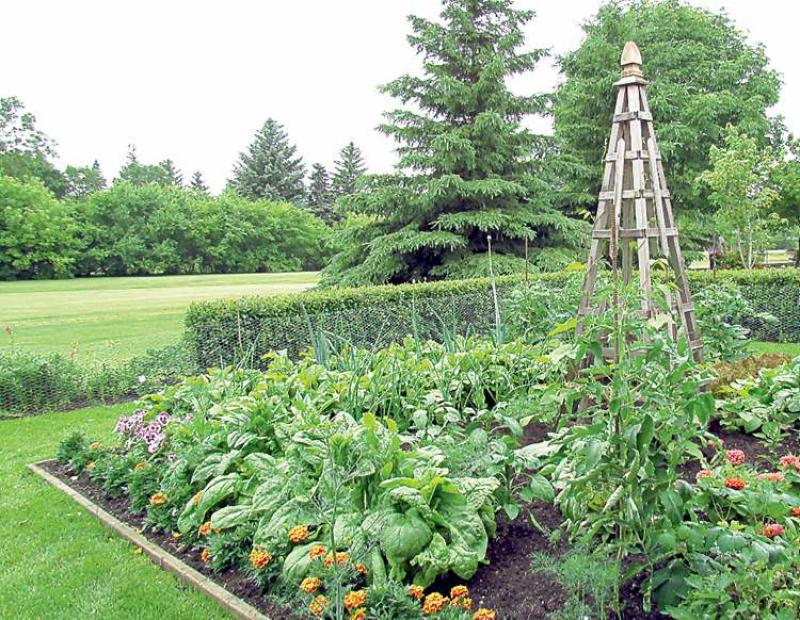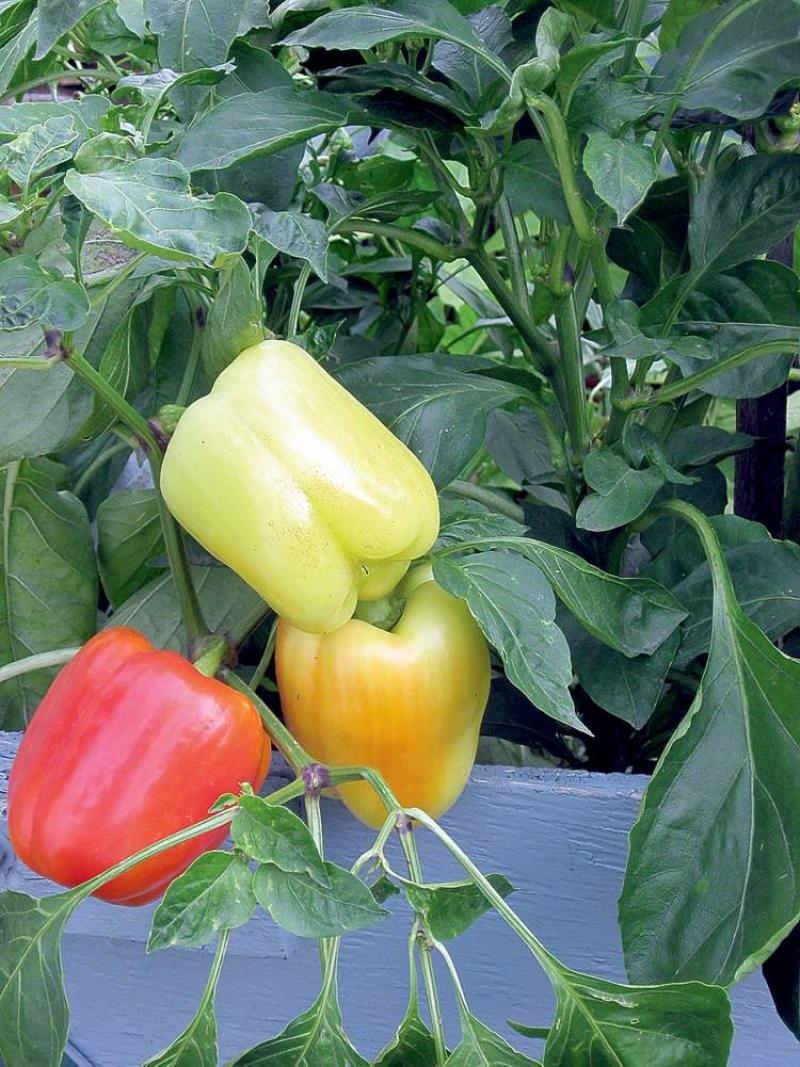 A bounty of options
Once a niche market, the demand for locally grown produce has exploded. More and more gardeners are making room in their flower beds and containers for varieties of heirloom tomatoes, peppers, corn, onions, cauliflower and more.
If you don't grow your own, it's as close to you as your neighbourhood farmer's market. Consumers have so many options. "It's been a fantastic growing season," says Marnie Feeleus, president of Fresh Option Organic Delivery, a local business that delivers fresh, locally gr Waverley Street, "Right now we have roma tomatoes for canning, spaghetti squash, leek, caown produce right to your door.Produce is at its peak in September. Says Erin Crampton of Crampton's Farm Produce Market onuliflower, broccoli, beans..." Vegetable stands, too, such as the one that St. Germain's Pete and Darlene Armstrong operate throughout the late summer on Pembina Highway, offer delicious supersweet varieties of corn such as Vision and Awesome.
Lenore Linton, a master gardener and today's contributor, has grown her own vegetables in her St. Vital garden for close to 50 years, filling her freezer, cold room and basement with the makings of many delicious meals throughout the winter.
Colleen.Zacharias@gardensmanitoba.com
As long as I can remember, the summer meant berry picking and harvesting the bounty from my mother's extensive vegetable garden.
My family would still eat if I never froze another fruit or vegetable or made another pint of jam or pickles, so why do I do it? The reasons are many.
The harvest begins in early June. We have had numerous rhubarb pies, crisps and cakes and the rhubarb continues to grow vigorously. It is time now to freeze some for winter use and nothing could be simpler. Simply wash, dry and chop into one-inch pieces, pop into freezer bags and into the freezer -- ready for pies come winter.
Two recipes I treasure (and that illustrate why I continue to preserve) is Freda Golinoski's recipe for rhubarb juice punch and Penny's grandma's rhubarb relish, both great examples of how gardeners before us used the readily available bounty from their gardens to set a delicious and nutritious table.
Freezing is the preferred method of preserving most fruits and vegetables for winter use except for apricots and tomatoes, which I prefer to can in quart-size mason jars. The quality of the product is superior and easily used, leaving freezer space for items that suffer flavour and texture loss when canned.
Much of the equipment needed for canning is the standard utensils that are in most kitchens. What you need is a 21-quart canner, canning rack, jar lifter and a large wide-mouthed funnel. Use only half pint, pint and quart jars made for canning. Mayonnaise or pickle jars, for example, will not take the heat.
I no longer scour the countryside for wild fruit but instead visit one of Manitoba's wonderful U-Pick farms. I'm quite willing to pay the extra couple of dollars for each basket of pre-picked strawberries although this year it was a short, fast strawberry season.
Strawberry freezer jam is so simple to make -- just follow the directions on the back of the Certo package. Because the berries are not cooked nor overwhelmed with sugar, the taste of fresh strawberries is retained. For a taste of June in January a hot scone with a dab of homemade jam does the trick.
Raspberry jelly is not as quick and simple to make, but is well worth the time and effort. I have been making it for 50 years and it's a family favourite -- a treasure that has to be carefully packed in my suitcase when I visit my daughter in England. My mother first made raspberry jelly using wild raspberries and pectin bought from the Watkins man. I guess it is what you would call a tradition.
I grow many different varieties of tomatoes to be enjoyed during the summer as well as preserved in a variety of ways for winter use. Some of my favourite heritage varieties include Monomakh's Hat, Brandywine (Sudduth's strain) and Novikov's Giant-10.
Monomakh's Hat is a Russian heirloom, semi determinate. It produces large meaty tomatoes that are good for sauce as well as eating fresh and is one of the earliest of the large heritage tomatoes (70 days from transplanting).
Brandywine (Sudduth's Strain) is a large flavorful heirloom tomato. It is not early, but worth waiting for. It needs a long, warm growing season. Seeds for Monomakh's Hat and Brandywine are available from Heritage Harvest Seeds in Carman.
Novikov's Giant-10 is another heirloom tomato from Russia. I bought the seeds from Jeff Casey in Airdrie, Alta., (www.caseysheirloomtomatoes.ca). This variety is such a heavy producer that it needs a very strong tall stake to support the heavy crop. The two plants I've grown are almost five feet tall and loaded with fruit.
Besides heirlooms, I grow different hybrid tomatoes. One that has never failed me over the years is First Lady. My favourite cherry tomatoes are Sun Sugar Hybrid and Sun Gold Hybrid. Each has a good sweet tart flavour. They are wonderful roasted with olive oil and served on pasta, as well as great for grazing on as I garden. My favourite paste tomato is Viva Italia, an early (65 days) determinate whose seed is available from William Dam Seeds.
Besides canning tomatoes I make a number of different tomato sauces that I freeze to use as the base for stews, soups and chilies over the winter. Roasting is a wonderful way of preserving tomatoes that enhances the flavour. The recipe for Glut Tomato Sauce uses this method. Joan Gussow, author of This Organic Life - Confessions of a Suburban Homesteader describes it "as forgiving as your favorite aunt." Ingredients can be added or omitted.
Sweet red and yellow peppers are as easily frozen as rhubarb. They just have to be washed, dried, seeded, chopped and spread on cookie sheets to freeze. When frozen they can be stored in freezer bags in the freezer, ready to use in stir fries and casseroles.
I grow a variety of heritage as well as hybrid peppers. When choosing seeds one of the main things I look for is early ripening. Some seed packs state how many days from transplanting until green fruit is full size while others give the days until the fruit turns red or yellow. The number of days is only a guide as much depends upon the weather. I have had success with Ace hybrid early red and Gypsy Red, both recommended for short growing seasons. Blushing Beauty is a hybrid AAS winner. The colour changes from ivory to blushed red, then to orange red and then darker red as they mature. They can be eaten at any stage.
King of the North is a large blocky sweet red and Doe Hill, another favourite, is a small, very early sweet golden yellow pepper (60 to 65 days). Both are available from Heritage Harvest Seeds.
Not all the produce from our garden needs to be canned or frozen. One of the advantages I have of living in a 100- year-old house is a built in cold room that is great for storing root crops such as beets, potatoes and carrots. We also have an extra refrigerator in the basement.
There is conflicting advice from the experts about washing carrots or leaving them unwashed. I wash them using the jet nozzle on the hose. I make sure they are very dry and sort them by size and store them in freezer bags in the spare fridge. I find the carrots are usually clean enough that I don't need to peel them. I use the small ones first as the larger ones keep longer. Some years we still have carrots in May.
We grow two varieties of winter squash, Early Butternut and Gold Nugget. Both of these varieties are advertised as being more compact and maturing in less than 100 days. If we have a good season and the squash has matured it will keep several months in a cool dry place (about 10 C). A cool corner of an unfinished basement works well. Do not set them on a cement floor as it causes them to sweat and rot. Also, do not store squash in the cold room or the fridge.
Preserving fruits and vegetables gives me great satisfaction, connects me to the past and allows me to keep alive a skill that was passed on to me. It's nice to know where your food comes from and who grew it.
VEGETABLE GARDEN RECIPES
Penny's grandma's rhubarb relish
-- 1 quart rhubarb cut fine
-- 1 quart onions cut fine
-- 4 cups white vinegar (or 3 c. vinegar and 1 c. water)
-- 2 lbs brown sugar
-- 1 tsp each of salt, pepper, cloves, cinnamon, all spice
Boil slowly, stirring often for at least one hour until thick. Ladle into half-pint jars leaving 1/2 inch head space. Process in a boiling water bath. Boil for 10 minutes.
Tomato glut sauce
(Adapted from the New York Times from This Organic Life - Confessions of a Suburban Homesteader, Joan Dye Gussow, Chelsea Green Publishing Co.)
Preheat oven to 400F
Put into a large roasting pan (not aluminum)
6 lbs of tomatoes (plum is best) cored and quartered
11/2 cups coarsely chopped carrots
11/2 cups coarsely chopped celery
11/2 cups coarsely chopped onions
9 cloves coarsely chopped garlic
6 tbsp. balsamic vinegar
1 bay leaf
11/2 tsp. each of fresh thyme, oregano, basil, parsley
1tsp salt
1 tbsp. freshly ground black pepper
Roast for 45 minutes or until vegetables are soft. Process briefly; leave slightly chunky, and freeze in 2 cup portions. Makes 2 quarts (4 lbs). If preserving in sealers add 1 tsp citric acid to each pint to make sure there is enough acid. Carrots can be substituted with zucchini, peppers or eggplant or a combination to make 11/2 cups.