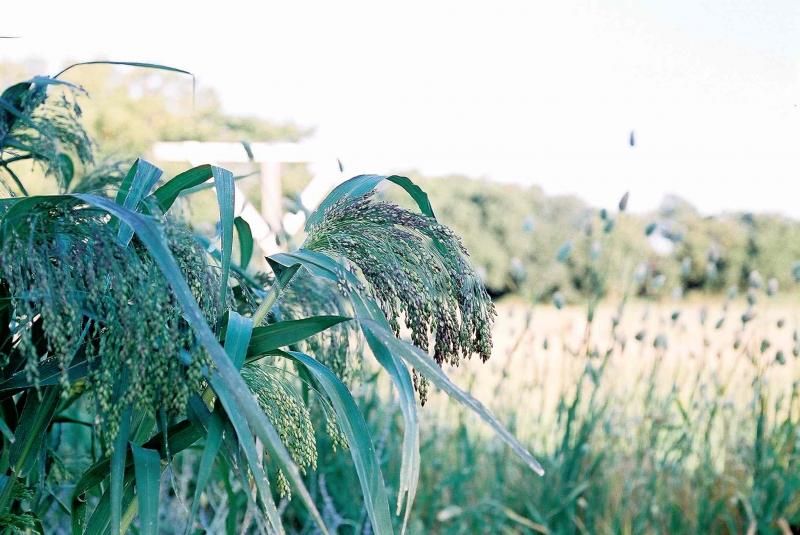 Deer resistant. These two words are a powerful descriptor and make a good argument for including ornamental grasses in your landscape.
At Assiniboine Park, home to Winnipeg's largest garden as well as a deer population that has demonstrated a steady appetite for a range of plant material no matter the time of year, Maurice Larson, outdoor horticulture supervisor, says deer generally leave the ornamental grasses alone.
Of course, there are many other reasons for incorporating ornamental grasses into your home landscape besides the prospect of growing something in your garden deer won't eat.
Grasses introduce a textural element that not only provides contrast with other surrounding plants, but conjure the illusion of a tranquil natural setting, even in the midst of the concrete jungle. Hans De Jongh, Paridon Horticultural Ltd., a West Coast-based wholesale supplier to garden centres and nurseries across the Prairies, remembers the disinterest he encountered 15 years ago when he first recommended grasses for use in home landscapes on the Prairies.
At the time, the trend for growing grasses, popular in European gardens, was slow to take hold in prairie gardens. Since that time, interest has soared in grasses and many Manitoba gardeners now make faithful use of both perennial and annual varieties.
Our love affair with Karl Foerster feather-reed grass (Calamagrostis x acutiflora), the 2001 Perennial Plant of the Year, is largely due, says De Jongh, to its very strong, upright habit. When damaging winds or heavy rainfalls flatten other perennials, Karl Foerster grass is capable of quickly recovering its erect stature. Originally categorized as zone 5, it has proven itself as very adaptable to our zone 3 climate.
It is used, though, so invariably now in residential and commercial landscapes that it risks overuse.
De jongh encourages gardeners to also consider grasses with different shapes, heights and flower forms. Panicum virgatum Northwind switch grass, 2014 Perennial Plant of the Year, forms rigidly upright olive green clumps of linear foliage topped by finely textured green flower panicles that turn golden in the fall, then tawny brown for the winter. With a mature height of 125 cm, Northwind works well as a single architectural specimen or in mass plantings, creating a living screen.
While Northwind shares a strong, upright form similar to Karl Foerster grass, one is a cool-season grass and the other is a warm-season grass. Why is it important to understand the difference?
Cool-season grasses such as Karl Foerster start their growth early in spring. Growth slows down by mid-summer. Warm-season grasses such as Northwind have a different growth cycle, requiring warmer soil temperatures before their growth begins. By mixing warm and cool season grasses, De Jongh says it is possible to extend the seasonal display.
Eileen Rosen grows a number of superb specimens of grass in her Charleswood garden, quickly underscoring for visitors there are indeed worthy perennial options to that reigning king of grasses, Karl Foerster.
From Tall Moor grass (Molinia arundinacea Skyracer) with its cascading leaves and delicate panicles that nearly double the height of the plant in late summer to Heavy Metal Switch grass, a warm-season upright plant with distinctive blue-tinged blades and airy flower heads that swish in the summer breezes, Rosen has punctuated her flowering perennial garden with unique character.
In addition to texture and movement, grasses lend considerable colour to the landscape. While I love the tan wheat-like colour of Karl Foerster in late fall and throughout the winter, Miscanthus purpurascens Flame Grass, a warm-season grass, comes into its own in late fall with orange-tinted foliage. Although its colour in our zone 3 climate is not as intense as one might see in a warmer climate such as Ontario, it illuminates the area around it when other plants in the garden have faded.
View with the sun behind or with a dusting of snow clinging to the clusters of its silky flower tassels, and this reliably hardy miscanthus variety will have earned a lasting place in your garden.
Prairie Originals, located in St. Andrews, is a recognized source for hardy, native perennial grasses. Owner Shirley Froehlich says that customer favourites include Prairie Dropseed and Little Bluestem. Fine textured, slow-growing Prairie Dropseed gives every appearance of a dainty, delicate plant but is long-lived and needs very little maintenance.
Prairie Blues Little Bluestem captivates with its name alone. With shades of blue-green in summer that turn rosy rust in fall, this one thrives in those difficult low-lying moist sites but needs full sun.
Froehlich also recommends Tufted Hairgrass for medium to wet areas, sun to part shade. This medium height grass sends up a cloud of fine textured bronzy-coloured panicles.
What's not to love about perennial grasses? Gardeners have also discovered a passion for annual grasses. Remember when every best-dressed container design included the essential but unimaginative dracaena spike?
Mercifully, when annual Purple Fountain grass (Pennisetum setaceum rubrum) debuted, it soon displaced the ever-present dracaena, changing summertime container garden recipes and the landscape for the better.
Today purple fountain grass with its fuzzy pinkish, arching plumes is the must-have accessory, cropping up in virtually every container design.
There are oodles of annual grasses, though, to choose from, ranging from ones that explode in fireworks of colour to towering majesties or fine mounds. Annuals can be a guilty pleasure, especially when you desire one of each. John Moore, owner of William Moore Farms in Alberta, grows some of the most unique annual grasses on his 100-year-old family-owned property, attracting bus loads of thoroughly enchanted visitors each summer.
And he grows his grasses for mere pennies. Available as seed packets through his mail-order business, Moore sold me on their value within minutes of talking to him as he described the fall and winter appeal of these annual grasses.
A feature contributor in the newly released 2015 edition of The Prairie Garden which provides an in-depth look at grasses, Moore grows annual grasses in both containers and flower beds. The range of colours is startling and all of the seed heads are dramatically different. Its Moore's use of the annual grasses in the winter landscape that is especially intriguing.
Moore says the secret to enjoying his inspiring selection of annual grasses is to plant the seed in a container that is exclusively reserved for a single variety. Unexpectedly, Moore recommends that gardeners wait until late June, even late July before planting the annual grass seed.
The result? A spectacular late season display that picks up where tired flowering annuals leave off and, although technically dead after the first frost, provides a sustained winter display that is not only attractive but also provides much needed food and cover for bird populations.
Foxtail millet, for example, grows to 1.5 meters with large droopy seed heads and crimson foliage in early fall. Moore plants a mere three to four seeds per square foot for a dramatic late season display.
Mock rush produces a profusion of extremely rigid, dark brown bulrush-like seed heads that stand for the entire winter. Moore always cuts stems in fall for an indoor display and says that copper wheat and blackberry wheat are other exceptional choices. It is Millet Cabernet, though, with its arching rooster tail seed heads together with turquoise-coloured Teal Wheat grass with long, slender bearded seed heads I simply must trial in my mid-season containers next year.
Imagine, Moore suggests seeding the teal wheat grass in July so that by the time the first frost strikes, the plant will hold its unique blue colour for a rare container display in cool October and November. How is that for a cheap -- but gorgeous -- alternative to fall chrysanthemums?
Concerned about seeds popping up where they are not wanted? Moore has never had an issue with a volunteer annual grass.
If you are captivated by the graceful presence of grasses in your home landscape, consider the creative possibilities that annual or perennial grasses could offer as a more interesting alternative to the ubiquitous petunias and marigolds that are still planted on some city medians.
Explore the tantalizing types of grasses and their use in the landscape in the 2015 edition of The Prairie Garden. Visit www.theprairiegarden.ca for more details or plan to attend the book launch with guest editor Tammy Jensen, Jensen's Nursery, on November 26, 8 p.m. at McNally Robinson.
colleenizacharias@gmail.com