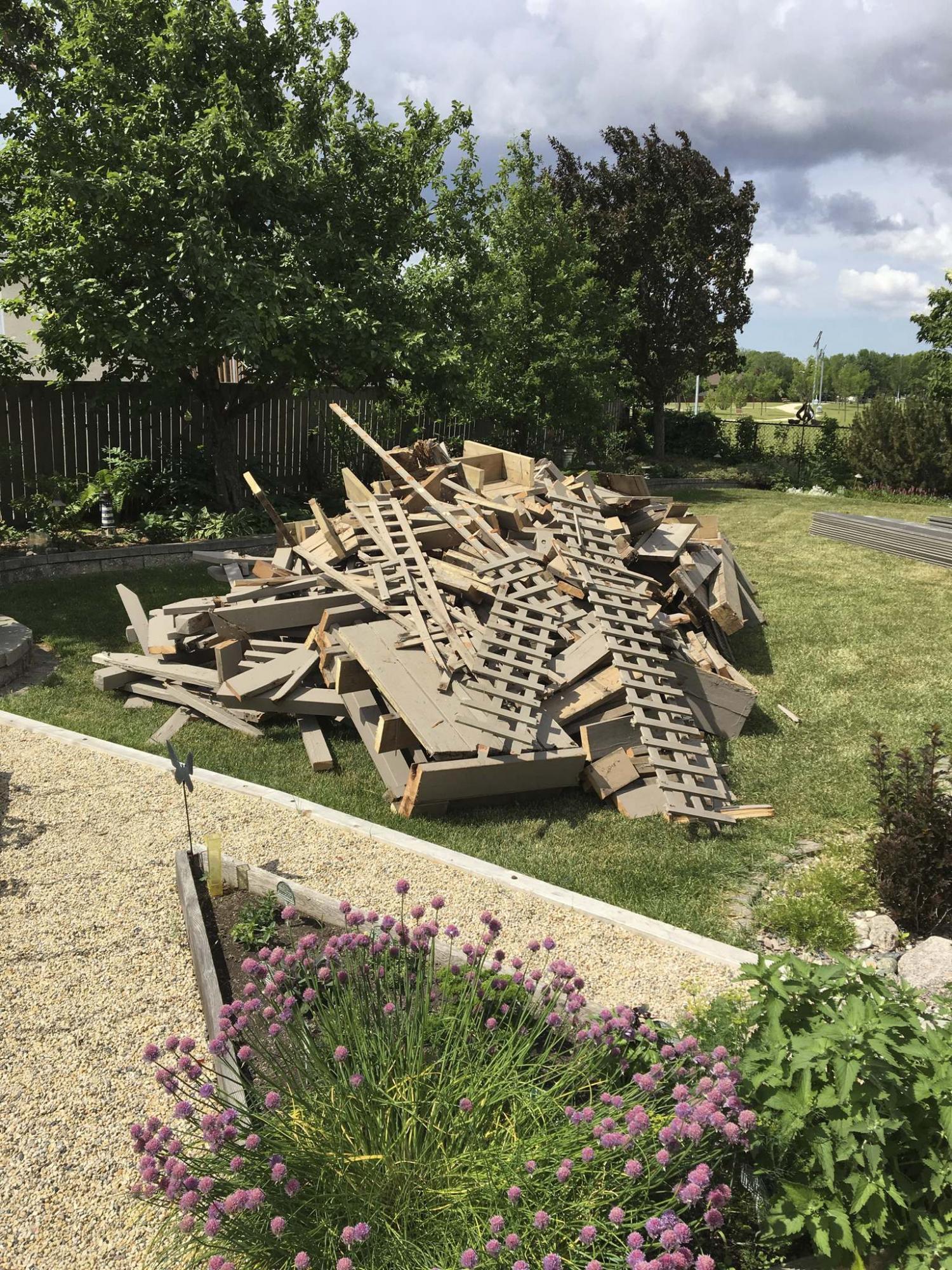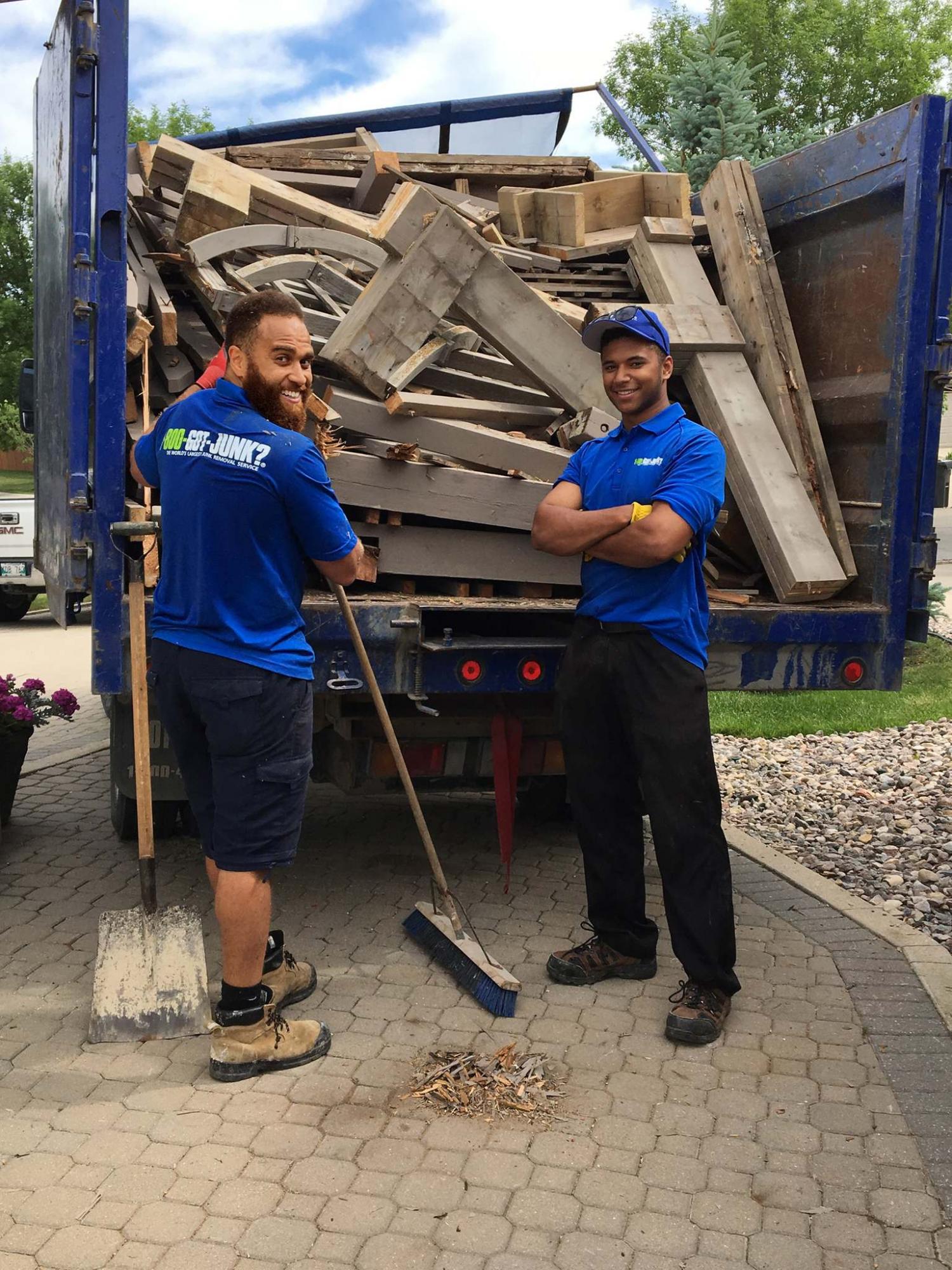 My first-ever paid deck build was a single-tier, low-profile brown pressure-treated deck with built-in benches along either side of its perimeter.
The build itself was fun and exhilarating. It did, however, entail the removal of an old, dilapidated deck as an initial step, which I greatly under-estimated.
The removal of an existing deck is a huge undertaking. And during that first endeavour, the removal process was as carefully planned and orchestrated as the deck build itself. The top-decking and joists were cut into manageable sections with a rented chainsaw. These sections were then layered onto a rented trailer, like a puzzle. Once the entire deck was secured to the trailer for hauling, the sections were unloaded one by one at the local repository.
The ordeal was costly and exhausting, and took two days to accomplish.
For subsequent deck demolition, a yard bin was the manner of choice. The sections of old decking could be thrown into an on-site bin in one action.
By eliminating the need to run the old decking to the dump myself, time and energy were saved with a slight increase in costs. And this had been the revised deck-removal process until this season — a local franchise has opened my eyes to a more efficient way.
During a recent bathroom renovation, it was necessary to expel an old cast-iron, claw-foot tub from the second floor to make way for the impending bathroom renovation. At a quarter-inch thick, this old tub weighed nearly 160 kilograms.
To make matters worse, the stairwell was sectioned into three, with two 90-degree turns.
Clearly, some help was required. With no one else on-site but me, I decided to call 1-800-GOT-JUNK for an estimate.
A two-man crew showed up the next day, assessed the task and provided a very reasonable quote. With my guidance, the two young men manoeuvred this albatross of a tub down the flight of stairs and neatly negotiated each turn without incident.
This got me thinkin' — could GOT JUNK be an alternative to a yard bin for old decking removal?
This year, every single one of my scheduled deck builds first requires the removal of an old, existing deck (not always the case, just how it worked out this season). In preparation for this, a new work "toy" was purchased — the FLEXVOLT 60v Max 16-inch brushless chainsaw. It was my aspiration that a cordless chainsaw would expedite the deck-sectioning procedure — and it did not disappoint. During my first deck removal a few weeks ago, the entire deck was cut into sections and piled up in less than two hours.
Before immersing myself into the new build, I contacted 1-800-GOT-JUNK and explained my desire to have old decking removed. The customer-service rep confirmed a date for later that same week — the crew would show up to assess and quote the task and proceed with the removal immediately if the quote was accepted.
As scheduled, the two-man crew arrived, provided a very reasonable quote and began hauling the old decking into the back of their truck. Within 30 minutes, the yard was free of any old decking. And, not having to manhandle those old decking sections to a yard bin myself was truly a blessing — was I onto something?
For the next deck removal the following week, a different two-man crew (Teague Sherman and Michael Asabil) arrived as scheduled and methodically proceeded to stack the old decking onto the truck. Once the process was concluded, we got to talkin' and my curiosity led to a conversation with the local franchise's general manager, Kevin Sawka.
"1-800-GOT-JUNK started in Vancouver in 1989," Sawka said. "There are franchises throughout Canada, U.S.A. and Australia. I've been GM for the Winnipeg/Manitoba franchise since January 2019. Currently, 75 per cent of our business is residential, and 25 per cent is local commercial. A big push for us in 2019 is increased involvement regarding community events, as well as teaming up with fundraisers and charitable events throughout the city and province."
The company provides a very thorough and professional service. Scheduling is confirmed with an email, and a receipt is also sent by email once the job is completed. The process was painless and provides tremendous relief.
One of the most difficult decisions as a contractor is knowing when to delegate — will it be cost-effective and increase efficiency?
For deck builds, I used to move all the lumber from the front driveway to the backyard myself. I've since learned it's well worth the nominal added expense to have my supplier's delivery guys hand-bomb the materials to the precise location adjacent the impending build.
And as for deck removal, calling 1-800-GOT-JUNK was a great decision — it saves me time, and conserves my energy for the actual deck build. If you've got junk, I highly recommend you give them a call.
They will make your junk disappear!
BossEnterprise@outlook.com