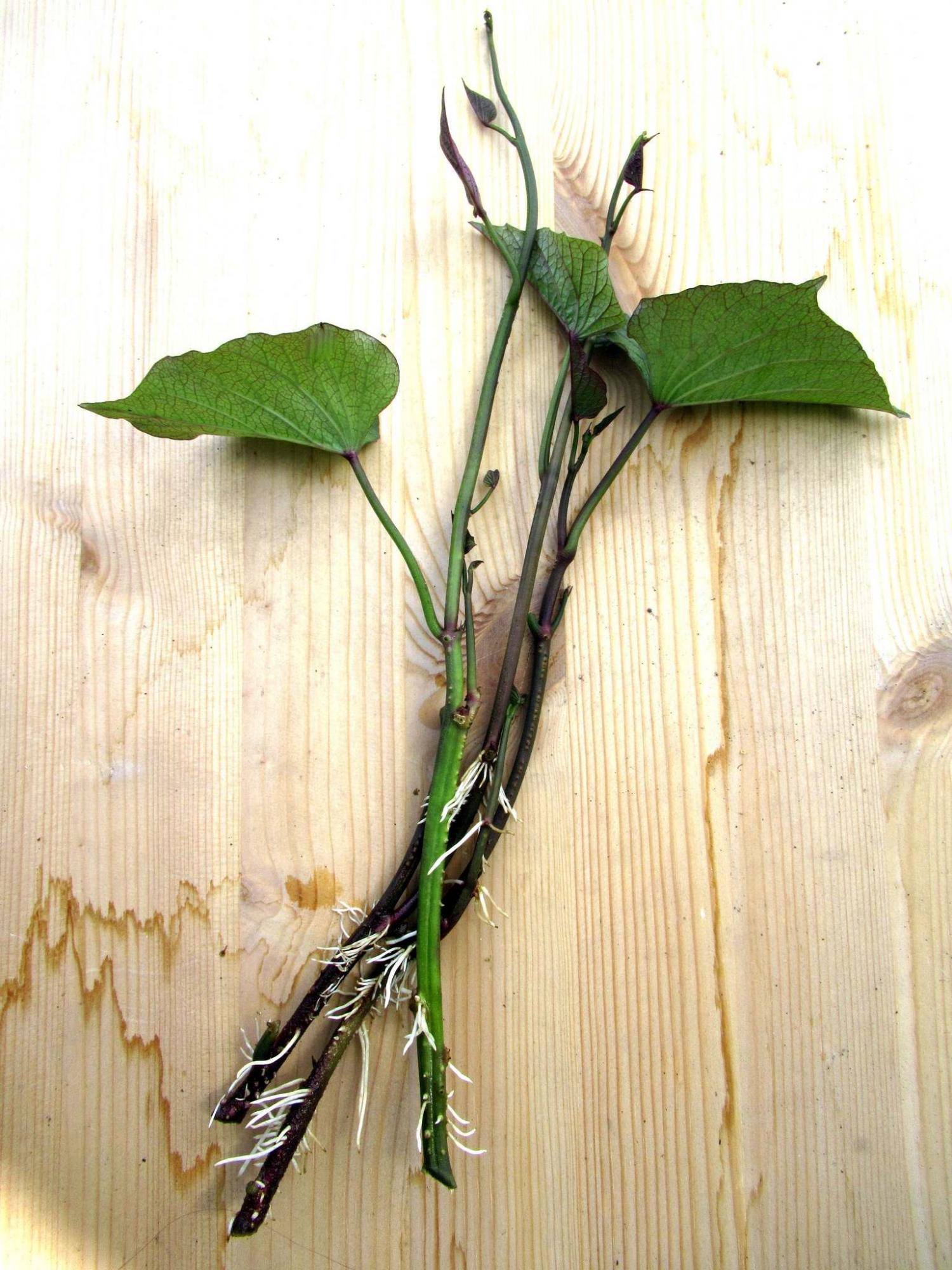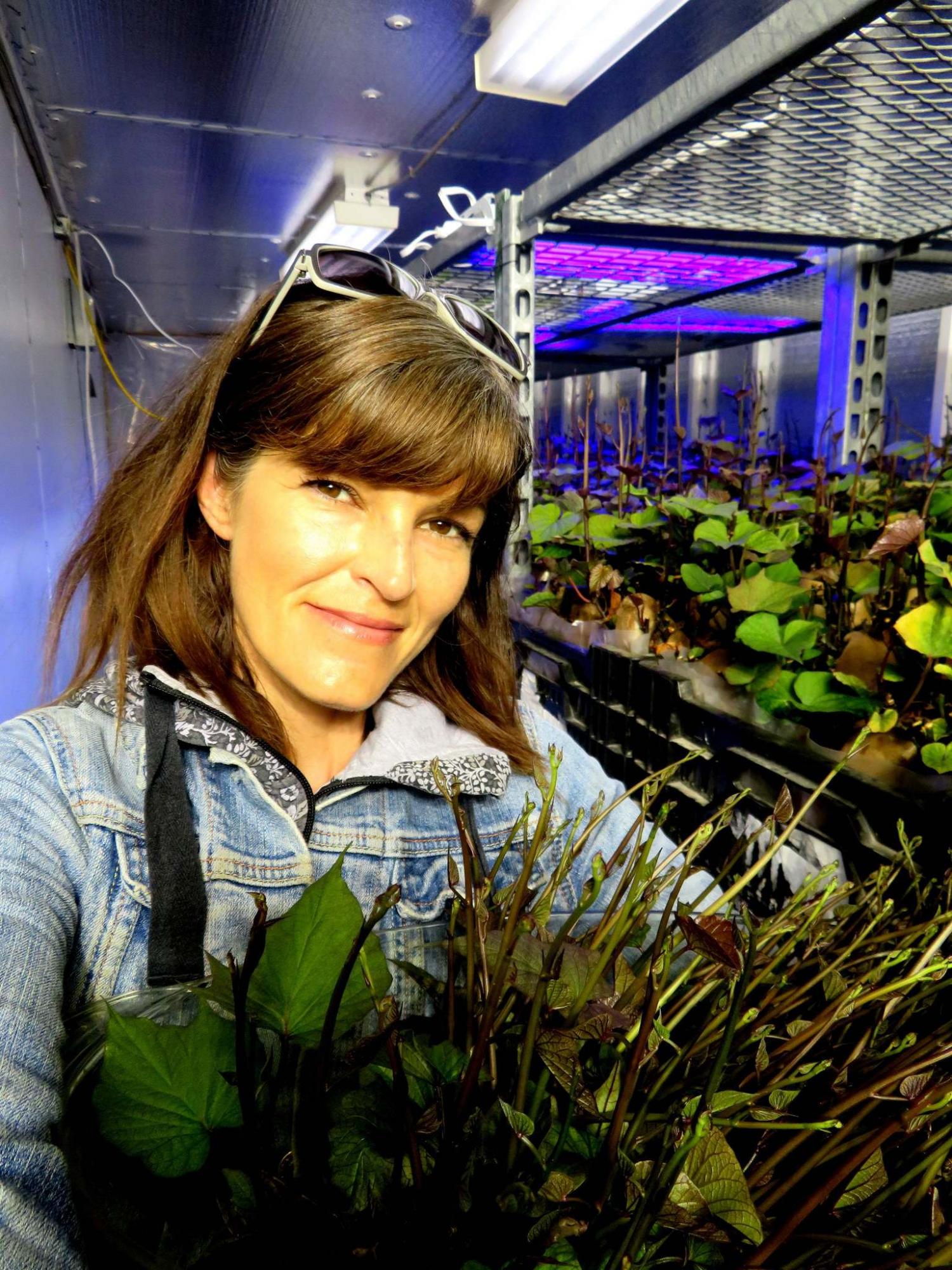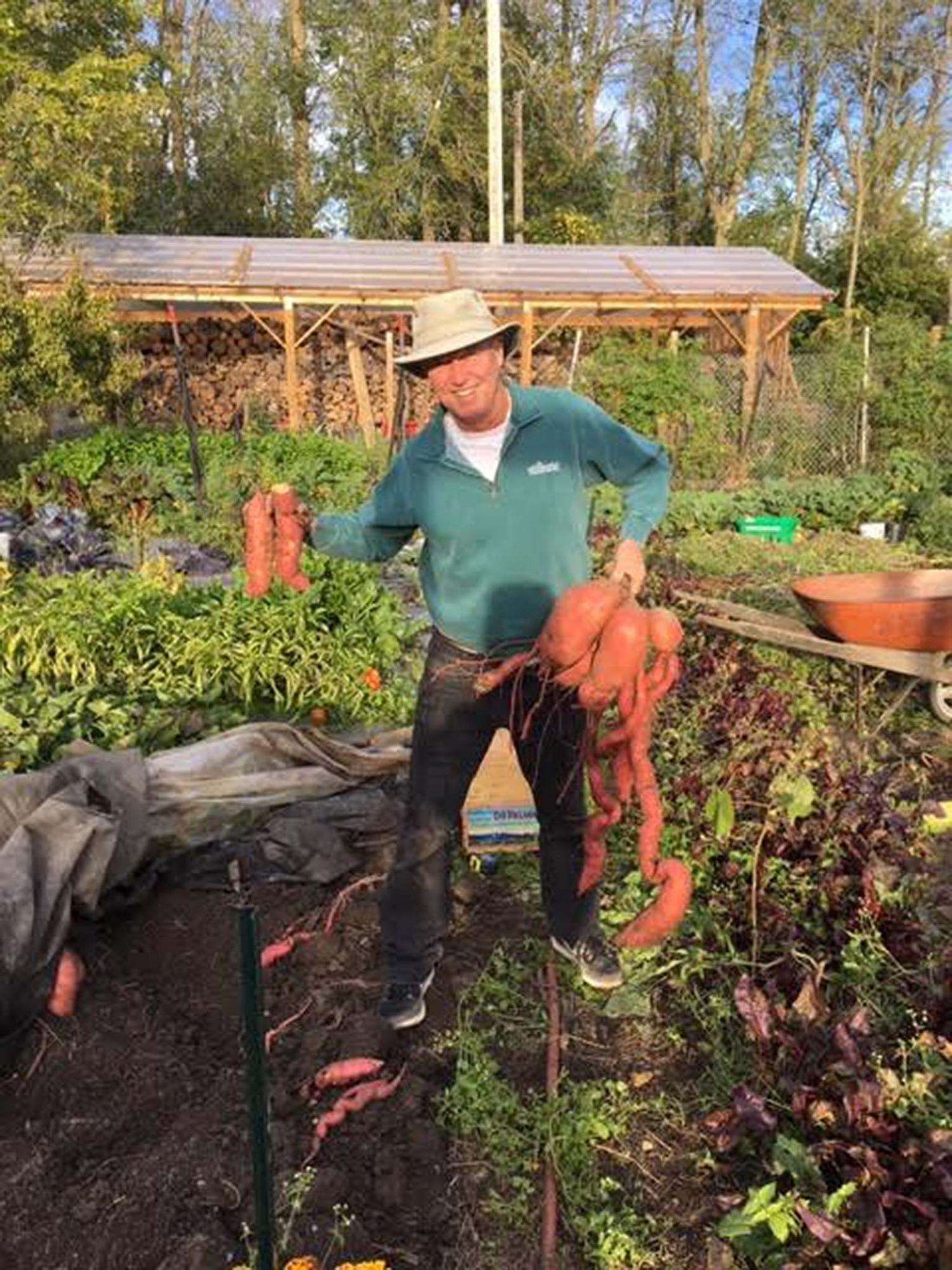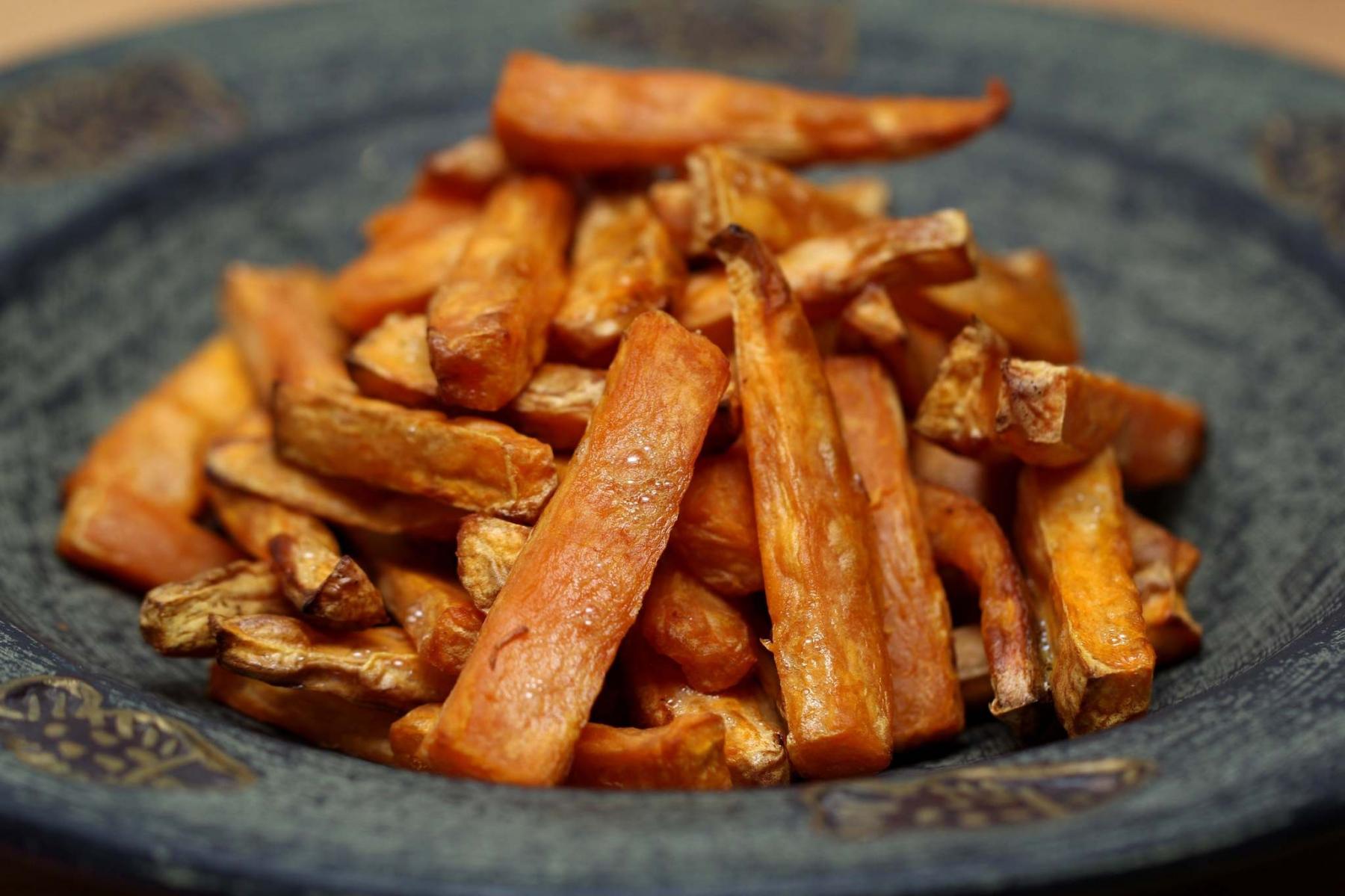 "You can't grow sweet potatoes in Winnipeg." If Tiffany Grenkow, the brainchild behind Winnipeg Sweet Potatoes had a nickel for every time she heard that, she would not be rich, but nor did skepticism stop her from following her curiosity.
An avowed foodie who grows more than 150 different edible varieties in six gardens, Grenkow grew her first sweet potato from a slip or sprout that was growing out of a sweet potato stored in her pantry. She rooted 10 slips in water, planted them outdoors into warm soil in her sunny garden and at the end of the season, harvested eight to 12 sweet potatoes on each plant.
That was in 2012. Today Grenkow produces 300 sweet potato slips per day which she sells to eager customers across Canada, including the Northwest Territories.
The journey from marginal to mainstream for any food crop depends on its versatility and appeal to our taste buds. The sweet potato's edible tuberous roots are delicious mashed, baked, roasted, pureed, or stuffed. A popular item on restaurant menus, we enjoy ordering large sharing platters of sweet potato fries and digging in with our friends. Sweet potatoes are rich in beta-carotene and are an excellent source of vitamin C and potassium. A good source of fibre, a boiled sweet potato has a low glycemic index (GI) rating.
The sweet potato belongs to the morning glory family, Convolvulaceae. Most of us are more familiar with sweet potato's ornamental cousin, Ipomoea batatas sweet potato vine, which spills out of countless combination planters in our gardens. The idea that sweet potatoes which are commonly grown in tropical and subtropical climates could also be grown in our northern climate with its short growing season was unthinkable here at one time. After Grenkow's initial success in 2012, she decided to test the market the following year and posted an ad for 100 sweet potato slips on Kijiji. Her husband teased her that nobody would want a sweet potato stick from Kijiji but she made $500 which she used to purchase grow lights and soil for her crop the following year.
In 2014, Grenkow sold 3,000 sweet potato slips and approached two Winnipeg garden centres, Jensen's Nursery and Jardins St. Leon Gardens who agreed to sell them to their customers. A leafy slip in a vase of water rather than a plant potted in soil struck some as strange. There were many questions, too, about how to grow sweet potatoes. When Grenkow began selling and shipping directly to customers in 2015, she started a website, www.winnipegsweetpotato.com, where she provides detailed growing information.
Over the following years, Grenkow increased her production but typically her crop sold out online before the growing season started. Incredible as it seems, Grenkow's dining room served as her production area until the ever-increasing volume of sales required that she rent a commercial space. In 2019, she went to T&T Seeds, a mail order business since 1946, and talked to Kevin Twomey about her need for more space. They formed a unique partnership. Grenkow now has the space she needs to produce sweet potato slips and Twomey says he could not be happier about the collaboration. Sweet potatoes grace the cover of T&T Seed's 2020 catalogue, their 75th edition.
"We've already sold over 10,000 sweet potato slips this spring in online sales," says Twomey. Sweet potatoes have also been planted at T&T Seeds in their fields. In fall when the crop is harvested, they will be available for sale at Crampton's Market which is owned by T&T Seeds.
COVID-19, of course, disrupted some of their plans. "Just before the coronavirus hit, we were fielding inquiries from greenhouses and market growers all over the country," says Grenkow. Many greenhouses, though, closed for several weeks or saw their operations strongly curtailed. Some of the orders were in the range of 100,000 slips. "We're not at that scale of production yet," says Grenkow. Nevertheless, there is tremendous potential for growth.
How do you mail a sweet potato slip that is grown in a vase of water? Grenkow wraps a damp paper towel around the rooted portion of a sweet potato slip and places it in a plastic bag so that it has its own travelling vase of sorts. "When you receive it," she says, "it looks like a little bouquet."
Grenkow often hears from customers who send her photos of their harvest. One customer, Robert Pepler, from Whitby, Ontario, grew 10 kg of sweet potatoes from just one slip. "Seeing his smile made my day," says Grenkow.
A sweet potato slip is resilient enough to be packaged and mailed but it is key to plant it in warm soil. The first or second week in June is ideal. "There should be NO risk of frost," says Grenkow. "I've learned through trial and error that the soil needs to be thoroughly warmed." Plant each slip about 30 cm apart.
It is also key to allow for a long growing season. Sweet potatoes need 90 to 100 days to mature. If the temptation is to harvest your sweet potatoes in mid-September when you are harvesting tomatoes, the tubers likely won't be ready. "Sweet potatoes need warm temperatures at the start of their growing season," says Grenkow, "but then they need the length of the growing season. They do most of their bulking up in the last three weeks before they are harvested." Sweet potatoes need ample water during this rapid growth period. Harvest your sweet potatoes prior to a fall frost. Grenkow typically harvests her sweet potato crop the first week of October.
Sweet potatoes can also be grown in patio pots. They can withstand extreme heat but they do need plenty of sunlight and moisture.
Sweet potatoes can be stored for up to a year if they are properly cured. Curing changes the starch in sweet potatoes to sugar. It also dries and seals any scuffs or wounds on the outer skin. To cure sweet potatoes at home, Grenkow recommends bringing them indoors. "Wash them and then place them on a towel or blanket in front of a forced air heating wall vent for seven days. A temperature of 22 degrees Celsius is ideal."
Sweet potatoes store easily at room temperature but don't store them in a cold room or an area where the temperature is below 15C as this can result in chilling injury.
One of Grenkow's favourite sweet and savoury combinations is sweet potato and horseradish. When she worked at Amici Restaurant in Winnipeg, the menu included a sweet potato horseradish soup made with chicken stock, sweet potatoes, horseradish and whipping cream.
The tender tips of sweet potato vine leaves are edible, too, says Grenkow. Sauté or stir-fry with garlic and olive oil or boil the heart shaped leaves the same way as you would other leafy greens. Deer love the tender leaf tips. When T&T Seeds grew sweet potatoes in the metal troughs at Crampton's Market, deer visited every day to sample the leaves. The tubers stayed safe, though. "When you put something delicious out into the world, something or someone somewhere wants to eat it," says Grenkow.
colleenizacharias@gmail.com