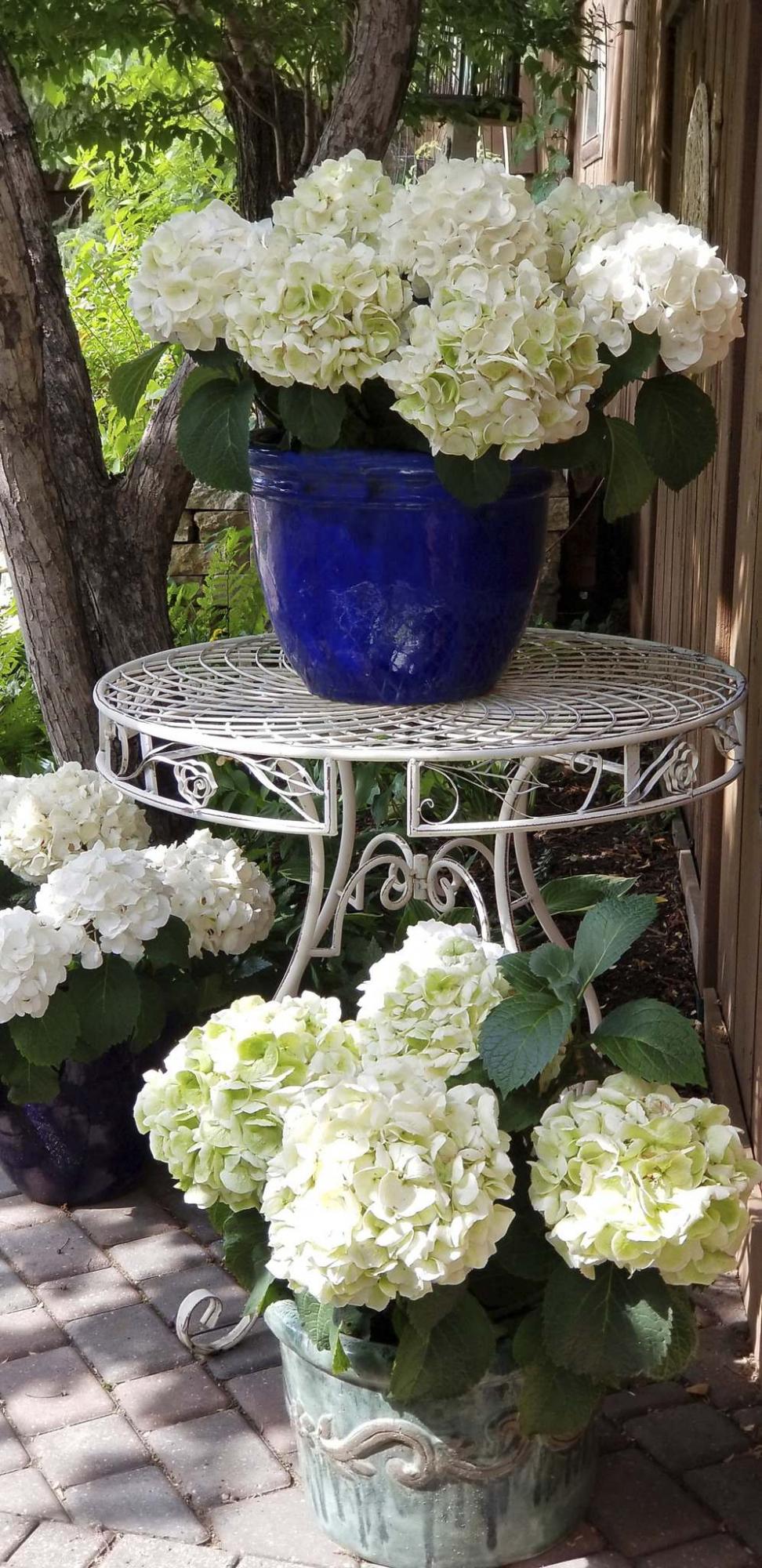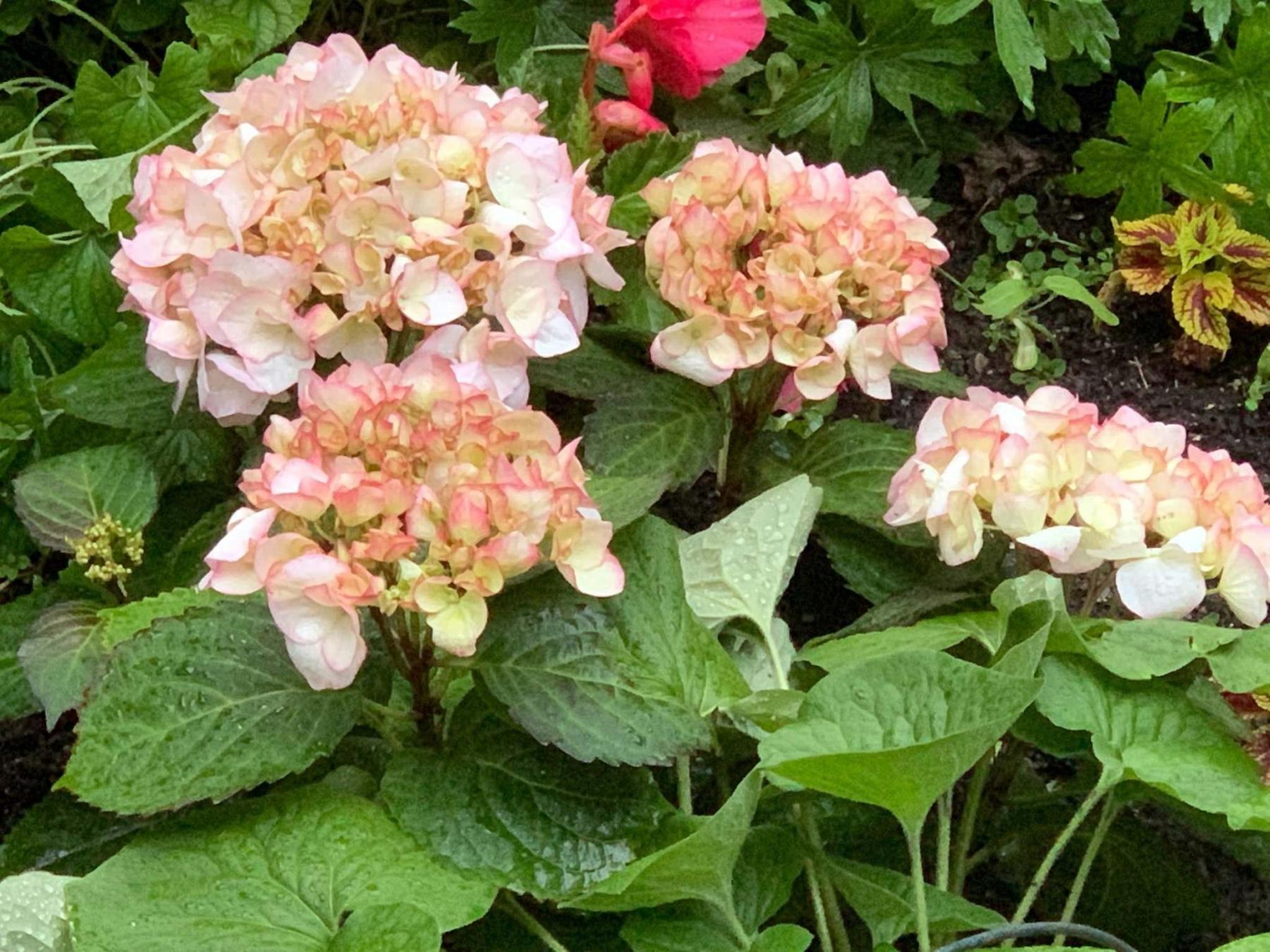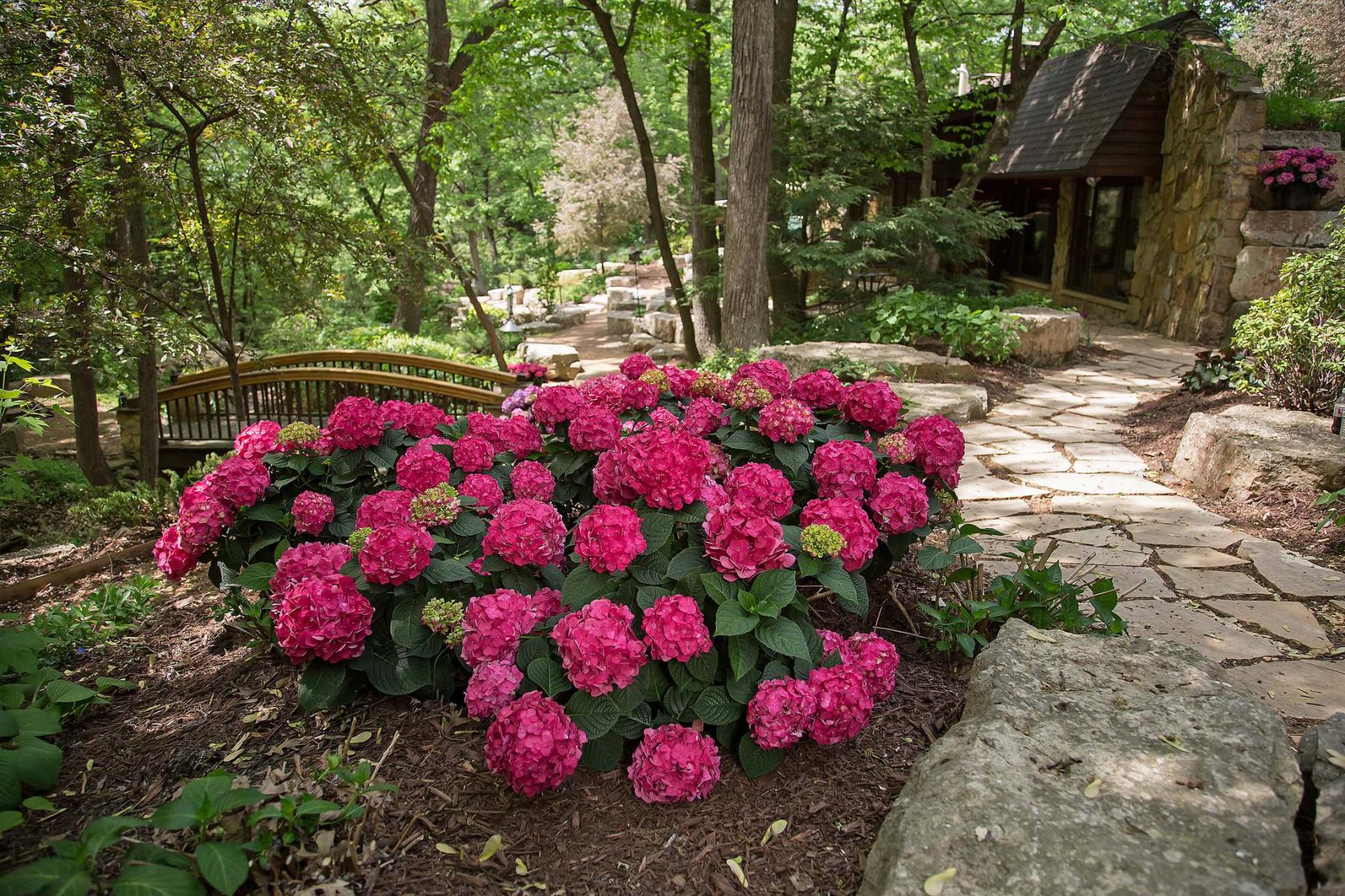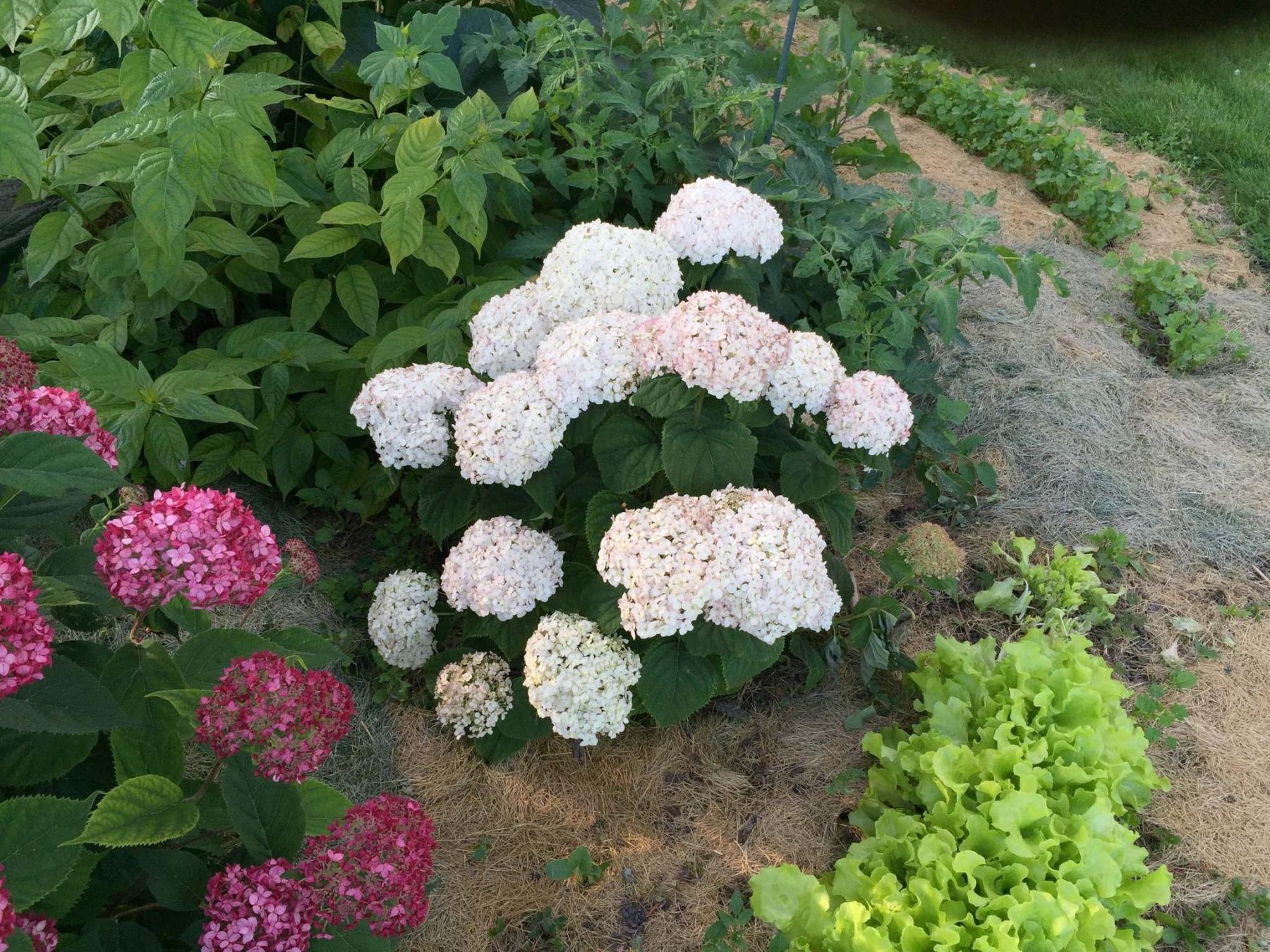 By all accounts, the hydrangea is the No. 1 top-selling flowering shrub in North America. It's certainly the most popular flowering shrub in my garden. Currently, I grow 24 different hydrangea varieties.
Among local hydrangea enthusiasts, the Kanmara hydrangea created the most buzz this year of any other hydrangea variety. Unlike hardy hydrangea varieties that overwinter in our gardens, the Kanmara is meant to be grown as an annual. It has huge mophead blooms that surpass 25 centimetres across. The long-lasting blooms are supported on sturdy stems.
I have heard the occasional grumbling about Kanmara. One gardener said the blooms are too large while another is unhappy about too few blooms. Mainly, though, some have expressed concern about the appearance of the foliage.
This spring at numerous garden centres, the Kanmara presented as a fulsome beauty. A runaway hit that flew off shelves in early May, my Kanmara and everyone else's were mostly confined to the indoors until temperatures outdoors were finally accommodating. The hydrangea by nature, whether it is a hardy or non-hardy variety, is very particular about its location and the amount of moisture it receives.
The Kanmara is a macrophylla or mophead type of hydrangea. Basically, if you want to be able to plunk your Kanmara hydrangea just any old place and not have to fuss, better to have bought a geranium. Only ideal ­conditions will suffice for the Kanmara. If you are cursing its appearance, check the plant tag again. Yes, the Kanmara is the recipe for a stunning patio, balcony or doorstep (also for beds and borders), but there are a few caveats that cannot be ignored.
Kanmara prefers a partial-shade location (four hours of direct morning sun is good, but an equal amount of direct afternoon sun is bad). Ensure your container or flower bed has good drainage. Provide plenty of water, but avoid over-watering and only water directly into the pot or soil, never from above, or foliar problems will surely result. Kanmara is supposed to dislike strong winds, but manages to hold onto its floriferous head quite well in our windy city.
I visited the Green Spot in Brandon and Schriemer's Garden Centre in early May and bought nine Kanmara White. All are planted in pots and I have experimented with a variety of locations in my garden. Some receive more sunlight than others; however, all spend their afternoons in mostly dappled light. I'm very pleased with this prolific bloomer despite the fact that bits and pieces of floating debris from neighbouring trees seem to find their happy place in the centre of the florets of the Kanmara's large blooms.
Darlene Stack, a Charleswood gardener, purchased Kanmara Champagne from Jensen's in May, but planted hers directly into the garden. It is thriving in a bright shade location where it receives only filtered morning sun. Marilyn Dudek, a North Kildonan gardener, purchased Kanmara Blue, which is growing in a pot in a shady container. The blooms are lovely and the foliage flawless.
Are you growing Kanmara in your garden this summer? How is it performing for you?
The Endless Summer series of hydrangea is hardy to zone 4 and has been available at a select number of garden centres for the past decade. There are now five different varieties in the collection: the Original, Blushing Bride, Twist-n-Shout, BloomStruck and Summer Crush, the newest introduction. Twist-n-Shout is a unique lacecap hydrangea. It has grown in my garden for 10 years in a location where it receives only morning sun and, most importantly, a deep protective layer of mulch for winter, as well as good snow cover. If you hurry, you may still find Twist-n-Shout at Schriemers, which brought in a lovely selection a few weeks ago.
In our zone 3b climate, Endless Summer hydrangea is considered tender. A macrophylla type of hydrangea, Endless Summer demands more attention than the paniculata or cone-shaped hydrangea, which, hands down, is the easiest and hardiest species of hydrangea for cold-climate gardeners to grow. Still, I can't resist Endless Summer with its colourful mophead blooms and large, dark green leaves.
The Endless Summer hydrangea blooms on both new wood and old wood. The flower buds for next year's blooms are formed during the current year. Very little to no pruning is recommended, especially in early spring or in the fall. The website endlesssummerblooms.com states: "If you prune too much or too early, you will be removing potential blooms." I wait until mid-June before pruning off the old stems. By being patient, you are ensured the greatest number of blooms on both new wood and old wood.
Summer Crush, new for 2019, has raspberry red mophead blooms and compact stature. The new blooms have an amazing and tantalizing chartreuse centre before transitioning fully to a raspberry colour. I searched high and low for this new and very pretty introduction before finally spotting it at St. Mary's Nursery last week.
The paniculata hydrangea offers zone 3 gardeners the greatest number of varieties to choose from. Reliably hardy, there really are no pruning mistakes you can make with the paniculata that could end up sacrificing blooms. Prune in early spring or in late fall or just snip off the old, dried blooms after winter and your shrub is ready to go.
Rabbits pose the biggest challenge to the hydrangea during winter feeding if they strip off the bark from stems. When the bark is cut all the way around, the result is called girdling, which disrupts the flow of moisture and nutrients to the plant. Prune the affected stems just below the damaged areas. I was disappointed to discover severe damage by rabbits to some of my Quick Fire and Limelight hydrangeas, but a hard pruning saved them and they are growing rapidly.
The past few years have seen a tremendous number of new hydrangea introductions. Last spring, in particular, offered several tempting compact Invincibelle varieties: Limetta, Wee White, Mini Mauvette and Ruby. Rabbits ate my Invincibelle Limetta and Mini Mauvette right to the ground. In fact, at first, I could barely see any sign of these overwintered hydrangea shrubs after the snow melted. Nevertheless, they survived and all are growing and covered in foliage. Clearly, I need more of a strategy to deter rabbits.
Dennis Rawluk, a Moosehorn gardener, has found success with Yard Guard Electronic Pest Barrier, which he purchased at T and T Seeds. "It gives off a low noise that deters rabbits and squirrels," he says. Rawluk counted 18 rabbits at one time that hopped about on the street in front of his house, but no one would approach his flower beds.
I found that Invincibelle Wee White hydrangea, a very compact white-flowered hydrangea, was slow to come back this spring after winter's severe temperatures. In late fall, I plan to mulch with an even deeper layer of shredded leaves.
There are many surefire hydrangea varieties, just one of which is Hydrangea paniculata Fire Light with white panicles that age to red. Sun-loving, Fire Light's proven performance has earned it the title of 2019 Hydrangea of the Year by Proven Winners.
colleenizacharias@gmail.com