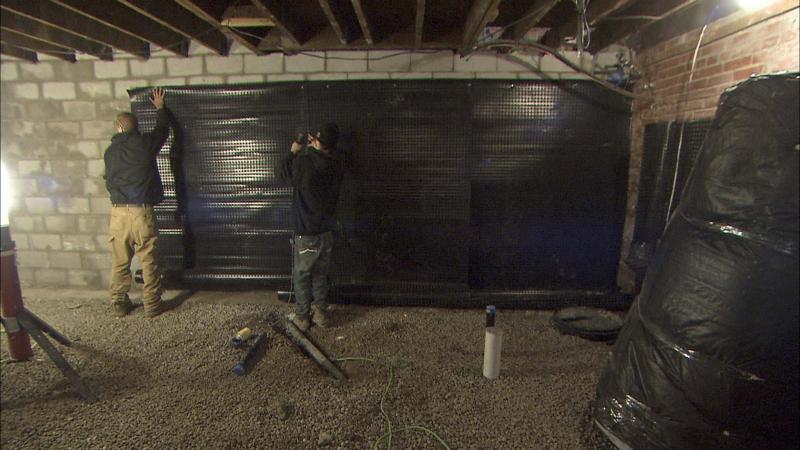 Question: A while back, you replied to someone's inquiry about rainwater leaking into the basement and said it could be due to plugged drain tiles. I have the same problem on the north side of my house. I've buried two-foot-wide Styrofoam boards below ground level, against the concrete foundation, sloping outward, on the north and east sides of the house. These two sides are the most likely to let rainwater or melting snow go down to the drain tiles quickly. However, this problem persists on the north side. There is no rainwater seeping in from any of the other foundation walls.
So, it looks like I need to have the north side of the house excavated and the tiles replaced, as you advised the other person to do. Would that help or do I have to have the whole foundation done? I hope not. In any case, would you be able to recommend a reliable company in that line of work — Reno Ammazzini, Transcona
Answer: Foundation repairs to stop moisture intrusion, which should include replacement of older weeping tiles, can be done on a portion of the foundation without much concern. Hiring the right foundation contractor should be a combination of getting proper information, as well as other factors, at the time of quotation.
It is very likely that your weeping tiles are plugged or damaged, if your house is older and you have persistent seepage. This may not be the only defect in that area, so excavation should uncover any other foundation concerns, which can be repaired at the same time. These may include serious cracks in the foundation wall large enough to allow some leakage. Also, worn out damp-proofing is just as likely a culprit for a wet concrete foundation wall. Finally, metal snap ties which have rusted may provide excellent, small holes for groundwater to seep through from the exterior of your home to the inside of the concrete. Any or all of these could be present in your home, which are leading to a periodic wet basement.
Because you may have only one foundation wall that is causing your concern, that could be the only one that currently needs attention. While that area may appear to be the root cause of the leakage, there could be other exterior factors, as well. Poor grading, leaking eavestroughs, vegetation, sunlight, nearby structures and other items can prevent or contribute to moisture intrusion. Care must be taken not to simply move the basement leakage to another location after the foundation is repaired. This can occur if the grading is significantly raised on the repaired side of the house only. What may be required, is to address any other low-lying areas and water-management issues after completion of the individual wall repairs. While it may make good economic sense to repair only the one foundation wall that is currently problematic, it can be foolish to spend that money if you are making the other walls more susceptible to seepage after the work is complete.
There may be only one reason I can think of to consider repairing more than one side of a foundation at a time in relation to weeping tile replacement. That is if the weeping tiles under the basement floor slab are also deteriorated. In many cases, the exterior weeping tile may be damaged, but the system under the basement floor slab is still in good working order. It may currently not function properly because it is not getting much water flowing from the blocked exterior system. It may be fine when that is replaced with new plastic drainage pipes. Unfortunately, in some cases, the interior drain tile can also be collapsed or plugged with soil and tree roots. If you replace the system outside the foundation, it still has to be connected to the portion running under your basement floor. If that is not properly channelling the water, it may flow to other areas, or saturate the soil under the concrete slab. Either of these issues can cause serious water problems, so ensuring the under slab portion of the old weeping tiles are properly draining and not plugged is a critical part of any repair.
Proper functioning of that part of the puzzle is often established by running a hose into these tiles from outside the footing at the time of excavation. The same amount of water run into these should wind up in the catch basin below the floor drain, or they are blocked. Cleaning these old clay or concrete tubes out with a rooter may be possible if they are still intact, or further repairs are needed. If they are found to be crushed or damaged, cutting open channels in the concrete basement floor will be required to facilitate installation of new, non-perforated piping in that area.
Because foundation repairs can be quite costly, mainly due to the labour required to excavate around the house by hand, doing one or two portions of the home at a time is quite common. It would be more beneficial to completely replace older, damaged weeping tiles with a modern drainage system, but doing it in several stages should be fine.
As long as the proper fittings are installed, in future repairs, there can be little downside to fixing one wet foundation wall at a time. Any contractor you hire should have years or decades of experience in these specific repairs and explain the process, assuring you that all the proper components will be fixed, and provide you with an accurate estimate of costs before any shovels hit the ground.
Ari Marantz is the owner of Trained Eye Home Inspection Ltd. and the past president of the Canadian Association of Home & Property Inspectors — Manitoba (cahpi.mb.ca). Questions can be emailed to the address below. Ari can be reached at 204-291-5358 or check out his website at trainedeye.ca.