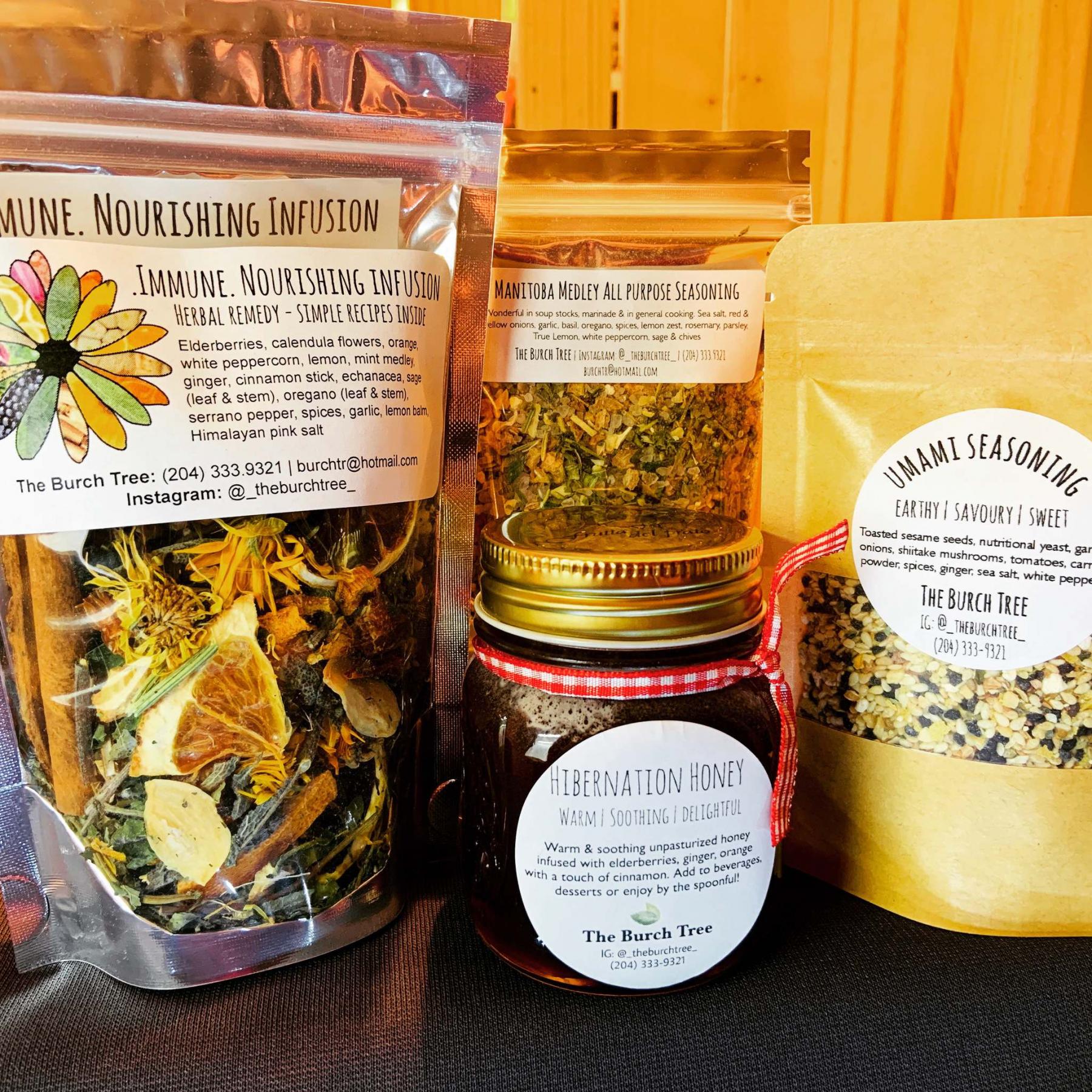 Your taste buds are going to thank me for this.
It's just another Winnipeg home, on just another Winnipeg street, but this one just happens to house The Burch Tree, a home-based business owned by Trisha Burch.
"We produce delicious and healthy artisan seasonings, sauces, infused salts, and herbal remedies made with ingredients we grow ourselves in my family's organic garden along with other locally sourced ingredients,' says Burch.
Artisan? I had to look it up.
Professor Google says artisan products are those made in a traditional manner, with alternative names that include farmhouse, natural or heritage. They are produced on a small-scale or in batches, not mass-produced or farmed on an industrial scale — and are usually made by hand.
It turns out Burch wasn't even in business mode back in 2015 when she began making spice rubs and seasonings for home use, then as gifts. Those on the receiving end "always came back for more," says Trisha, and everyone eventually suggested she should start selling them.
"Being the natural entrepreneur that I am, I was on it," says Burch, "that same year (2017) I crafted a few more flavours and began searching for markets and craft sales to begin selling. My first market was the South Osborne Farmer's Market. We connected right away and it felt like home."
And the unintentional biz has grown exponentially from there.
The production process? The plants are started inside during winter, then when frost-free season arrives, are moved out to the 17 garden beds of varying sizes she tends in her yard.
Now because I'm somewhat limited for room here, let's cut right to the chase and list some of the many products that have made and continue to make The Burch Tree so popular.
Seasoning and Spice Rub Department: Big Pickle Seasoning — made with REAL pickles (great for popcorn and caesars). Blackout Beauty Blackening Rub — a summer grilling customer fave that includes Jacked Up Jill Velvet Hammer Espresso included in the ingredients. Manitoba Medley — a local take on herb and garlic style seasoning. Thermostat — an adjustable temperature Thai inspired seasoning from which you choose the heat level, and Tuscan Seasoning — a blend of rustic flavours, also featuring The Burch Tree's Cabernet Sauvignon Infused Sea Salt.
Worthy of note that the infused salts are made with Canadian wines and locally grown herbs, other varieties including Lemon Basil Sauvignon Blanc Sea Salt, Smokey Habanero Sea Salt, and yes, even Peck of Pickled Peppers Sea Salt (made with spicy pickled peppers.)
Sauces, Dips, Infused Honeys and others: You might like Burch Tree Backcountry Bean Dip, Manitoba Smokeshow Hot Sauce, and Manitoba Heat Hot Sauce — not that we are looking for any more heat at the moment. Do you have an Infused Ice Dip of any sort Trisha?
You might be interested to know that Burch Tree products are gluten-free, dairy-free, vegan-friendly, nut-free, sugar-free and low in sodium.
And I definitely think their waste policy deserves a nod. "We use as much of our produce as we can, then either repurpose or compost the remains. Our packaging is either reusable or biodegradable. We love sharing tips and tricks on how to reduce or repurpose waste on our social media."
Bravo!
For more info check out The Burch Tree on Facebook or email: burchtr@hotmail.com, or if you'd like to meet Trisha and her popular products in person, she'll be back where the selling all started at the South Osborne Farmer's Market in the Lord Roberts Community Club on Wednesday, July 14 at 725 Kylemore Ave., from 4 p.m. to 8 p.m.
Comments and column ideas always welcome!
lmustard1948@gmail.com