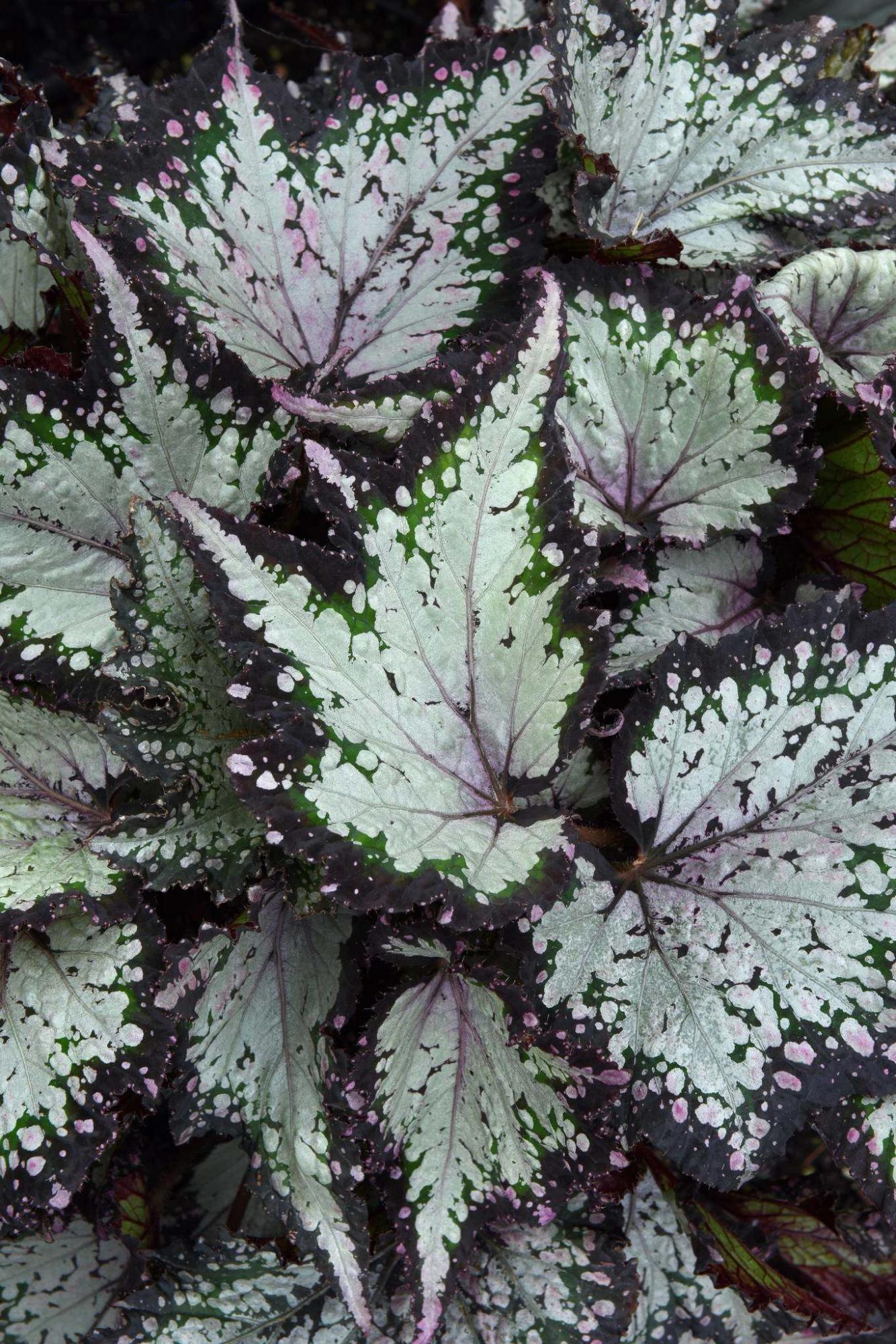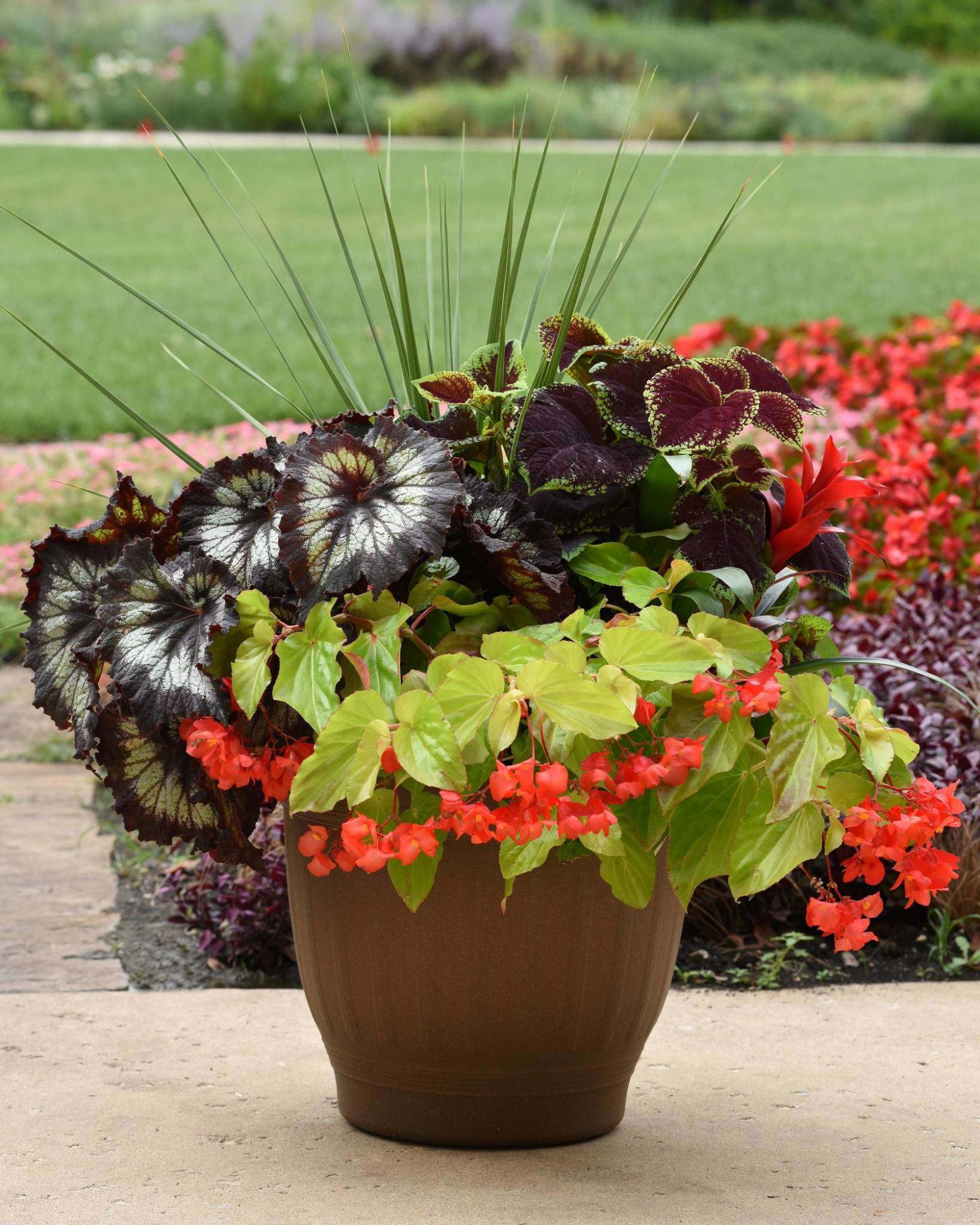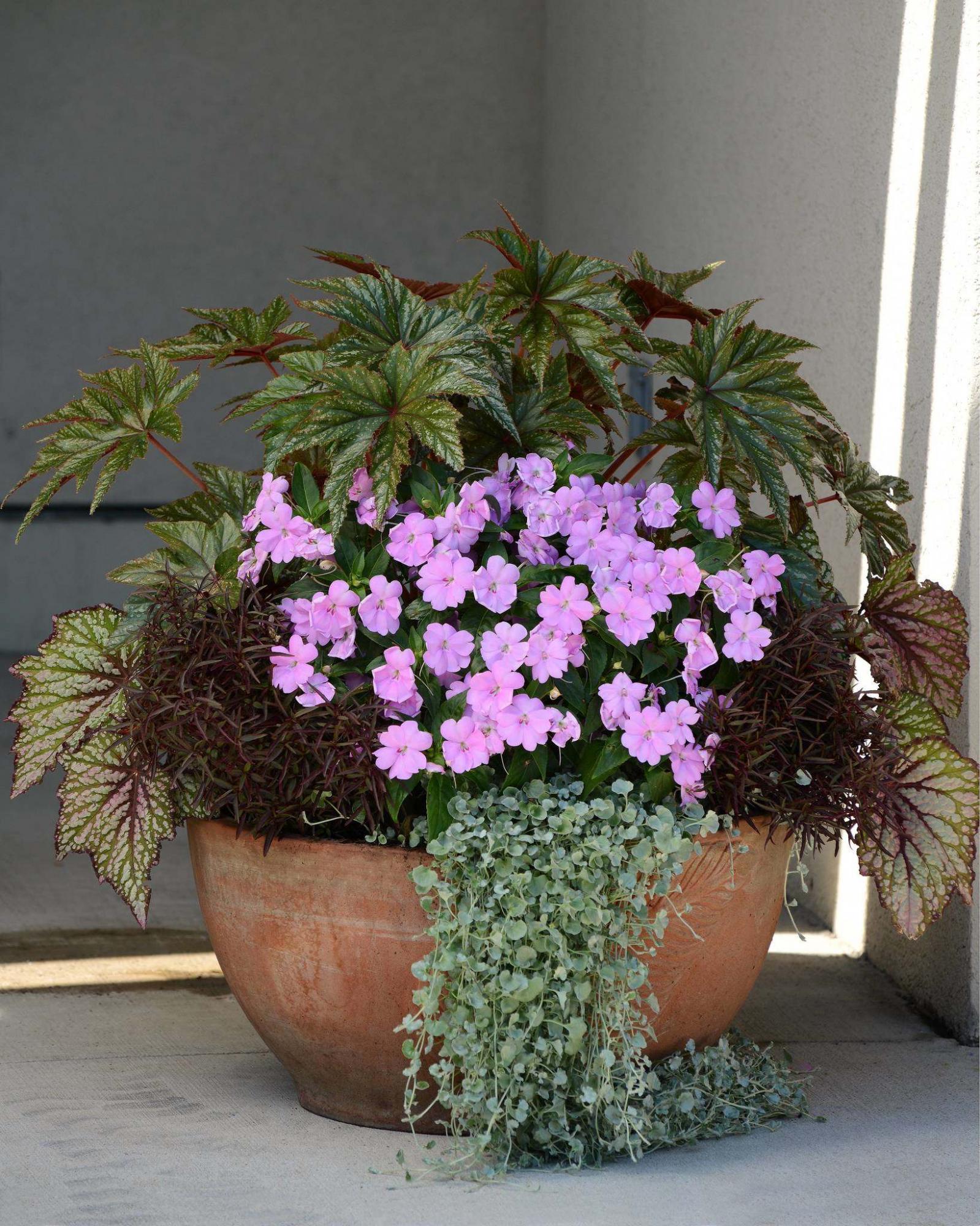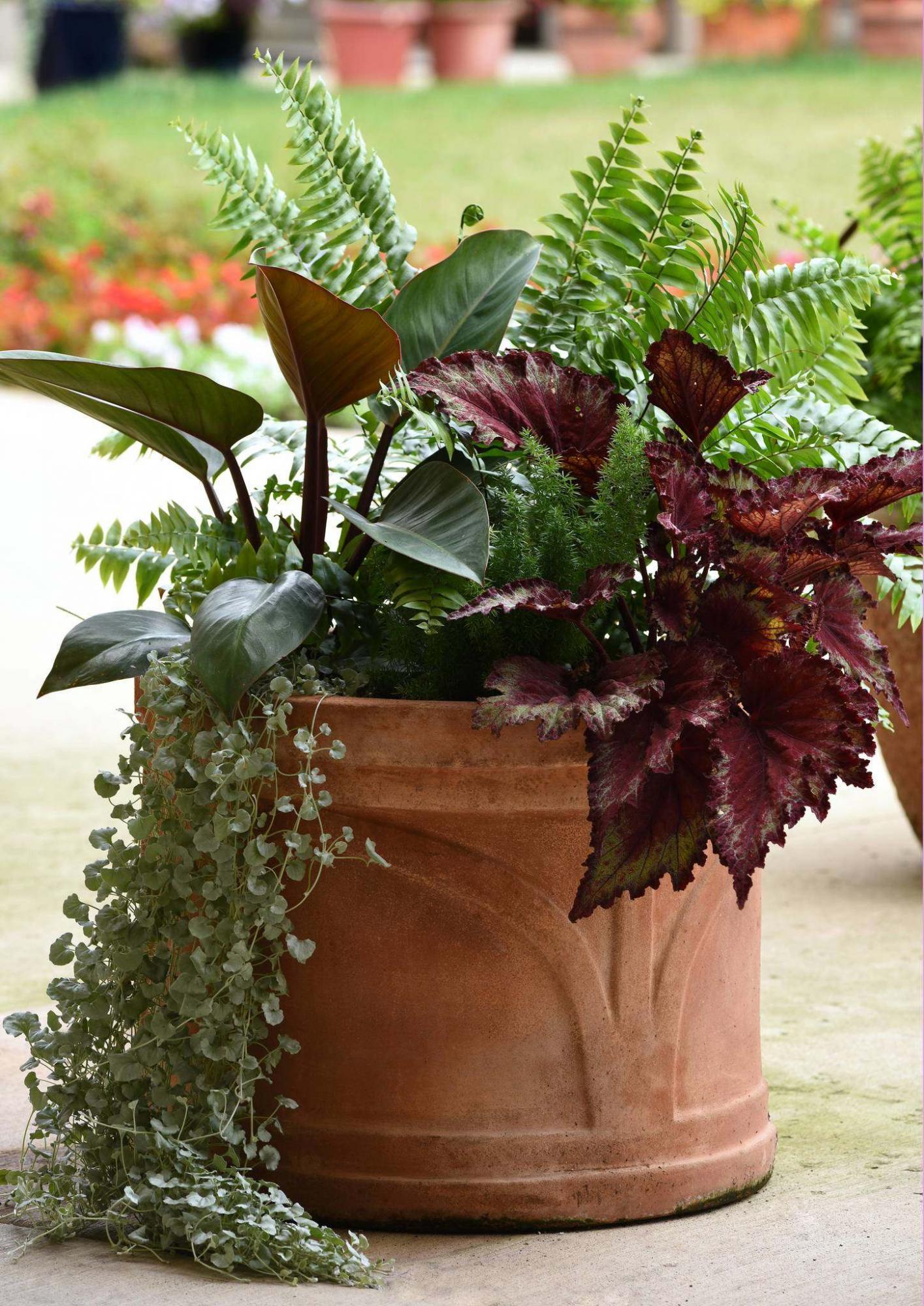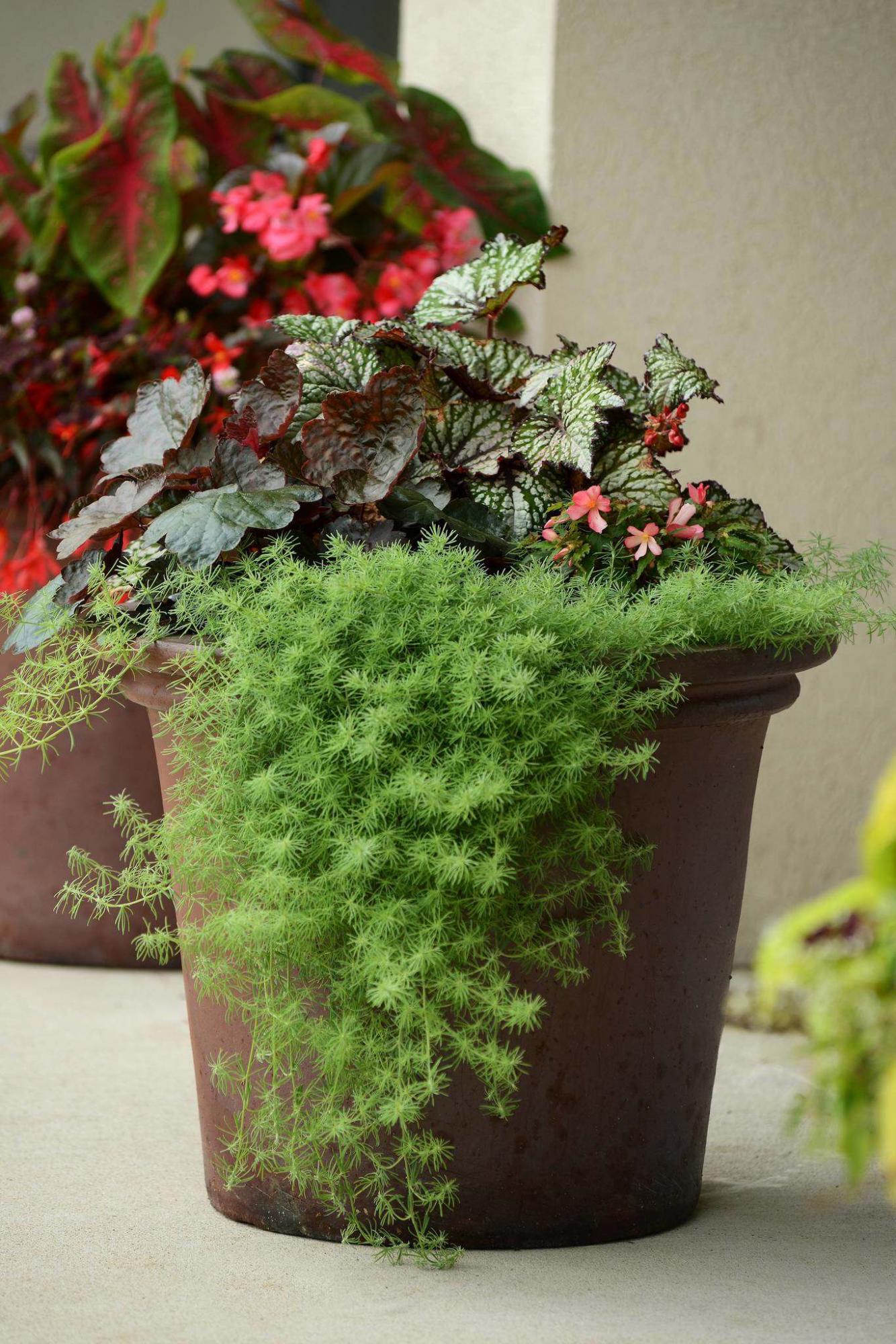 Demand for indoor and tropical foliage plants is at an all time high. In our desire to reconnect with nature, we are decorating our indoor and outdoor spaces with leafy houseplants and tropicals. Foliage will be everywhere this year — from dish gardens on our still-working-from-home desktops to lush foliage accents in every room of the house as well as foliage planters on porches, balconies and patios and in the landscape.
Jurassic Rex begonias from Ball Ingenuity are one of the most versatile foliage plants for growing indoors year-round and outdoors in shade areas during warm months. Known for their unusual colours, patterns and amazing texture that few other foliage plants offer, the classic Jurassic series of rex begonias includes popular varieties such as Watermelon, Silver Swirl, Green Streak, and Silver Point. But now comes three new series of Jurassic Rex begonias – Jurassic Dino, Jurassic Jr., and Jurassic Megalo — that are so fabulous they earned Ball Ingenuity a coveted Cool Product Award at the virtual 2021 Tropical Plant International Expo held in February. Each year TPIE showcases the latest trends in foliage, floral and tropicals.
To learn more about the new Jurassic begonias, I spoke last week with Joan Mazat, head of product development for Ball Horticultural Company, virtually on Zoom. (Helpful hint: If you are looking for a way to inject more enthusiasm and energy into your Zoom meetings, talk about plants. No one will want to click the Leave button.)
Mazat says the Jurassic Rex begonia series present exciting opportunities through their distinct sizes and different uses indoors and outdoors. These bright, cool foliage plants are an ideal solution for the deepest shade areas of your garden or patio as well as part-shade areas that receive indirect sunlight.
Let's start with the new Jurassic Dino Rex begonia. "Jurassic Dino is a baby dinosaur with a compact habit ideal for smaller scale 10 to 12 cm dish gardens or tabletop containers indoors and outdoors," says Mazat. Two of the varieties are Jurassic Dino Polka Dot with iridescent blue-green foliage with purple spots and Jurassic Dino Black Tie with bold splashes of magenta.
The Jurassic Jr. series features varieties that are a similar size as the classic Jurassic varieties and have the same vigour, says Mazat, but the leaf size is 40 per cent smaller and the plants have double the branching for a denser, stronger plant. "These characteristics are a benefit for different applications and add an extra level of durability," she says. "We always select plants for good habit and form and sturdy branching but Jurassic Jr. has much more of a mounding habit than an architectural habit," says Mazat. Jurassic Jr. Arctic Twist, for example, has an amazing rounded, mounded shape that is almost like a mushroom, she says. The Jurassic Jr. series features numerous varieties including richly-coloured Berry Swirl and Rose Splash.
Familiar with the Megalodon shark, the biggest shark of them all? Well, Jurassic Megalo is the biggest begonia in the Jurassic Rex begonia family. The Megalo series offer mega-colour, amazing patterns and handsome texture for large (25 cm plus) containers and shade gardens. The Megalo varieties include Komodo Rex, Croc Rex, and Reptile Rex. These are no shrinking violets. "With Jurassic Rex Megalo, you need a very large container if you are planning a mixed arrangement," says Mazat.
Through her work, Mazat experiments with many plant combinations. She is also an avid gardener who designs beautiful mixed tropical containers for her home garden. "I love to mix the darker coloured Jurassic Rex begonia varieties with Canary Wing begonia which has glossy, chartreuse-green foliage and bright red flowers. It's a huge standout."
Mazat says what she really likes about all four series of the Jurassic Rex begonias is they can be used to create a very good mixed container. Their mounded shapes work well planted alongside taller, sentinel plants such as Gryphon begonia. For contrasting colour and texture, try shade-tolerant fillers such as Red Threads Alternanthera, Coleus Kong Jr., Hypoestes Polka Dot plant, heuchera, and asparagus fern or foxtail fern.
For a tropical flair, combine Jurassic Rex begonia with Rojo Congo philodendron or an exotic bromeliad.
If you want blooms, include a favourite flowering begonia such as I'Conia Upright White or Impatiens Bounce or Impatiens Beacon. Accent with semi-trailing Torenia (also known as the wishbone flower). For taller containers, use a luxurious, vigorous spiller such as Dichondra Silver Falls or semi-trailing Plectranthus Nico known for its dark green foliage.
For an intriguing miniature tabletop dish garden for your patio or balcony, combine tiny Jurassic Dino with Peperomia prostrata String of Turtles and edge the lip of the container with moss. Or create your very own indoor jungle with container groupings. With so many different Jurassic Rex begonia varieties to choose from, there are seemingly limitless choices.
The Jurassic Rex begonias have been more than 10 years in the making, says Mazat, and represent the best in rex begonia breeding. They were developed by PlantSmith Nursery, a wholesale nursery in Oregon specializing in Rex Begonia. The Megalo series come from the breeding program at Steve's Leaves in Texas. The Jurassic Rex family will continue to grow. "There are still more colours to be found as well as leaf forms," says Mazat. There is a strong desire for a true red. "We're getting close with new red and black Jurassic Heartbeat Rex Begonia but there are still so many more possibilities. That's the one thing about the genus begonia: there are hundreds of thousands of plants. We're not done exploring."
All of the Jurassic Rex begonias have been trialed successfully for indoor and outdoor usage, says Mazat. Every one of the varieties is suitable for shade containers on patios, apartment or condo balconies, or shady areas in the landscape. Proper light conditions for these shade-loving plants are a key priority, she says. Direct sunlight of even a couple of hours will cause leaves to become crispy or burn. Moisture levels are also important, says Mazat. Plant rex begonias in pots with drainage holes and do not allow your plants to become waterlogged. Water the soil beneath the plants and avoid watering the foliage. Rex begonias benefit from a regular watering schedule and enjoy humid conditions but also have a great level of drought tolerance. Rex begonias are not thirsty plants and that's very useful, says Mazat, because it keeps us water-wise so we are not wasting our resources.
In fall, prior to the first frost or when nighttime temperatures start dipping below 10 C, bring your Jurassic Rex begonias indoors for the winter. These are wonderfully long-lived indoor plants. Bonus: Plant parents who want to grow their plant family will love how easy it is to propagate rex begonias from leaf cuttings.
colleenizacharias@gmail.com