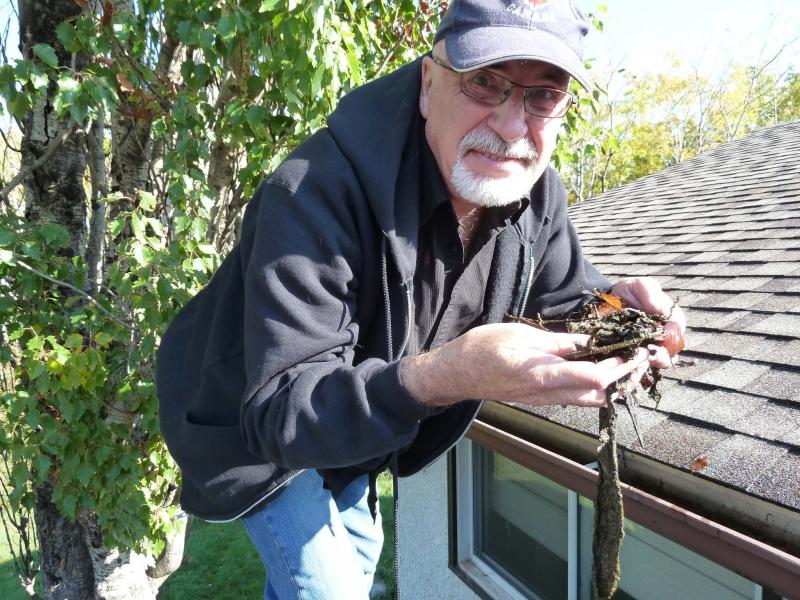 G'day. Today's column will delve into pre-winter prep for your home and garage — there's definitely a laugh or two in that — but first, a follow-up to last week's column on outhouses, the outdoor toilets everyone had in their yard before water and sewer came along.
MAN, did they stink on a hot summer day. The kids of today are really missing out.
Anyway, I got lots of feedback/responses, a couple of which I'm going to share with you, beginning with this amazing accomplishment recalled by Brent:
"Laurie, good article, I recall the Eaton's catalogues ending up in those outhouses, as well as other toilet paper facsimiles, and I'm proud to say that I actually dug two pits for outhouses when I was in my early teens."
Thanks for the feedback Brent. Definitely a unique claim to fame. Has it occurred to you that you might make a whack of dough by digging a whole bunch of outhouse pits around the White House at present? I'm sure someone would pay you big bucks to do it — there's certainly no shortage of stuff to fill them with there.
Just a thought.
Then there's this excerpt from Julien and Doris (edited a tad for length): "After years of procrastination, we finally moved the old back house/outhouse. We decided to put it in a nice spot and restore it, which we did. We now use it; our friends love it, and it's like a little centrepiece in our backyard. Everyone that goes in the little shack MUST write their name on the wall. I have the autographs on the inside walls of aunts and uncles that have since passed on, and we truly regard our outhouse as a family treasure. We have since added another, which is the centrepiece of our front yard."
See, now that's exactly what I wanted to do with Aunt Madge's outhouse, except for perhaps one thing. Julien, Doris, what do you mean by "use it"? Then again, upon reflection, I realize I just don't want to know. ENJOY!!!
A final thought on outhouses: why did they think Eaton's catalogues were a good replacement for TP?
I mean, shiny paper? Never mind. Moving along...
As for pre-winter home prep, one of the most important chores is cleaning out your eavestroughs, or as they seem to be more commonly called, your gutters. I prefer eavestroughs; it just sounds more civilized. Gutters, historically, have such a negative connotation. Let's keep this positive, shall we?
Do I really care? Not in the least, even though I do prefer "eavestrough." Thank you.
I popped up for a look at the state of my own eavestroughs and found, especially on the tree side of the house, they definitely need a cleaning. Leaves and branches have the downspouts somewhat clogged, resulting in eavestroughs half full with water (so drainage is definitely impaired), with more branches and leaves piling up every day.
If not cleaned when the leaves have fallen and winter comes, those probably full eavestroughs will freeze up, adding considerable weight to them, additional possible damage occurring to them as the ice expands during freezing, and no flow when they do melt, causing water to overflow and possibly do damage when it should be efficiently draining away from your home.
Prevention is much cheaper than repair. One way or another, get them checked, cleaned and doing the job they were designed to do. Procrastinate (something I have never done) and suffer the consequences. Hop to it.
Another annual reminder I like to make is if you have a single or double garage, attached or otherwise — that's a very expensive luxury to have, that you're not parking your $20,000 or perhaps $80,000 dollars worth of vehicles in, because you're using the garage to store maybe $210 worth of "stuff." Get rid of the stuff and start using the garage for what it was designed for. This abuse of resources is definitely not common-sense-based. Think on it for a few months and I'll remind you again next year.
Our final pre-winter prep reminder for the day: if you have a snowblower or snowmobile that needs servicing, do take it in now — not after the first snowfall, when the rush is on and waiting times multiply by about three.
Also, if your house has drafts galore, indicating there is perhaps significant caulking to be done, now is definitely the best time to "walk the caulk" — unquestionably a pre-freeze-up chore.
Now is also a good time to hang your Christmas lights, but if you turn them on before Dec. 1, I am urging local lawmakers to label that a terrorist act and have you arrested, especially if you pump Christmas music out into the neighbourhood along with it. The Christmas season that I remember as a child as pretty much being Christmas Eve and Christmas Day now runs about three months. Follow the money? Have a fantastic weekend!
Comments or feedback, love to hear from you!
lmustard1948@gmail.com