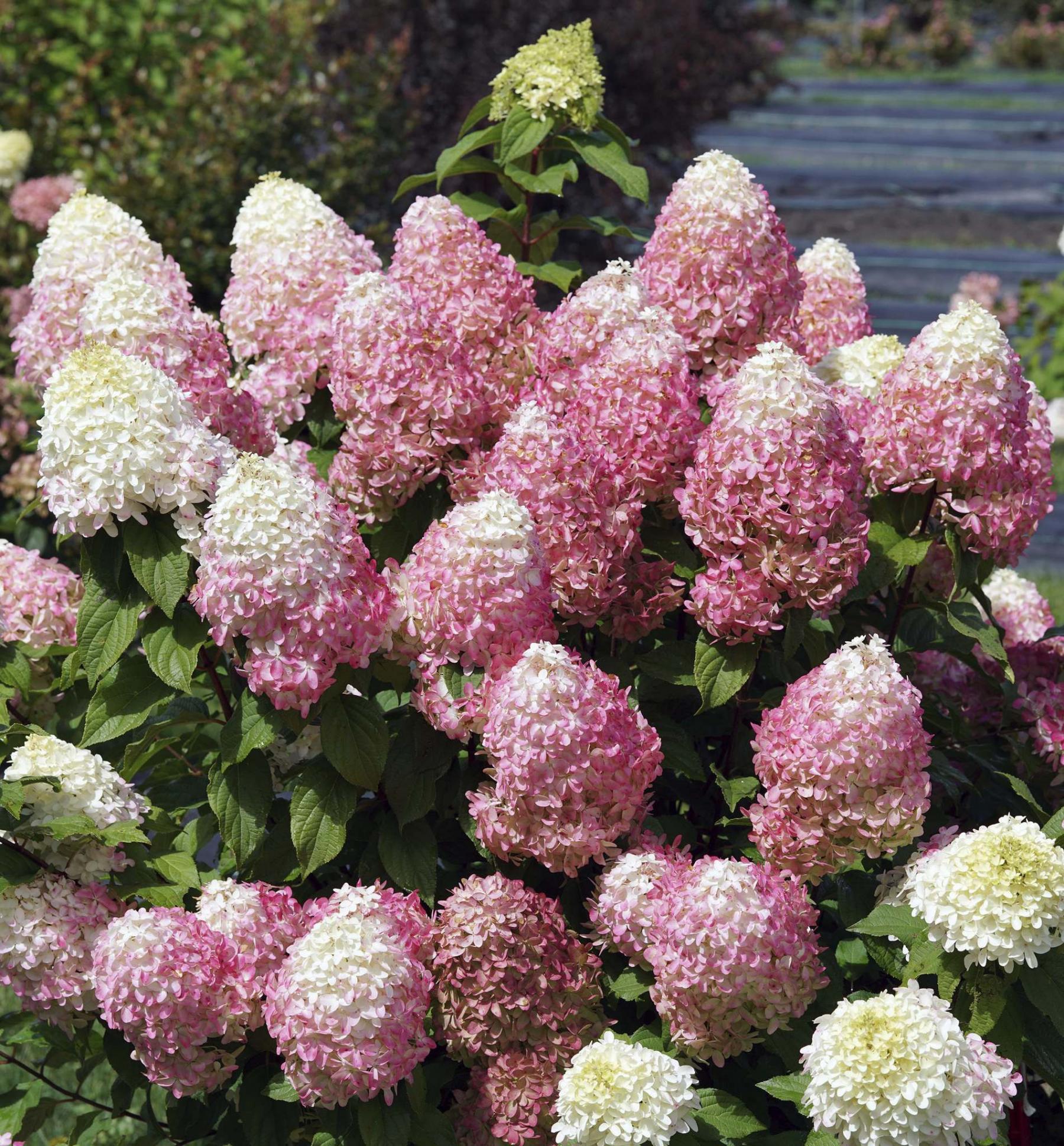 No other flowering shrub in North America today is as popular as the hydrangea. With improvements in hydrangea breeding and exceptional new hydrangea introductions coming our way in 2021 and beyond, consumers' love affair with the hydrangea is destined for a long-term relationship. Unfortunately, rabbits love hydrangeas, too, and given the opportunity, deer and voles are fond of them as well. With winter fast approaching, there are steps you can take now to prevent any serious damage caused by winter feeding from spoiling a perfectly good relationship.
First, the fun part: the new Proven Winners hydrangea introductions coming our way are more than just attractive new varieties. Each one represents the newest generation of panicle hydrangeas bred for improved garden performance. Here are just a few of the more exciting new entries.
Quick Fire Fab panicle hydrangea is an exciting improvement on Quick Fire hydrangea, an old favourite which has been around for several years. Quick Fire has the distinction of blooming about a month earlier than any other panicle hydrangea — usually by the first or second week of July in our southern Manitoba gardens. New Quick Fire Fab panicle hydrangea is the same size as Quick Fire — 180 to 240 cm — but blooms a couple of weeks earlier and boasts bigger flowers on stronger stems. Attractive and unique texture is provided by the cruciform flowers which have four petals and are cross-like.
Quick Fire Fab offers unique colouration: the individual florets are green at the tip turning to vanilla white but as the blooms mature, the creamy colour transitions to pink and then deep pink starting at the base of the bloom, gradually working its way up for an eye-catching bicolour effect. The glossy foliage on this new improved variety is dark green for added colour contrast. Quick Fire Fab hydrangea was bred by Megan Mathey, Spring Meadow Nursery.
Limelight Prime panicle hydrangea is an improvement on Limelight hydrangea with stronger, more upright stems, darker foliage, and a more compact size (1.8 metres tall). Perhaps one of the most notable differences between this new entry and the old standby is that Limelight Prime blooms much earlier than Limelight which typically waits up to mid-August before it blooms. A long time in breeding, Limelight Prime's blooms start out a vivid lime green and maintain that colour for a longer period. Unlike the aged blooms of Limelight which sometimes transition from cream to tan, Limelight Prime's blooms transition to pink and then deep pink with red tones for a beautiful finish. Limelight Prime was bred by renowned plant breeder Tim Wood, of Spring Meadow Nursery.
Fire Light Tidbit is billed as the tiniest panicle hydrangea yet with a mature size less than a metre tall and wide. Fire Light Tidbit will be well suited to foundation plantings or at the front of a mixed border. This new variety offers great flower coverage over the entire shrub. The late season blooms emerge a bright lime green before transitioning to white. Tones of bright pink and red develop on the thick, sturdy stems as the blooms age. Notably, the foliage of Fire Light Tidbit has an impressive fall colour. This new variety was bred by Tim Wood.
Of all the hydrangea species, the panicle hydrangea is the easiest to grow and generally requires only minimal pruning in spring to snip off the dried flower heads.
But the hard part comes in when your hydrangea shrub has been stripped of its bark on multiple stems. When complete girdling occurs (the bark has been stripped from the entire circumference of branches), the portions of the branches above the damaged areas are unlikely to survive because the phloem layer beneath the bark has been disrupted and cannot carry out its function which is to transport water, nutrients and minerals. By pruning just below the feeding damage, your shrub will recover and produce new buds.
If girdling occurs on 30 to 50 per cent of your shrub's branches — or more — then extensive pruning becomes necessary and the overall size of your shrub will be reduced significantly. Sometimes, in the case of a tender new hydrangea experiencing its first winter in your garden, the entire shrub goes missing at soil level. Nevertheless, these injured plants send up new shoots from their healthy roots and recover remarkably.
Nibbling is one thing — and we should not get all bent out of shape when hungry wildlife stops by for a light snack — but girdling is another. Suppose you are tired of the endless cycle of extensive pruning as a result of winter feeding damage? In my case, severe winter feeding damage by rabbits over the past several winters to my collection of 90-plus hydrangea shrubs has prompted me to finally take drastic action.
I started by sealing off my backyard about three winters ago. Physical exclusion, though, can be a double-edged sword. Shut out from my backyard, rabbits declared open season on the dozens of hydrangea shrubs in my unprotected front yard.
Rabbits are amazing creatures. As herbivores, their summer diet includes grasses, fruit, seeds, buds, flowers, leafy vegetable greens, etc. In winter, with fewer options available to them, their diet is mostly wood-based — high in fibre, if you will. Their razor-sharp teeth are unrooted and never stop growing. A chicken-wire fence is no deterrent. Not only can a hungry rabbit chew through the wire but it also has the capability to squeeze through an opening as small as seven cm. (I watched the video).
Remember Elmer Fudd? I guess that's who I'm going as this strange Halloween because this fall I've taken the extraordinary step of having 109 metres of galvanized welded mesh (also known as hardware cloth fencing) erected in my front yard. My husband did all of the installation. Rabbits will not be able to squeeze themselves through the 2.5 cm holes nor chew their way through the 19-gauge welded mesh. To deter rabbits from digging under the fencing, the bottom has been anchored to the ground with garden metal wire staples.
Fencing has its limitations. For added protection, I am also using Bobbex deer and rabbit repellent spray. Why Bobbex? In a study by the Connecticut Department of Horticulture and Forestry which tested 10 deer repellents, Bobbex was rated No. 1 and found to be 93 per cent effective in reducing browsing damage to ornamental plants. An all-natural foliar spray that is considered safe for the environment and will not harm wildlife, aquatic life, people or pets, Bobbex repels by smell and taste. Bobbex won't wash off in rain or snow because of the sticking agents contained in the product. Winter application, however, must be done when temperatures are above 2C. During winter, Bobbex will last up to two months.
Whether or not you're in the mood right now to think about the promise of new flowering shrub introductions that you can plant next spring in your garden, take the time to safely protect your shrubs for the winter. Love the ones you're with.
colleenizacharias@gmail.com