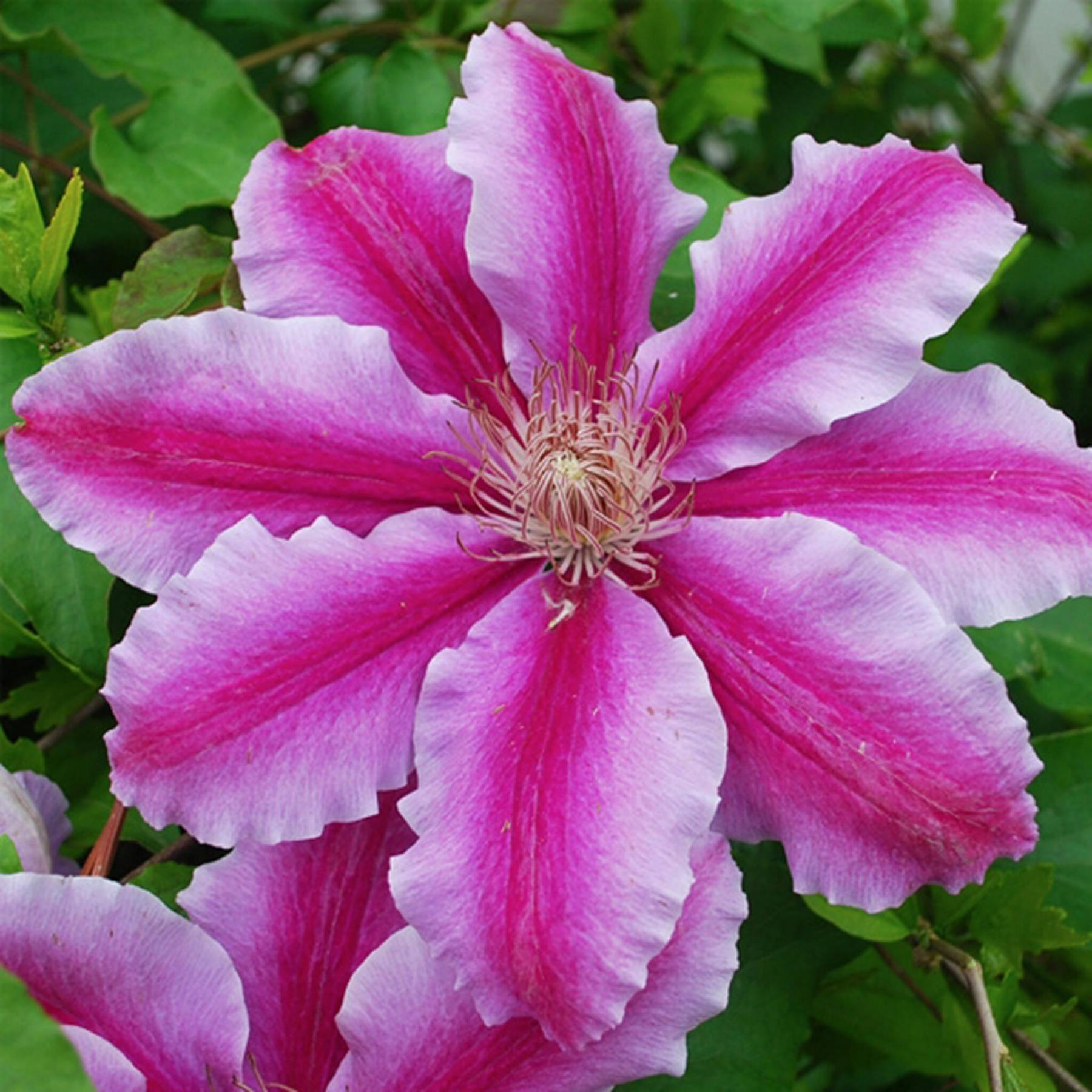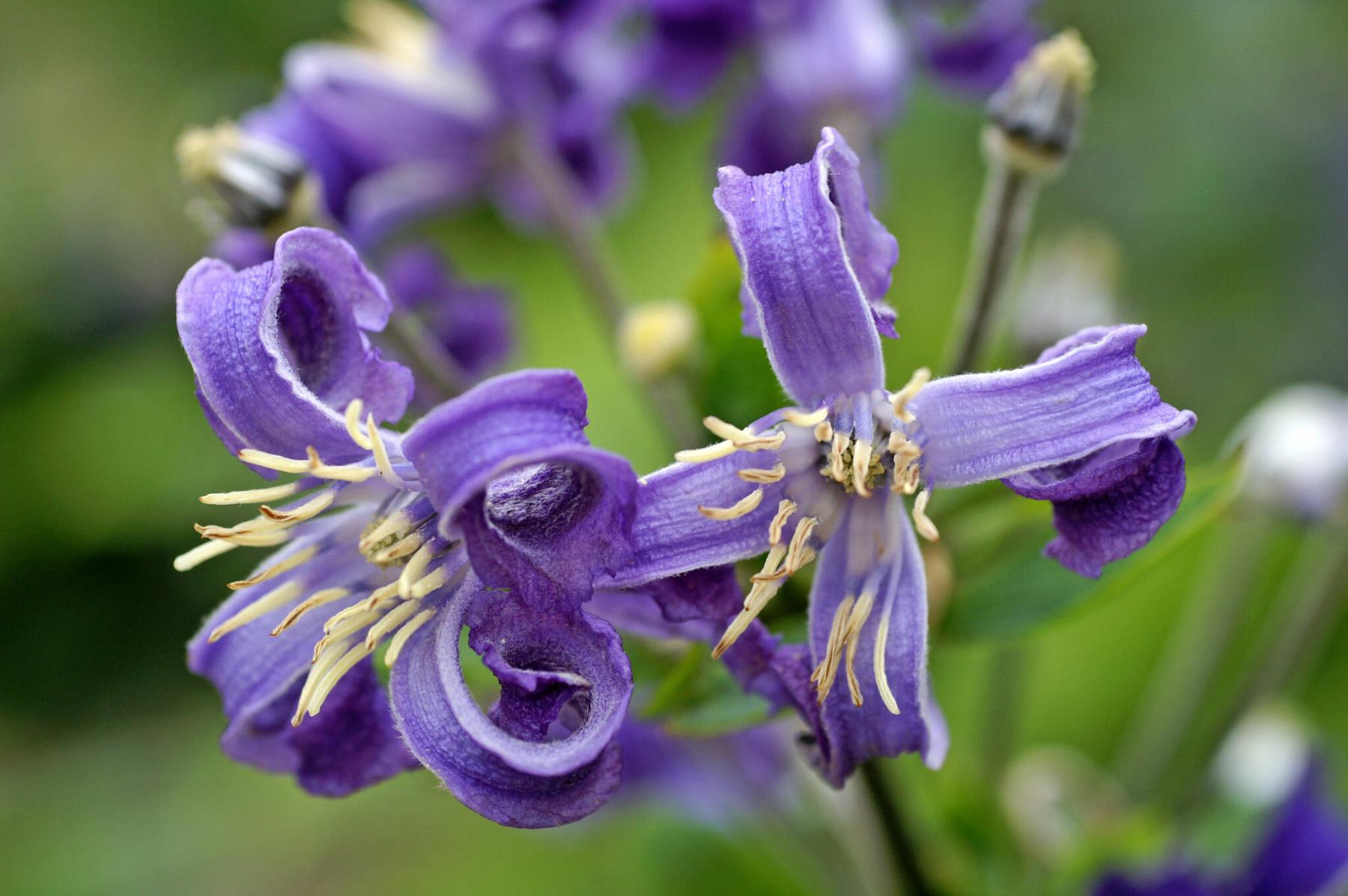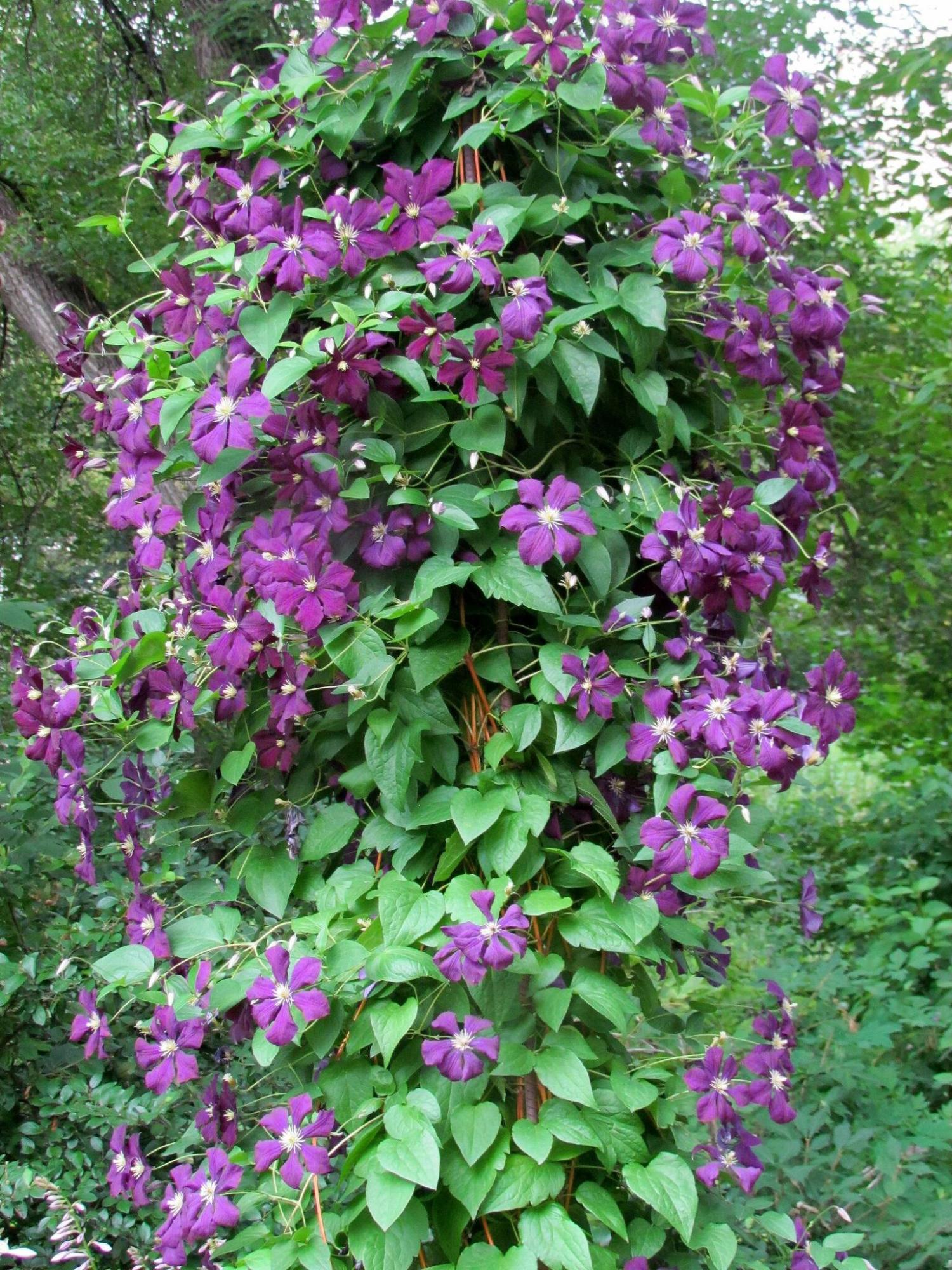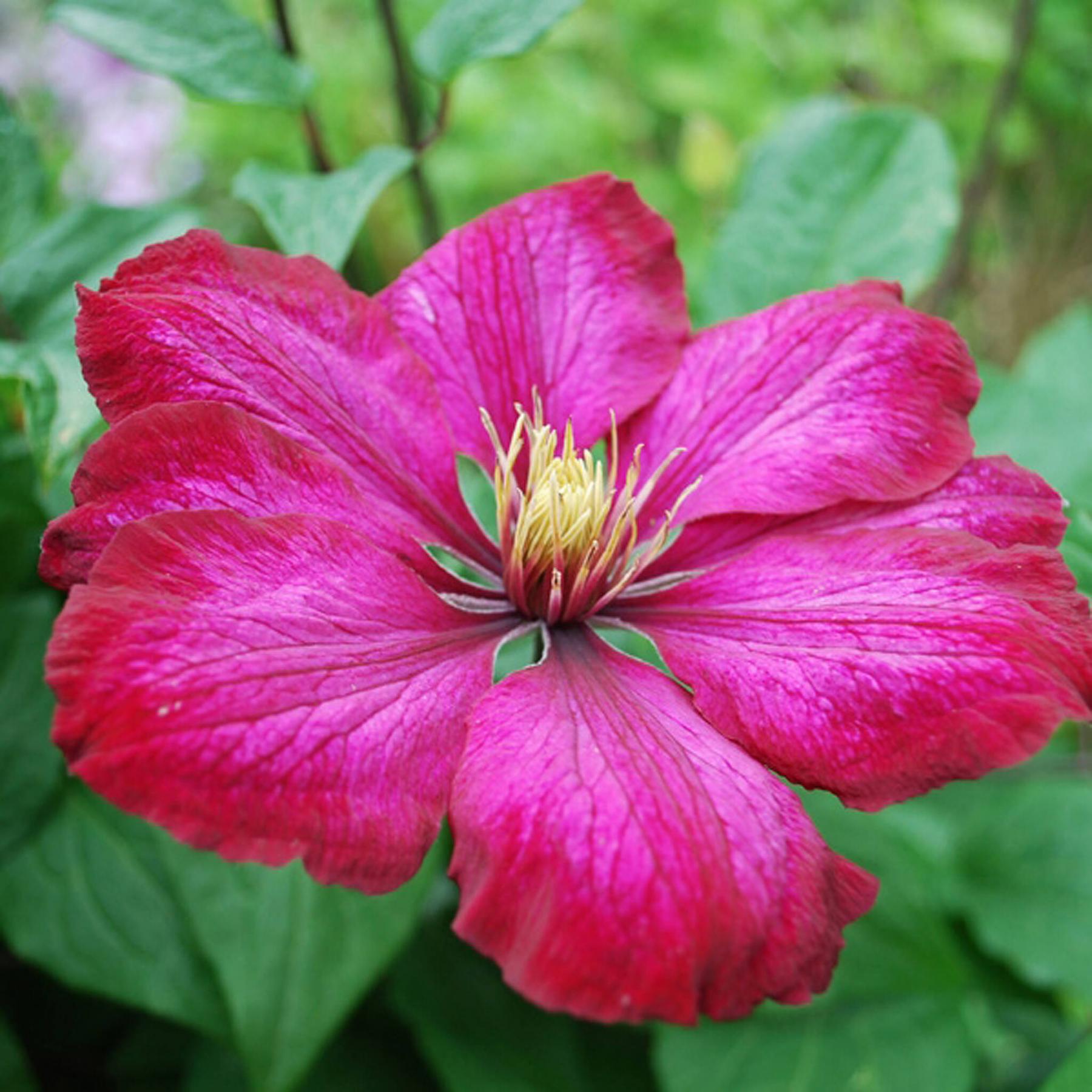 The beauty and intricacy of clematis flowers puts them in a class of their own. Of all the flowering climbers, a clematis in full bloom brings a dramatic and unsurpassed elegance to the garden. Clematis is a sensational plant for small, large, and skinny spaces. Grow clematis vertically on a free-standing structure or create a living wall or grow it as a groundcover and let it scamper freely and luxuriously.
The beauty of clematis is that it comes in a huge range of flower colours and sizes. Choose from early-season clematis and mid-summer to late flowering varieties and plant more than one type for a succession of colour in your garden. But in addition, there are a diverse number of Clematis varieties suitable for growing in our extreme prairie climate. Clematis is usually long lived and prefers fertile, moist well-drained soil. Depending on the variety, clematis can be grown in full sun to partial shade. It is key to keep its roots cool. Add a layer of mulch or natural bark chips at the base of your plant away from the crown. Planting perennials nearby will assist in shading the soil.
Gardeners will find several exciting varieties this spring as they visit local garden centres. Let's start with one of the best-known early season varieties, Blue Bird Clematis macropetala. In Leanne Dowd's Neepawa garden, for example, Blue Bird covers the ground with a carpet of hundreds of blue blooms in late May and early June. Blue Bird is a popular and vigorous clematis bred by Frank Leith Skinner (1882-1967), one of Canada's most renowned plant breeders who resided near Dropmore, Manitoba.
It's possible we will see Alpina Willy this spring, however, it will be in short supply. One of the hardiest clematis varieties to grow, Alpina Willy blooms in May.
I'm excited about Dr. Ruppel, a large-flowered bicolour clematis which has rosy-pink and magenta blooms. Or maybe it's just that I'm starved for colour after our long winter. Dr. Ruppel flowers in early summer. Ville De Lyon is another clematis with rich red colour and an impossibly beautiful center with large yellow stamens. Ville De Lyon has a long bloom period from early to late summer. Both Dr. Ruppel and Ville De Lyon grow to a mature height of about 8 feet.
If you are in the mood for something a little more subtle, keep your eye out for Guernsey Cream clematis, an elegant, early-summer blooming clematis with creamy white blooms.
Of course, we can count on the availability this spring of Jackmanii clematis, a very old variety (introduced in 1862) with large, violet-purple flowers. Said to be the best-known clematis of all time, Jackmanii is no shrinking violet – it has a mature height of 12 or more feet.
Match your vine with the right support. Firmly securing your support structure is key for robust climbers that have an impenetrable thicket of branches especially if they are grown on a freestanding structure such as an obelisk, trellis, willow teepee, or wooden or metal tuteur, or rebar. Set your structure on a level surface and sink the legs into the ground several inches (up to 12 inches). This will help to prevent strong wind gusts – or even just the sheer weight of your vine — from toppling your beautiful display over.
There are also intriguing clematis hybrids which are non-climbing and herbaceous that die back to the ground each winter similar to perennials. These compact varieties (36 inches tall at maturity) are suitable for a flower border with some support from a peony ring or small teepee or obelisk to keep them upright. Stand by Me bush clematis, introduced a few years ago, has proven winter hardiness in our cold climate. Mine are mostly supported by obelisks but I also grow Stand by Me as a ground cover and let it spill over the edge of a stone wall.
This year, Stand by Me is joined by Stand by Me Lavender bush clematis which has blue, bell-shaped, semi-nodding flowers with yellow centres. Both varieties bloom in early to midsummer, followed by attractive fluffy seedheads starting in late August. The flowers as well as the seedheads are lovely in cut flower arrangements. It's worth noting that the flower buds and large, slightly cupped foliage of both these varieties have outstanding appeal.
But another exciting possibility for this year is China Purple (Clematis heracleifolia), a bushy, upright, non-vining plant with fragrant clusters of violet-blue flowers appearing mid- to late summer. China Purple's dainty, bell-shaped blooms open to four ribbon-like, strongly recurved sepals and showy, yellow stamens. Suitable for the front of the border, China Purple grows to a mature height of about three feet or more and prefers a fertile, moist, well-drained soil. This deciduous vine is deer resistant and dies back to the ground in winter. But don't wait too long. China Purple is not widely available locally this year. Best to snap it up as soon as you come across it when you start hunting for plants at local garden centres this spring.
Look, too, for Sapphire Indigo, another bushy clematis variety coming our way this spring. Suitable as a ground cover or spiller, Sapphire Indigo boasts profuse purple blooms that are 3 to 4 inches across from early to late summer. In early spring, bush clematis should be pruned back to about three inches above the ground.
Pruning tall, mature vines may seem like a daunting challenge, however, pruning promotes fresh new growth and improves flowering. Your plant tag will indicate whether your clematis blooms on old or new wood or at the very least, will state whether a variety falls into either pruning group 1, group 2, or group 3. The groups may also be stated as A, B, or C. Early spring-flowering types, such as Blue Bird and Alpina Willy, fall into group 1 or A and should be pruned right after they finish flowering by removing dead or weak stems. But that said, if left unpruned, they continue to flower.
A light pruning in early spring to remove any dead growth is all that is needed for group 2 varieties which form flower buds in the previous growing season, such as large-flowered Dr. Ruppel and Guernsey Cream.
Large-flowered cultivars that flower midsummer to late season such as Jackmanii and Ville De Lyon clematis form flower buds on new stems and are included in group 3 or C. In early spring, cut stems back to a set of buds a few inches above the base of the plant. If late-blooming cultivars are left unpruned, bloom coverage on your plant will be lacking and the blooms may be fewer and smaller. Timely pruning produces a more beautiful plant over time. It's helpful to keep your plant tag or take a photo of it for future reference.
Other notable clematis varieties to look for this spring include Comtesse de Bouchaud, Ernest Markham, Nelly Moser, Rouge Cardinal, Arabella, Pink Fantasy, as well as Blue Boy, a popular clematis bred by Frank Skinner that has a long season of bloom. The early bird gets the worm.
colleenizacharias@gmail.com