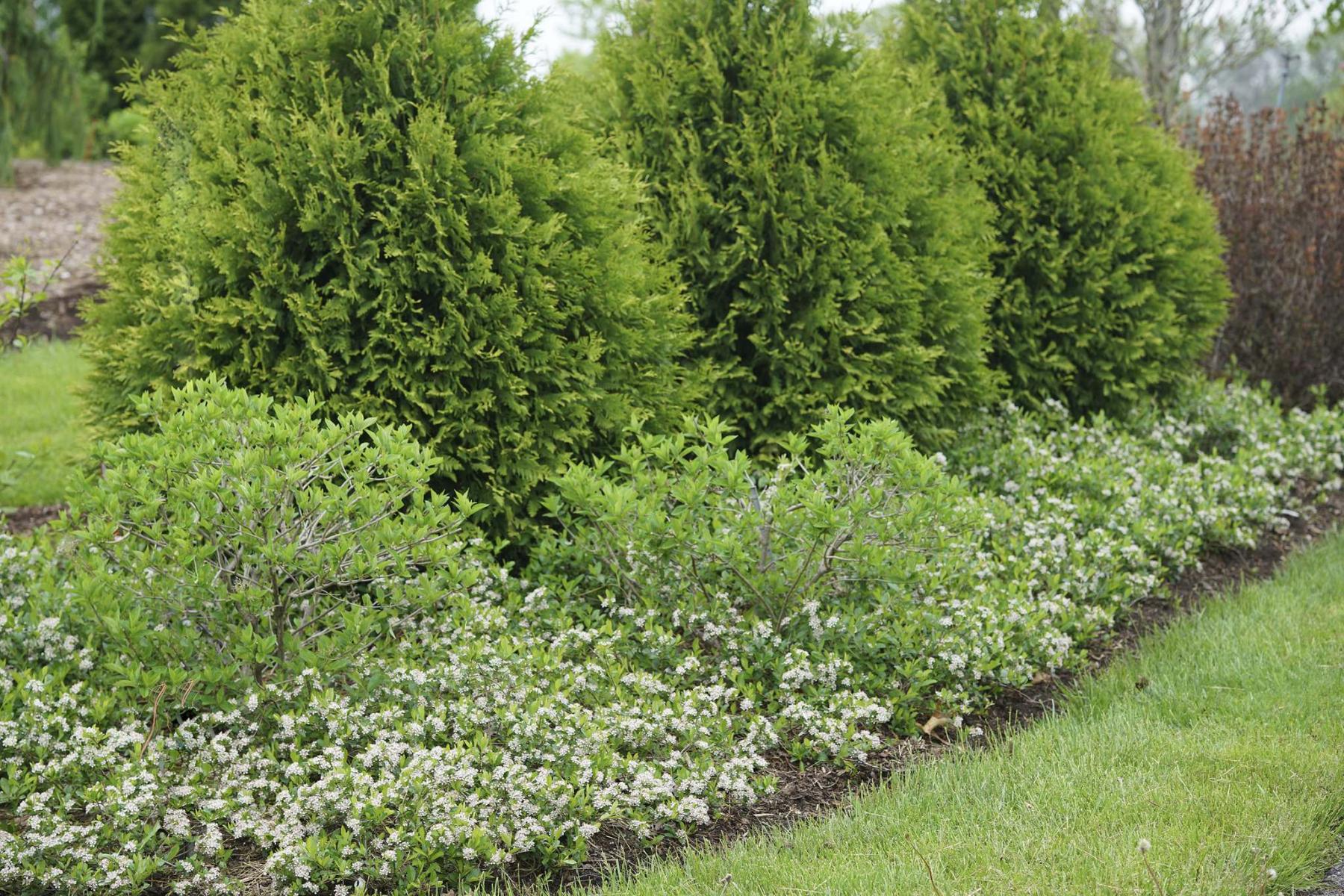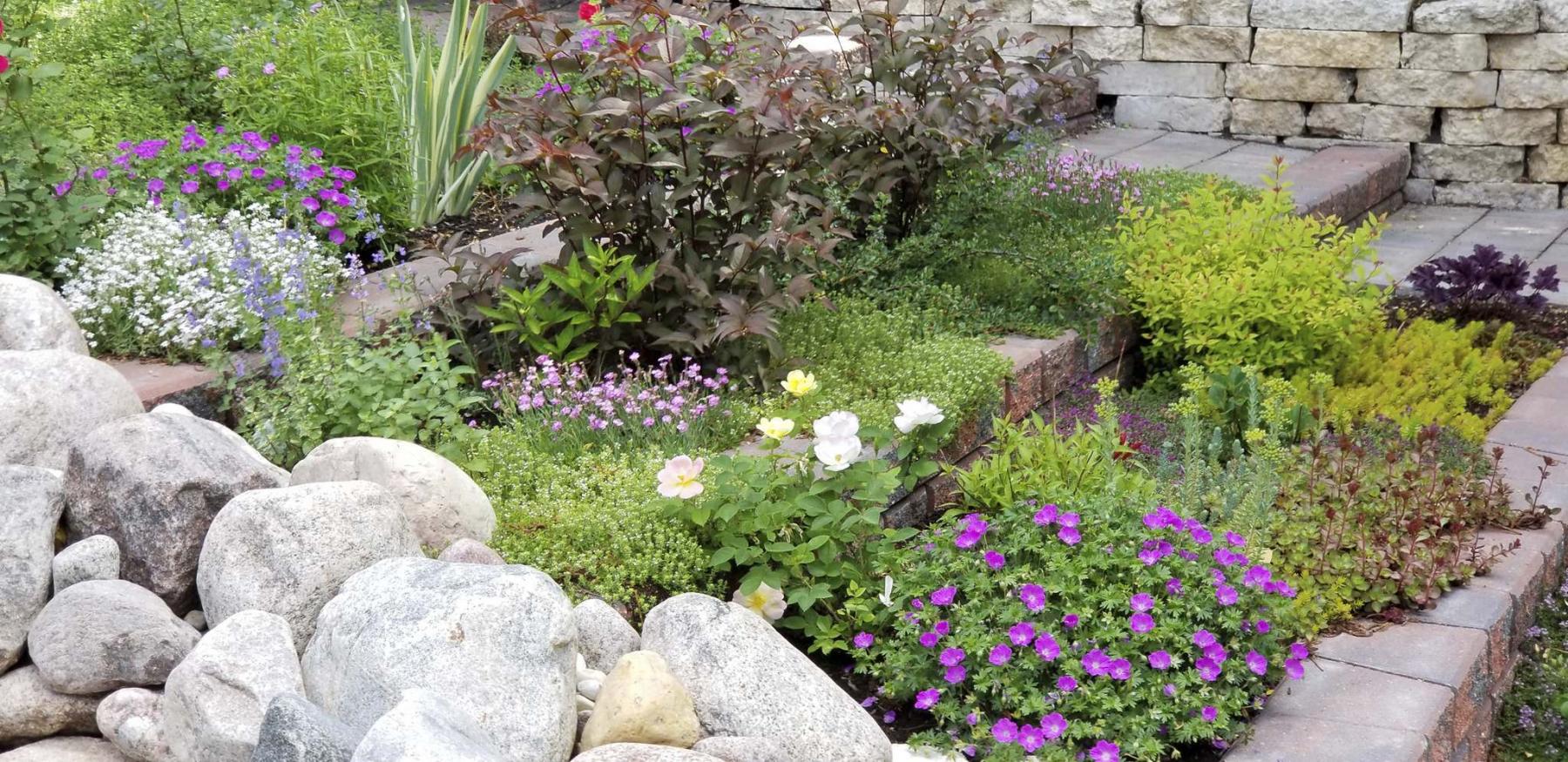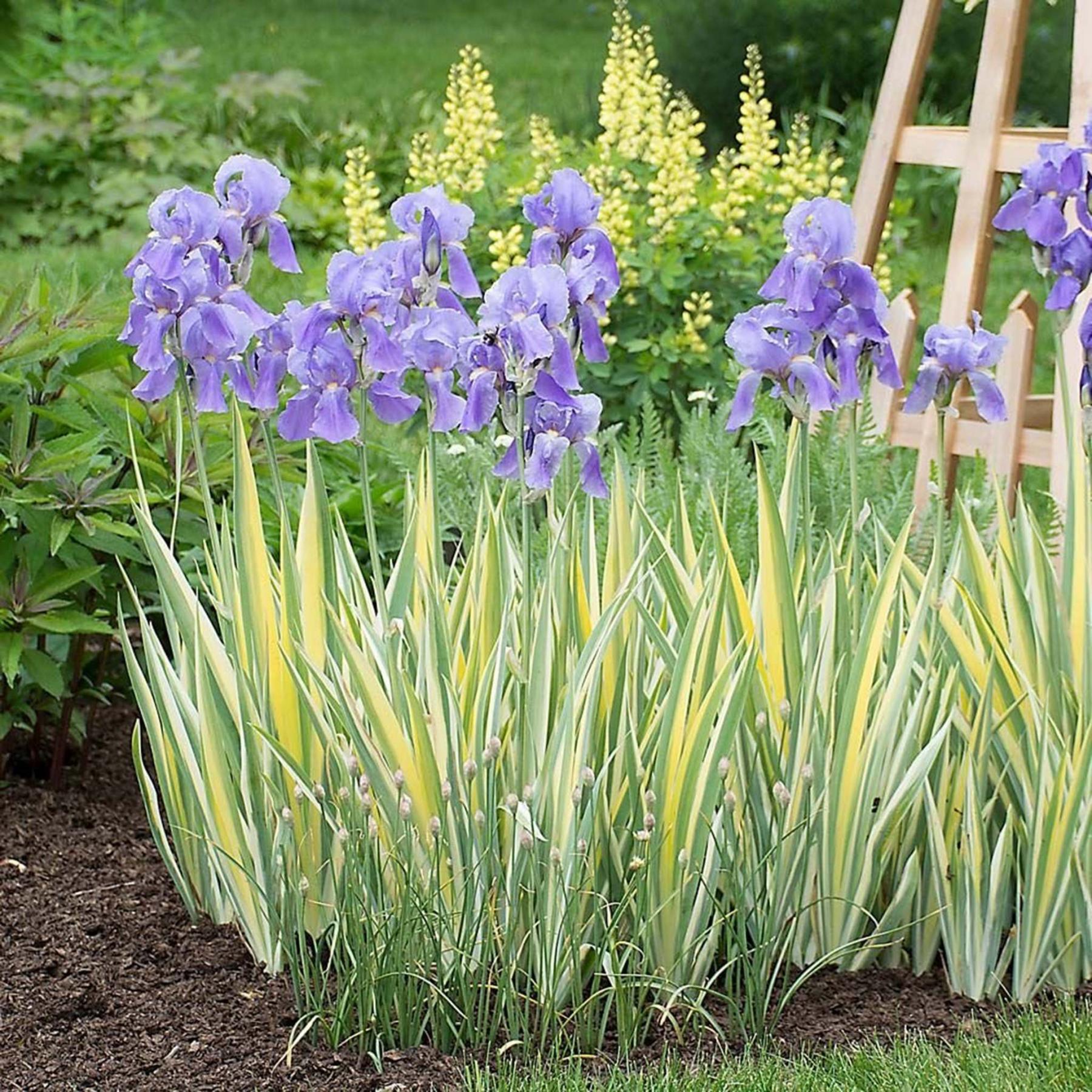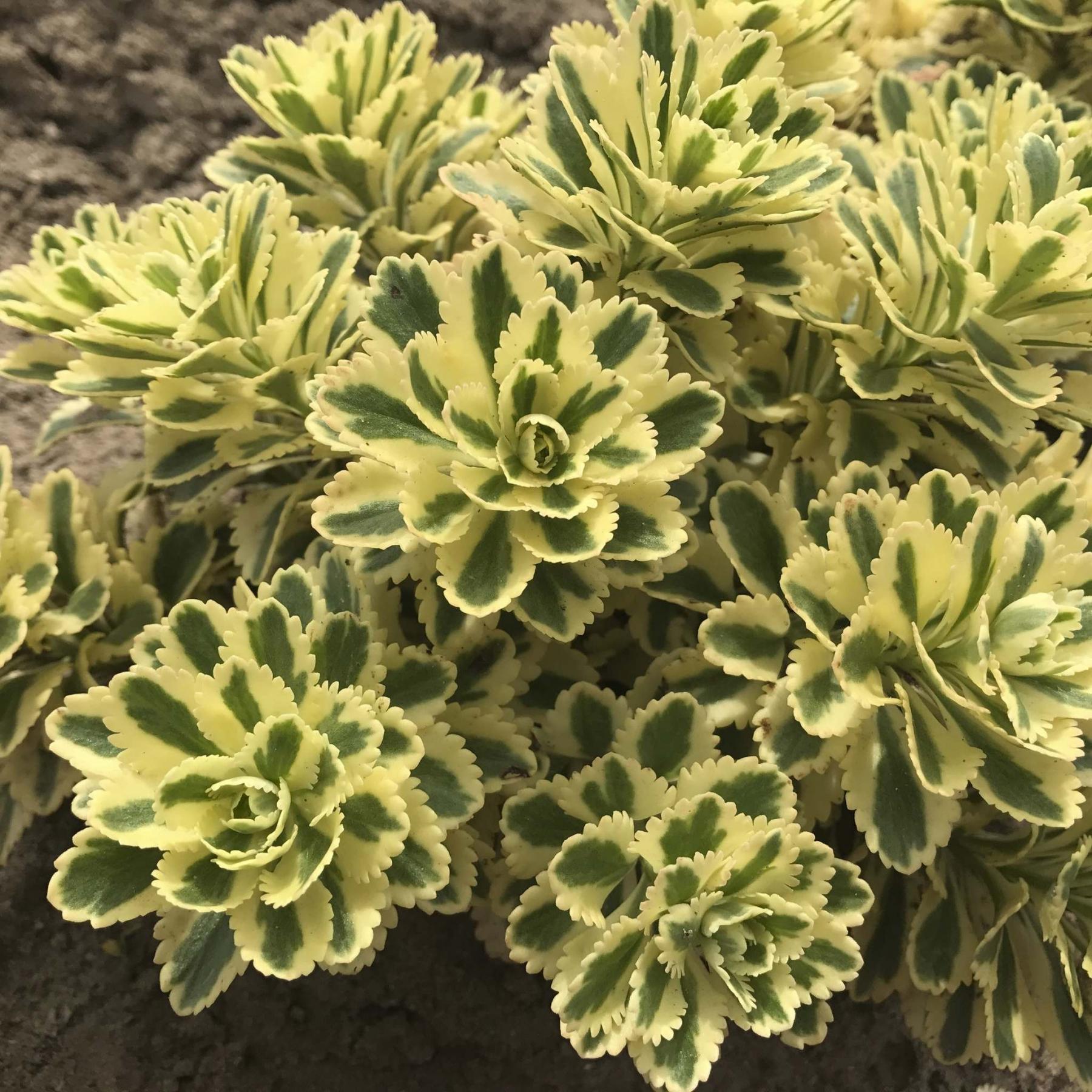 Sometimes we are so focused on tall perennials and large flowering shrubs that it's easy to forget the high impact that low-growing plants and ground covers also bring to the garden. The floor of your garden is an essential layer and a wonderful opportunity to create a colourful mosaic of diminutive, well-behaved clump forming perennials. There are many plants, too, that form an easy-care, weed-suppressing mat.
Sedum Atlantis, new for 2020, is a jewel of a ground cover. A stonecrop variety (its full name is Sedum takesimense Atlantis Ninsitnal), Atlantis won Plant of the Year 2019 at the Chelsea Flower Show in London, England. I kept hearing about it but was not sure if we would see it this spring. I saw it in person last week for the first time when I dropped by A. Paterson Bedding Plants. Sedums are always useful as ground covers but Atlantis takes it to the next level with its unique colour. Scalloped green and creamy white rosettes with soft-toothed edges become tinged with pale pink in cool temperatures. This low-growing, spreading sedum produces delicate sprays of yellow flowers in mid- to late summer. Sun-loving, Atlantis grows 10 to 15 cm tall and spreads 25 to 30 cm. Like a jewel, use Atlantis sparingly by tucking it into small spaces or as an edging plant to set off the stems of a taller perennial.
There are many creeping selections of stonecrop. Russian stonecrop, for example, is a low, mat-forming sedum with bright yellow flowers. It thrives in hot, dry areas and is very easy to propagate.
For a layered look, grace taller shrubs and perennials with an underplanting of Ground Hog Aronia, a new flowering ground cover for 2020. A dense, spreading shrub that is native to North America, Ground Hog Aronia covers a lot of ground — a single plant has a spread of 91 cm. Low-growing (20 to 35 cm), Ground Hog is smothered in masses of fragrant white flowers in spring. The glossy green leaves turn bright red in fall and are accented by dark purple berries. Ground Hog is a tough, drought-tolerant ground cover once established that is particularly useful in challenging areas with poor to average soil. Salt tolerant, it is suitable for planting along the edge of your driveway.
Mix plants together to create a mosaic or tapestry border with contrasting shapes, texture or habit. Clump forming perennials such as Geranium sanguineum Max Frei cranesbill (also known as bloody cranesbill) are easy to grow. I love Max Frei cranesbill which has a tidy, mounding habit, dainty, fern-like foliage and loads of bright magenta-purple blooms from June to August. Locate this hardy perennial in various places throughout a sunny area of your garden or mass several together for greater impact.
Moss phlox (Phlox subulata) is a classic groundcover. Pretty and petite (5 to 15 cm), moss phlox forms low-growing mats of evergreen foliage. Choose from varieties with red, white, blue, or pink flowers. Ground-hugging Dianthus also produces a showy display. Combine early blooming varieties such as Firewitch Cheddar Pinks with late blooming varieties like Annabelle Garden Pinks for a long season of bloom.
Add intrigue by punctuating an area of ground cover with a taller specimen plant. Iris pallida Albovariegata is a spectacular statement plant with striking green and white variegated foliage and fragrant, pale blue flowers that bloom in early summer. I grow it for the eye-catching, strongly upright, spear-like foliage and underplant it with low creeping thyme. Long-lived, Iris pallida spreads slowly by rhizomes and is one of the best hardy perennials. Bonus: it is rabbit and deer resistant.
Allium Millenium is another perennial that forms a compact, upright foliage clump. It grows to a mature height of 38 to 50 cm tall. Throughout June and July, Allium Millenium produces a profusion of large purple, rounded clusters of flowers on sturdy stems with strappy green foliage. Voted the 2018 Perennial Plant of the Year, Millenium attracts bees and butterflies and is deer and rabbit resistant.
In the shade or woodland garden, Dwarf Goat's Beard (Aruncus aethusifolius) is an underused treasure. Ultra-compact (20 to 30 cm), Dwarf Goat's Beard is reliably hardy. Delicate looking but with a tough nature, it has dark green, fern-like foliage and creamy-white flowers June to July. The foliage turns rust-orange in fall. This is an exceptionally well-behaved ground cover that comes back reliably each year. Show off its dark green foliage by planting it next to a variegated hosta.
A mass planting of Brunnera macrophylla with its huge leaves and profusion of baby-blue forget-me-not flowers is a captivating site in the shade garden. Brunnera (30 to 40 cm) slowly spreads by creeping rhizomes and may self-seed — simply deadhead after flowering if volunteers are not wanted. There are numerous varieties to choose from. Jack Frost is one of the best-known varieties but look for Looking Glass which has large silver leaves with a pencil-thin green rim. Outstanding.
Set off your border and ground cover plants with Aralia cordata Sun King which is the 2020 Perennial Plant of the Year. A foliage plant that is lime-green in shade or bright gold in a part sun location, Aralia grows to 90 cm tall. Be patient as it likes to wait until later in spring before emerging, but then fills out rapidly.
A visit to the English Garden at Assiniboine Park is always a great opportunity to see diverse types of ground cover plants. The garden remains closed for now but will hopefully reopen soon.
Craig Gillespie is the outdoor lead gardener at Assiniboine Park. I talked to him recently about planting combinations.
"Ground covers are going to spread and creep but because we have such big beds," he says, "it's not a problem. They help to choke out weeds." Recently Gillespie planted Anemone sylvestris (snowdrop anemone) which forms a dense patch in partially shaded areas. "It spreads really nicely and creates a carpet underneath taller plants," he says.
There is a collection of older Canadian roses at the Park with forget-me-nots (Myosotis) planted underneath. Nepeta Walker's Low has been planted with daffodils and effectively hides the old foliage of daffodils after they finish blooming. Pulmonaria (lungwort) is used as a ground cover with hydrangea shrubs. "In spring you have the early blooms of lungwort and then the silver-spotted dark green foliage really sets off the creamy flowers of the hydrangea. We let it weave between the shrubs."
Gillespie is experimenting with different varieties of thyme and growing it around shrub roses. Carpets are establishing, but he's not allowing it to compete with the roses. The hope is that it will serve as a natural repellent to rodents and insect pests.
Gillespie has paired Digitalis (foxglove) with Lamium maculatum. Long-blooming (June to September) and indestructible, lamium forms a low, fast-spreading mat that can quickly take over smaller areas so you may not want to try this one at home.
colleenizacharias@gmail.com